Monday, September 14th, 2015

Recipe: huckleberry chantilly cake
This past weekend we ventured out into the Colorado high country with Neva for her very first backpacking trip. Even though Jeremy and I have been backpacking together for 21 years, it was a bigger deal for us than it was for her. Do we bring a toy? We should probably pack a towel in case she goes swimming or gets filthy. Be sure to pack the poop bags and poop bottle… Don't forget the halti collar. We did attempt to strap a dog pack on her at home so she could get used to wearing one and perhaps carry some of her own things. But Kaweah's old packs – cinched to the tightest setting – practically slid off of Neva who is not only smaller and skinnier, but still a puppy. So it really felt like a hike to Neva since we were the ones carrying the packs and all of her accessories.

jeremy escorts little miss neva up the trail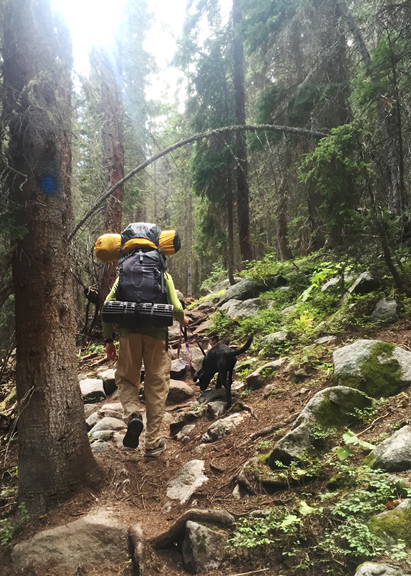 taking the footbridge across the stream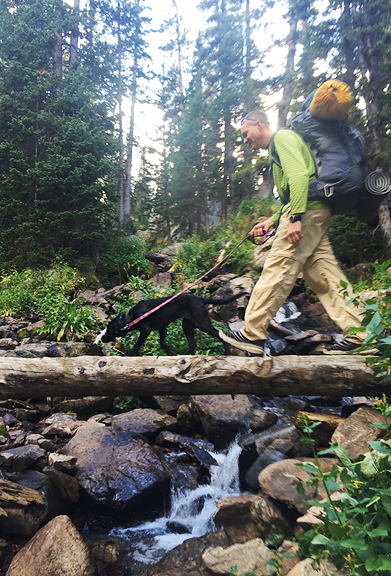 fireweed turning a brilliant red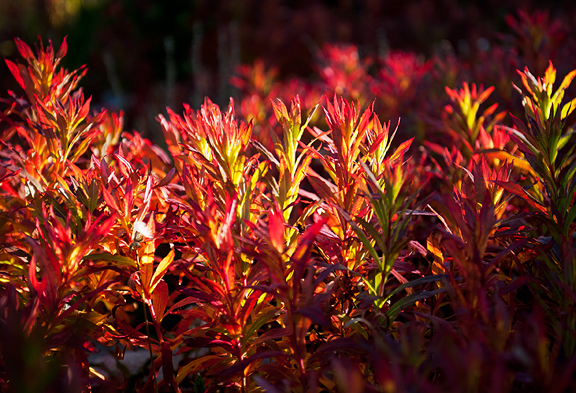 our camp just below the continental divide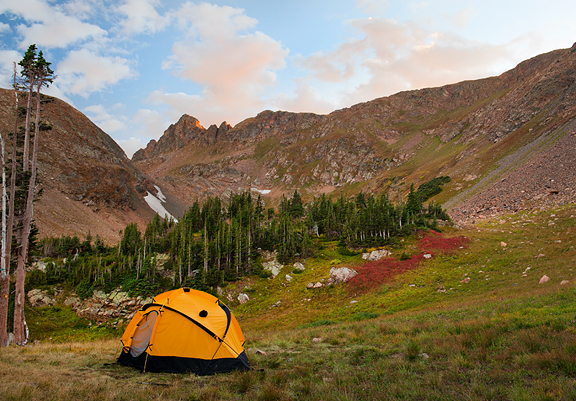 Once we settled on a place to set up camp, we strung some utility cord between two trees (camp required that we at least be near krumholtz), slapped a carabiner on it, and tethered Neva to the run with her leash. It was the only way we could get anything done before dark. She immediately wrapped herself around one tree, and then the other tree. She wrapped the leash around herself in four different ways. Eventually, Neva just ran back and forth sniffing and playing with sticks. Neva was supercharged with no signs of letting up. At dusk, we could hear elk bugling in the valley to our north. By the time it was dark, we brought the pup into the tent for the night. She marched right to the foot of the tent and curled up into a little ball on our sleeping bags, falling sound asleep.
jeremy reads the map while the milky way adorns the night sky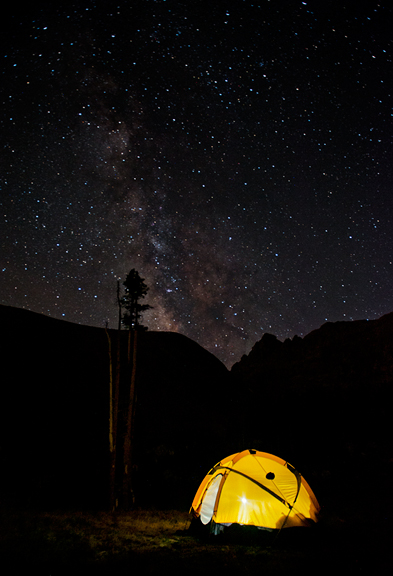 predawn color on the horizon and twilight reflected on the lake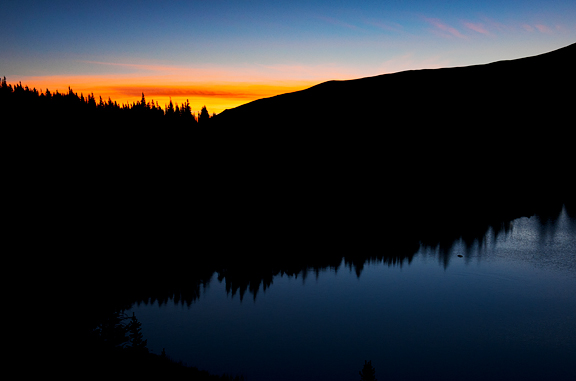 neva on her tether while we pack up camp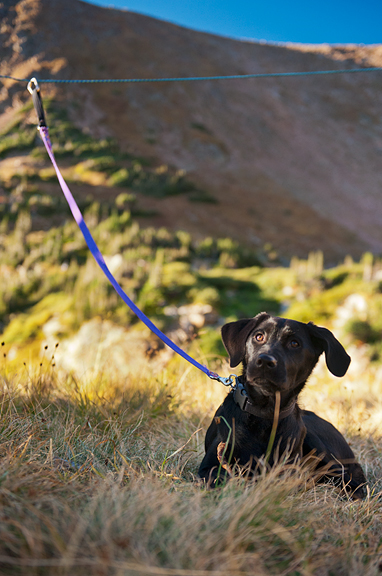 on the way out, we stopped to sample a few of the ripe huckleberries and whortleberries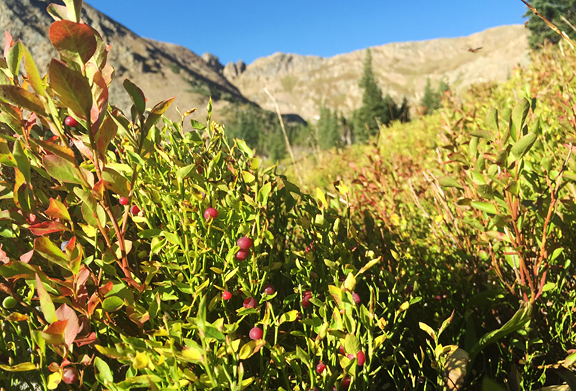 lots of pretty cascades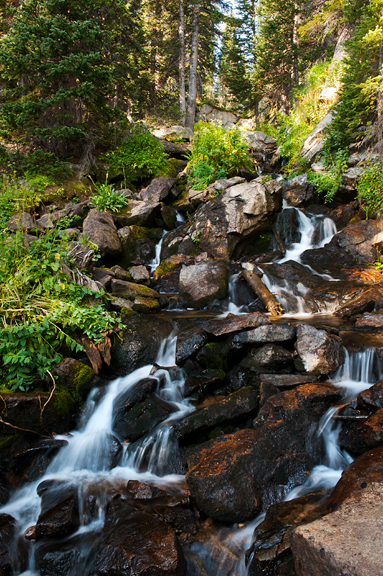 Overall, Neva did well on the backpack and seemed to enjoy everything except the halti collar and the lack of sweet sweet freedom. Once home, she slept for a long time. Being an adventure pup is hard work! While she slept, we unpacked and sorted our gear. "So what would you like for dinner on your birthday?" I asked Jeremy. It's like pulling teeth to get him to tell me what he really likes because he doesn't want to put me to any trouble. That and I think Jeremy draws a blank when you ask him things like, "What's your favorite food?" or "What movie should we rent?" Eventually he muttered something like steak or salmon – just something simple. I can do simple. In my culture (or maybe it's just my family?) it's bad luck to celebrate birthdays early, so I planned for a special Monday dinner. We started with things I know he loves, brie and fig jam, Kumamoto oysters with bubbles. For dinner, we kept it simple: grilled ribeye steaks topped with chanterelles sautéed in butter and garlic and a side of local corn and zucchini.
oysters and bubbles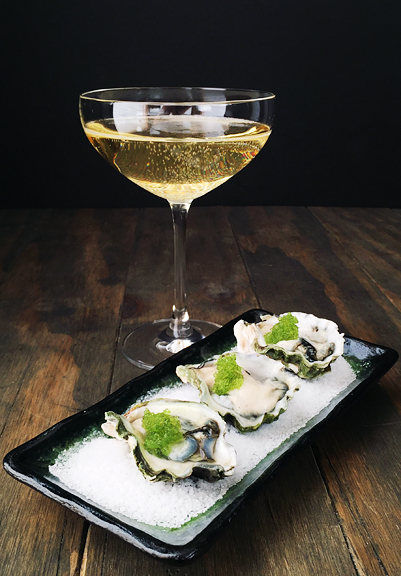 And then there was dessert. Over the summer, whenever my parents had us to their place for dinner, I would be tasked with bringing dessert since I do those things. On occasion, I came up short on time and went to the local Whole Foods to pick up one of those mini 4-inch cakes. My favorites were the little boozy adult cakes (adult because of the booze, not because they were "adult" cakes) like the sidecar or the daiquiri. As I walked toward the cake counter, a young woman was scooping cake into little cups for people to sample. I usually ignore the samples, but I heard her say "peach chantilly cake" and I turned on my heel to get a taste. Lovely, light, fruity – it has a mascarpone frosting instead of the usual buttercream. This would be great with huckleberries or any berry.
So I found a copycat recipe online and went from there. Here's the thing. I hated the cake part. The frosting was great, the fruity part was great, but the cake was heavy, oily, coarse crumbed. Everyone who ate it said it was good, but I felt the texture was wrong and the flavor was mediocre at best. For Jeremy's birthday cake, I replaced the cake component with my go-to chiffon cake – spongy, soft, light, yet durable – and the result was perfection. The recipe I give at the bottom of the post has my chiffon cake instead of the original cake, but the photos in this post are of the original cake recipe. If you want photos of the chiffon cake process, you can reference this post sans lemon juice.

sugar, flour, vanilla, vinegar, butter, baking powder, baking soda, salt, coconut oil, milk, buttermilk, eggs
whisk the dry ingredients together
add milk, buttermilk, vanilla, and vinegar to the eggs
stir in the melted butter and coconut oil
**Jump for more butter**