Sunday, December 15th, 2013

Recipe: baked brie with cranberries and pistachios
The time has come for folks to don their elastic waistband clothing. I know this because I've been working 'round the clock for several days stirring, mixing, cooking, caramelizing, tempering, dipping, rolling, slicing, and baking goodies for distribution. I completed phase 1 of my cookie schedule on Friday morning. I've been working phase 2 all weekend (with some time taken out for Kaweah's birthday celebration).

phase 1 cookies plus jams and homemade spice rubs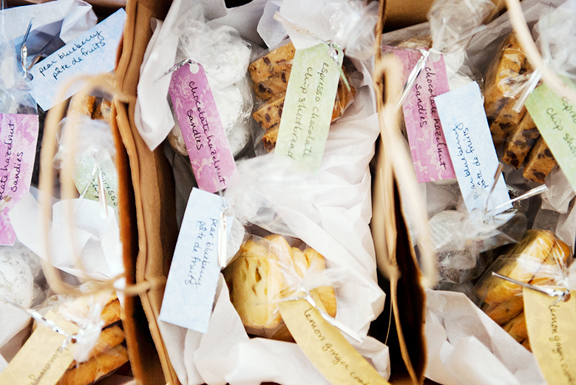 But full on debauchery should not be limited to desserts and sweet bites this time of year. I am a card-carrying member of the savory clan – those of us who opt for potato chips over chocolate chip cookies any day. Appetizers and salty snacks forevah!! When I last had my parents over for dinner, I tried a baked brie appetizer with cranberries and pistachios that was a sort of compromise between salty and sweet. It's the perfect thing for holiday parties because it's quick, easy, and the results are lovely.
a wheel of brie, an orange, water, cranberries, pistachios, and sugar
grate orange zest into the cranberries
add water to the cranberries, sugar, and orange zest
**Jump for more butter**