Tuesday, November 14th, 2017

Recipe: chocolate almond macarons (sucre cuit method)
It looks to be another warm November here in the Colorado Rockies. Sure we have gotten some snow, but mostly we're getting sun and warm – which are the nemeses of snow. I've resigned myself to riding my bike on the indoor trainer and getting my balance muscles back in shape on my skate skis in the living room. Even the local trails are slicked over with ice (thanks, sun and warm…). I suppose it's just as well since my parents are in Colorado for a few weeks. Lack of snow made the logistics of prepping a belated birthday party for my dad much easier.

silly, happy neva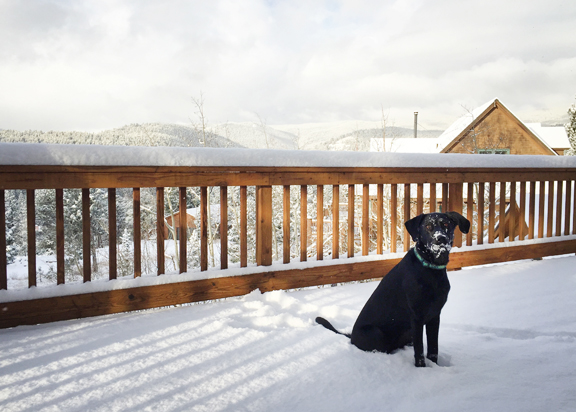 shopping with the parents at costco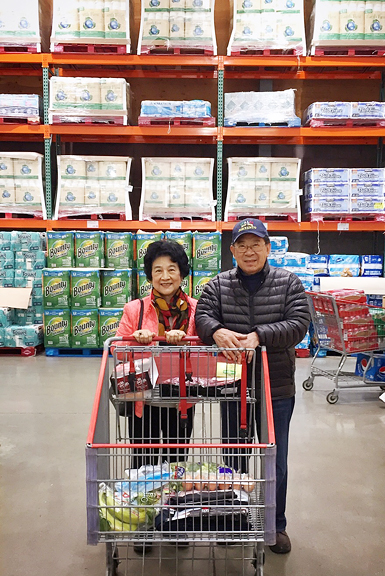 dad's birthday cake (one of three desserts)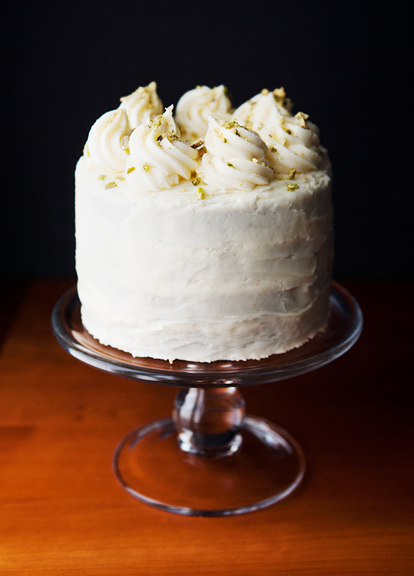 toasting with friends and bubbles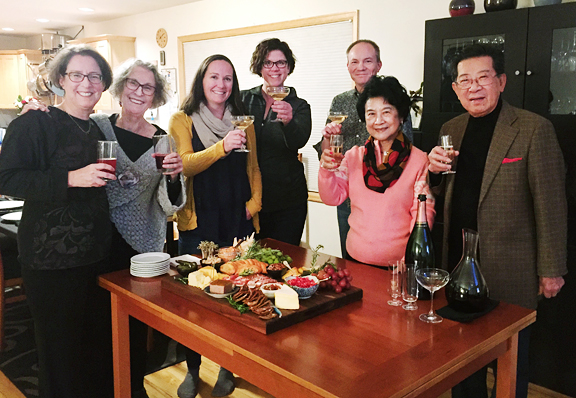 Our dinner parties typically offer multiple desserts at the end of the meal, but it isn't because I set out to make all of these desserts. On any given week, I'm always recipe testing or shooting some dessert, which means these gatherings are the perfect time to move the results of my research. We have had a string of dinners at our house lately (I am hoping we are done until next year) and most of them have involved some version of chocolate macarons. I've been recipe testing these suckers for over a month. My friend, Dan, held one in his hand and examined it asking, "What are they?" I said they were sandwich cookies, like Oreos. He took a bite and laughed, "These are nothing like Oreos!" He was right. I hadn't ever been asked to describe a French macaron, I just gave them to people and figured they would eat them. French macs are almond meringue cookies that sandwich a filling – it could be ganache, fruit curd, buttercream frosting, jam, dulce de leche, or even foie gras in special savory instances.
so simple and yet not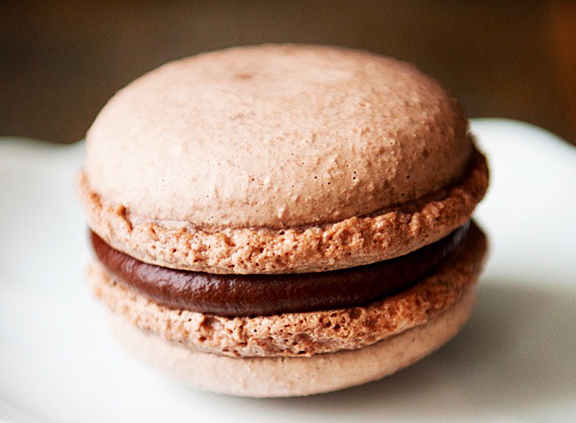 When I have made French macarons in the past, I followed the method of whipping a French meringue and folding it into the almond-sugar base. They looked great, but the cookies were always hollow or as I coined it, had "attic space". I chalk a lot of that up to baking at my altitude of 8,500 feet. Macs are finicky little guys, but at my elevation, they are a pain in the ass. I stepped away from baking macs for several years with the intention of getting back at it – except I didn't return to it until now. And I think I've got it. What follows is a lengthy discussion of the technique that works for me. It's more for my own reference, but hopefully it will help someone else out there, too. I've tried to detail what I can in the recipe itself and go into greater detail here in the post.
powdered sugar, egg whites and egg whites, almond flour, granulated sugar, cocoa powder, water
Even during my hiatus from baking macarons, they were always on my mind as they gained in popularity and have pretty much jumped the shark (you can now buy them in bulk from Whole Foods and Costco). I spoke with several professional bakers in high altitude mountain towns about issues and tricks regarding these treats. Everyone has their own tweaks and methods that they've worked out. I knew that I wanted to try the
sucre cuit
(cooked sugar) method, which makes an Italian meringue with hot sugar and is supposed to be more stable than the French method.
First things first. I highly recommend using a kitchen scale to make the macarons. I know some people balk at that – some have even gone so far as to tell me that "Here in AMERICA, we use cups…", but if you 1) want your macarons to work and 2) want to be able to produce consistent results, then you should use a kitchen scale to remove some of the variability. If you choose not to weigh your ingredients and your macarons flop and you complain to me, I'm going to reach through my computer and dope slap you.
You will need at least two baking sheets and some parchment paper or silpat mat to line the top sheet. The reason is that you will double stack the baking sheets (so make sure they are the nesting kind) for a more even bake and rise from the bottom. I bake one sheet of macarons at a time in my oven (because my oven sucks). If I had two trays of macarons in the oven, I know the bottom ones will rise too quickly and the top ones will rise lopsidedly. Also, I don't know how the macs behave in a convection oven.
It helps that I have quarts of egg whites in my freezer – the result of making too much ice cream and homemade egg pasta. I saved those whites knowing that some day, SOME DAY, I would burn through them in a frenzy of recipe testing macarons. Make sure your egg whites are at room temperature before you start. Another push in the right direction was being able to get superfine almond flour in bulk from Costco. Sure, I can grind my own blanched almonds into almond flour, but I can never get mine to be this fine. Also, for some reason it's much easier to go back to the drawing board after yet another failed batch of macarons when you simply spoon the almond flour out instead of grinding the almonds yourself. Hey, I'm just trying to reduce as many mental hangups in this process as possible. Because the almond flour I use is superfine, I don't bother processing it together with the powdered sugar and cocoa powder. If you are starting with blanched almonds (whole, pieces, whatever), you will absolutely need to run those through the food processor with the powdered sugar and cocoa powder (the powdered ingredients help to keep the almonds from turning into almond butter, too).
And if you aren't interested in making your macaron cookies chocolate, omit the cocoa powder, but replace the omitted weight of cocoa powder with the equivalent weight in powdered sugar. So if you left out 20 grams of cocoa powder, add 20 grams of powdered sugar.

mix the powdered sugar, cocoa powder, and almond flour together (or process in a food processor)
sift the dry mixture to remove any large pieces
When the dry ingredients are sifted (yes, please do this step), pour in 75 grams of egg whites and mix it until combined. Egg whites don't incorporate the way most liquids do. They take a little time for the dry ingredients to absorb. It will look like there isn't enough liquid for everything to come together, but keep working at it – it will eventually become a thick, uniform, wet paste. It's a mini workout for your wrist and arm.
add half of the egg whites to the dry mix
a uniform wet paste
**Jump for more butter**