Wednesday, February 11th, 2015

Recipe: porcini butter
Today (Wednesday) was my last day of my 6-week skate ski program. While I will miss meeting up with this fine group of women and my awesome instructor, I have to say I'm happy to get my Wednesdays back. That, and I look forward to not being completely wiped out at the end of a long day of skate skiing and drills. I signed up for this program to jump start my introduction to skate skiing. On the registration form, I was asked to mark my ability level, so I checked off "Green: Beginner", because that's what I was. Little did I expect to be grouped into the intermediate class. I came into this program with the willingness to work hard, but this level of instruction required even more than I had anticipated.
So I worked. Hard. It wasn't enough to just show up to class once a week, I needed to practice several times between classes so I could improve and take full advantage of the instruction I received. In the beginning it was crazy frustrating trying to piece together all of the elements of the technique while being completely exhausted from the hills. But I stuck with it as punishing as it felt, and within a couple of weeks I noticed some improvement. I am by no means what I consider a proficient skate skier, but I feel like I can practice and skate toward that goal equipped with the knowledge and understanding that our instructor shared over the last month and a half.

my wonderful skate gals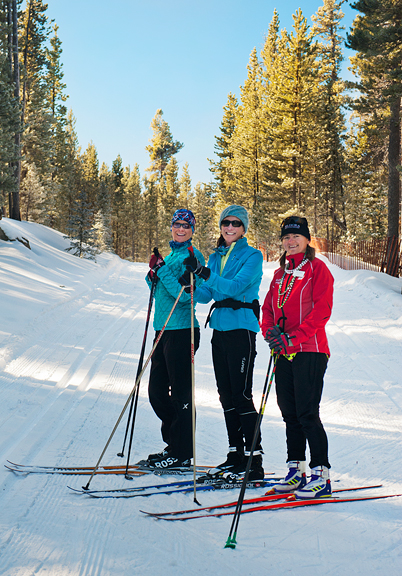 After a day of skating up and down the hills at Eldora, it's necessary to come home to an easy menu. I'll tell you what, though – I think easy menus are perfect just about any time. We gave up going out to dinner on Valentine's Day over two decades ago, opting for a delicious home-cooked meal in the privacy of our own home. This spared us the headache of having to jostle among crowds of couples with unreasonably high expectations for the evening. When I tried this recipe, my intention was to shoot for "easy". Only after sitting down to eat our dinner, did I realized how a simple porcini butter could transform a meal into a swoon-worthy experience.
The name, porcini butter, is practically the recipe itself. It requires dried porcini mushrooms and butter – a match made in heaven. If you are using unsalted butter, you can opt to add salt. I personally hold off on adding salt because I like to add it separately. Unlike fresh porcini, dried porcini are mush easier to find in grocery stores if you don't have your own. They are usually packed in 1 oz. bags or containers. The butter should be at room temperature so you can cream it easily with a fork. Use a spice grinder or a mortar and pestle to turn the porcini into a fine powder. Everything will start to smell of porcini at this point.

you'll need: salt (optional), butter, dried porcini
cream the butter
place the dried porcini in a spice grinder
grind it into a powder
**Jump for more butter**