Wednesday, October 21st, 2015

Recipe: morning buns
Hey, I didn't need to wash my car because it RAINED all day Wednesday! What does that say about me when my car is cleaner on a rainy day than a sunny day? Don't answer that. Even better than the rain, was the snow falling at my house! It was too warm for any of it to stick, but the sentiment was there, and I'm pretty sure those clouds hugging the mountains will clear out eventually to reveal REAL SNOW on the high peaks. This is good. A month later than I prefer, but it's still good.
As we shifted from cloudless, sunny, warm days to this cloudy, rainy, cold weather, the in-between was rather wonderful. A couple of mornings in a row granted us the right conditions for some impressive light shows, where sun and clouds and rain work together for a greater good. Of course, I was awake and alert well before the first faded rosy glow in the east appeared – because Neva stepped on my stomach at 5 am to snuggle down in the space between the two humans. From then on, it's fitful sleep for me, so why not just get up and get to work? Thanks to Neva, I found chanterelles this summer and I have caught a lot of great sunrises.

we almost had the whole rainbow in this sunrise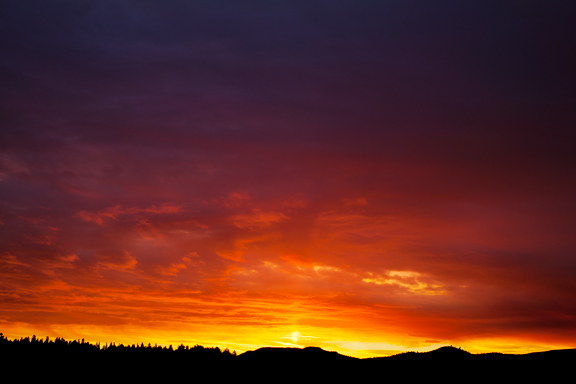 but looking west, there WAS a rainbow (or two)!!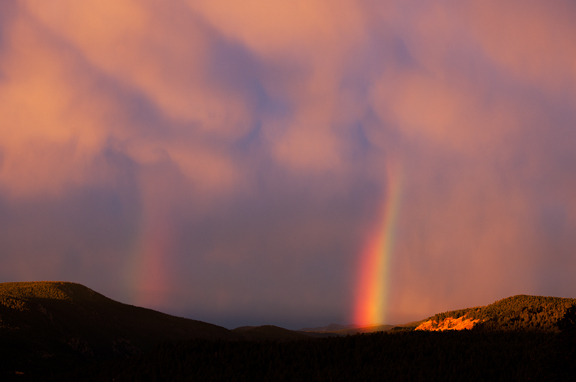 Earlier this week, Jeremy gave a lecture (A Tour of the History of the Universe) at the Chautauqua Community House in Boulder, hosted by the Colorado Chautauqua Association. It was a great talk and the sold out crowd loved it, asking several thoughtful and engaging questions afterward. I mean, who doesn't love talking about black holes, dark matter, dark energy, the big bang, and where our universe is headed? Jeremy works hard when he has to speak in public, because he's a bona fide introvert. I know a lot of people who claim to be introverts who aren't actually introverts. In fact, most of the true introverts I know never say one way or the other because they don't want to draw attention to themselves and because the extroverts never shut up (I'm an extrovert, by the way).
all eyes on jeremy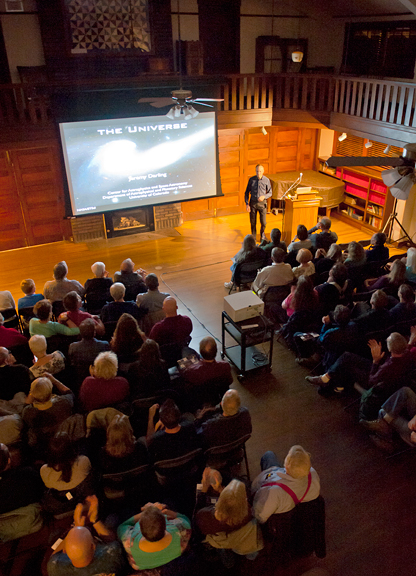 As you can imagine, after his talk Jeremy was completely exhausted. He spent the entire day on telecon, teaching class, attending his student's oral exam, and then giving this lecture well into the night. He didn't eat beforehand because he didn't want to puke during the talk, so we had a very late dinner and then it was to bed so we could prepare ourselves for Neva's early morning wake up leap. But in the morning, I did have some delightful homemade pastries on the counter for him while I rushed out the door, pajamas under my jacket, to shoot sunrise. The day is infinitely better when you start it with pastries. I am particularly fond of the aptly named morning buns.
the dough: sour cream, sugar, salt, egg yolk, orange juice, ice water, yeast, butter, flour
the filling: sugar, cinnamon, orange zest, brown sugar, vanilla
**Jump for more butter**