Recipe: herb and floral pasta
Mom and Dad arrived in Colorado last week to take care of maintenance at their Boulder home that had been postponed due to the pandemic. They look fantastic and healthy (and are fully vaccinated), but since Jeremy and I are between our first and second vaccination shots, we're all donning masks during our brief visits at their place. When we dropped off their houseplants I had been babysitting since November 2019, Mom handed me garlic and oranges which she had purchased in bulk, and Dad gave Jeremy a nice bottle of wine. It's these little things that make them happy. I view our time together with more appreciation now.

so good to see my folks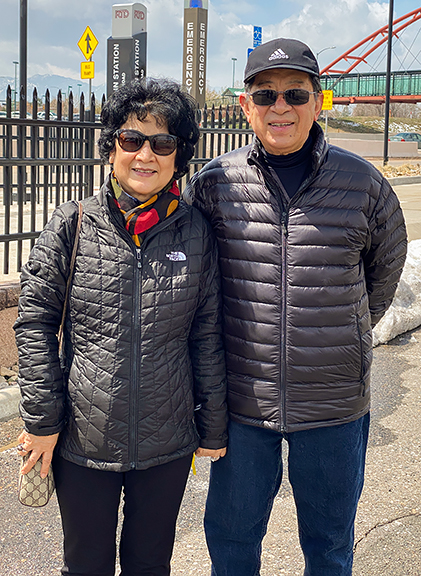 April has graced us with deliciously snowy spring storms alternating with warm sunny days. Our local hill is now closed, but we grabbed one last powder day the Friday of closing weekend and have since enjoyed more powder days in the backcountry. Spring is magical.
waiting for the lifts to open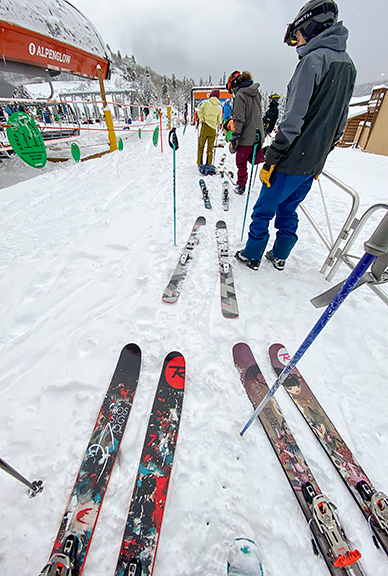 rewarding views in the backcountry as we approach treeline on our way up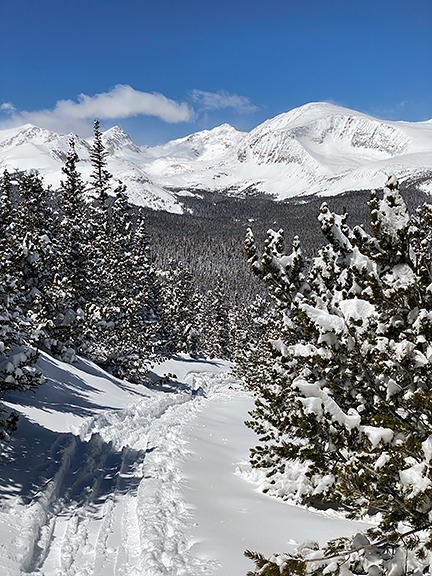 neva is utterly thrilled to play in the snow, no matter the season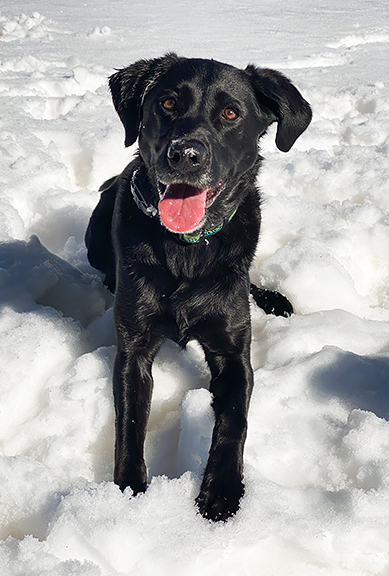 the pups played so hard they wiped themselves out (yay!)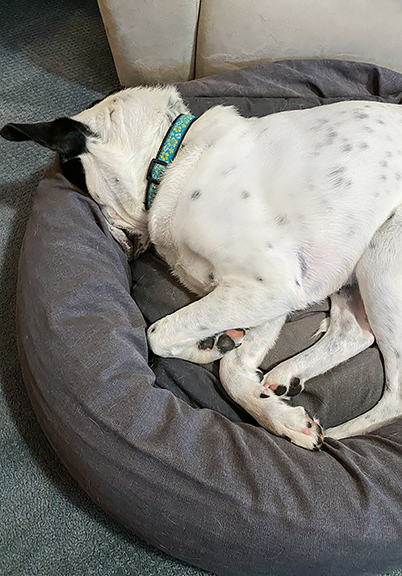 Springtime snow is synonymous with increased wildlife traffic through our yard in both frequency and variety. Most notable are the moose. Mamas with their yearlings still in tow are foraging wild currant and young aspen tips. Our local mule deer visit multiple times a day. We catch glimpses of foxes, coyotes, raccoons, and other critters as they mince or trundle their way past our deck or our game camera or the watchful eyes of Neva and Yuki from their window benches. But I know our winter-flavored spring will flip the switch to summer-flavored spring soon, so I've been busy wrapping up my cold-weather cooking and sewing projects.
mule deer feeding where the snow has opened to the ground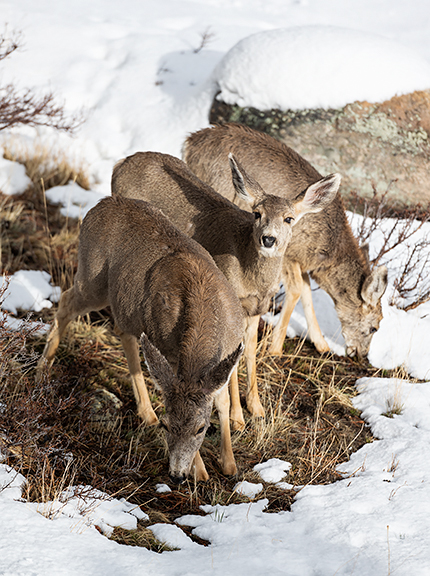 yearling moose enjoying our driveway aspens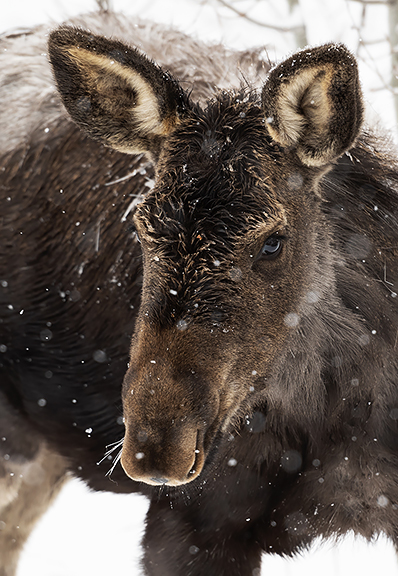 a big pot of chicken (dark meat) posole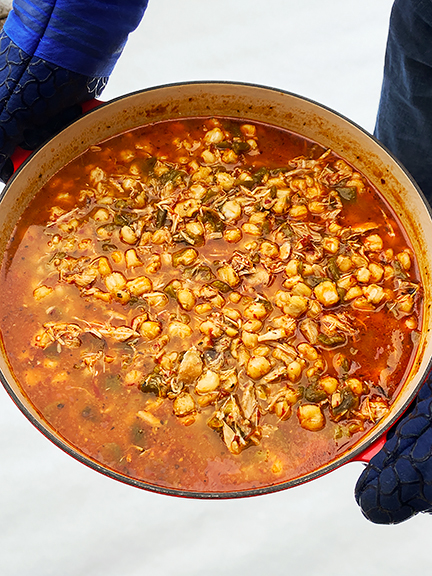 happy rag quilts for kids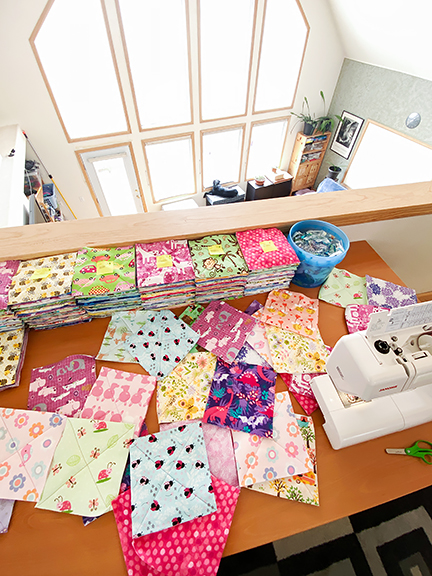 Whether it's snow or sunshine falling on us, I am embracing the imminent arrival of colorful produce, flowers, leaves, grasses, birds. I may be getting ahead of my skis here since we're expecting another foot of snow tonight, but I recently made a lovely herb and edible flower pasta and thought it would be perfect to share for Mother's Day or a celebration or just because.
herbs and edible flowers, all-purpose flour, eggs, semolina flour
I basically used the pasta recipe from
this handmade pappardelle
. The dough can be made with a food processor or by hand, but you should definitely weigh the flours as volumes are inconsistent and can give you a pasta dough that is impossibly difficult to roll.
mix the flours together in a food processor (or bowl)
3 egg yolks and 3 whole eggs
pour the beaten eggs and yolks into the running food processor
Pulse the egg mixture into the dry ingredients until they just come together. Empty the contents onto a work surface and press it together. It should hold. Begin kneading the dough for a few minutes until it becomes smooth. Form the dough into a ball, wrap it plastic, and let it rest for a half hour. While the dough rests, wash and pat dry the herbs and edible flowers. Removing as much excess water from the plant material helps to keep the dough from getting soggy and tearing when you roll the final pasta. When the dough is ready, cut it into thirds.
press the dough together and knead
wrap and rest
divvy the dough into thirds
Starting with the first ball of dough, roll it to a thickness of about 0.85 mm. If rolling by rolling pin, the instructions from the pappardelle recipe are: roll away from you, then turn the dough 90 degrees, roll away from you, turn the dough 90 degrees, and repeat until the dough is thin. By thin, I've heard that it should be thin enough to read print through it.
If you are using a pasta machine, begin at the thickest setting (0 on my Atlas Marcato). Use a rolling pin to flatten the dough to a reasonable thickness so the pasta machine doesn't choke. After the first pass, fold the dough into thirds, press it flat with the rolling pin, and run it through the pasta machine 2 more times. Move your pasta machine to the next thinner setting (1 on the Atlas Marcato) and run the pasta through once. Set the pasta machine to the next thinner increment and roll the pasta through. Continue until you get to 0.85 mm or setting 7 on the Atlas Marcato.

flatten the dough and roll through the pasta machine
fold in thirds
flatten the dough
run through the pasta machine
Cut your pasta in half and set the pieces on a lightly floured surface, especially if your pasta is a little sticky. I don't flour the top faces of the pasta because the herbs and flowers adhere better without flour. Set your selection of herbs and edible flowers on one of the pasta sheets. I recommend using leaves and petals that are flat – without stems or thick parts – because it reduces the potential for the pasta to tear when rolling. I tried one whole flower and my pasta jammed up and tore, so don't do that. You can also arrange the plant material close together as the pasta will stretch when you roll it. Now lay the unfloured side of the other pasta sheet face-down over the herbs and flowers. Press down lightly with your hands to ensure the pieces remain in place, then roll over the ensemble gently with a rolling pin so the two sides stick.
From here you can roll the pasta to the thickness you prefer or run it through the pasta machine. If using the pasta machine, be sure to change the thickness setting to something thicker before feeding the pasta through. I set mine to 4, about 1.8 mm. Also, if your herbs and flowers are not held in place between the two pasta sheets, they will fall and possibly cluster together as you feed the pasta into the machine resulting in torn pasta. Run your pasta through the machine, then incrementally roll it thinner to your liking. I stopped at setting 6 or 1 mm thickness.

arrange the herbs and petals on one pasta sheet
cover with the other sheet and press together with a rolling pin
rolled to 1 mm thickness
Once you have your pasta at the right thickness, sprinkle some flour over it to prevent sticking. Roll the pasta up into a short and fat cylinder and use a sharp knife to cut it to your preferred width. I cut mine to 40 mm, which is in the range of pappardelle. Wide-cut pasta presents the patterns better than thinner cuts. (You could also make lasagne or ravioli or whatever you like with the pasta sheets.) Unroll the pasta carefully just in case there are any sticking points. If the pasta sticks to itself, I have found the tip of a sharp knife helps to release the layers. Toss the unfurled pasta with flour on a floured baking sheet. Finish making the remaining pasta. Cook the pasta in boiling salted water for 1 to 3 minutes until al dente (mine took 2 minutes and 45 seconds) then drain.
roll up the pasta and slice to desired width
unrolled and lightly floured
boiled and ready for sauce
Dress your pasta however you like. The herbs you choose definitely add a flavor to the pasta itself, so your accompanying ingredients should work in concert with the herbs. Since it's spring, I splurged on some lobster tails, grabbed fresh asparagus, and defrosted butter-seared morels I had foraged from a previous season. I added garlic, cream, and white wine to the sauce and the result was an extra special celebration of spring.
plated with some leftover edible flower petals
here's to good things to come
Herb and Floral Pasta
[print recipe]
pasta from this recipe
pasta
225g (1 3/4 cups + 2 tbsps) all-purpose flour, plus more for rolling*
50g (1/3 cup) fine semolina*
3 large eggs, room temperature
3 egg yolks, room temperature
1 cup assorted fresh herbs and edible flowers
* I highly recommend weighing your flours as the discrepancies in volume measurements can result in overly thick and dry pasta dough that is particularly difficult and frustrating to work with (I speak from experience).
Make the pasta dough: Place flour and semolina in the bowl of a food processor and pulse several times until mixed. Beat the eggs and egg yolks together in a measuring cup. While the food processor is running, pour the egg mixture into the flour. When the dough is moistened, turn it out onto a lightly floured work surface and knead it for 3 minutes or until the texture is silky smooth. Wrap the dough ball in plastic and let it rest at room temperature for a half hour.
Prepare the herbs and flowers: Rinse your herbs and flowers clean, then gently pat them dry. Set them out to dry on a kitchen or paper towel.
Unwrap the dough and cut it into thirds. Wrap two of the pieces in the plastic.
To roll pasta by hand: Roll the third piece out on your floured surface, rolling AWAY from you. Turn the dough 90 degrees and roll away from yourself again. Continue until the dough is super thin (if you lay it over newspaper or a magazine, you should be able to read or at least see the text through the pasta).
To roll pasta by machine: Flatten the dough with a rolling pin to get it to a reasonable thickness for your pasta machine's thickest setting (0 on the Atlas Marcato). Run the pasta through once, fold it in thirds, turn it 90°, and run it through the pasta machine on setting 0 two more times without folding it in thirds again. Turn the setting to one thinner and roll the pasta through, and continue rolling once for each setting through setting 7 or about 0.85 mm.
Both methods: Cut your sheet of pasta into two equal size pieces and lay them flat next to one another on a lightly floured surface. Arrange your herbs and flowers on one of the pasta sheets. It's best to remove any thick stems or thick flower parts as they tend to tear when rolling the dough. I generally use flat leaves, fronds, and petals. You don't have to space the herbs and flowers out too much because they will spread out as the pasta is rolled.
Set the unfloured side of the plain pasta piece on top of the herbs and flowers. Gently press the two pasta sheets together by rolling over the pasta with a rolling pin. If using a rolling pin, continue to roll the pasta to your desired thickness (about 1 mm). If using a pasta machine, make sure the two sheets are stuck together or else your herbs and flowers will shift and potentially pile up and tear your pasta as you feed it through the machine. Put your pasta machine on a thicker setting (mine was 4, which is about 1.8 mm thickness) and pass the pasta through once. Increase the setting, which is decreasing the thickness, by 1 notch and pass the pasta again and continue to desired thickness. Take care not to roll the pasta too thin as it will begin to tear. I did a final pass of the pasta at setting 6 on the Atlas Marcato, which is 1 mm.
Dust the pasta sheet with flour and roll the pasta up like a rug along the long axis. You should end up with a short, fat roll. Use a sharp knife and cut the roll into your desired pasta width. Wider pasta will showcase your patterns. I cut mine into 40 mm (4 cm) wide strips (about 1.5 inches). Carefully unroll your pasta. If it sticks to itself, use a sharp knife to gently pry it apart – pulling could delaminate the sheets. Toss the pasta with flour on a large baking sheet to prevent it from sticking. Repeat the rolling, laminating, and cutting process for the remaining 2 pieces of the pasta dough.
You can make the pasta ahead of time and leave it uncovered at room temperature.
Makes 1 pound of fresh pasta. To cook, bring 6 quarts of salted water to a boil. Boil the pasta for 1-3 minutes (test for doneness). Drain and serve with sauce or accompanying ingredients of your choice.
more goodness from the use real butter archives