Tuesday, August 18th, 2015

Recipe: bacon corn hash with chanterelles
School is starting or has started for a lot of students this week as evidenced by the uptick in dorm room bean bag and laundry basket purchases at Target. Heavier than usual traffic clogged the roads last week heading east from the mountains. No one heads east (toward Denver) from the mountains unless they have to… the school year commenceth. Our last few days in Crested Butte were a whirlwind of activity as we wrapped up summer in our special mountain hamlet. Truth be told, I think it's normally a windstorm of activity, but Neva turns everything into a whirlwind.

dinner with good friends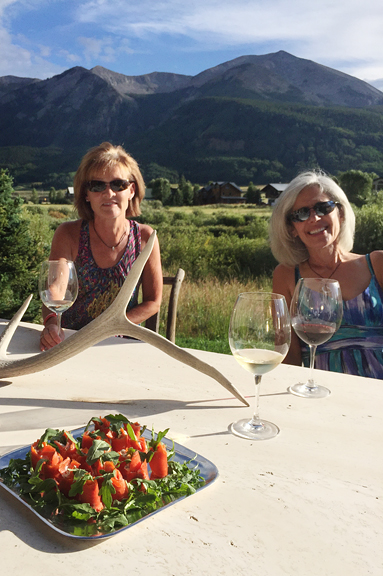 puppy was so tuckered out, jeremy carried her the last 50 feet
finding more gems on and off trail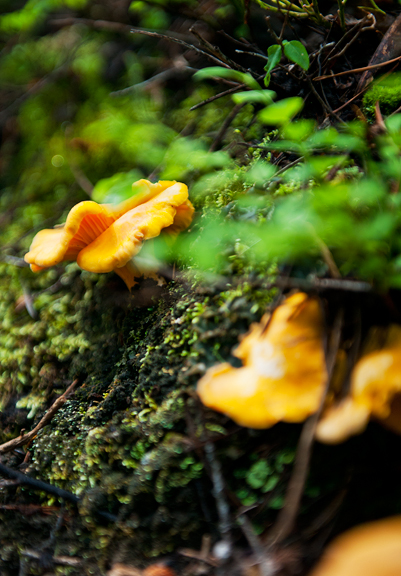 i see you!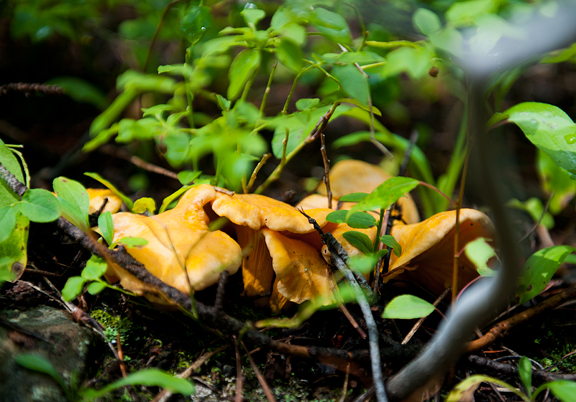 The day before we returned home to the Front Range, I was picking my way along a deer trail that was lined with chanterelles. Jeremy and I refer to it as the Trail of Happiness. I had watched the mushrooms grow over the past week and was ready to harvest some to take home. The rains in and around Crested Butte had been stoking the chanterelle (and everything else!) flush and they just kept coming. I'm careful to only harvest a fraction of what is growing, cutting rather than plucking (it's better for the preservation of the patch and continued fruiting throughout the season). Besides, there were so many that I couldn't put a dent in the mushrooms even if I wanted to. Looking back up the slope I had just foraged, I couldn't tell that I had picked any at all! Just then my phone buzzed the side of my leg. Mom texted me and asked what I was doing. I replied that I was foraging chanterelles for her birthday dinner.
quite a few chanterelles and a handful of porcini to boot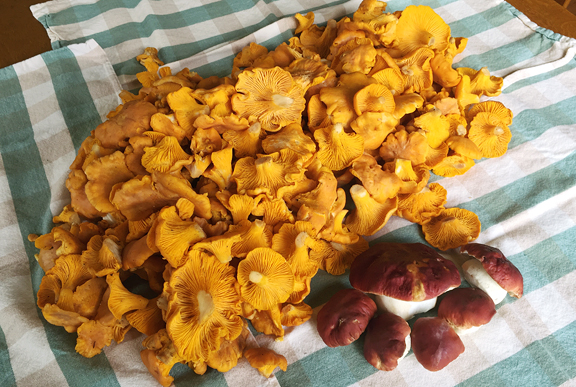 Since my parents spend their summers in Colorado, I get to celebrate my mom's birthday with her and that means a lot to me. My mom always puts everyone else first. She takes care of others before thinking about her needs or her wants. This birthday wasn't a special number – 16, 21, decadal, or whatnot – but that doesn't matter. It's a birthday. It was my mom's birthday and I wanted to do something nice for her because I can… Something to ease the pain of Kris' birthday just 2 weeks prior. Something to let her know how much I love her. I learned that my friend's mother had passed the morning of Mom's birthday and my heart ached. Loss is never easy, but it always reminds me to cherish the relationships I have while I can.
mom and dad upon arrival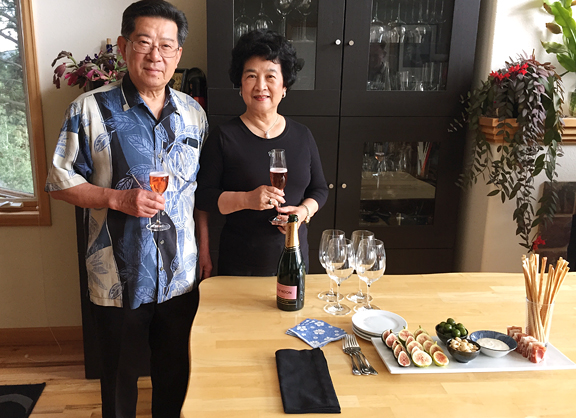 a toast to the birthday girl (sparkling rosé of pinot noir)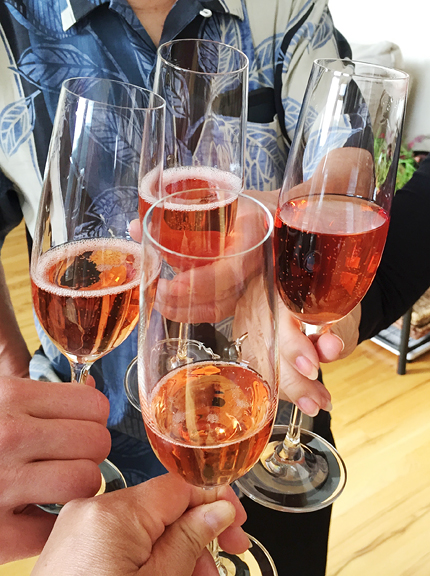 light appetizers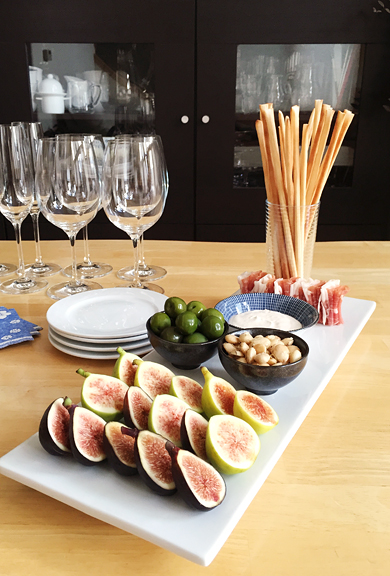 lobster and chanterelle vols au vent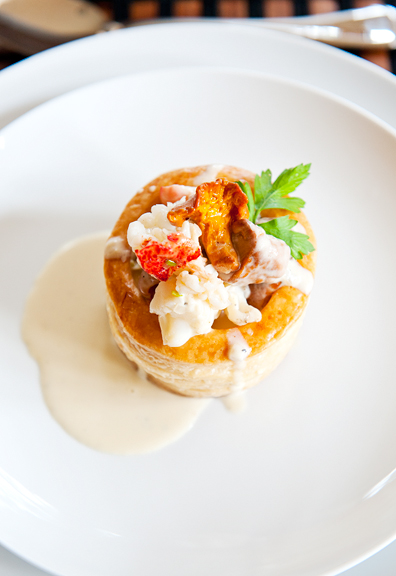 mom's favorite: shredded kale salad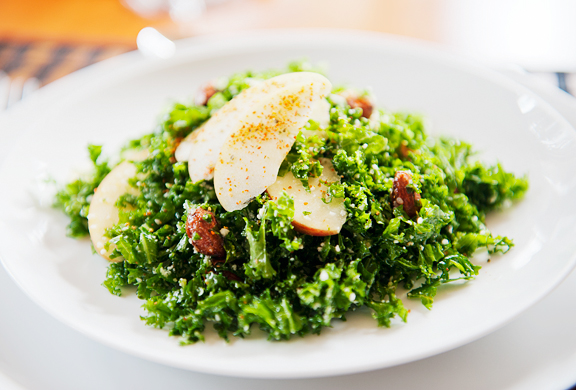 crowd pleaser: cioppino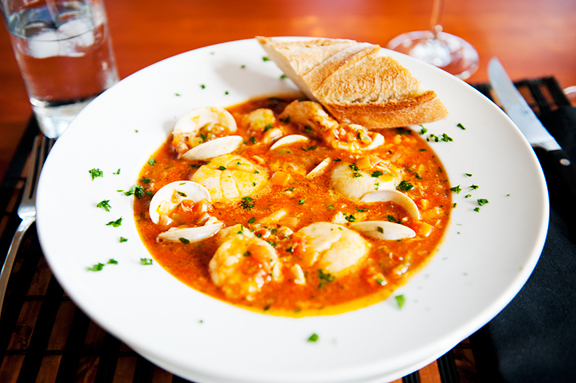 lime cheesecake for dessert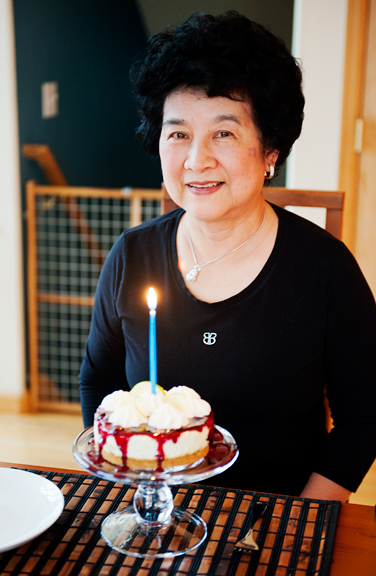 i hope she made a good wish!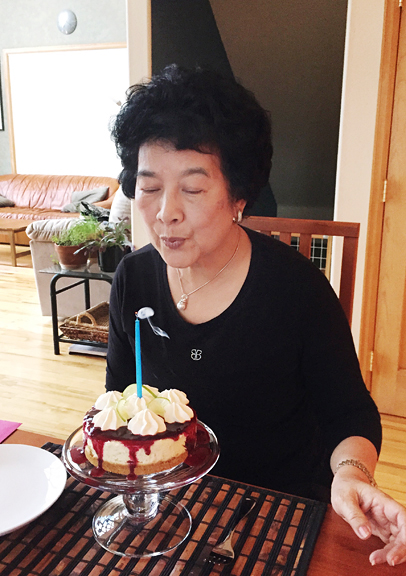 At one point, Mom came into the kitchen to watch me plate the vols au vent. She asked about the chanterelles and I showed her one of my many brown paper bags of fresh chanterelles in the refrigerator, pulling a particularly beautiful and delicate one out for her to smell. People say they smell like apricots, but if you close your eyes, I find they smell more like almonds and ever so faintly of bayberry candles – the kind you found in the 1980s in Colonial Williamsburg gift shops around the holidays. I think the gorgeous color is what prompts that whole apricot notion. They say if porcini are the kings of the mushroom world (they are called king boletes) then chanterelles are the queens. Finding a king in the woods is akin to a high-stakes Easter egg hunt. Porcini are heavy and hefty in your hand – solid and stout. Thrilling. Stumbling across a chanterelle patch is essentially striking gold. Delicate and frilly as if they came from the sea – chanterelles are especially coveted by me because they don't have worms. Super bonus awesomeness. I am enchanted.
Mom asked what on earth I was planning to do with all of those chanterelles. Funny she should ask. I spent the 5 hour car ride home from Crested Butte brainstorming recipes to make and shoot with chanterelles. I even had a container of one recipe for her to take home. So in addition to the leftover party food, Jeremy and I have been wading through chanterelle recipe after chanterelle recipe. Jeremy tells me this is a hardship he willingly endures. This bacon corn hash recipe comes from Deb at Smitten Kitchen, because I can't resist the sweet ears of Colorado Olathe corn that are in season right now. I just modified it with chanterelles fried in bacon grease, because it was the right thing to do.

corn, potatoes, salt, green onions, thick-cut bacon, pepper, chanterelles
chopped and sliced
**Jump for more butter**