Despite getting a lot of things done today, I can't remember what the hell I did. My memory is only good back to 7 pm, and that lower bound keeps moving up. Ah yes, we got a quote from the second moving company and it's much better than the first! Plus, they insure our stuff for up to $60K which is amazing since everything we own in our house is in total worth about 20 bucks. yiha!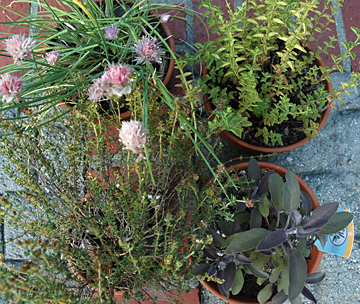 My herbs went up for grabs to my green-thumb girlfriends. Since we were going to Melinda's tonight for some spankin' good BBQ, I brought over the chives, oregano (the good one), thyme, and purple sage because I know she will grow them into jungly monsters. I got to hang with the kids and color with glitter glue sticks! They didn't make this stuff when I was growing up. The potential for interior destruction is large, but the return on fun is even bigger. When the kids were in bed, we sat down to eat and Aaron enticed me with The Green Soda Goodness. When I'm tired, my brain is even more susceptible to pretty colors – especially the edible kind. I give you Jones Green Apple Soda.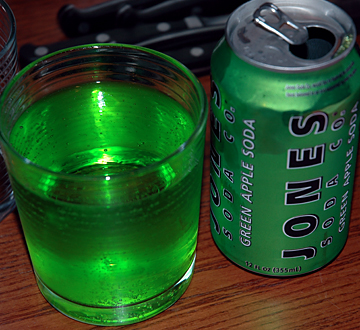 It is beautiful, artificial, sweet, bubbly, tangy, and it makes me happy. I've noticed a recent obsession developing with Green Sodas and Orange Cream Sodas. Requires research.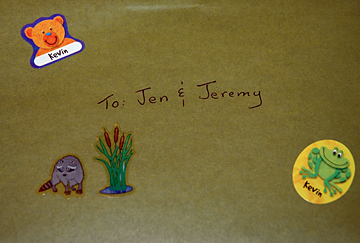 I got a thank you note from Kevin, which he dictated to his dad. It's the kind of thing that makes you laugh and laugh and then pause. I do regret that I will miss out on these little dudes when we move. There is a whole mix of emotions when I am with them and observing their behaviors and trying to understand how their minds work. I sometimes think to myself that this is merely a fraction of what an autistic child experiences, but honestly, I don't think it even comes close. I used to fear being with the kids because I didn't know how to handle regular children when things went wrong – how would I handle non-regular children when things went wrong? I still don't know what I'm doing, but I have a lot less fear and lot more affection and warm fuzzy. Plus, Melinda hasn't berated me for f-ing up so far…