The morning marine layer drizzled on our windshield as we made our way quietly along the 118 to Underwood Family Farms to meet Melinda and the kids at 9:30. I had gotten up at 6 am to get more packing done only to look outside and think, "what perfect weather for a big hike". As we left the house, I decided to wear my old trail runners to the farm. When I picked them up, Kaweah's ears perked and she trotted up to me with that, "hike?! me too?!?!" look on her face. When I said, "No, you stay here, pup," and shut the door behind me, she had that, "I don't understand" tilt of the head going. arggggg.
But the delight on the faces and in the voices of Kevin and Thomas were worth it because they immediately yelled, "Jennifer! Germany! Come and play in the powdery sand!" when we arrived. I understand why Melinda couldn't take the kids by herself – awesome as she is, it's hard for one adult to watch over 2 autistic children in such a stimulating environment. Kevin fixated on sitting in the wooden train while Thomas ran from one animal to the next. Then Thomas would fixate on the tunnels, then Kevin on the tunnels and Thomas on the bouncy cow, then…

thomas and the tunnel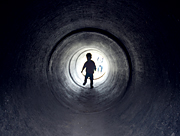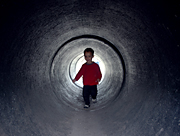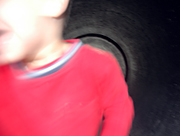 Thomas doesn't like having his picture taken. The instant the camera comes out, he stops smiling and looks so serious. He came up to me twice and grabbed the lens cap and said, "You close it like this, okay?" He is adorable. In the farm part (where you can pick fruits and vegetables in season), Kevin and Thomas went to town pulling up carrots, beets, and turnips. As Kevin consumed a good deal of the carrots he had unearthed, Thomas was determined to stop the irrigation hoses from leaking… He also did a little Freddie Kruger action with the clippers slashing up some squash.
the bounty of the earth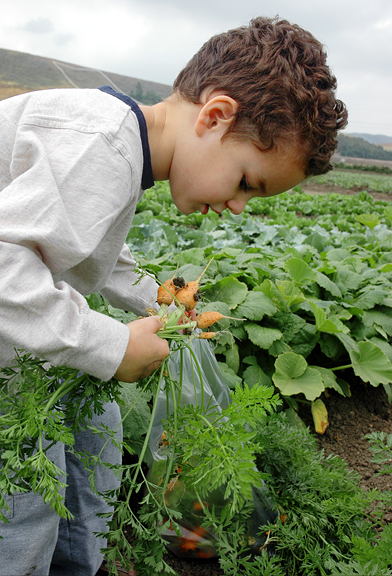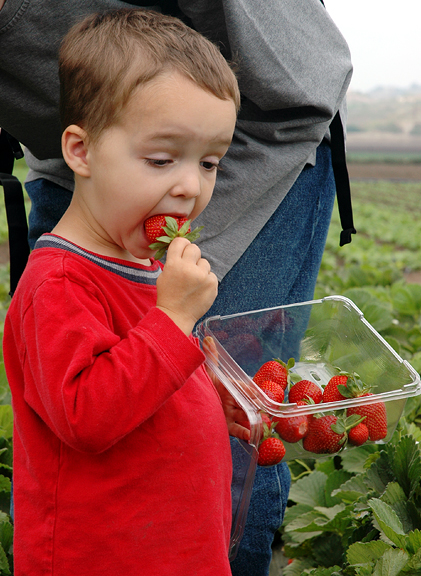 We only spent two and a half hours with them, but we were exhausted by noon. Kevin thanked us for coming to his party and said he'd see us Monday. Thomas said thanks and "I love you guys" and asked if he could come to our house. Melinda paid for all of the produce and gave us the beets, some strawberries, and the random turnips that Thomas yanked when she wasn't looking. We love Melinda and the boys so much.Sipping an orange cream soda on the way back, we determined that 1) we should begin rating the orange cream sodas we taste 2) plenty of kids at the farm were throwing fits worse than Kev or Tom, 3) two boys around the age of 8 were flirting dangerously close to getting a can of whoopass a la Jen opened up on them (rude little shits) and 4) we definitely never ever want to have children of our own. Why add to the chaos and entropy of the world when there is PLENTY crawling around as it is?