Thursday, July 28th, 2005
choosing carefully, choosing well
I made it out to Williams-Sonoma as I was ready to shop for a new addition to my cookware. I got to use the certificate that Michelle gave me – which makes it all the more special. I have been slowly acquiring The Array of Cookware that suits my needs. I hate cooksets. Here is why: No serious cook will ever find the ideal pan for every need in a cookset. It is impossible. Cooksets don't come with a cast iron skillet for one thing. Secondly, none of the surfaces are all-purpose enough if your repertoire spans more than three styles of cooking. I have an excellent sauté pan for searing. I have an excellent double boiler for pastries and confections. I have a lovely non-stick griddle pan… What I wanted was a high quality non-stick pan for stir fry. I have plenty of workhorse non-sticks, but few can withstand the high heat without warping for more than two or three years.
getting technical about chinese cooking
Some people are intimidated when they walk into Williams-Sonoma because the staff are very knowledgable. I wish REI employees knew as much about the gear they sell as WS employees know about the equipment they sell. These people COOK. So I inquired about the 8.5 quart non-stick dutch oven. The lady didn't understand why you would want one non-stick. I explained that I wanted it for chinese cooking – that woks are only useful under flames that few domestic ranges can produce and that the high sides of a dutch oven and the wide base allow for clean tossing and even heating for all ingredients. She was intrigued and we discussed the technique at length. She asked if I would invite her over for dinner sometime! In the end, the race between Calphalon and All Clad has been tied in my kitchen. I came away with this: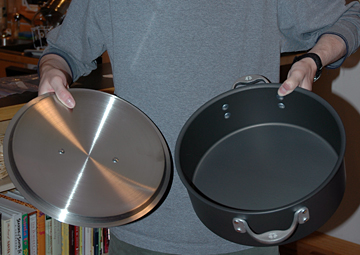 **Jump for more butter**