No, not the house, but for all intents and purposes, the kitchen – she is done. I had been toying with asking my neighbor for some aspen log cuttings so I could build some bookcases to go under the kitchen bar. But the more I looked into the various materials, the more I desired some pre-fab, particle board, DIY kit, cheap thing… my answer came today in the form of a $25 bookcase that ACTUALLY FIT the dimensions I needed, while looking for faux wood touch-up marker at McGuckin's for my crappy busted particle board bookcases that got dinged yet again… Me and particle board – we go way back. These two bookcases fit to within 1/2 inch of the space needed (b/c there are drawers and cabinet doors to the right).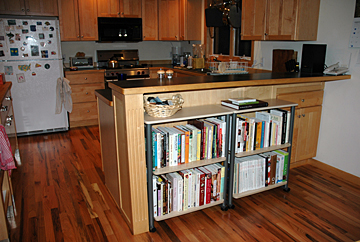 You see, I hate kitchen bars and I hate bars in general. People rarely sit at the bar, and if they ARE sitting at the bar, they are usually in my way. [I also don't like the social dynamics of sitting at the bar if there are more than 2 people – but that's a sushi bar issue…] If I had my druthers, I would have demolitioned the bar out of the kitchen completely – set up my Vardes and some stainless steel worktables and
really
turned it into a kitchen machine. There's more flexibility with movable furniture versus some fixed thing nailed to your floor. Anyway, so I hate kitchen bars and I was really annoyed with the one we now "own". The best use of that space was none other than my cookbooks (too shallow for cookware shelving b/c the diameter of the big pans exceeds the depth of the space), but most bookcases are made in dimensions not suited to fit under a retarded kitchen bar.
another view
Huzzah! I am quite pleased with the salvaging of space, the savings in cost and time, and the excellent access of my culinary library (which I even culled before moving!).