Happy Birthday to all my mates born on this day! I know the autumnal equinox bops around a bit, but I love it when the first day of autumn coincides with my birthday. Why? Because it means the ushering in of a favorite season with pumpkin pies, fall colors, cooler weather, Halloween, apple cider, autumn harvest, hearing children at play in the school yard, the smell of smoke from chimneys drifting through the air, and frosts.
But today we managed to skip over all of that and plunge into winter. Okay, to be fair, the forecast calls for warmer temps and sunshine in the coming week. However, today I could pretend it was winter – except it didn't require much pretending. On our drive to the trailhead this morning, the roads were completely slicked with a sheet of ice. Although I love winter, this punch of winds and then cold temperatures seems to have some aspens going from green to brown. Thankfully, there is still some color to spare.

last year, this expanse was full and brilliant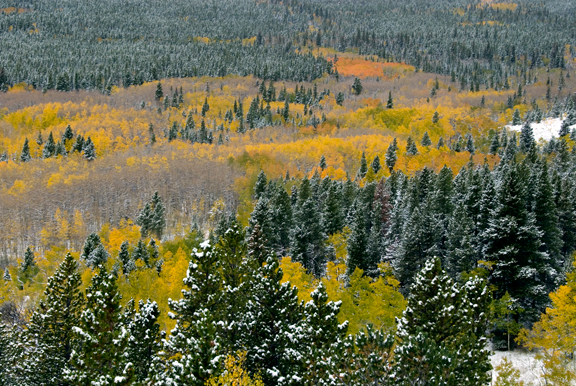 There was about a foot of snow in the backcountry. Kaweah went insane for the first five minutes – running to the end of her leash, realizing she was on a leash, butt scooting in circles, shoving her nose in the snow, rearing her head back and resuming butt scoots. Luckily (for Jeremy: leashmaster) this didn't last too long and we all enjoyed our stroll up to Lake Isabelle.
kaweah loves hiking in the snow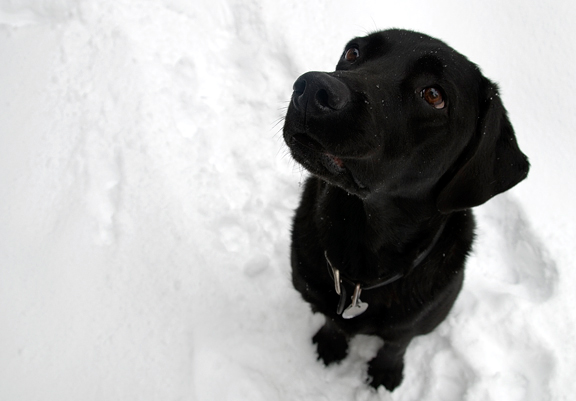 winter wonderland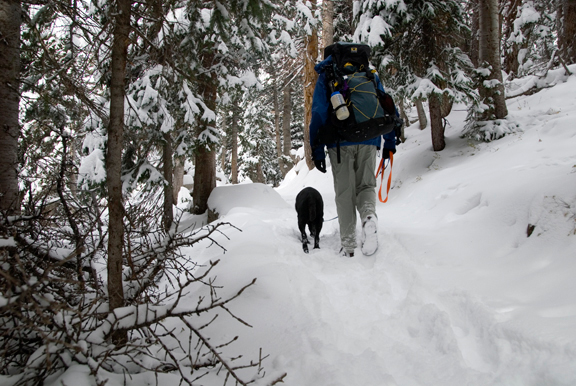 the lake level is less than half what it was last year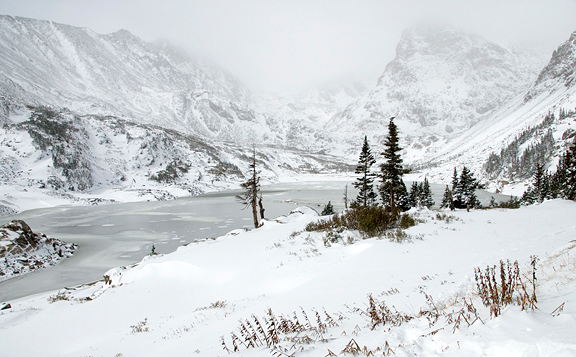 We had originally planned to hike to the pass, but visibility was low, it was windy, and we weren't keen on postholing. We kept thinking we should have brought our skis, but then we'd step on a nice rock and remembered there was no base. Instead, we opted for a longer loop back to the car. It was lovely and good exercise to trudge through all of that fresh snow.
My parents left the funniest and sweetest message on our answering machine. My mom sang a birthday song and sounded so happy. My dad said happy birthday and be good. They called after we got home and were on their way to an oyster party, had to prep the boat for a cruise, and were going to a mahjong party later. All they do is vacation and party now. But that's good. I think they deserve to have fun after so many years of hard work and rarely taking a vacation (except the occasional roadtrip which made all of us insane). I hope they can have fun for a long time. I haven't heard my mom laugh like this in a while and that is a birthday gift I cherish.
Of course, another fine birthday gift is that of love and food – from the heart and hands. Jeremy rolled fabulous maki for me today and we rounded it out with handrolls and sashimi. The maki were kalifornia rolls (made with krab instead of crab) and Fumito's trademark Not-So-Special rolls which are his sushi bar's Special Roll sans halibut on the outside. It's made with spicy tuna and scallop and I looooove it. Each time I take a bite, it's like a kiss from my sweetheart.

components of the not-so-special roll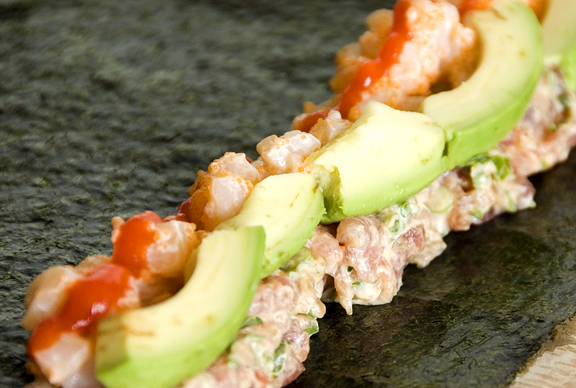 the masterful spread