We had brekkie at Chautauqua Dining Hall with Anastasia this morning. She was out visiting with KJ for the weekend. Since her hosts went to church, we three had a good old atheists' brunch – full of sin, cursing, gossip, and bacon. Devil knows, I loves me some bacon.
This afternoon we realized we had to take care of some errands in Boulder this evening. While in town, we had a wonderful dinner at Jax courtesy of a birthday gift from MIL. Jeremy got the special which was pan-seared scallops on a bed of duck confit risotto with spinach, pistachios, and pomegranate seeds in a pomegranate molasses with beurre blanc.
scallops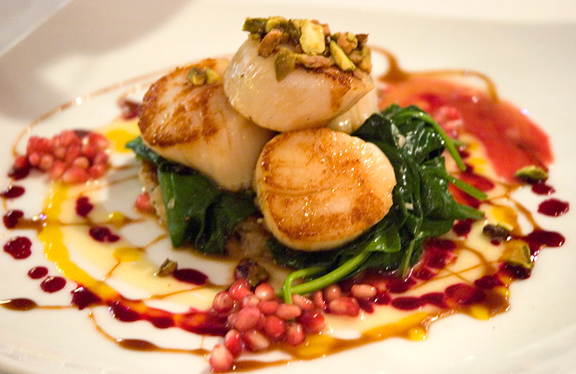 crabcake appetizers
I ordered the other special which was a pound of king crab (which Jeremy and I shared). I admitted to Jeremy that I love crab more than lobster. He replied he felt the same way. I grew up eating what I consider the best crab in the world – blue crabs, caught by yours truly. I know how to get at every piece of meat in that exoskeleton. My parents used to steam them in these giant Chinese steamers. We knew the routine and would cover the kitchen table with layers of newspaper. Grandma or Mom would mince ginger and pour red wine vinegar over it for dipping sauce instead of what we considered to be the more crude "melted butter". Vinegar has a way of enhancing the sweetness of the meat. Dad would bring the first batch over and dump a pile of red, steaming crabs in the center of the table and we'd all reach in.
First you peel back and remove the apron. In your left hand, you gently grasp the legs of one side and with the right hand, you grasp the pointy end of the shell on the same side. Pull the shell off, pull off the gills and innards, and begin picking through to the delicate and delicious meat. All of the hard work was worth the reward.