Recipe: lemon mirror cake
a slice of lemon mirror cake: my click entry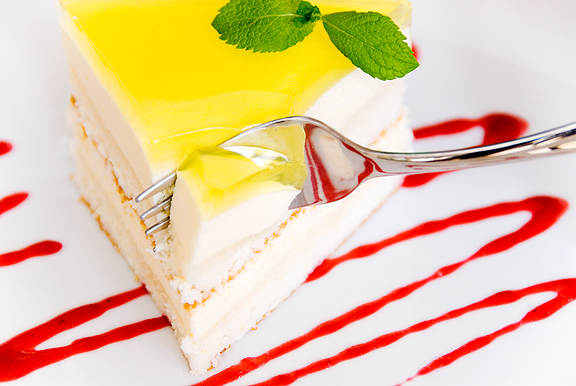 I thought that when my chemo was over, I would resume my life more or less the way I was before chemo. I will be the first to point out that how I feel now is a million times better than how I felt during chemo – so this is a good thing. While my ideas and enthusiasm are nearly on par with what they are normally, the reality is that my carcass is still playing catch up for a variety of reasons (complications, unexpected lingering side-effects, etc.). Add to that the daily radiation treatments that cut right into the middle of the day and I find I am not getting to all of the items on my ginormous to-do list.
let's make some lemon mousse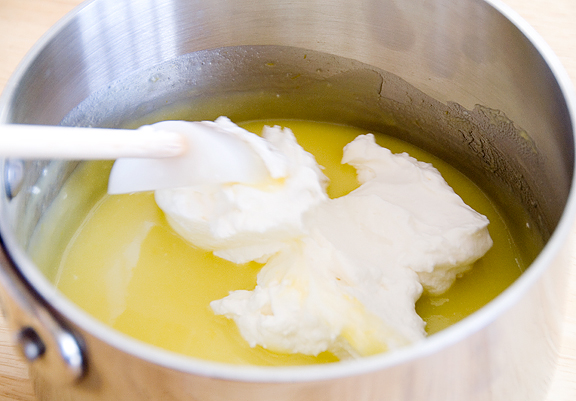 It's okay. I have learned to accept these setbacks and make the best of it. The tagline on my personal blog reads "things don't always go as planned" which is funny, because I coined that one before I was diagnosed. But it's a good concept to keep in mind and I feel that it keeps me on my toes, keeps me from feeling "entitled" and allows me to maneuver through life with greater flexibility… greater happiness.
brushing soaking syrup onto the chiffon cake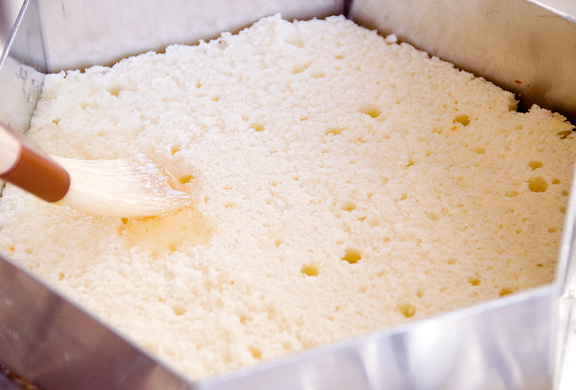 I still have trouble in the kitchen because my left arm and left hand are experiencing problems including pain, numbness, and weakness. While I'm right-handed, any avid cook knows that you use BOTH hands when cooking or baking. But some things can't wait and I feel happier overall when I can get into the kitchen and create something.
layering the mousse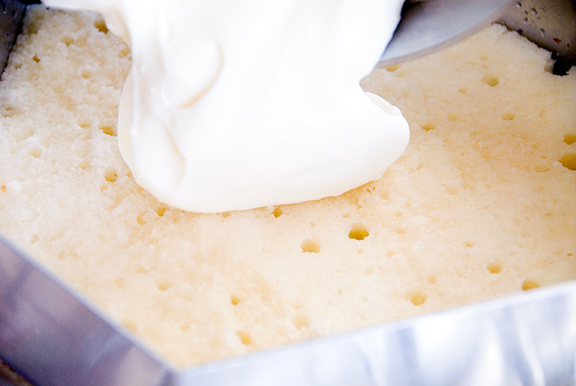 After I had contacted
Bee
about contributing
a prize
for
Bri's
fundraiser
, she encouraged me to enter the
CLICK
photo competition for June. The theme: yellow. Ah yes, that damn cancer thing. Pink for breast cancer (I hate pink) and yellow for cancer (I don't love yellow but I do hate cancer). It's not that I wanted to enter the contest so much as I wanted to show my support for Bri. If you think you're tired of hearing and reading about cancer, try having cancer… that gets old pretty fast.
pouring the mirror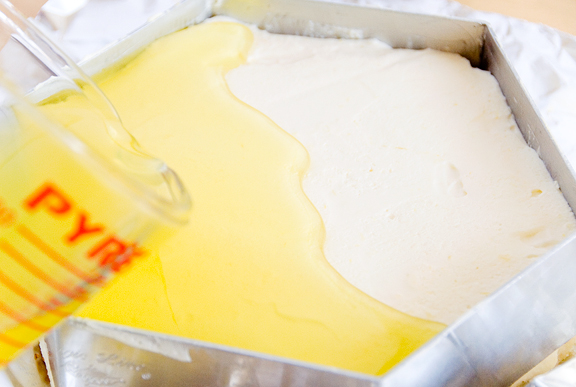 What I realized while I made the cake was that it was very much like my own experience with cancer. I usually have a grand plan in my head for pastries I want to make. I think about it for as little as a few minutes to as much as a couple of weeks – planning flavors, textures, components, shape, presentation. I have *expectations* and then I play it out. I used to execute most of my baking plans with good effort and great success. But this time things were slower. Folding whipped cream into lemon curd hurt my hand. Washing dishes that I needed burned my tender skin. My strength and balance were a little off so that I bumped the mold against the wall of the fridge, spilling liquid gelatin over the top. All of that control I had commanded before… lost for now. It no longer became a matter of what shots I would get, but if I could manage a damn cake at all.
the mirror is set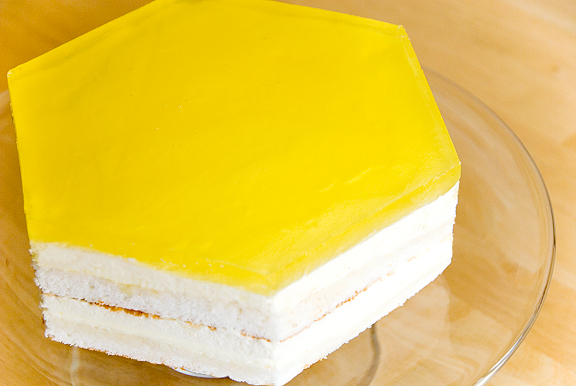 After my surgery, but before my chemo, I thought I'd push through the treatment like I push through everything else in life – with determination and gusto. I had high expectations and a good attitude. Things were off to a decent start as I could still run a 5K after the first infusion and remain active and upbeat. However, the four and a half months chipped away at me with complications that were unforseen, side-effects harsh enough to knock a horse on its ass, and the reality that mine was not going to be an easy peasy treatment. I learned a lot about myself and my limits this year. I had a pretty good idea to begin with, but I have a deeper understanding now. I think that is a positive. I'm accepting that there are aspects in life that I cannot bulldoze through in my usual way and sometimes we have to make due with less than ideal – but we can still be happy.
Driving up the canyon on my way home the other day, I thought to myself how wonderful it was to be alive right then and there. To see the sun glistening off the pine forests, smell the canyon air, feel that lovely breeze cooling on my face – to be able to smile. As in chemo, as in baking, as in life… many of us persevere the crap to get to the reward on the other side. I suppose for me, the journey alone is reward in and of itself.

lemon mirror cake with raspberry coulis
Lemon Mirror Cake
[print recipe]
1 sheet or 1 round lemon chiffon cake (1/2 recipe)
lemon mousse
limoncello soaking syrup
lemon mirror
lemon mousse
2 1/2 tsps powdered gelatin
2 oz. fresh lemon juice
10 oz. heavy cream (medium peaks)
8 oz. lemon curd, freshly made or warmed
1 oz. light corn syrup
1/2 tsp lemon extract
Bloom gelatin in lemon juice then melt it to 100°F. Whip the heavy cream to medium peaks. Cover and put in refrigerator. Blend together the warm curd with the corn syrup and the lemon extract, stirring with a whisk. Add the melted gelatin to the curd. Strain and cool the mixture to 70°F. Temper half of the whipped cream into the curd mixture. Fold in remaining whipped cream. Immediately use the mousse, cover and refrigerate until set.
lemon mirror
1 1/2 cups lemonade, strained
1 tsp lemon juice
1 tbsp limoncello
1 tbsp water
1 tbsp unflavored gelatin
1 drop yellow food coloring
Place lemon juice, limoncello, and water in a small bowl. Sprinkle gelatin over this mixture; set aside until spongy and soft. Heat lemonade in a pan until it simmers and pour over gelatin mixture. Stir to dissolve gelatin. Stir in the yellow food coloring. Place bowl over ice bath and stir occasionally until the mixture is syrupy.
Assembly: Place ring mold on foil base. Cut the cake into two slices for the shape of the mold or pan you are using. Set the first slice down in the ring mold and brush with half of the soaking syrup. Pour half of the mousse on top of the cake layer. Set the second cake layer over the mousse and soak with remaining syrup. Pour the rest of the mousse on top and smooth the surface. Refrigerate until the mousse is set. Remove from refrigerator and pour mirror on top and return to the refrigerator until gelatin is set. Unmold and serve.