Recipe: roasted beet, chèvre, hazelnut salad with blood oranges
I've been horizontal for the past two days with a blasted flu (not H1N1 as everyone seems to assume). I came down with it during my trip to California last week when we were taking care of stuff for my grandma. Sigh. No good deed goes unpunished. Today, I can finally sit upright for more than a few minutes at a time without passing out.
So I think some of you might be wondering who won the CHEFS gift card? Jeremy and Kaweah had a lot of fun picking the winner yesterday. I was in and out of consciousness while Jeremy was hard at work in the kitchen. He finally presented me with a handful of dog treats etched with a number 0-9 on each one… in binary. Somehow this was more exciting to Jeremy. As long as he's happy… Kaweah followed him around like a little black shadow, anxious to do her part (that is, to eat the treats).

your nibbly kibbly chances of winning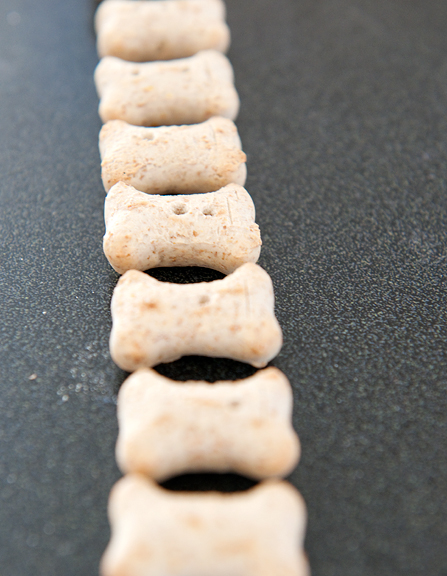 our dedicated employee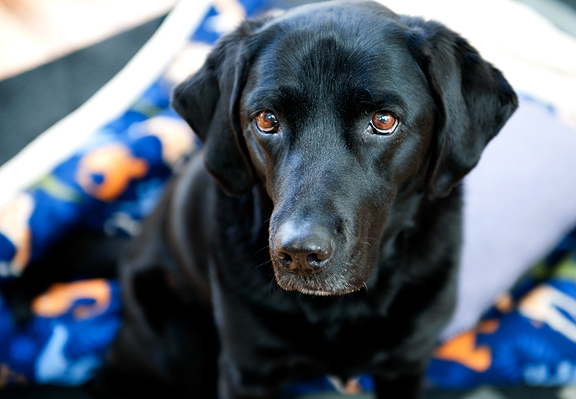 Per the usual routine, we set out all ten digits and recorded the first number she ate. Jeremy is quite practiced at preventing Kaweah from mowing through all ten at once (she's a quick one, that dog). We replaced the devoured digit with a new one and reshuffled the biscuits. Binary, hexidecimal – they're all delicious to Kaweah. 3… 0…
there goes the 5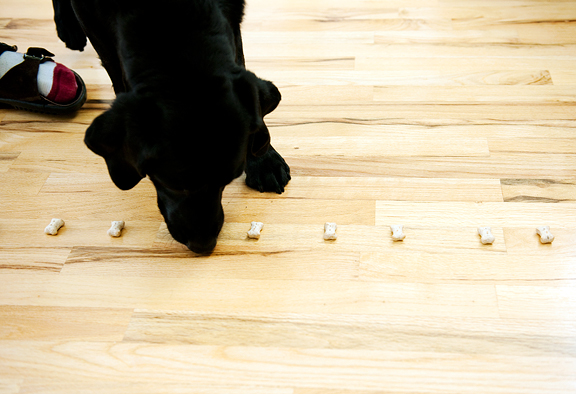 Congratulations to Wend!
You were comment #305 and you win the $100 CHEFS gift card! I'll be emailing you to get your snail mail address so CHEFS can ship it to you right away.
But wait, there's more! I have a $25 CHEFS gift card from the BlogHer Food conference back in September that I never used. A $25 card means only one thing – I'm going to spend way more than $25… I'd rather give that card to one of you. So Jeremy took the winning number 305 as a seed for a random number selection (Kaweah had eaten plenty for the day) and we have #33 – Paula! Congratulations to Paula! I'll contact you shortly to get your mailing address too.
So this here flu has played havoc with my holiday schedule and I'm left digging around in the archives for something to share. I can only handle thinking about holiday fare for a day or two and then my brain revolts. The cookies, the sweets, the large cooked animals, the cream, the starches, the fat – they make me so sleepy. I find greens and citrus to be light and refreshing. Salads leave me feeling recharged and ready to spring to action!

some golden beets
a few blood oranges
I often wonder if I really need a recipe for a salad. I look at them as permutations of favorite ingredients. Chop, crumble, toss. This salad was inspired by a favorite salad I like to order at
The Kitchen
: roast beets with chèvre and hazelnuts. Of course, I like oranges in my salads.
supreme the oranges
peel the roasted beets
The beets and oranges swapped roles here because I typically use red beets and orange… oranges. Neat how that worked out. I had served this salad at a dinner party we hosted in October – big hit with the dinner crowd. Even if you don't feel like eating it, it's awfully colorful and pretty just to look at.
toast the hazelnuts to pop the skins
everything is assembled
For the dressing, I toggle between a quick balsamic vinaigrette or a quick orange vinaigrette – it all depends on how much punch you want in the dressing (the orange vinaigrette is mellower). So if you're looking to take a break from the heavy heavy of the holidays, this salad will do you right.
just the pick-me-up i could use
Roasted Beet, Chèvre, Hazelnut Salad with Blood Oranges
[print recipe]
2-3 medium beets, trimmed of the ends and scrubbed clean
1 cup whole hazelnuts
3 oranges, supremed
4 oz. goat cheese, crumbled
6-8 oz. salad greens (your choice), rinsed and shaken
1/2 cup balsamic vinegar or fresh squeezed orange juice
up to 1 cup olive oil
sugar
salt
pepper
Roast the beets by double wrapping them in a sealed foil pouch and baking in a 400°F oven for 40 minutes. Let rest for 10 minutes before opening the pouch. When the beets have cooled, peel the skin away with your hands and slice or dice the beets. Toast the hazelnuts in a single layer on a baking sheet in a 350°F oven for 5 minutes or until you see most of the skins splitting. Remove from heat and let cool. The skins of most of the hazelnuts should rub off easily. Crack or smash the hazelnuts. To make the dressing, combine the vinegar or juice in a medium bowl with sugar, salt, and pepper to taste. Pour a slow and steady drizzle of oil into the bowl while whisking constantly until you reach the desired consistency. (I really dislike overly oily dressings, so I keep it closer to a 1:1 ratio, but you need to taste it). Assemble the salad ingredients on a platter with the dressing on the side or combine the beets, oranges, and greens in a large bowl and toss with dressing. Top with goat cheese and hazelnuts. Serves 4-6.