Recipe: mashed potatoes
***Don't forget to enter to win a copy of Doughnuts by Lara Ferroni! You have until midnight (24 hours from time of this posting, yo!).***
The weather turned rainy, cold, and windy over the weekend. Occasionally, when the clouds lift, I spy snow in the distance. I'm anxious for the snow. To be honest, I'm anxious to finish out my travels this season and be in one place for more than a week or two at a time. I was reminded of that this past Friday when I attended a get together that was looong overdue. Our stitch-n-bitch crew has been so ridiculously busy that it's the first time we assembled in one place in several months. (I'm totally one of the guilty parties.) It was a very special SNB and we didn't even think to bring any knitting or crafts projects.

whenever manisha hosts, she makes exquisite food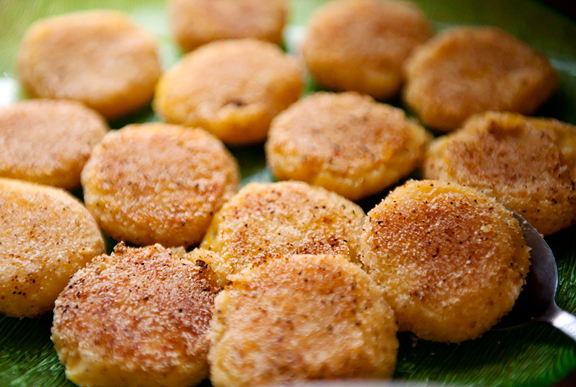 and we devour it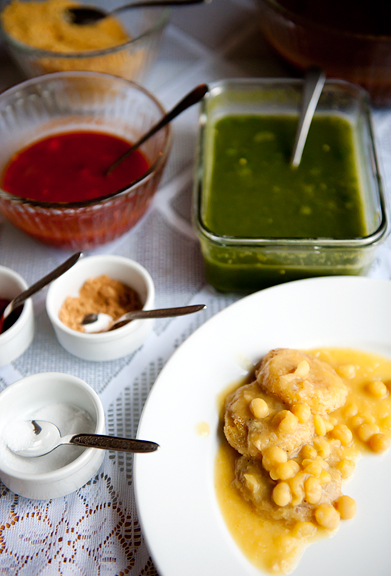 After the initial feast, we all settled into Manisha's living room where our hostess explained an Indian ritual for the expectant mother. In this case, we were celebrating our dear Nichole and her baby bump! We each took turns, administering tumeric, a red powder (I don't recall what it was or if it was edible), and rice to Nichole's forehead. We offered a coconut and a little nut in a cloth, sprinkled rice on her head, and fed her something sweet. I was running on fumes by Friday afternoon – the week had been insanely hectic – so I wasn't able to catch the significance of each act while I was shooting. But it was fun as well as incredibly touching as the gals, one by one, offered their heartfelt blessings to Nichole and her baby.
manisha explains the coconut to all of the noobs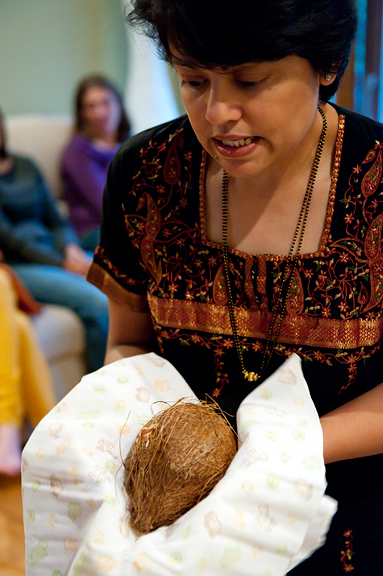 erin places tumeric on nichole's forehead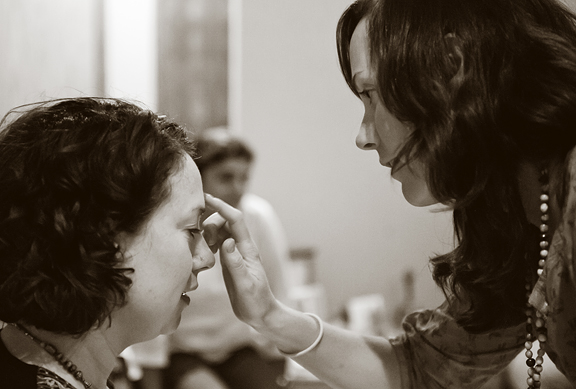 ali sprinkles rice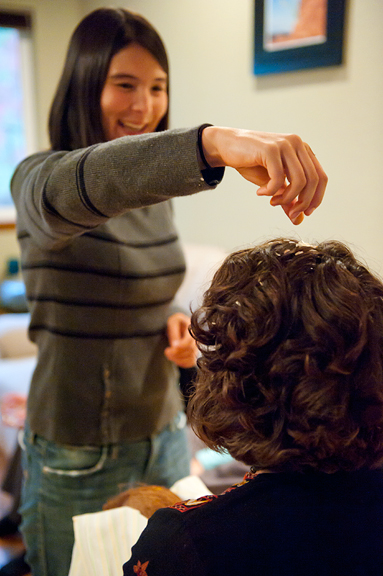 she glows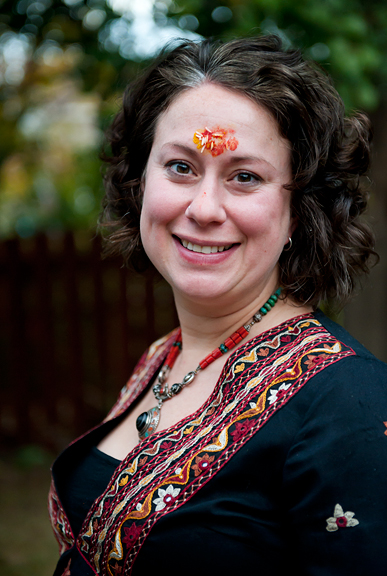 But the party didn't end there. No no, it was just getting started! Manisha hired two of her girlfriends to come and do henna tattoos. There was a lot of gossiping and bonding and laughing and snacking and admiring of one another's tattoos as we migrated from the guest room floor (where we were getting tattooed) to the living room to the kitchen and back again. It was a beautiful time and the smell of eucalyptus oil permeated the guest room. Despite my exhaustion as the evening wore on, I felt that I was in a good place. I was with beloved friends celebrating a soon-to-be significant moment in Nichole's life. We watched smiling, joking, giggling, admiring as Nichole's belly tattoo blossomed into a work of art. She was beaming.
it started in the center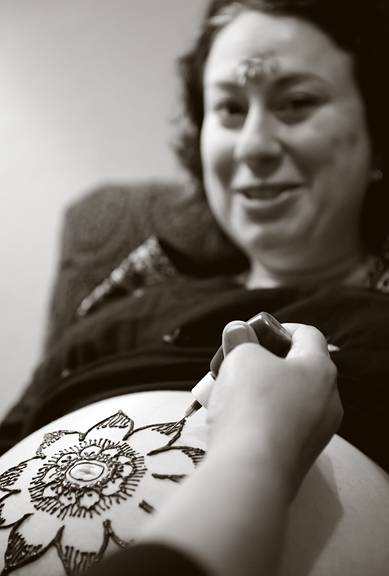 so lovely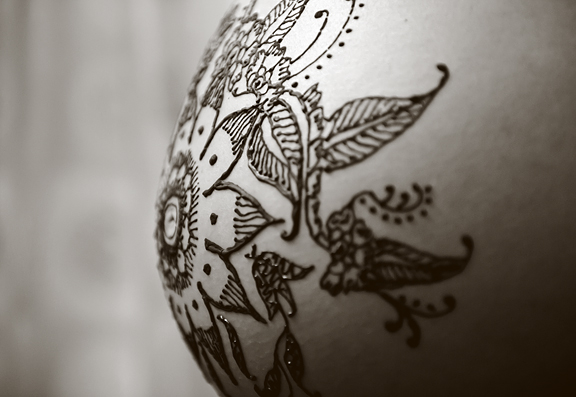 erin's cool design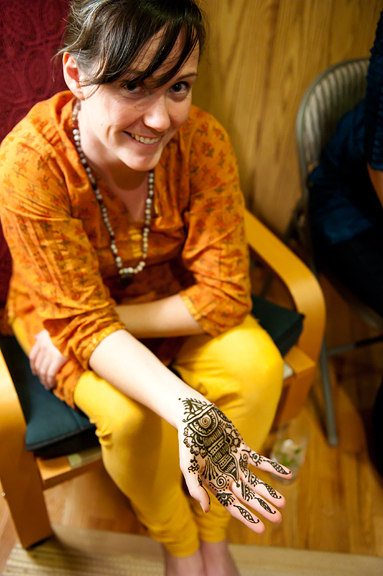 end of the night: all in (missing 3 of our gals who had to leave early)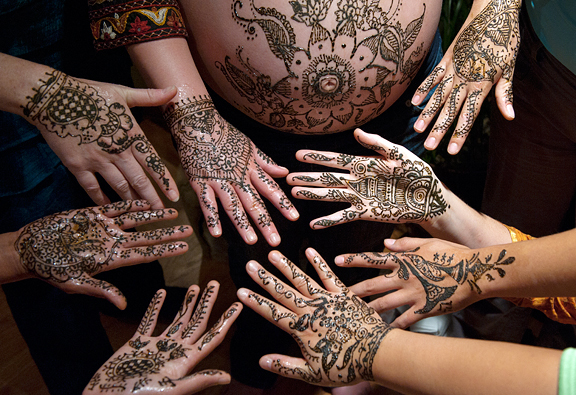 This was my first tattoo if you don't count the four blue dots I have on my chest from my radiation treatments. This one is far prettier and definitely more special. It isn't permanent, but I think I'd like it to last as long as possible – maybe 2-3 weeks depending on how well I take care of it. At first I would see my hand out of the corner of my eye and it would startle me, but I'm getting used to it. So don't be startled if you see a tattooed hand in some of the recipes in the coming months!
my favorite potato in the world: yukon golds
With the change in the weather, I decided to whip up some comfort food this weekend – mashed potatoes. I didn't even think to blog it these many years, but it's certainly something worth sharing. Mashed potatoes can be prepared in a variety of ways, but my favorite is akin to Fat with Mashed Potatoes, if you get my meaning. But of course you do! This isn't called
use real butter
for nothing, kids.
scrubbing the potatoes clean
boil in a big pot of water
Back in the day, when I was just getting my cooking legs, I would peel, dice, and boil my potatoes. Then I'd mash them up and stir in some potato water, a little milk, a little butter, some salt and pepper. Mashed potatoes. I think those potatoes are really boring. Truly. At some point I added garlic and those were a little more interesting. Fast forward to today and I like my potatoes chunky, fluffy, with skins. No water. Just salt, pepper, butter and cream. Double whammy on the OMGOODNESS! It's truly goodness this way. Have a looksee.
mash the potatoes
yes, add butter, damnit!
Boiling the potatoes whole allows the potato to get nice and fluffy without the soggy. This way you aren't diluting any of the golden goodness. In my opinion, the best potato for mashed potatoes is the Yukon Gold. I sing its praises daily. Get organic if you can. Yes, I can taste the difference. I'm sure other potatoes can be substituted, but I just don't know why you would if you can get your hands on some Yukon Golds. I also like my mashies skin on and lumpy. If you don't like the idea of using cream, you can use half and half or milk instead. I figure, if there is going to be ingestion of dairy, it may as well be the good stuff. Just add enough to achieve your desired consistency. I like mashed potatoes to be thick and dense – the kind that hurts if someone slings it in your face. Not to mention, if I liked my potatoes on the soupy side, that would be a HUGE amount of cream.
pour in cream (or one of its various underlings)
season with salt and pepper
These potatoes last a long time because they are really filling. It must be because of all that… potato ;) I love serving a few slices of rare steak on a bed of these mashies. I haven't conjured the guts to serve them with chicken-fried steak – another must have with potatoes. It's just that I like to still be breathing at the end of a meal.
well, that's my food baby right there
Mashed Potatoes
[print recipe]
3 lbs. yukon gold potatoes (organic is preferable)
4-6 tbsps unsalted butter, cut into 1-tbsp pieces
1/4 – 1/2 cup cream, half and half, or milk (your choice… guess which one tastes better)
salt to taste
pepper to taste
Set a large pot of water on the stove over high heat. Scrub the potatoes clean unless you plan to remove the skins (I leave the skins on). When the water in the pot comes to a boil, add the potatoes, whole, to the pot. Let the water return to a boil and monitor to make sure it doesn't boil over. Cook the potatoes for 20-25 minutes. Poke with a fork to make sure the largest potato is soft in the middle. When the potatoes are done, remove them from the pot (you could drain them, but we like to let our water cool and then water our yard with it). If you like watery potatoes (I do not), you can reserve some of the water to thin the potatoes. Place the potatoes in a large, wide bowl and mash them with your potato masher. While they are still hot, mash in the butter until it is melted. Stir in cream or half and half or milk until the potatoes have reached your desired consistency. I tend to like my mashed potatoes pretty thick and chunky. Season with salt and pepper to taste.