Recipe: arepas with guasacaca
It has been snowing horizontally in my 'hood for the past couple of days. I rather like the vertical snow more – you know, the kind that falls gently and accumulates so you can ski it? But I'll take any snow we can get at the moment because we haven't had our usual Big Dump Snow Day yet and it's nearly November. Meanwhile, we've been taking care of business at home – like choosing who won the Doughnuts cookbook giveaway! Jeremy gathered Kaweah's ragtag crew of toys, assigning each one a number and randomly distributing them in a line (that is, they are not laid out in numerical order). Then we recorded the number of the first toy she touched. We did this three times.

kaweah picked the number 557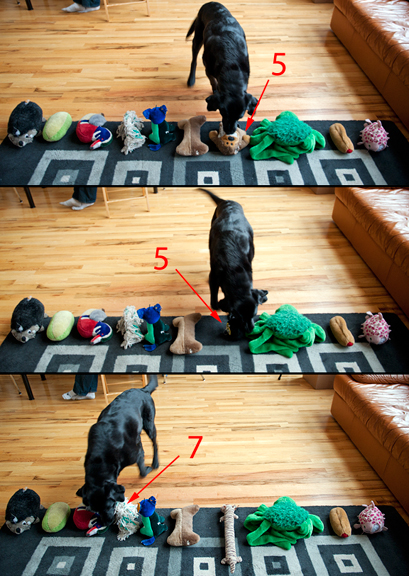 Our number is 557. We had 274 qualifying entrants (I basically accepted entrants up until Kaweah had a number) and 557 MOD 274 is 9.
Congratulations Emily Vigue! You've won a free copy of Lara Ferroni's Doughnuts!
I'll send you an email to get your shipping address right away!
In case you're wondering just how random my selection process is, my resident astrophysicist came up with the method and we had it verified for pure idiotic randomness by my friend and resident economist (also statistician), Erin. Not to mention – it's Kaweah – does ANYONE know what goes on in that little brain of hers?

well, right now you know what kaweah is thinking
Erin and
Ali
came up yesterday so Erin could teach us to make
arepas
. Erin has been wanting to share arepas with us forever and ever. She learned how to make them the proper way in Venezuela. While I don't particularly enjoy spending time in tropical climates, I am more than willing to partake of the cuisine. I've been wanting to try and blog about arepas ever since Erin mentioned them, so it all worked out. And if you see henna tattoos on the hands of our models, yes – they were at
the party
too!
start with harina pan
Erin told me there are two brands of harina that she is aware of and harina PAN is the one you want to use. You probably won't find it in your neighborhood grocery store unless you are lucky enough to have a good Latin American market nearby (if so, color me jealous). So burn that image above into your brain because it is soooo worth it to make these delectable little pockets of savory amazingness.
pour the harina pan into a large bowl
add warm water
and some oil (and salt)
mix it together with your hand and let it rest
While you let the harina sit (Erin says ten minutes minimum, but the longer the better), you can make the guasacaca, a Venezuelan avocado salsa. Sounds like
huasakaka
– no hard G, okay? The ingredients are relatively easy to come by.
onion, jalapeño, parsley, cilantro, garlic, and avocado
blender it
You'll also need a little salt, some white vinegar or rice wine vinegar, and oil (which you add last – always last). This might have come together easier had we used the food processor or if we hadn't packed the leafy herbs in first. If you go the blender route and your blender sucks as much as mine does, then please blender the onion, vinegar, and avocado first. That will produce enough liquid to get the rest of the ingredients blendered properly, otherwise you'll spend a lot of time pushing ingredients down toward the blade over and over and over again (with the blender OFF, of course).
erin finally gets the guasacaca to blend up
brilliant green color
The guasacaca smells so good and fresh! Just wait until you taste it. Bright, creamy, tangy, slightly spicy, and smooth. Ali and I began to think of all the foods we could use as vehicles for guasacaca. Okay, but we had to finish making the arepas. Erin corralled us back to the table to show us how to shape the patties. Erin is specific in her instructions on how to form the arepas because she likes the crunchy bits more than the soft interior. I like the crunchy more than the squishy too. Her formula is approximately 4-5 inches in diameter and 1/2-inch in thickness.
flat, even, rounded, no cracks
cook on a lightly oiled flat surface
The arepas took about ten minutes a side to cook, but this will depend on the pan you use and your stove. When you begin to hear the arepas crackling and popping, start checking the bottoms. When they turn a light golden color, they are ready to flip over. After flipping, they will begin to crackle and pop again. Check for the golden bottom and begin tapping the arepa with your finger. It should be somewhat springy and Erin describes the sound as a
thunk
. If you are making a lot of arepas, then place the finished ones in a baking dish in a low oven (like 250°F) until ready to serve.
the fixins: sliced avocado, shredded cheese, guasacaca, and carnitas
slice 180° (that's half a circle) of the perimeter open with a knife
The point of slicing the arepa open is to create a pocket. Once you make the incision, insert the knife into the arepa between the two crunchy exterior sides and sweep out a pocket. You can carefully scrape out some of the soft dough and eat it later with butter. Just don't poke a hole or anything through the arepa, that would be muy sad. Once the arepa is open and the pocket is ready, it's time to get down to business. You can fill arepas with anything, really. I whipped up some carnitas while we were making the arepas and guasacaca.
some avocado slices
carnitas
cheese and guasacaca
ali tries her first arepa
happy erin
Erin told us that in Venezuela, they have the guasacaca in squeeze bottles. Some people will take a bite, squirt more guasacaca on, take a bite, squirt more guasacaca… I asked if anyone just takes the squeeze bottle and squirts a stream of guasacaca directly into their mouth? Of course, I would never do that in polite company… not to mention the arepas are so unbelievably good they demand to be devoured with guasacaca and well… devoured in general.
arepas: so much goodness in one little pocket
Arepas with Guasacaca
[print recipe]
from Erin
arepas
avocado, sliced
carnitas or black beans
mozarella cheese, shredded
guasacaca (see below)
Slice the top half of an arepa open along the seam with a butter knife. Carefully scrape out some of the moist filling from the entire interior (you can save it to eat later with butter). When the arepa is hollowed out, fill it with avocado, carnitas (or black beans), cheese, and guasacaca.
arepas
2 cups harina PAN (Erin says to get THIS brand and not the other)
2 1/2 cups warm water
1 tsp salt
2-3 tbsps vegetable or canola oil (something without strong flavor)
more oil for cooking
Place the harina in a large bowl and add the warm water, salt, and vegetable oil (we used 3 tablespoons). Gently fold the mixture together until the moisture is roughly evenly distributed. Set the dough aside for at least ten minutes. The longer, the better. Meanwhile you can make the guasacaca (see below). When the dough has sat long enough, mix it together with your hands and moosh out any lumps between your fingers. Make sure it is uniformly mixed. Begin to form patties approximately 1/2-inch thick and 4-5 inches in diameter. You want them to have a uniform surface (avoid cracks) and to be relatively even in thickness. Using a paper towel or brush, apply a thin layer of vegetable oil on a flat pan like a cast iron skillet or something flat (NOT a non-stick pan). Set over medium-high heat. When the pan is hot, place a few patties (like 3 or however many will fit without crowding) on the surface. Let sit for 5 to 10 minutes (depending on your heat and pan) until the bottoms begin to crackle and pop. Check the bottoms for doneness – when they are lightly golden, flip them over. After another 5 to 10 minutes, check the bottoms for doneness. They should be lightly golden and when you tap the arepa, it should be slightly springy. Remove from heat. If you are making a lot, you can keep the cooked arepas in a baking dish in a low oven (like 250°F) until you are ready to serve. Makes 1/2 dozen 5-inch arepas.
guasacaca (guacamole salsa)
1 onion, peeled, topped, and cut into eighths
1 avocado, peeled and pitted
2-3 tablespoons of white or rice wine vinegar (more if necessary)
2-3 cloves of garlic (3 if you like garlic – I like garlic)
1 jalapeño pepper, seeded and cored
2 cups fresh parsley
2 cups fresh cilantro
salt to taste
3 tbsps vegetable oil
Place the onion, avocado, vinegar, garlic, and jalapeño in a blender (or food processor) and purée until smooth. Add the parsley and cilantro and purée until smooth. If it is too dry and won't blend, add more vinegar and push it toward the blade with a spoon or a spatula between pulses. Add salt to taste and then add the oil last.