I shook Trent's hand and sat down across from him. It was our first face-to-face encounter although we had emailed a few times before. Just a quick meeting in a coffee shop, in between a couple of my appointments. By the time I walked away, I felt this guy was incredibly earnest – a really good fellow. And I was right.

pica's in boulder
That day we talked about his idea to open a restaurant in Boulder. Sure, people have dreams all the time, but Trent is the type of methodical, responsible, and hard-working individual who makes things happen. Trent used to be a professional sports photographer (um, THAT is really hard work) who trained at Boulder's
Culinary School of the Rockies
' Chef program. I followed his progress on
Twitter
and on his
blog
. Jeremy and I even dropped by one day, a week before Trent's projected opening, and he graciously invited us in for a tour. I was wide-eyed in amazement at how far he had come… and how much more he had to accomplish in the next week. I now know if anyone can do it, Trent can.
exhausted before the grand opening: chef andy of jackson, wyoming (left) and trent (right)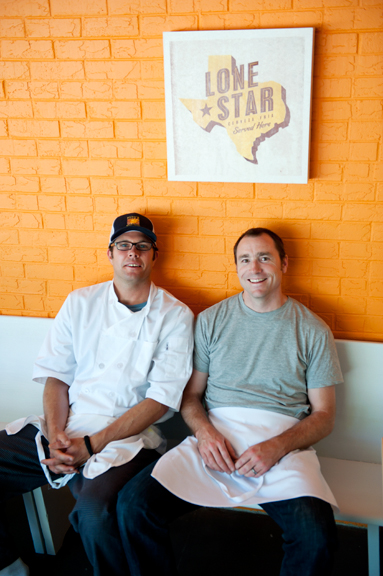 The atmosphere is totally casual. After all, it is a taqueria. The interior is brightly colored and the materials for the benches, the tables are re-purposed old doors or pews. It's a clean and tidy space with simple artwork adorning the walls including a flatscreen television for fans to watch World Cup matches (Trent was a photographer for the US World Cup soccer team). Outside is a lovely, quiet garden patio perfect for enjoying some fine Boulder weather.
i suddenly feel so thirsty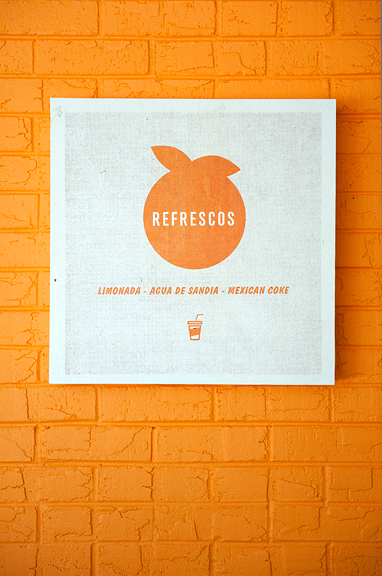 mmmm… patio dining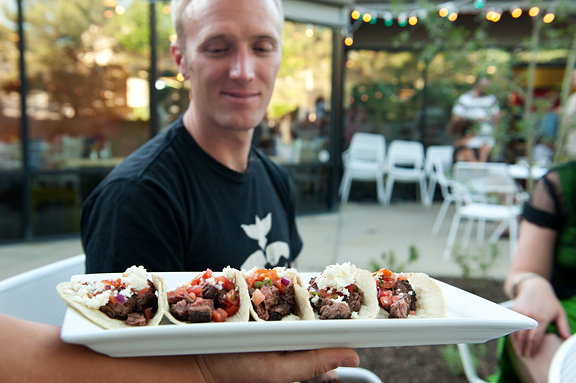 Pica's Boulder
opened in June of this year (2010) bringing Baja-style Mexican food to the good citizens of this northern Colorado town. Mexican food. You all know how I bitch and moan about Mexican food in Colorado. I'm married to a guy who grew up in New Mexico and I lived in California for ten years. There are many many flavors of Mexican food, but Boulder never really did it for me.
the menu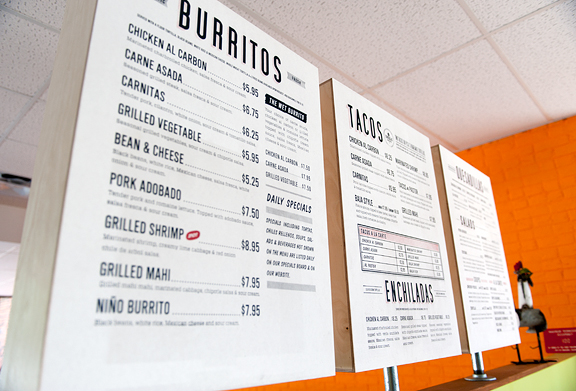 Their Mexican food focuses on the bright flavors of fresh and wholesome ingredients with a slight upscale flair. It is NOT Northern Mexican nor is it New Mexican, so if you walk in there judging it as such, that's really your problem. They offer several vegetarian options and I know Pica's is gluten-free friendly based on
Andrew's
love of the place. I have frequented Pica's for work lunches and fun lunches, turning many a friend on to their wonderful tacos, burritos, and other offerings. Nichole once said she eats there so often that her baby is half Pica's! The ultimate vote of confidence though? My stitch-n-bitch crew gathered there for a meal. Right on.
jeremy got a margarita and i had the half lemonade half agua fresca (watermelon juice)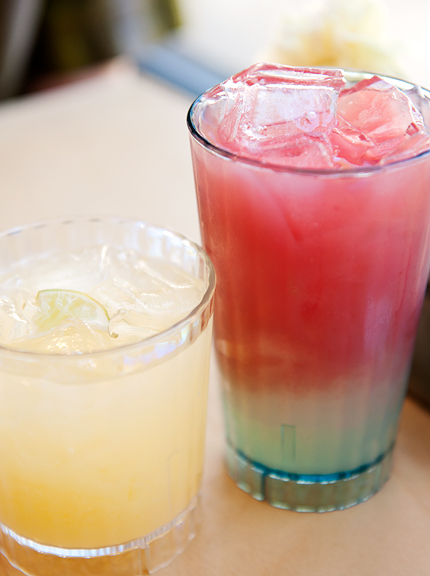 When you enter Pica's you should not only check out the standard menu board, but have a gander at the daily specials listed on the blackboards behind the counter. I personally love the tacos al pastor, carnitas, marinated shrimp, baja style fish tacos, skirt steak tacos, chicken tinga (I had the chicken tinga sopes which were good, but I liked the chicken tinga more than the sopes), and the wet burrito (carne asada, please!). When Jeremy and I finally went in for a "proper" review, we decided to score some appetizers. Usually, I'm all business. Give me the tacos al pastor and no one will get hurt.
You order at the counter – dine-in or carryout – then sit down and wait for the food to arrive. There isn't a lot of wait service in the traditional sense, but all of the employees have been polite and attentive when I've been to Pica's.

chips with half guacamole and half salsa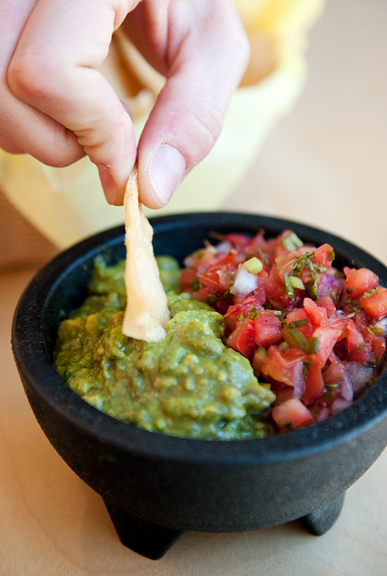 Their chips weren't typical restaurant tortilla chips that are overly greasy, stale, cold, and over (or under) salted. These were clearly fresh and light – crisp bites with just the right amount of salt. Jeremy gave it the thumbs up. The boy knows his restaurant tortilla chips. I defer to him. Both the guacamole and salsa were obviously made with fresh ingredients and had a nice zingy tang to them. They were more fresh than spicy. I can live with that, although I am a whore for spicy.
jeremy ordered marinated shrimp tacos (2 tacos for $8.95)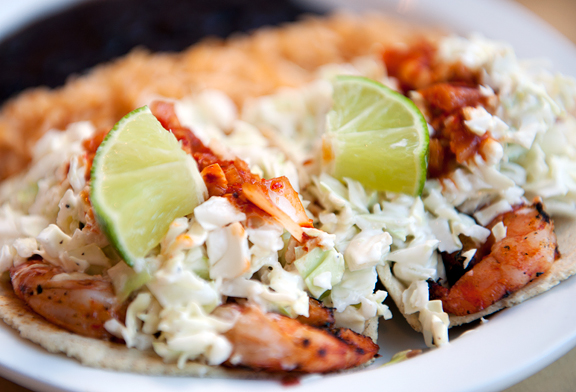 on handmade tortillas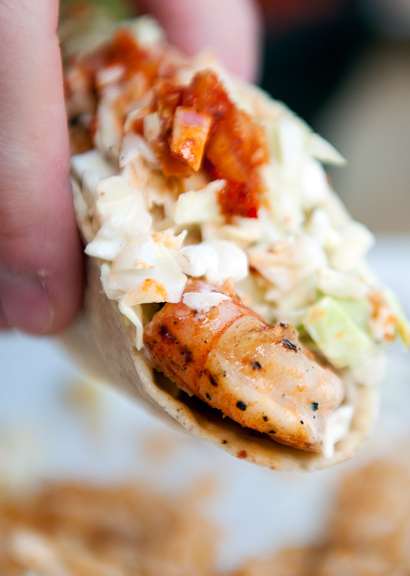 The seafood at Pica's is always fresh. I've never had a bad experience. Keep in mind that we are in Colorado – a landlocked state, and I hail from coastal Virginia. The shrimp tacos arrived: plump and juicy shrimp with a creamy cabbage slaw on handmade corn tortillas and a side of rice and beans. The black beans are well cooked (good texture), but not heavily seasoned. These aren't refritos just in case that was what you were hoping for. I liked that their rice was not mushy or old.
wet carne asada burrito (1 giant burrito for $7.95)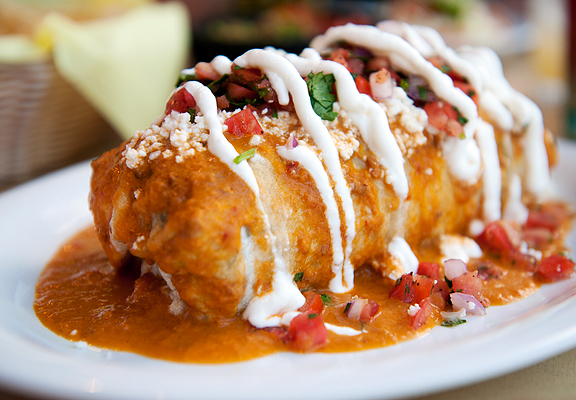 includes lots of additional goodies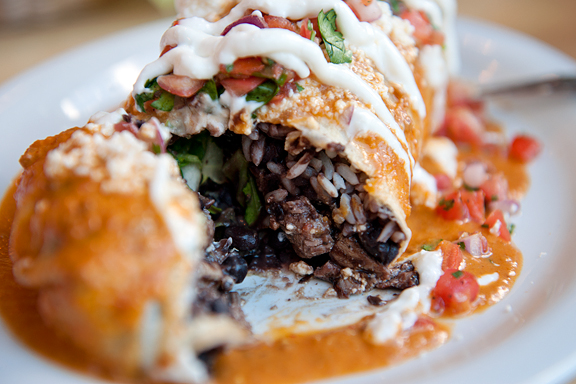 The burrito is HUGE and delightful. It is hugely delightful although a little too much to fit into my belly in one sitting. They stuffed carne asada, black beans, rice, lettuce, and assorted grilled peppers into a flour tortilla that can only be described as tarp-like. The whole package is then topped off with chipotle cream sauce, salsa fresca, Mexican cheese, and a zip of sour cream.
on another visit: the lovely tacos al pastor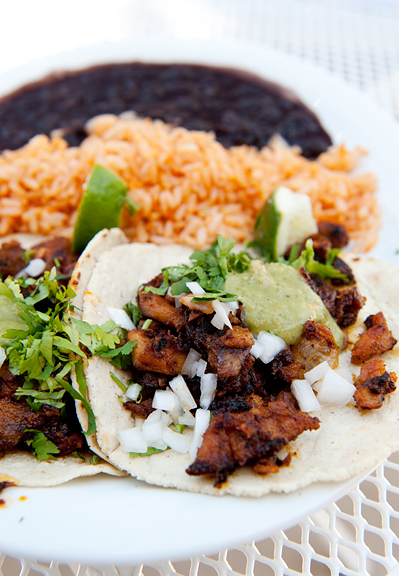 Pica's is more than just a restaurant, it is part of the Boulder community. They donated free meals and food to people who lost their homes and firefighters who battled the massive Boulder fire in early September of this year. I've followed the initial snafus, the growing pains, and the successes as Pica's moves into her sixth month of operation. It helped me see and appreciate restaurants in a completely different light. I do love Pica's, which is why I go back. The food is solid and the flavors come through in the marinades, the sauces, the fresh ingredients. Prices tend to run on the higher end than most taquerias I've been to, but the quality is there and I feel it is totally worth it. I think there is room for improvement in providing some spicier fare. But here is what I really value in Pica's – rather what I really cherish about Trent – he wants to know and he wants to make people happy. He is always open to hearing what the customers want and he will work hard to make it happen. So if you haven't tried Pica's yet, show them some love.
Pica's Mexican Taqueria in Boulder
5360 Arapahoe Ave.
Suite F
Boulder, Colorado 80303
303.444.2391
located in the same center as Ozo Coffee, south side of Arapahoe Ave. (cross street Conestoga St.)