Long-time readers and basically anyone who has been around me for more than five minutes know how I have bemoaned the utter lack of decent Chinese food in Boulder, Colorado. That is part of the reason you find so many Chinese recipes on this blog – because I can't get the real stuff where I live unless I make it myself. But hold on there, pilgrim! Ma Ma has come to the rescue.

and you can find her on pearl street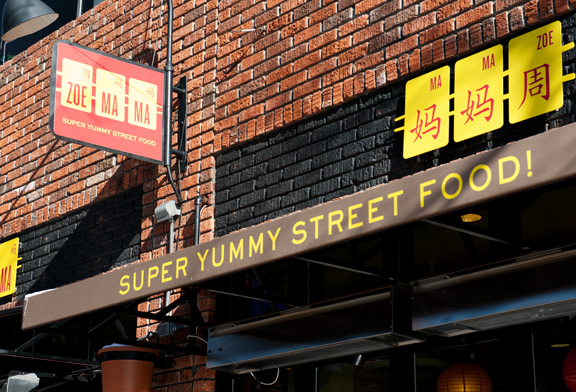 Zoe Ma Ma
is a newish Chinese restaurant that opened in 2010 on 10th and Pearl Streets in downtown Boulder. I first noticed it on my way to my favorite sushi bar, which is right next door (Sushi Tora). I looked at the menu with anticipation and suspicion. I've had my hopes dashed to the ground countless times in Boulder before. I wondered if this would be any different. When my parents were visiting and we walked past Zoe Ma Ma, my mother looked up at the Chinese characters and said, "Oh!
Zoe Ma Ma
. Looks interesting." So right, it's not Zoe as in
zo-ee
, but Zoe as in
zoh
. But everyone calls her Ma Ma. When customers enter, they say "Hi, Ma Ma!" and when they leave they wave "Bye, Ma Ma!" or "Thank you, Ma Ma!" Sometimes you'll even hear it spoken in Chinese. Yes, the Chinese people in Boulder (all three of them… I'm JOKING!) dine here. That's a good sign.
this is ma ma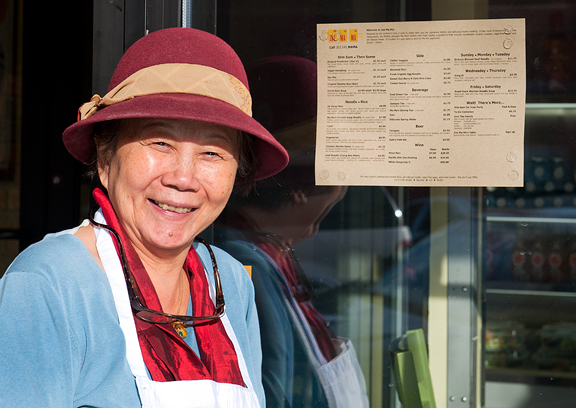 It's a small restaurant with seating for about 25 people inside and another 8-10 at the bar outside when the weather is nice. I know for a fact if you go right at noon, it can be quite busy. I've seen the bar lined with diners happily slurping their noodles as the steam dances up into the sunlight. Walk up to the counter to place your order. Depending on the day of the week, you can also choose the special. On Sunday, Monday, Tuesday you can get a big bowl of Sichuan braised beef noodle soup. On Wednesday and Thursday they serve savory pork belly zong zi (think of it as a Chinese tamale made with pearl rice). Friday and Saturday's special is roast duck and wonton soup.
ma ma serves homemade organic noodles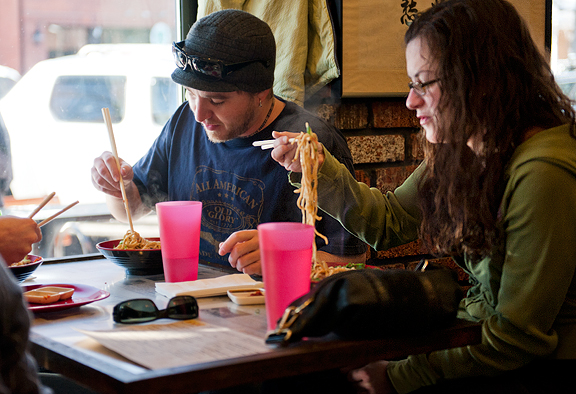 I was curious. Very curious. The menu items looked more like the homestyle food I grew up eating and loving rather than the deep-fried, day glo sauce-drowned abominations of the typical Chinese restaurants around town. When I introduced myself to Ma Ma, we spoke in Mandarin and shared our paths. That's what all Chinese people do when they meet.
"Where are you from?"
And that, for me, means
"Where are your parents from?"
because when I say I was born in the U.S. they (they = any Chinese person, especially immigrants) immediately ask if my parents came from China or Taiwan.
jason and i sampled the menu for lunch one day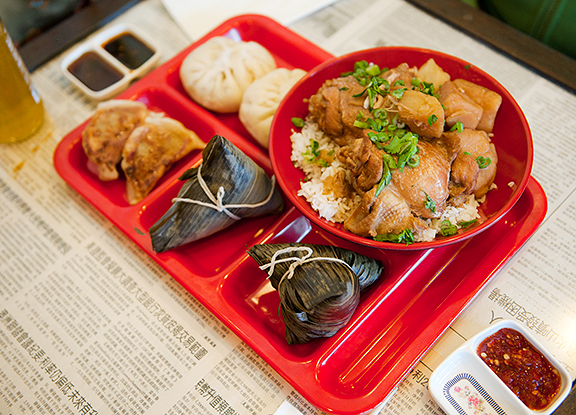 Ma Ma is a tiny woman, a warm smile. She busily prepares and serves food behind the counter and greets customers as they enter the restaurant. Like ANY Chinese mother, she wants to feed you and make sure you get enough to eat. She sometimes sneaks a soy sauce egg into your container or bowl. I've gotten into the habit of bringing a screw-top tupperware with me whenever I know I'm going to Zoe Ma Ma because the portions are generous. While I haven't tried every item on the menu, I have been working my way through – although it's hard to do when the first dish I tried has become my favorite.
i am a noodle girl: sichuan braised beef noodle soup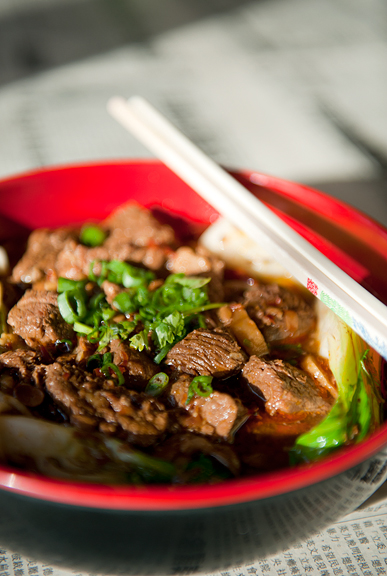 Homestyle Chinese cooking involves fresh vegetables, slow-cooked meats or tofu in heady broths kissed with spices, good quality noodles or rice, and care. I can't tell you how happy I am to have a place other than my own home to go and grab a hearty bite of good Chinese food. I trust Ma Ma to use the best ingredients too. The beef in the beef noodle soup isn't full of gristle or fat. The chicken in her Chicken and Potatoes on Rice ("CPR") is lean and flavorful (she uses chicken thigh – a woman after my own heart!). Bright, crisp vegetables grace dishes like
za jiang mien
, a favorite Taiwanese noodle dish with ground pork meat sauce. The homemade noodles have a wonderful texture.
the "cpr" – chicken and potatoes on rice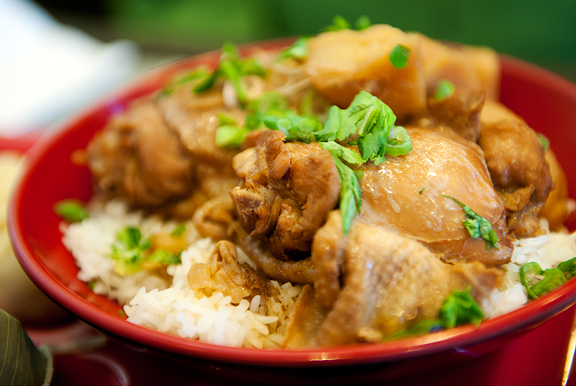 zong zi wrapped in bamboo leaves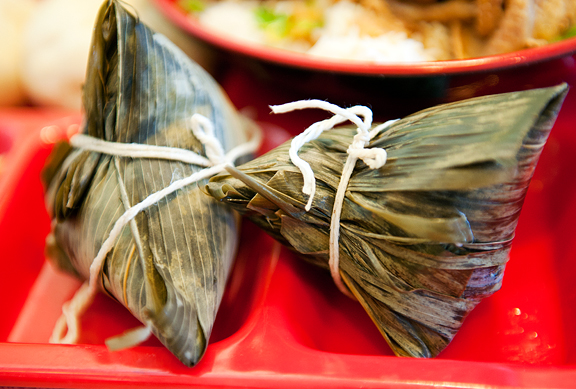 Zoe Ma Ma's food is wholesome. No MSG. These are not dishes that get slapped together, dunked in a deep-fryer, and buried under sugar and cornstarch. Chinese potstickers,
zong zi
, Sichuan braised beef noodle soup, CPR,
bao
(steamed pork buns), all require time and love to make and to develop good flavor. They also offer gluten-free options and an assortment of teas, Izzes, beer, and wine.
I wasn't disappointed and I don't think you will be either. If you haven't tried it, it's worth a stop. And be sure to say hi to Ma Ma when you're there.

get your chinese comfort food fix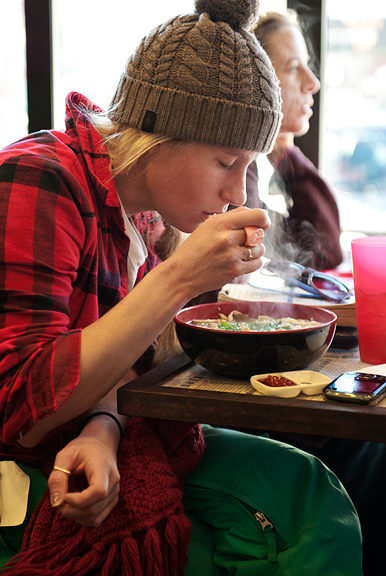 Zoe Ma Ma
2010 10th Street
Boulder, CO 80302
Ph: (303) 545 MAMA (6262)
Twitter: @Zoe_Ma_Ma
Facebook: Zoe Ma Ma Facebook Page

Full Disclosure: No comps for the chomps.