Recipe: quinoa with sautéed mushrooms and kale
Planning my schedules is easy. Planning my schedules around other people's schedules is where I start wanting to tear my hair out. Last week it got to the point of maximum chaos trying to coordinate several travel shoots. I even thought I was going to have to dig around for someone to come with me to Hawai'i! But just as things seemed impossible to nail down, I did manage to get it all settled in time for the weekend.

it was a snowy weekend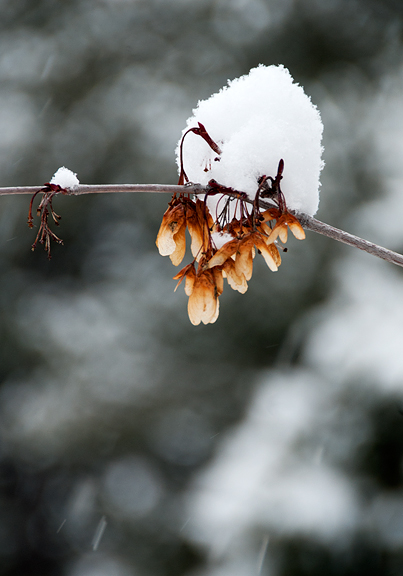 There is a lot going on around here and this past weekend was no exception. For example, there was PodCamp Boulder 3 – the Unconference. I attended PCB2 last year and it was tremendous. There is a lot of knowledge in this community – a lot of sharing, discussion, creativity, laughter, networking, and good people. I love that. I came away with some new friends and more ideas to mull over in my head.
levar and terry lead a session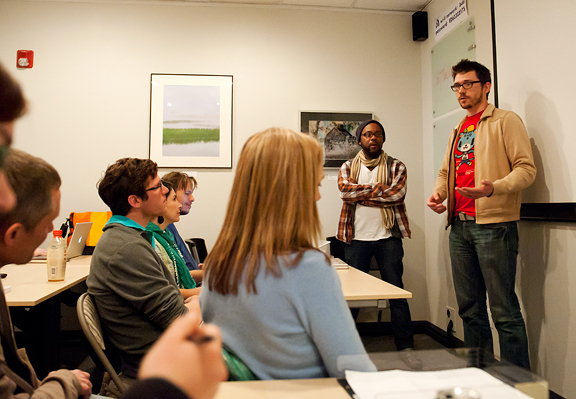 bryan and jason discuss social development in children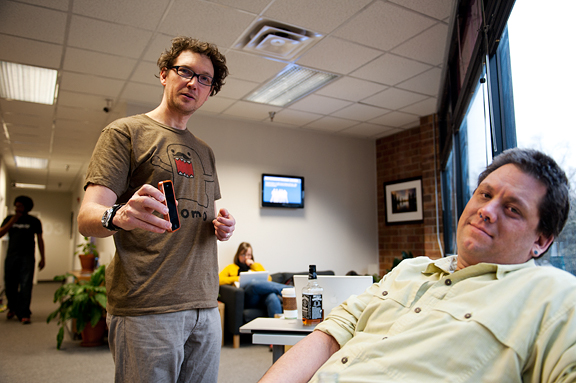 And because
Kathya
was at PodCamp too, we ventured into downtown Boulder to try out a new eatery for lunch. I went on my friend
Denise
's recommendation. Pizzeria Locale had been open for just over a week and it sounded fabulous. I'll be writing more about them soon.
the perfect arugula salad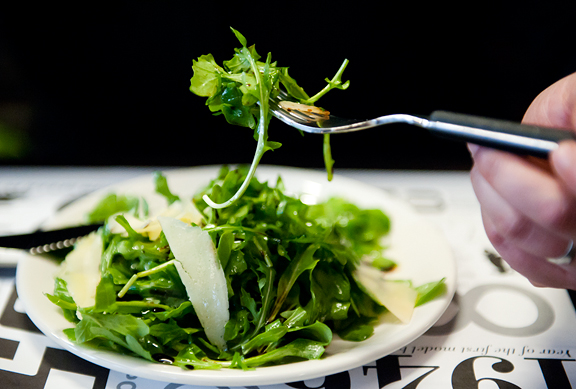 Since last week was Chinese New Year, I kinda loaded the Chinese recipes (or Chinese-related posts) on you. We're back to mixing things up here, which brings me to quinoa. Jeremy and I are quite fond of quinoa, but I haven't cooked with it all that much. Mostly, we have had it in restaurants. I was reminded of how much I enjoy it when Danny whipped up some lovely quinoa with chanterelles, summer corn, and peppers for breakfast one morning when I was visiting with
him, Shauna, and Lu
.
dried quinoa (tiny!)
local oyster mushrooms
kale, oyster mushrooms, diced onion, cod filets
I purchase my organic quinoa in bulk from Whole Foods. There is also a red quinoa that I wanted to try, but the bin was EMPTY. I settled for white quinoa. I've heard people say that you can treat quinoa like you would rice. It's lighter than rice and the texture is more springy. There is a nutty flavor to the quinoa which works beautifully with vegetables. I chose to cook it with some kale, onions, and mushrooms.
fluffy cooked quinoa
sautéed mushrooms
chopped kale
But those folks were right. Quinoa stir-fries up just like rice and gets on well with pretty much anything. I probably should have used a stronger flavored mushroom, or perhaps used butter. [Contrary to what most people (including my parents) think, we don't consume a lot of butter here. I just don't like to use fake substitutes.] Still, the quinoa and vegetable stir-fry was a nice change from the usual grain or starch because it doesn't leave you feeling heavy. I suppose it
could
if you ate ridiculous amounts of it, but no one should be eating ridiculous amounts of anything, right? And if you really want to cut down on the oil usage, you can toss the cooked vegetables in with the cooked quinoa without sautéing it all together.
adding cooked quinoa to the onions
mix it all together
Quinoa is simple to prepare and certainly worth the 20-25 minute simmering time. I definitely want to incorporate more of it into our meals either as a side dish or as a main dish. We now have a jar of quinoa on hand in our pantry for any last-minute inspiration. I'm hoping to get a second jar in the pantry filled with red quinoa too.
pan-seared cod on a bed of quinoa and vegetables
Quinoa with Sautéed Mushrooms and Kale
[print recipe]
1 cup quinoa
2 cups water
dash of salt
2 tbsps olive oil (or butter) for the mushrooms
1/2 lb. mushrooms, large dice or sliced depending on type of mushroom
more olive oil
1 bunch (about 8 leaves) kale or other dark leafy greens, washed and torn
1/2 yellow onion, diced
salt to taste
pepper to taste
Rinse the quinoa under cold water for a minute (I used a sieve and didn't lose a single seed). Place 1 cup of quinoa, 2 cups of water, and a dash of salt in a pot and bring to boil. Reduce heat to a simmer and cover. Cook for 20-25 minutes or until tender. Set aside. Heat two tablespoons of olive oil or butter in a sauté pan (butter will taste better) and sauté the mushrooms. Season with a bit of salt if you like. When the mushrooms are cooked, remove from pan and set aside. Heat some olive oil (like 1-2 tablespoons) in the same pan and sauté the kale until wilted. Add a dash of salt to taste. Remove from pan and set aside. When the kale cools, you can chop it up some more. Heat a tablespoon of olive oil in the same pan and sauté the onions until translucent. Add the quinoa, mushrooms, and kale to the onions and stir until heated through and well-mixed. Season with salt and pepper. Serve with pan seared something – like fish, scallops, steak, chicken. Serves 4.