Sunday, January 20th, 2013

Recipe: orange pound cake
I've had a lot of people write to me or comment about Kaweah over the years sharing sweet words, concerns, and love for our crazy pup. There is a running joke here that once Kaweah passes on, my readership will dwindle to thirteen people. But seriously, I am truly moved that so many of you have such fondness for little Kaweah. She had a check up last week and her vet thinks she's doing wonderfully for her age. We just try to ensure her happiness and comfort. So THANK YOU for all of the love and support you send over the interwebs!
It was sunny and cold, but now it's sunny and warm. However, there is no new snow. Dear weather, WHAT THE HELL?! Sometimes you just have to suck it up and ski groomers in the sunshine. Don't cry for me, the ski season could be worse (but this season has been pretty bad).

breck breck breckenridge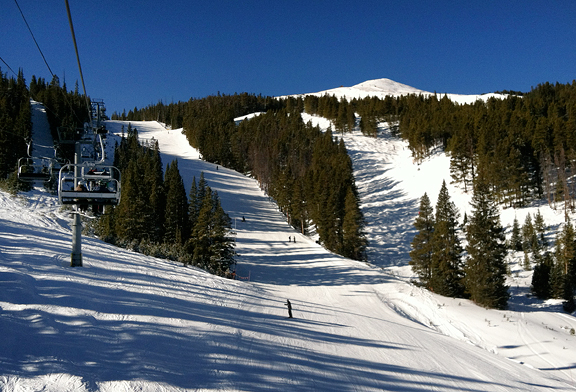 Oh heck, the flip side is that I can concentrate on getting work done without missing out on the powder… because there isn't any powder. Instead, there is a lot of chocolate right now, which I can't ski.
i spent the weekend working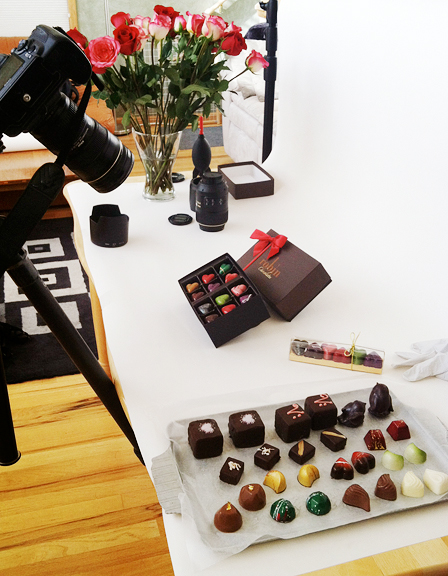 with my assistant never more than a few inches away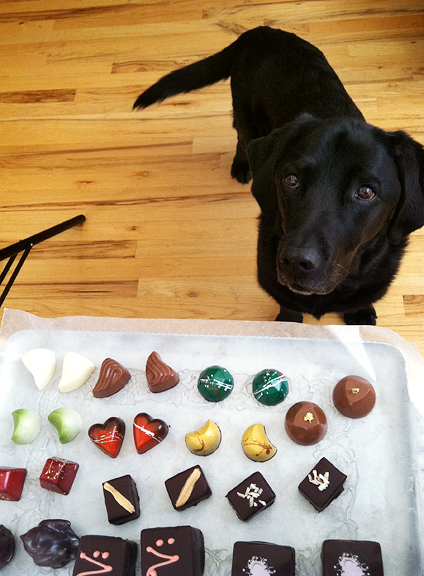 And I set aside a little time to socialize with some of my amazing Colorado blogging ladies – a bunch of talented, smart, beautiful, and hi-larious women who happen to blog and live in Colorado. My friend,
Denise
, hosted the gathering and I promised her a cake. It came down to chocolate or lemon and I opted for lemon. It's citrus season and while I know many of us associate lemon with summer (lemonade, lemony desserts, lemon cocktails), I love lemon in winter – it seems to brighten everyone's outlook. Or maybe it just reminds us that summer is on its way?
lemon cake (despite the presence of lime slices)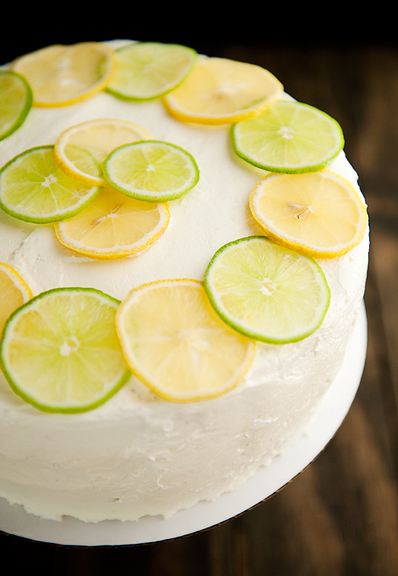 wonderful lady friends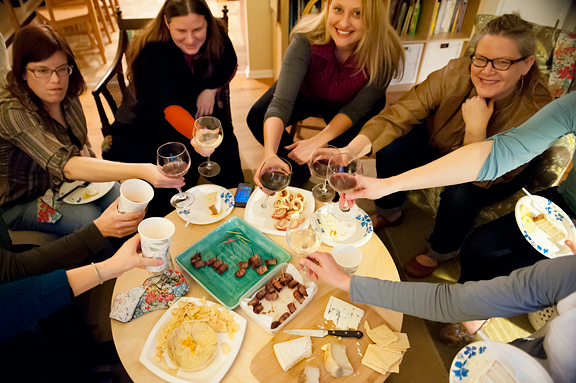 cake cross section at denise's house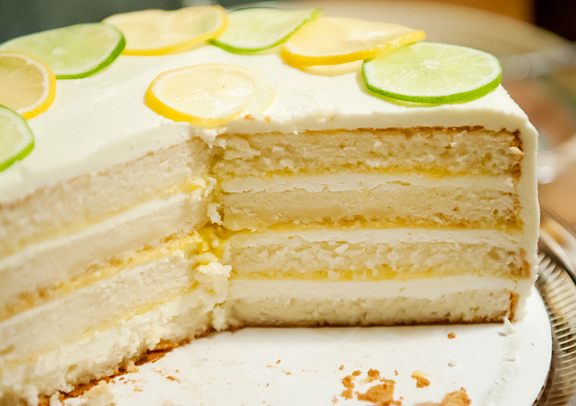 The cake is based on
this recipe for lemon petits fours
except I doubled it to make a four-layer 9-inch round cake with Meyer lemon curd, Meyer lemon buttercream, and limoncello simple syrup. I omitted the fondant icing because I frosted the cake with buttercream frosting.
I've been on a citrus roll because it all looks so good and feels heavy and firm in my hand. Jeremy and I have been on a steady routine of consuming grapefruits and oranges as well as cooking with plenty of limes and lemons. When I spied this recipe for a glazed orange pound cake in my latest issue of Fine Cooking, I had everything I needed to get started.

navel oranges!
sugar, vanilla, powdered sugar, oranges, flour, eggs, butter, salt, baking powder
zest the oranges
zest and juice
I've mentioned this before, but I think it's worth repeating – when a recipe calls for the zest or peel of any citrus, I use organic. So the recipe in my magazine called for four medium navel oranges, but I apparently bought large navel oranges. I only needed two to yield the necessary zest and juice. That said, leftover oranges are never a bad thing. Never. (Eat them, they are good for you.)
mix the flour, baking powder and 1/2 teaspoon of salt
add eggs one at a time to the creamed butter and sugar
don't forget the vanilla
**Jump for more butter**