Recipe: french silk pie
I was packing a few last kitchen items Tuesday evening when I looked up to see a nice rosy glow on James Peak. It's been a while since I've had the leisure to notice sunset because our time has been sucked up with a project of sorts.

sunset on james peak
Early Wednesday morning, we piled a bunch of stuff, ourselves, two mountain bikes, and the dog into two cars and headed west because we had an appointment at noon. Jeremy took Kaweah in the Outback (Subie) and I followed in the WRX (Roo). He told me later that she faced backwards for the first 30 minutes to see where I was before she settled down for the 4.5 hour drive.
the view from the gas station at copper mountain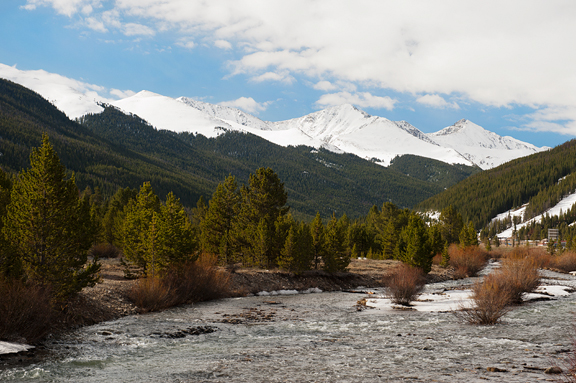 road trippin' through colorado
we closed on a great little place in crested butte!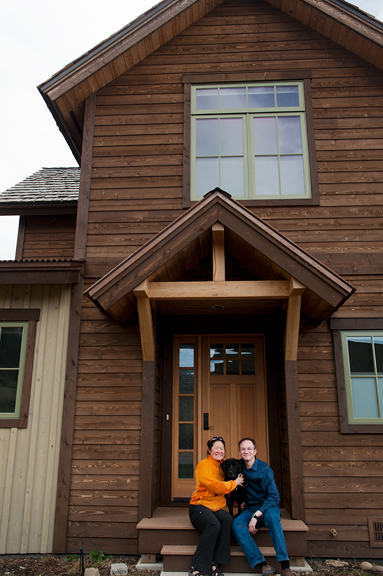 i celebrated with a raspberry lime fizzy drink avec umbrella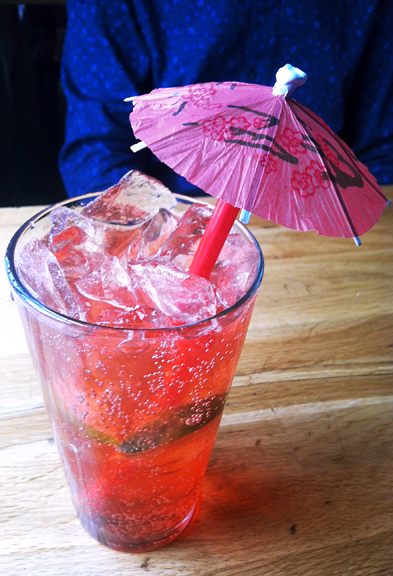 This post is coming to you from the new Crested Butte branch of
use real butter
! Butter headquarters remains in Nederland (near Boulder), but I'll be working periodically from the CB office too. We're still unpacking stuff, but Kaweah really digs the new place and every window has a view of a towering snowy mountain (because we are surrounded by towering snow-capped mountains). So let's celebrate with some pie – some French silk pie. It's super smooth which might be why it has "silk" in the name, but if you've ever chomped on silk (which I have), it's got NOTHING on this pie!
am i right?
Start with the crust. I made a chocolate cookie crumb crust. Actually, I originally crushed a bunch of organic chocolate graham cracker bunnies (Annie's brand), but the color was too light for what I had in mind. Those crumbs went into a bag for later projects and I resorted to an organic Oreo cookie (Newman-O's). You know the drill, split the cookies open and scrape off the cream filling, then introduce the chocolate cookies to the food processor.
for the crust: organic oreos, butter, sugar, vanilla extract
scrape away the cream filling
combine cookie crumbs, sugar, vanilla, and melted butter
press into a pie plate or baking pan and bake
Now on to the silky (but really, they mean buttery, delicate, airy, melt-in-your-mouth) filling. If you care at all about making good food, then I suggest using quality dark chocolate. Also, if you care at all about quality dark chocolate, don't tank a batch of filling by combining the ingredients in the wrong order like I did. That ended badly.
filling: chocolate, vanilla, sugar, butter, espresso powder, eggs, cream
chop the chocolate
stir vanilla and espresso powder into melted chocolate
Now beat the butter and sugar together until they are in a light and fluffy coexistence. Then add the chocolate mixture. Then add the eggs. Don't add the eggs before the chocolate, because that is what I did the first time and it sucked. Now when you beat the eggs in, the mixture will curdle and look like a major fail, but you have to let it continue beating for the full 3-5 minutes. Eventually, your filling with turn into a smooth and sexy chocolate filling. Finally, fold in whipped cream. This made my filling turn fluffy rather than smooth despite making sure I whipped the cream to soft peaks, but it all works out. Trust me.
beat the sugar into the butter
add the chocolate mixture
add the eggs (first two then one)
folding into whipped cream
Pile the filling onto the crust. You can do this in a pie plate or a baking pan or a springform pan – totally up to you. The filling is smoothed and then refrigerated. Refrigerate for at least a couple of hours, but overnight is better. When you are ready to serve the pie, whip some heavy cream to top it off however you like.
pour the filling onto the crust
smooth the top
just before serving, whip some cream
decorate the pie however you like
If you don't have the patience or skill to make chocolate scrolls – never fear! Grate or shred some chocolate onto the whipped cream and call it good. I like chocolate scrolls, but I do not like making them. I must admit that chocolate scrolls (or ruffles, but I have yet to produce consistently attractive chocolate ruffles) do add a little height to the pie, which is always nice. So there you have it! And how does it taste? The taste is excellent, but the texture is divine. Not bad for a French silk pie which is neither French nor silk!
different tempting layers
from above
french silk pie, at your service
French Silk Pie
[print recipe]
adapted from this recipe at The Kitchn
cookie crust
2 cups chocolate cookie crumbs
4 oz. unsalted butter, melted
2 tbsps sugar
1 tsp vanilla extract
chocolate filling
8 oz. dark chocolate
1/4 tsp espresso powder
1 1/2 tsps vanilla extract
3/4 cup (6 oz.) unsalted butter, room temperature
1 cup sugar
3 eggs
1 cup heavy whipping cream
whipped cream
2 cups heavy whipping cream
2 tbsps sugar
1/2 tsp vanilla extract
1/4 tsp almond extract
Make the crust: Preheat oven to 400°F. Whisk the ingredients together in a medium bowl until combined. It should look like wet topsoil. Press the crust evenly into the bottom of a 9-inch pie plate or a 9-inch springform pan. Bake the crust for 10 minutes, then remove from heat and allow to cool completely. Set aside until ready to use.
Make the filling: Melt the dark chocolate in a small saucepan over low heat on the stove or in a medium bowl on low power for a minute at a time in the microwave, stirring occasionally. Whisk in the espresso powder and vanilla extract. Set aside. Beat the butter on medium with a paddle attachment in a stand mixer for a minute. Add the sugar and beat for another 3-5 minutes until fluffy, scraping the sides of the bowl down as necessary. Add the chocolate and beat until it is completely incorporated into the butter and sugar mixture. Add 2 of the 3 eggs to the bowl and beat on medium speed for 3 minutes (don't underbeat). Add the last egg and beat on medium for 3 minutes (again, do not underbeat – it will actually become silky). Whip the cream in another bowl to medium peaks. Fold the chilled whipped cream into the chocolate mixture until you can no longer see streaks of whipped cream or chocolate. Pour the filling onto the crust and smooth the top. Cover the pie and refrigerate overnight.
Make the whipped cream: Right before you are ready to serve the pie, combine the whipping cream, sugar, vanilla, and almond extract in the bowl of a stand mixer. Whip until stiff peaks form (wet, not dry – dry means you overwhipped it and it will break rather than flow).
Pipe or top the pie with the whipped cream. Garnish the cake with shaved chocolate or chocolate curls. Serves 12.
more goodness from the use real butter archives