Recipe: drunken noodles (pad kee mao)
Given my druthers, I prefer to work through the weekends to free up time during the week. I'm fortunate to (usually) have that luxury of choice because I want to avoid crowds and traffic and people behaving poorly… which happens most often on weekends. Hitting the slopes or the trails during the week is one of the perks of freelancing.

wildflowers are at peak in the local mountains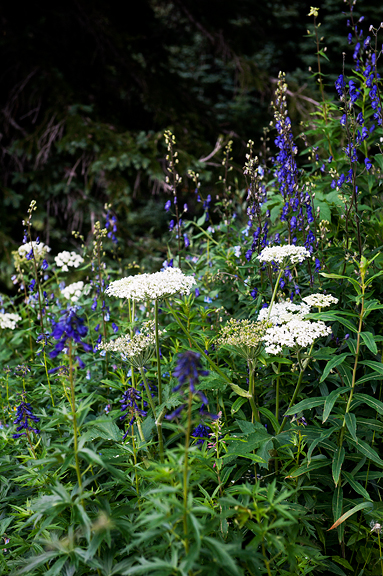 paintbrush and showy fleabane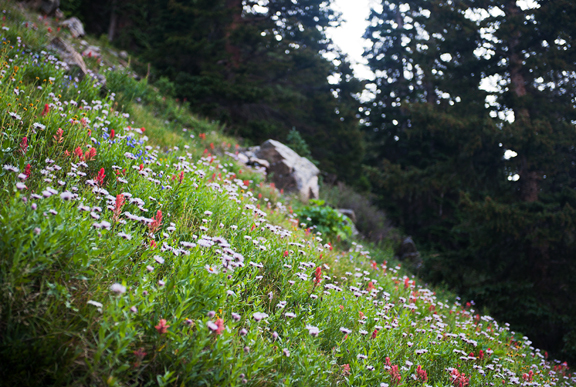 my kind of morning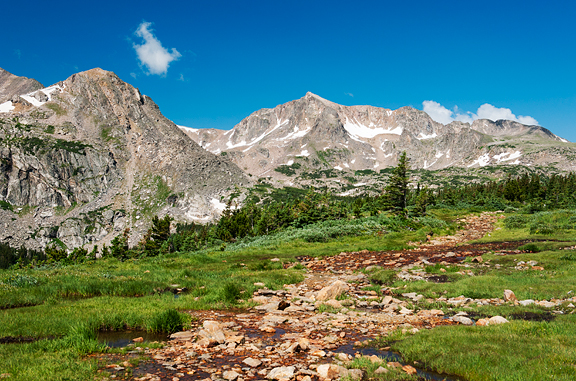 I spent this weekend working with more chocolate. By the end of 11 straight hours on my feet the last day, my brain was complete mush and I just needed to vegetate. Generally, I don't watch television – it truly is a brain rot box. We have a television for the occasional DVD rental (I'm waiting for GoT season 3) or someone's PS3 habit, but until now we have never gotten reception nor subscribed to cable or satellite. I really hate the way one gets sucked into television. A lot of it is pure junk, so we tend to select good series after they've been out for a few years.
cakes and pastries all damn day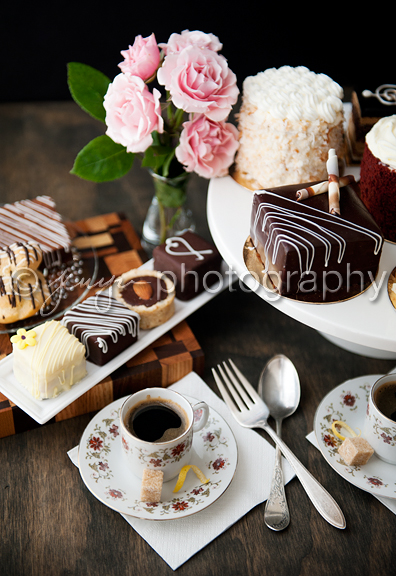 Jeremy loves this kind of date night. It happens about twice a year that I'm too tired to do any work, but not tired enough to fall asleep – this is when I can watch television. We chill out on the couch, eating dinner, watching a show. The only thing missing is a cuddly Kaweah, because she really dislikes the television. She hides out in the office and emerges again when the sound is turned off. So after my week-long shoot was done, I asked Jeremy to get Netflix so we could have a date night at home and watch Sherlock. Hello. Benedict. Cumberbatch. But what made the date night even awesomer were the Thai drunken noodles we had for dinner. I doode it.
oil, fish sauce, oyster sauce, golden mountain soy sauce, soy sauce, baby corn, vinegar, rice noodles, chicken, basil, thai chiles, pink peppercorns, sugar, garlic, basil
i got fresh rice noodle sheets
and sliced them up myself
After hearing so much about drunken noodles, I finally tried it last month at a restaurant. I liked it (noodle girl), although I don't know why a lot of Asian restaurants put bell peppers in so many of their dishes. I'm just not a fan. The hunt for a good recipe began shortly afterward. The one that I settled on is authentic to the point that I had trouble sourcing a few ingredients like fresh peppercorns. I read elsewhere to substitute pink peppercorns, but I think in the future I'll follow this recipe's footnote to use ground white pepper in lieu of fresh peppercorns. I had a good laugh reading
the recipe's
introduction, in which the author translates
pad kee mao
into stir-fry shit drunk – or stir-fry bad drinking habit.
separate the noodles
slice the baby corn
crush the garlic and chiles together
If you're wondering about the difference between golden mountain soy sauce and (black) soy sauce, and whether you can just use more soy sauce – I wondered the same thing. The golden mountain soy sauce is seasoned with a more complex flavor than just regular soy sauce. It's slightly sweet, more caramel… It shouldn't be hard to find at an Asian grocery store and it's relatively affordable. Also, you can use dried rice noodles if you can't find fresh ones, just be sure to soak them well and cook them through. You can always add a tablespoon or two of water to the noodles if they are still too firm after they hit the pan.
mise en place
add the chicken and corn to the sautéed garlic, chiles, and peppercorns
add the rice noodles
As with most Asian stir fries, it's important to get all of your ingredients measured, prepped, and ready before you start. I quadrupled the recipe (we like leftovers) and had to cook it up in two batches. So if you're going to make this, don't cook more than double this recipe in a single shot or else everyone gets too crowded in the pan and things won't cook properly. Take care not to overcook the rice noodles or else you will get a mass of rice noodle mush.
adding the sauces
and fresh basil
This is a great dish and pretty easy to make. You can switch out the chicken for pork, beef, shrimp, tofu – whatever you like. If you go for tofu, just be sure to pan fry it first. Then add it when you are supposed to add the protein to the dish. The pink peppercorns lend a nice flavor to the dish, but I found biting into a peppercorn rather disconcerting. I'll probably add sliced onions, shiitake mushrooms, and more basil to it next time and use pork or tofu instead of chicken, but this is a great noodle stir-fry to enjoy whether you're drunk or sober.
drunken noodles (pad kee mao)
Drunken Noodles (Pad Kee Mao)
[print recipe]
from Real Thai Recipes
2 tbsps vegetable oil
3 cups fresh wide rice noodles
4 tbsps chopped garlic
2 tbsps smashed small Thai chiles
1 cup sliced tofu, chicken, pork, or whatever protein you like
2 sliced orange chilis (I just used Thai chiles as I couldn't find this anywhere)
4 tbsps fresh peppercorns (this is hard to source, you can substitute 1/2 to 1 tsp ground white pepper)
1 cup baby corn, sliced in half lengthwise
3 tbsps oyster sauce
2 tsps black soy sauce
3 tsps golden mountain soy sauce (yes, this is actually different from regular soy sauce)
2 tbsps white soy sauce or fish sauce (I used fish sauce), more to taste
4 tsps sugar
1 cup packed holy basil leaves and flowers (I couldn't source this either, so I used regular basil)
1/2 tsp vinegar
Separate the rice noodles by hand. If they are very brittle, let the noodles come to room temperature or even microwave them covered on low power for 10 seconds at a time until pliable but not cooked. If using dried noodles, soak them per the instructions on the package until ready to use. Crush the garlic and Thai chiles together in a mortar and pestle. If you are using tofu, the you should pre-fry the tofu (I'd just pan-fry it in some oil until it's golden and crisp on the outside) and set it aside until ready to cook. Heat the vegetable oil in a large wok or sauté pan over high heat. Add the garlic, chiles, and the fresh peppercorns, if using (if using ground white pepper – wait to add this last when you are done cooking everything), and stir-fry until the garlic becomes fragrant and begins to turn golden. Add the tofu or meat (in this case, chicken) and the baby corn and stir-fry for a minute or more until the meat is just done. Add the noodles and stir for a few seconds (if the noodles are really dry or brittle, you can add some a few teaspoons of water to help it soften up – but fresh noodles usually turn mushy if you cook them too long). Pour in the oyster sauce, soy sauce, golden mountain soy sauce, fish sauce (or white soy sauce, if using), and sugar. Stir in until the noodles are evenly coated then add the basil and vinegar. When the basil begins to wilt, the dish is done. Serves 2-4.
more goodness from the use real butter archives