Recipe: piña colada sorbet
It was not my intention to make readers cry in my last post, but admittedly, I was crying when I wrote it. Of course, we're all silly people for crying because Kaweah thinks everything is just grand. She kicks in her sleep and makes little howling barks and growls as she chases the squirrels and bunnies through Dreamland. I wake her each morning with a gentle belly rub and watch her eyes open and her nose suddenly activate. When she realizes it's me, she rolls belly up, kicks her feet in the air with joy, and goes bonkers thrashing about. Kaweah enjoys a frozen pupsicle (bananas and peanut butter) every afternoon and a nice but short evening stroll in the neighborhood where she checks the doggy pee-mail center at the giant boulder. She's happy and that is what ultimately matters. We should all be so content in our twilight years. Thank you for your love and kind words for our pup.

in the middle of the road, yeah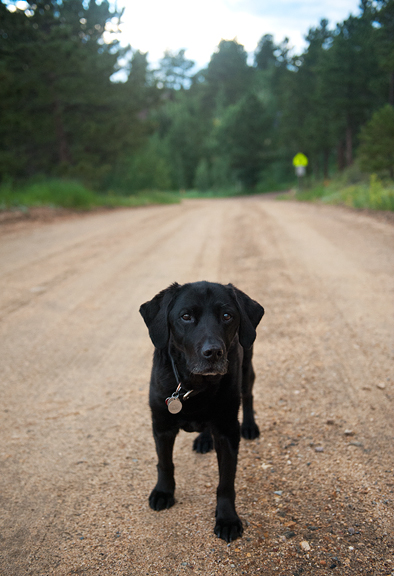 And that time of year has arrived – porcini season. Since this is only my second year foraging, I am having a blast comparing data with last year's season: locations, size, weather, timing, dates, temperatures, moisture, elevations, trails, other species. It's like an Easter egg hunt, but better! If you want to find the porcini, you have to become the porcini… [Please note: porcini have several look alike species that can make you very ill, do not forage porcini unless you are with an expert.]
buddies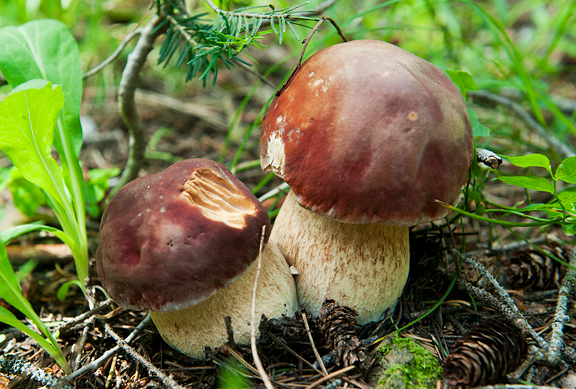 what a beauty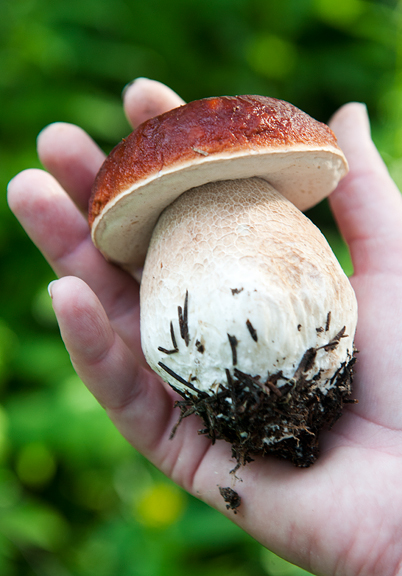 We endured a bit of a scorcher the last few days, so I was especially thrilled to see heavy rain in the forecast and a drop of nearly 15°F in the daytime high temperature. I think the mushrooms will like it too (remember: be the mushroom). Hot weather is problematic for me right now for a few reasons: 1) I'm in the middle of a chocolate shoot for a client 2) I have to monitor Kaweah to make sure she doesn't overheat (I put her downstairs on the basement floor to cool down if it gets really bad) and 3) it makes me really really cranky. While purchasing props the other day, I heard "Escape" playing in the craft store. You probably don't know what that refers to. I didn't. But you'll know the song from the line, "If you like piña coladas…" I thought to myself, "I do, I DO like piña coladas!" And I became obsessed with having one.
coconut milk, pineapple, sugar, rum (optional, but good)
Personally, I prefer my piña coladas to be slushy, but I decided to take it a step further and make it into sorbet. It's so easy to do it's ridiculous and wonderful all at the same time. You could use canned pineapple, but it's hard to beat a fresh pineapple that is ripe, naturally sweet, and far more flavorful. Oh, and when you open a can of coconut milk, be sure to stir it up as the fat solids separate and rise from the liquid.
chop the pineapple into chunks
measured out
The great thing about this sorbet recipe is the minimal processing on the fruit. There is no straining out of seeds or pressing everything through a food mill. Just put all of the ingredients in a blender and go. And you can leave the rum out if you prefer, but I, the non-boozer, really like it in there (or perhaps that was the rum talking?).
pouring coconut milk
it all goes in the blender
a little rum
Once the piña colada is blended, pour it into your ice cream machine and process it according to the manufacturer's instructions and wait for it to get the right consistency. See how simple it is? The final step is to put it in the freezer as it will be rather soft. When the sorbet is of a scoopable consistency, have some and forget about the heat. It's like sipping on a piña colada, but better!
pour the piña colada into the ice cream maker
soft and ready for the freezer
a scoop of frozen cocktail
Piña Colada Sorbet
[print recipe]
from Skinny Taste
3 cups (18 oz.) fresh pineapple, peeled, cored, and chopped into chunks
3/4 cup coconut milk (mix it up well before measuring)
1/2 cup sugar
1 tbsp dark rum (optional)
Place the pineapple, coconut milk, sugar, and if using, the dark rum, into a blender. Blend everything together until uniform. Pour the piña colada into your ice cream maker and churn according to the manufacturer's directions. Empty the sorbet into a container and freeze. Makes 1 quart.
more goodness from the use real butter archives