Recipe: whole wheat cacao nib sablés
The weather in Crested Butte put on a good show earlier this week, or so I thought. It wasn't just Crested Butte, because when we got home there were the same dramatic and unstable atmospheric conditions dumping rain and hail in the mountains. It brought a nice cool down and it meant good things for mushrooms in the high country. Even before my return, Wendy and I had already agreed to go foraging the next morning. I dare say it's nice to have like-minded friends who don't balk at having to wake up at 5 am to crawl around in the woods and dirt looking for mushrooms. We like hiking in early because we both despise the heat and sun, but I also had a dinner date to make at my parents' place to celebrate Mom's birthday.

mammata over mount crested butte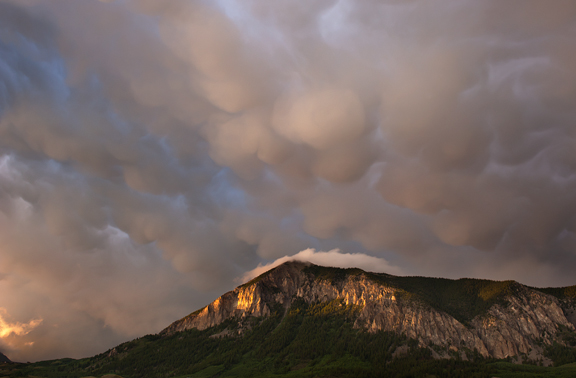 impressive dance of light and clouds on paradise divide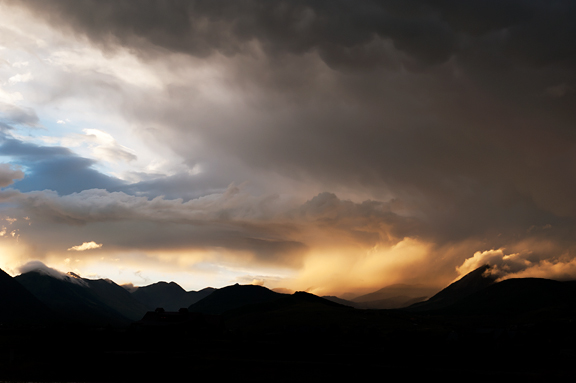 back home: porcini, bitches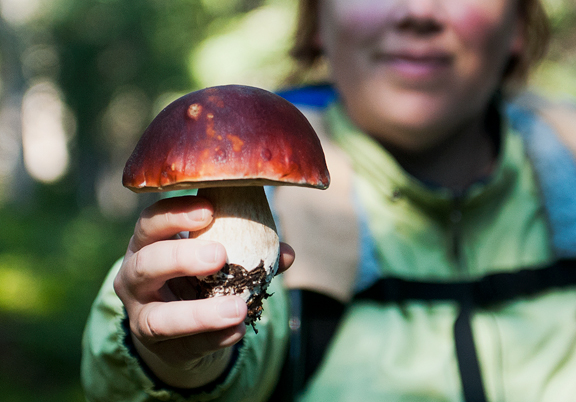 fairy fingers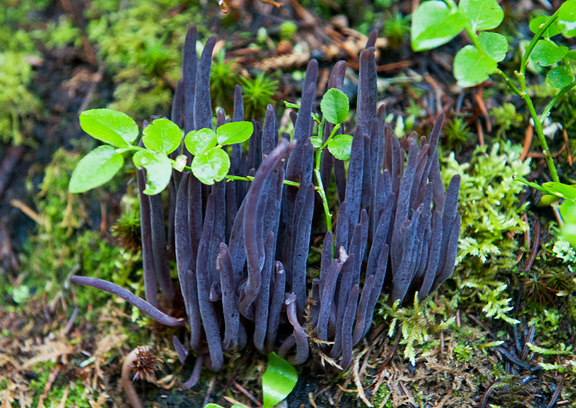 mom was born in the year of the snake – it's her year!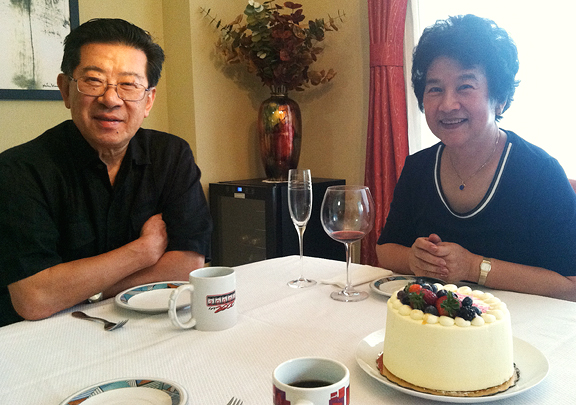 I try to keep a lid on my commitments so I'm not overextended. It's tough to control though, especially in summer as social gatherings seem to kick into high gear. When I am overextended, I feel like life becomes frenetic and my fear is that something important will be overlooked. As I rushed around the house after foraging, I noticed that Kaweah hadn't gotten out of her bed for 30 minutes. I went over and gently tried coaxing her out so I could let her into the yard to potty, but she wouldn't move. She was awake (these days I always check to see that she is indeed alive – I know that's morbid, but I try to be realistic here), but she wasn't moving. Eventually I lifted her up and saw that she was in pain. Most likely she had lost her footing on the hardwood floors when no one was home and took a spill. A call to the vet's office and I had some muscle relaxers and pain killers for her and an appointment the next morning. I didn't want to leave her alone, but I also had an obligation to my parents.
Kaweah was much improved after taking her medications. Jeremy and I rushed home after dinner to find her sleeping soundly in her bed. We gently reached out to pet her so as not to startle her (she can't hear much anymore) and she opened her eyes, wagged her tail, and rolled over to get a belly rub. She is on the mend now. All of those plans I had for the next few days have been cancelled or cut back so I can watch over the pup and make sure she gets the time and attention needed. Life has a way of telling you to slow down when you're going too fast. I need to be more mindful of that.

this is kaweah when she's sad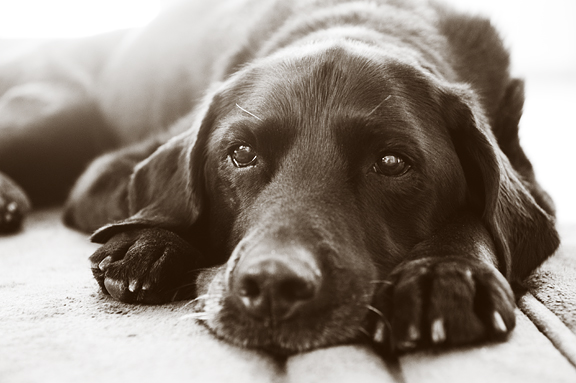 A pleasant and cool morning for baking presented itself, so that's what I did while keeping an eye on Kaweah. I had a recent client shoot that involved cacao nibs, which jogged my memory of a cookie made with cacao nibs. My friend had raved about them, then I saw the recipe on
Orangette
three years ago. It was time to finally make these whole wheat sablés with cacao nibs. I sometimes wonder how many things I will never have gotten around to doing before I go. Then I think to myself that I'd rather have a growing list of things I want to do than no list for lack of interest in life.
organic cacao nibs (from whole foods)
all you need: salt, vanilla extract, cacao nibs, sugar, flour, butter
The flour is whole wheat pastry flour. If you can't find that, you can combine a cup of all-purpose flour with a scant cup of whole wheat flour as a substitution for two cups of the pastry flour. The original recipe comes from Alice Medrich, who is a goddess of all things chocolate and amazing. What I like about cacao nibs is that they aren't overly sweet and have a more complex flavor and texture to them than regular chocolate. It's like a cross between chocolate and an espresso bean, but earthier in flavor than espresso beans and more tannic than chocolate.
beat the butter, sugar, salt, and vanilla together
add the cacao nibs
mix in the flour
don't overbeat the flour – it should be just combined
These are easy to make as long as you are patient enough to let the dough chill for a couple of hours. Alternatively, this a great dough to prepare ahead and toss into the freezer for when you need a last minute cookie. Just slice it up and bake until golden.
form the dough into a 12- x 2-inch log
chill the dough and then slice
set on parchment
baked
Sable is French for "sand" and sablés have a coarse grain, crumbly texture – grainier than a shortbread. These are not in any way chewy cookies. I think chewy cookies are the bee's knees, but I must say that there is a satisfying bite and crunch to this one (the cacao nibs lend to the crunch factor). Something you want to nibble on as you savor the complexity of the flavors with the satisfying delicate texture. Addictive, really.
like an elegant, sophisticated adult version of a chocolate chip cookie
Whole Wheat Cacao Nib Sablés
[print recipe]
from Orangette
2 cups (9 oz.) whole wheat pastry flour
OR
1 cup (4.5 oz.) all-purpose flour plus 1 scant cup (4 oz.) whole wheat flour
14 tbsps unsalted butter, softened
1/2 cup (3.5 oz.) sugar
1/4 tsp salt
1 tsp vanilla extract
1/3 cup (1 1/4 oz.) cacao nibs
Beat the butter, sugar, salt, and vanilla extract together in a mixing bowl until smooth, but not fluffy. Scrape down the sides of the bowl. Add the cacao nibs and beat until combined. Add the flour and mix until just incorporated (don't overbeat). You can gently knead any excess flour into the dough. Turn the dough out onto a sheet of plastic wrap and form the dough into a 12-x2-inch log. Wrap the dough in the plastic wrap and refrigerate for at least 2 hours or overnight.
Preheat the oven to 350°F. Remove the dough from the plastic wrap and cut into 1/4-inch slices. Place the slices 1 1/2 inches apart on a parchment-lined baking sheet. Bake for 12-14 minutes or until light golden at the edges. I baked mine in the center of the oven, but the original recipe calls for placing one sheet on a rack at the top third of the oven and the other on the rack at the bottom third, then swapping them and turning them 180° at the halfway mark for baking. Let cool for 1 minute on the baking sheets before removing to a cooling rack to cool completely. Flavor improves after a day. Store for up to 1 month in an airtight container. Makes 40 cookies.
more goodness from the use real butter archives