Recipe: pickled blackberries
Happy Autumn, friends! It is, in my opinion, the very best time of year. Autumn is when you can peruse the late summer harvest of greens, tomatoes, melons, and beans at the Crested Butte Farmers Market and see a fresh dusting of snow on the 13,000 foot peaks in the distance. We are getting a taste of some weather too with overnight frosts, cold rains, thick clouds clinging to mountains, and a chance of snow overnight. But weather is a GOOD thing, not just for the ski season (ahem!) but also for the opportunities when our dynamic atmosphere and light interact.

sunset and a clearing storm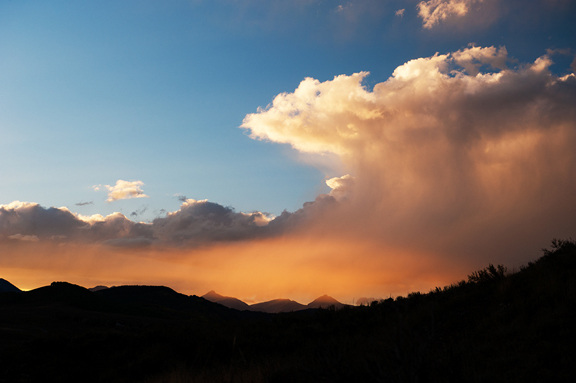 It could be that I am biased toward fall because my birthday frequently coincides with the autumnal equinox. But even if my birthday was in July (ugh – I don't even want to think of it), I would still be utterly devoted to this season. Leaves change, weather cools, the light turns soft and golden. Elk fill the air with their high-pitched bugles and the mountains don their lacy white shawls. It is when the ranchers let their cattle out to graze and trample the dying remnants of summer's glorious wildflower bloom. Predators chase down prey before the pickings get slim and the bear scat on trails is full of berries.
sun lights up the changing aspen after a rainstorm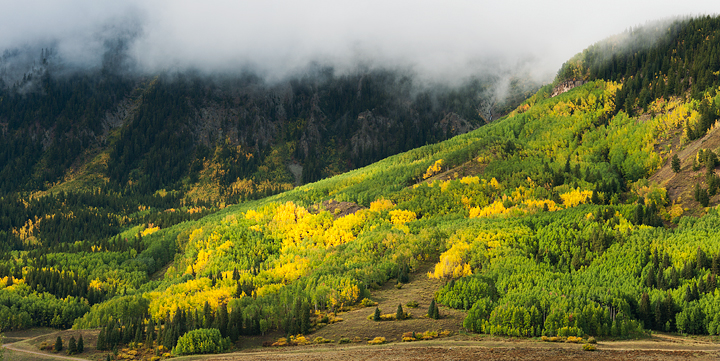 and there's that colorado blue sky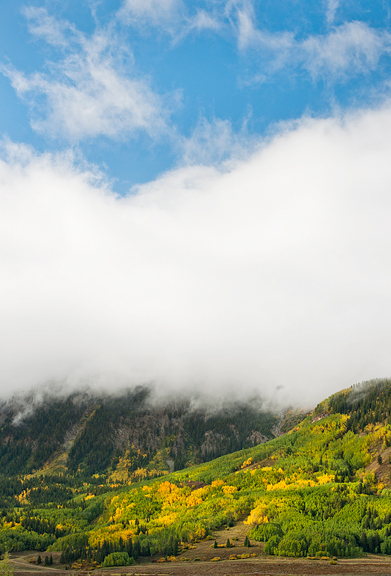 We went for a trail run Sunday afternoon between storms to stretch our legs and scope out the colors. I'm here for the fall shoot and it seems that every year someone declares the leaves are early when in fact, they are almost always "on time". This year, they seem a tad late as the majority of aspen stands are still green. But where you do see patches of gold and orange punctuated by the rare and glorious reds, they are spectacular. It's visually obvious that the colors are increasing from one day to the next. Mother Nature is on a schedule.
mount crested butte watches over us (iphone)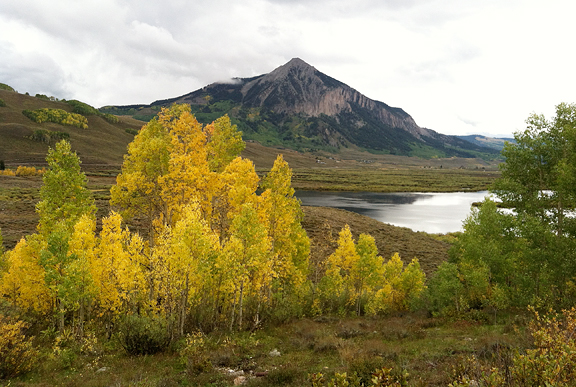 i rounded a bend in the trail and saw this glowing stand of orange and yellow (iphone)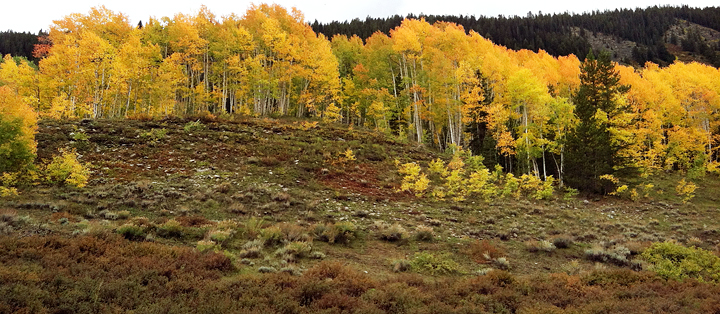 green and gold on the hill slopes while a storm moves in up the valley (iphone)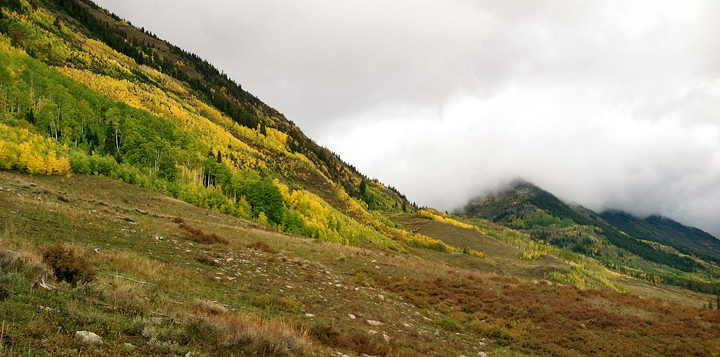 Wait, I lied. We didn't trail run between storms, we started between storms. The second storm caught up and followed us like that cloud over Charlie Brown's head. An updraft slapped chilly winds across our legs, bright pink with cold. The clouds unleashed a torrent of frigid rain. It was 43°F, we blasted through muddy puddles as we were already soaked to the bone, and lightning crashed overhead repeatedly. The storm eventually outpaced us. I was cold, wet, and tired… but happy.
Why happy? Because I'm here. I've always been the kind of kid who loves to wake up each morning, excited for the day and ready to get started. After chemo repeatedly knocked me on my ass, weakening me further with each infusion, I came to the conclusion that normal is AWESOME. I still love rising each day at age 42, but now with a hint of urgency and a lot more gusto. Every morning is a gift. Each sunrise is never taken for granted. Being able to work, to run in freezing thunderstorms, to live – it all means so much to me. The answer is to live and appreciate life. The answer is to not give a shit what others think. The answer is to be true to yourself. The answer is to not be a douchecanoe. The answer is 42.
And blackberries. The time is now for blackberries, so let's get on that.

fresh blackberries, water, red wine vinegar, salt, sugar, ginger, shallot, fresh bay leaf, sprig of thyme, peppercorns, whole allspice, and juniper berries
I had never heard of pickled blackberries until my friend
Debra
posted about them on Facebook one day. It immediately appealed to me because I love blackberries and I love pickled things. Organic blackberries cost a pretty penny where I live, so it was a leap of pickled faith that these would be worth the investment.
crush the spices
place the spices and aromatics in a saucepan
add sugar and salt
pour in the vinegar and water
The preparation is fast and easy. The wait is a little bit of torture. Make the pickling brine, strain it of all solids, and then let it cool completely. If you add it to the blackberries when the liquid is still hot, you'll cook the berries. Don't do that, okay?
the brine
straining the brine
place blackberries in a large jar
add the cooled pickling liquid
It's a three step process: 1) make the brine 2) pickle the berries and 3) eat the berries. Step 2 needs a minimum of a week, but two weeks is recommended. I found the punch of the vinegar to mellow with time. But don't expect fresh fruity berries when you pop one in your mouth. I think this is precisely what Jeremy was expecting and it surprised him in an unpleasant way. Then again, he isn't a pickle fiend like I am. On their own, they are tart and pickly. However, served with an assortment of salumi and charcuterie, these pickled blackberries are really lovely as they complement the fat and salt of the cured meats. So if you're looking for something different to do with blackberries and you like pickles, try these pickled blackberries.
after two weeks of pickling
great for party nibbles
Pickled Blackberries
[print recipe]
from Smith Bites
8 black peppercorns
3 allspice berries
2 juniper berries
1/2-inch piece of fresh ginger, thinly sliced
1 small fresh bay leaf
1 sprig fresh thyme
1 shallot, quartered lengthwise
6 tbsps sugar
3 tbsps kosher salt
2 cups red wine vinegar
2 cups water
18 oz. fresh blackberries (about 4 cups), washed and shaken of excess water
Roughly crush the peppercorns, allspice, and juniper berries together with a mortar and pestle or however you like to crush hard round spices. Place the crushed spices, ginger, bay leaf, sprig of thyme, shallot, sugar, kosher salt, red wine vinegar, and water in a medium saucepan. Bring the brine to a boil, stirring to dissolve the salt and sugar. Remove the saucepan from the heat and strain the liquid. Let the liquid cool completely or you'll cook your berries. Discard the spices and aromatics. Place the berries in a 2-quart jar. Pour the cooled pickling liquid over the berries. Cover the jar tightly and refrigerate for at least a week before serving, but 2 or more weeks is preferred. Keeps for up to 3 months refrigerated. Makes 4 cups of pickled blackberries. Reserve brine for cocktails.
more goodness from the use real butter archives