Recipe: blackberry peach coffee cake recipe
Jeremy and I love dining out in Boulder because there are so many great restaurants in town. But we can get restaurant burnout just like we do when we're on travel. We cherish our home-cooked meals and quiet conversations together (and with Kaweah). Having visitors up to our mountain home isn't terribly convenient though, so we usually meet in Boulder. It makes sense.
My aunt (Mom's youngest sister) and uncle were in town at the end of last week which meant dinner with everyone Thursday and lunch the next day. Then Jeremy and I came to Boulder Saturday for dinner with my folks because they went home to Virginia Sunday morning. I used to feel that going out for dinner was an indulgence. With my parents spending summers in Boulder, we are always meeting up for meals – it's the Chinese way. I've learned to pace myself and nibble at shared plates because even though eating together is so important, I think spending the time together is the most important.

jeremy's cocktail at jax fish house: botany 101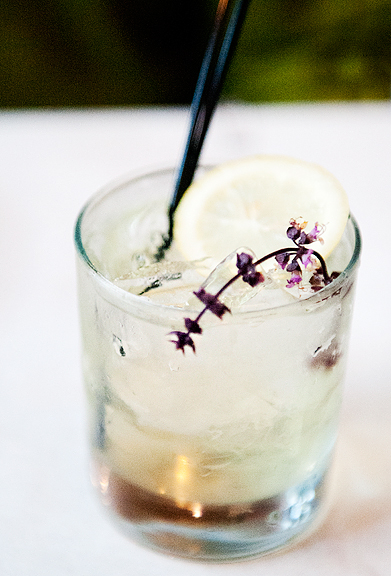 tuna tartare with cucumber and summer melon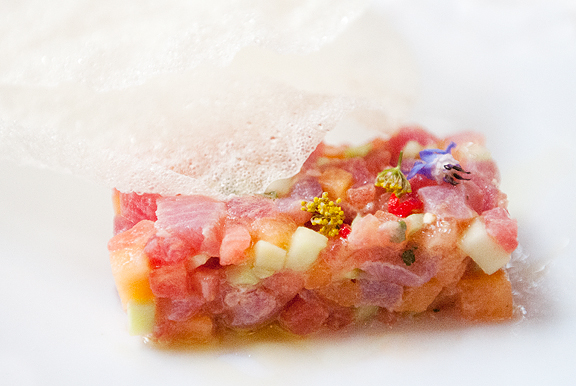 my seared escolar (walu)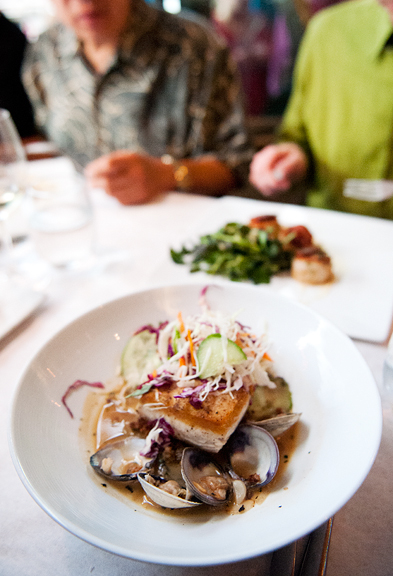 I have always bonded with my parents over food. In the last couple of years, they have begun making "special" Chinese dishes that I never had growing up. Maybe it's their desire to pass along some of their culture and heritage to their daughter who is more American than Chinese. Maybe it's my increased interest in cooking. In turn, I share with them the foods that I've discovered and come to love. I think they enjoy it. Food and family time are so intricately intertwined.
When I saw my parents off at the bus station early Sunday morning, I felt that tiny pang in my heart. One of the reasons my summers are so busy is that I really try to make sure my parents have a good time while they are in Boulder. It's partly that Good Chinese Daughter thing, partly because they've worked so hard all their lives, partly because they've been denied the joys of spending their retired years with Kris. I just want them to be happy. This is what we want most for those we love.

i love seeing my mom smile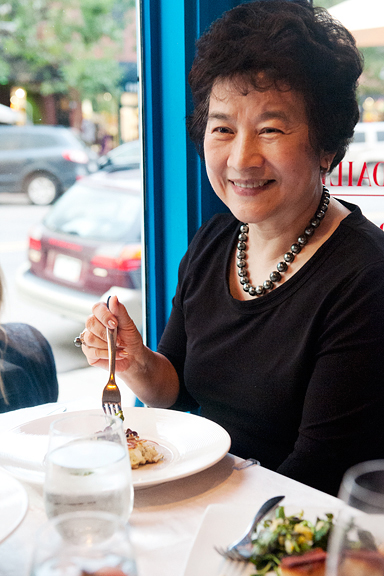 Saturday evening, I handed my folks some coffee cake I had made. It was for their breakfast on Sunday before their flight home. I remember when I would wake up at puke-thirty in the morning to fly back to college and Mom would be up making breakfast and packing a lunch for me. It's funny how we become our parents. And by funny I mean ha ha, I mean ridiculous, I mean crazy, I mean strange, but most of all, I mean awesome.
Speaking of awesome – we've had awesome rainbow action lately.

my house at the end of the rainbow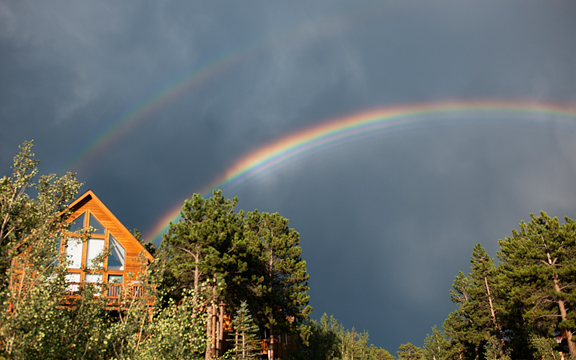 a pano of the whole thing from the edge of my neighborhood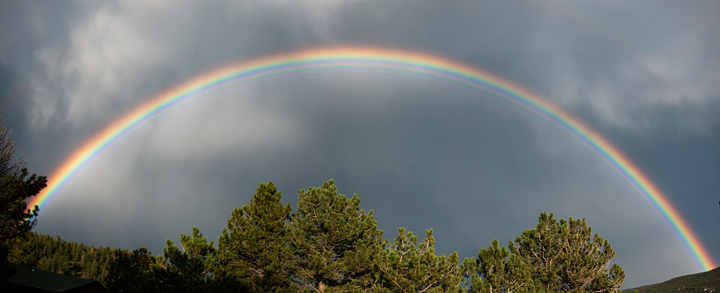 So that coffee cake I gave my parents? That was some delightful coffee cake. I'm pretty meh about eating cakes, but add fruit and you've changed the whole equation. Right now, I'm obsessing over peaches – luscious, gorgeous, juicy, Palisade (Colorado) peaches. Toss in some blackberries and you've got a showstopper.
the streusel: butter, sugar, brown sugar, cinnamon, nutmeg, flour
beat the butter and sugars together
add the spices and flour
Half of the food I've been preparing of late is intended for winter (and by winter, I mean fall, winter, and spring). I'm canning tomatoes, jamming peaches, roasting green chiles, freezing sweet corn… There's something to be said for enjoying your favorite foods in your (my) favorite season (winter). But you can't squirrel it all away! Some of it needs, nay DEMANDS, to be eaten now. Our Colorado peaches are at their peak. I was 30 minutes late getting to the Boulder Farmers Market last Wednesday and they were cleaned out of seconds. After kicking myself, I went ahead and bought a small bag of three giant peaches. Perfection.
the cake: streusel, peaches, blackberries, butter, salt, baking powder, eggs, sugar, flour, milk, vanilla
add eggs to the butter and sugar
alternate adding flour and milk
vanilla extract
Grab a pint of blackberries (you only need a cup, but the other half is for you to snack on) and the coffee cake practically makes itself. It's got three parts: the cake batter (easy), fruit (easy), and streusel (easy). Layer them in a pan with a removable bottom and bake. Simple.
the batter
peel, pit, and slice the peaches
layer the fruit on top of the cake batter
sprinkle the streusel over everything
The cake needs to bake for 70 to 80 minutes, so don't think you can get away with 65 minutes or less. It remains quite moist and tender as long as you don't overbake it. But if you underbake the cake, the center will be gooey and it may crater a bit. Let it cool before removing it from the pan. Garnish as you like. I personally feel that you can never have too much fruit, so pile it on (and it's good for you). A little dusting of powdered sugar isn't necessary for sweetness (the cake is sweet enough without the additional sugar), but it looks pretty.
baked
save some fruit for garnishing
bird's eye view
The fresh fruit, the baked fruit, the sweet, crunchy streusel, the soft crumb of the cake – a great combination for parties, afternoon tea, a coffee date, breakfast, or dessert. Do this now while the peaches are still in season and share with someone you love.
P.S. Jeremy, the guy who doesn't like peaches, likes this cake. That's right.
a slice for you
Blackberry Peach Coffee Cake
[print recipe]
from Southern Living
streusel
1/2 cup unsalted butter, softened
1/2 cup sugar
1/2 cup light brown sugar, firmly packed
2/3 cup all-purpose flour
1 tsp ground cinnamon
1/2 tsp ground nutmeg
Make the streusel: Beat the butter and sugars together until fluffy. Add the flour, cinnamon, and nutmeg to the butter and sugars. Beat until just combined. Set aside.
cake:
1/2 cup butter, softened
1 cup sugar
2 large eggs
2 cups all-purpose flour
2 tsps baking powder (1 1/2 tsps @8500 ft.)
1/2 tsp salt
2/3 cup whole milk
2 tsps vanilla extract
2 cups fresh peaches, peeled, pitted, and sliced
1 cup fresh blackberries
Make the cake: Preheat oven to 350°F. Grease a 9-inch springform pan. Beat the butter in a mixing bowl until smooth. Gradually add the sugar to the butter and beat until fluffy. Add eggs one at a time, beating well after each addition until completely incorporated. Combine the flour, baking powder, and salt in a bowl and mix well. Add a third of the flour mixture to the batter and mix until combined. Add half of the milk to the batter and mix until combined. Repeat until you end on the last third of the flour mixture. Stir in the vanilla extract. Pour the batter into the prepared pan. Layer the peaches and blackberries on top of the batter. Sprinkle the streusel over the fruit. Bake for 70-80 minutes or until the center of the cake is set (not wobbly). Remove from oven and let cake cool completely before removing from pan. Garnish with fresh fruit and powdered sugar. Serves 8-10.
more goodness from the use real butter archives