Recipe: tiramisu
It's nice right now in the Colorado Rockies. The pine pollen has yet to begin (I'm preparing myself for the allergy onslaught) and snowline continues to recede to higher elevations. More routes are accessible by foot or by bike, but I suspect there is still good skiing to be had further into the backcountry. In the past week we've been able to ski, trail run, and mountain bike in our "backyard". The best exercise is the kind you love to do.

there were some patches of snow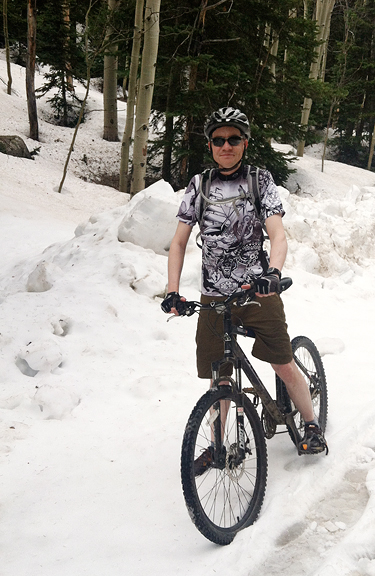 but most of it is melting although the high peaks are looking good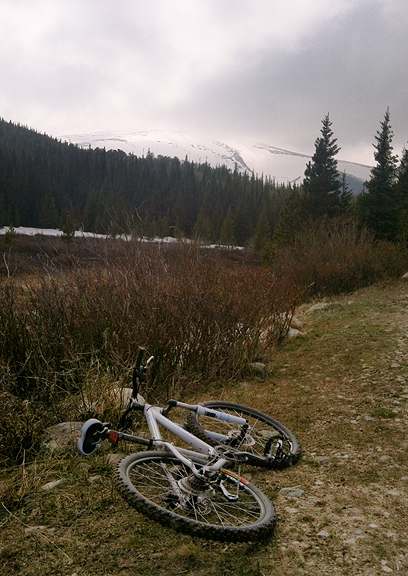 me and my guy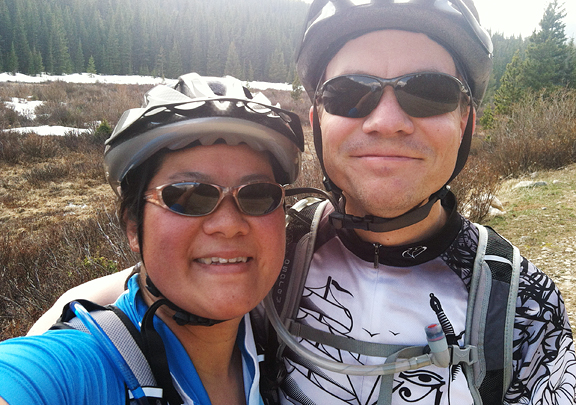 I'll admit that I don't love running, although I'm warming up to it. But I love being on trails! Trail running is one of those things that involves some pain – the running, but so much awesome in terms of solitude, beauty, time for thinking, and scouting opportunities for all things foraging (just don't trip while trying to scope out mushrooms). Jeremy and I start at the same time, but we run different routes that meet up an hour or two later. He runs faster, farther, and higher than I do, but then he is training for a longer and more grueling goal than I am.
The most common question Jeremy gets asked by our friends who read this blog is, "How do you not weigh 300 pounds?!" He weighs half that. Jeremy is not a muscle-bound dude. He's lean, trim, and fit. And while I don't ply him with fatty and sugary desserts 24/7, I worry even less about his occasional sweets consumption in the service of use real butter now that he's trail running in earnest. After yesterday's run, I reminded him that he was required to move the tiramisu in the refrigerator, because I needed the space.

lady fingers (savoiardi), eggs, mascarpone cheese, cocoa powder, Kahlua, cream, sugar, salt, espresso powder
I've been making tiramisu since the 90s, but in truth – I haven't served it in the past decade more than a couple of times. I think food blogging makes me forget about the oldies-but-goodies recipes. Back in the day, I did not consider this an easy recipe. Today it seems really straightforward. Go figure. Experience is worth something. So here's your Throwback Thursday…
pour the kahlua in with the sugar, salt, and egg yolks
whisk over a simmering bath until it leaves a ribbon (6 minutes)
The most labor intensive part of the whole thing is whisking the egg yolk mixture for 6 minutes over a simmering water bath. I stand on a stool at the stove so that my arm can whisk at a natural angle rather than lifting it high. That's a good arm workout! If you are concerned about raw eggs (I am not), measure the temperature of your whisked egg yolk mixture – it should be safe from salmonella at 160°F. Six minutes or so will get you pretty close to that temperature. It should thicken and leave a ribbon when you pull the whisk out of the bowl. Don't worry if the ribbon doesn't hold for more than a second – it will thicken up more when you remove the bowl from the water bath and set it on ice to cool.
pour the cream in with the mascarpone cheese
whip to stiff peaks
fold the whipped mascarpone into the egg yolk mixture
smooth and silky
What presents the greatest problem for me in making tiramisu is sourcing lady fingers. It isn't something that I find regularly stocked in stores around here. Typically in years prior, if I didn't find them, I didn't make tiramisu. These days, my instinct would be to make the lady fingers myself if I couldn't find them in the stores. Thankfully, I had a stash in my pantry (because I hoard ingredients). Some folks insist the ladyfingers ought to be soft and spongy, like cake. Others want lady fingers to be hard and crisp, like a biscuit. I like both, but I have to admit that I prefer handling the crisp cookies when assembling the tiramisu.
If you use the hard cookies, dunk each one in the espresso and layer them in the bottom of your pan. If you use soft ones, layer them and pour enough espresso to soak them. The thing I love about the hard cookies is that eating a slice of tiramisu within a few hours of assembly will sometimes reward you with a little crunchy bit. It's kinda awesome.

layer the espresso-soaked lady fingers
spread some filling over the cookies
A couple of notes about assembly. If your cookies don't fit your pan perfectly, you can cut the cookie to fit. If your lady fingers break, that's cool. Dunk them and arrange them as if they weren't broken. Tiramisu is quite forgiving. If you forget to sprinkle cocoa powder or chocolate on the mascarpone filling layers like I did, it's okay! Just make sure you do the top layer. The recipe below is intended for an 8×8-inch pan. I doubled it and made a 9×9-inch and put the rest in a smaller pan.
the final layer of mascarpone
dusting with cocoa powder
fini!
You don't have to pipe the last layer of mascarpone filling, but if you do, keep in mind that it requires more filling than just spreading a third layer. Finish the top with some cocoa powder or grated chocolate. I have made tiramisu both ways in the past and I prefer the cocoa powder, because it's less sweet and because it's less messy. That said – you know grated chocolate is also going to be amazing. You really can't go wrong. It's tempting to serve the dessert right away, but I find it benefits from sitting in the refrigerator for a day to let all the flavors meld and to allow the mascarpone filling to firm up and reduce shearing when you serve a slice.
This recipe easily doubles, triples, quadruples. Make huge pans of it for large parties or gatherings, or make a single batch for intimate gatherings or to share with people you love. What I love about tiramisu is how it doesn't require the use of an oven (unless you bake your own lady fingers). It's also dreamy, creamy, boozy, caffeiney, kissed with a hint of chocolate, but without being overly sweet.

served with espresso
layers of goodness
don't mind if i do!
Tiramisu
[print recipe]
based on this recipe from Fine Cooking
4 egg yolks
1/4 cup sugar
1/4 cup Kahlua or other coffee liqueur
pinch salt
8 oz. mascarpone cheese
1 cup heavy cream
3 pkgs lady fingers/savoiardi (I used 10.5 ounces for a 8×8-inch pan)
2 cups hot brewed espresso
2 tbsps unsweetened cocoa powder or grated bittersweet chocolate
Make the filling: Place the egg yolks, sugar, Kahlua, and salt in the top of a double boiler or a large bowl set over a simmering water bath. Whisk the contents constantly for 6 minutes until it becomes thick and leaves a ribbon on the surface when you lift the whisk out of the bowl. For egg safety, the temperature should reach 160°F. Remove from the water bath and set the bowl on ice to cool. Stir it occasionally. In the bowl of a stand mixer, stir the mascarpone cheese and the cream together, then beat with the whisk attachment until stiff peaks. When the egg mixture is completely cooled, fold the whipped mascarpone and cream into the egg mixture a third at a time until smooth and uniform.
Assembly: Dip one lady finger at a time into the espresso and arrange in a single layer on the bottom of your pan. Spread a third of the mascarpone filling over the lady fingers. Dust the top with cocoa powder or grated chocolate. Repeat for the second layer. For the third layer, dip the lady fingers into the espresso and arrange them in a single layer on the tiramisu. You can either spread the remaining third of the mascarpone filling or pipe it decoratively over the lady fingers. Dust with cocoa or grated chocolate. Refrigerate for 24 hours to let the flavors meld and for the dessert to firm up. Serves 8-10.
more goodness from the use real butter archives