Wednesday, July 30th, 2014

Recipe: chinese chive turnovers (he zi)
Ahhhhh, finally finally finally, the much awaited cool down arrived. It was no longer sheer misery to run or hike or even stand outside. To celebrate, I put my trail runners on and headed out early Monday morning. I never take a cool weather day for granted! The wildflowers are still going strong, but they are different flowers from a month ago. Asters, fireweed, harebells, and columbine are all out in force now. I spotted another moose too, this time a female (cow), but she was but a speck in the distance by the time I got my iphone out. On my non-run days, I hike the trails to stretch my legs and check on my huckleberries. I say "my" huckleberries because I feel like we're all good friends by now. And I'm still naming the porcini I find because there are so very few… well, thus far there have been all of two.

me in a field of noxious weeds (ox-eye daisies?)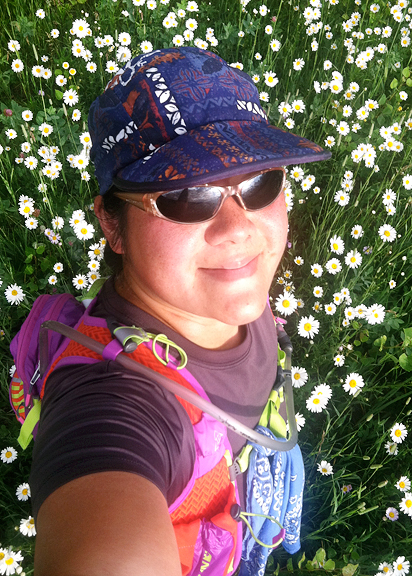 the single ripe huckleberry, which i ate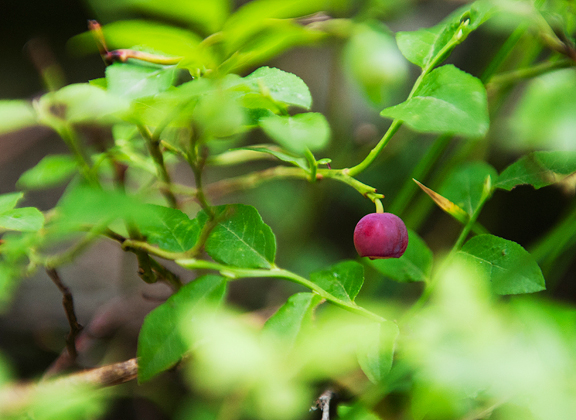 a lone, handsome porcini named claudio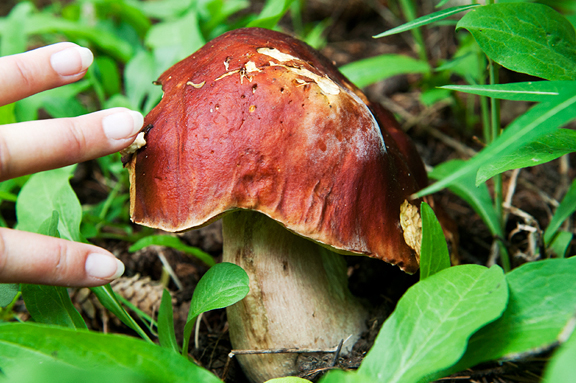 A large storm system has been sitting over us for a couple of days, delivering a lot of rain and much cooler temperatures. That's both good (we need it) and bad (we don't need it all at once, please!). So far there hasn't been any major flooding – whew! I rather love the dreary, rainy days. It takes the edge off of summer for me and makes me feel like cooking again. Last week, I had asked my parents about a Chinese snack my Grandma used to make and they immediately rattled off how to make them. I translated their instructions into recipe form. It's one thing to know how to make something, it's something else entirely to communicate how to make it to someone who may or may not know how to cook. They called me the next day and excitedly informed me that when I came to see them later, they would demo how to make the snacks. It was really cute.
team effort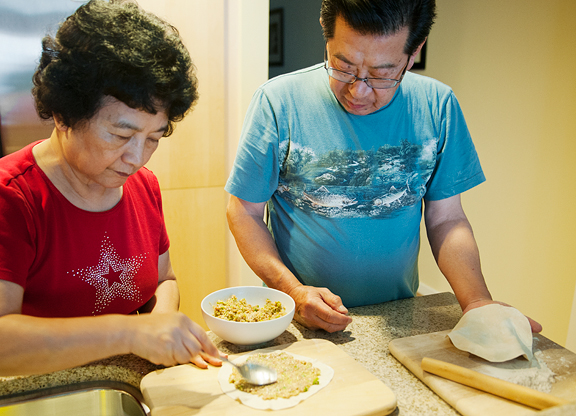 "daddy will show you how to do this right"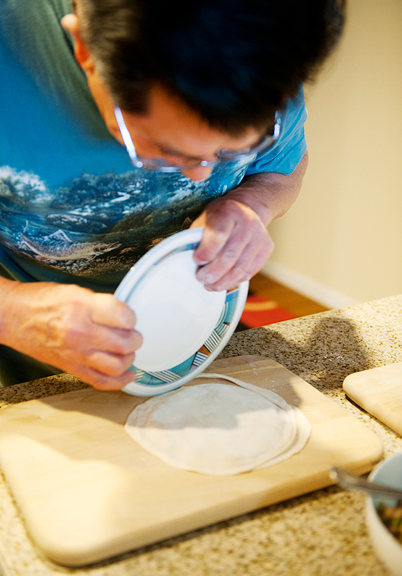 These are known as Chinese chive turnovers or
jiu cai he zi
. Chinese chives (or Chinese leeks) have a wonderfully garlicky flavor to them. They are some of my favorite Chinese greens. You can find them in Asian grocery stores that have well-stocked produce sections. Since my parents didn't have any on hand, they used Napa cabbage and pork for the filling, but I got the gist of it. The pastry is made from a hot water dough similar to the kind you use for Chinese dumplings. Traditionally, the turnovers are made with Chinese chives, egg, and sometimes pork and sometimes glass noodles (mung bean thread noodles). They don't have to be turnovers either. My parents demoed the pancake style, which is equally delicious. I'll show you how to make both.
chinese chives, full of garlicky goodness
chinese chives, salt, ground pork, flour, sesame oil, soy sauce, vegetable oil (for frying)
**Jump for more butter**