Recipe: kimchi meatloaf
It was one of those weekends here on the Front Range, much like other winter weekends on the Front Range. For starters, we were treated to stunning sunrises.

fiery sunrise looking east toward boulder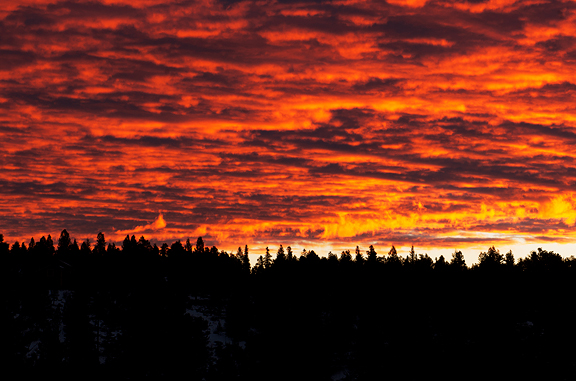 sunlit snowy peaks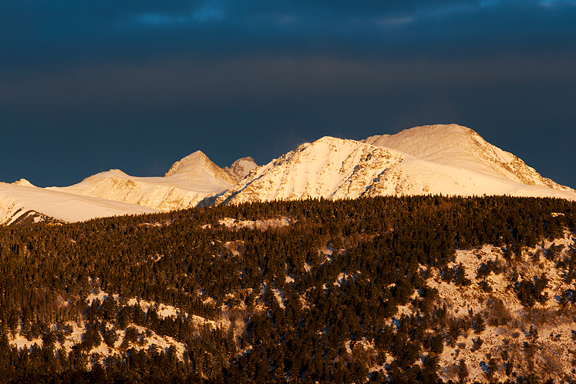 And then in true Front Range fashion, we bounced from a high of 11°F this past week to near 60°F tomorrow. You know what that means. Well, maybe you don't know… but we do. It means wind. That kind of temperature shift around here brings the winds. I checked the forecast Friday night before going to bed and NOAA was predicting gusts up to 33 mph. That's nothing for the Front Range – a breezy day. By morning, NOAA had "updated" the winds to 50 mph, which is considerably less pleasant for ski touring in the mountains. This happens so often that I have developed trust issues with NOAA. But as I said to Jeremy Saturday morning, "If I let the wind dictate when I go outside to ski, I'd never get to ski."
putting climbing skins away and getting blasted by a ground blizzard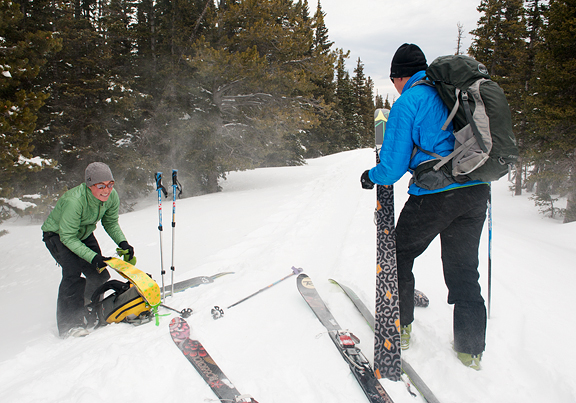 twila with the mountain we opted not to summit in the distance
The character of our winter winds is antagonistic, but also unpredictable. I know NOAA isn't trying to intentionally lie to me, it just feels that way because they haven't been great at predicting the wind around here. I don't know that anyone is good at it. Living in the mountains, you learn to roll with what comes because moving away from the mountains isn't an option. Mountain living is just that good. We worked Sunday until there was a lull in the winds in the late afternoon – our cue to grab the skis and drive to a trailhead. The trail starts at the local ski resort where throngs of families from the flats were up for their weekend fix. We left the commotion behind and quickly made our way up the trail. Once over the ridge, the hum of the ski lifts and the screams of happy (or terrified?) children gave way to the soft scratching of skis on snow. Tall conifers closed in around us as we moved deeper into the national forest.
it's like a sunday stroll, but better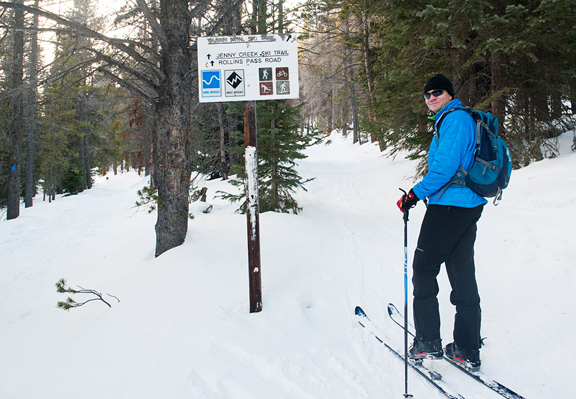 By the time we skied out to the top of the bunny hill, the resort had closed and three lonely cars remained in the parking lot below. There's something fun about skiing down the bunny hill whether on my teles, my skate skis, or my touring skis. Once at the base, we high-fived, carried our skis to the car, and asked each other, "What do you want for dinner?" It's always a good idea to have plans for feeding after skiing, otherwise we wind up eating out. This time, I had meatloaf already made – kimchi meatloaf.
ground beef, fish sauce, sesame oil, soy sauce, cornstarch, black pepper, kimchi, panko crumbs, milk, onion, egg, garlic, ginger
mince the garlic and chop the kimchi
grate half the onion
grate the ginger
Meatloaf falls into that beloved category of winter comfort food along with its friends chicken pot pie, chili, and mac and cheese. However, meatloaf is one of the easiest meals to make. Mix. Shape. Bake. Despite our freakishly warm January, I was beginning to crave meatloaf, which I don't make too often. And then I thought about changing it up with an Asian twist when The Google brought me to a recipe for kimchi meatloaf. Well, heck. I like kimchi. I like meatloaf. What's not to love about kimchi meatloaf? It's like a Venn diagram of tasty goodness.
prepped
start putting everything in a big bowl
pouring the milk
mixing it with your hand is best
If you don't have panko crumbs, you can substitute regular bread crumbs. I swapped fish sauce for the salt, because I like what fish sauce does for hamburgers. And while I used all ground beef for this iteration, I know from experience with meatballs that a beef-pork combination would be just as delicious. Hey, it's meatloaf. There's room for lots of flexibility. Now if you are concerned about the level of heat (spice), it's not all that spicy. There is a nice zip to it from the kimchi and the gochujang (in the glaze), but Jeremy thought it was fine and he's considerably more conservative on the spicy scale than I am. What you can do is taste the glaze before using it – if it's too much for you, then dilute the gochujang (or Sriracha, or whatever spicy element you use) with more of the other non-spicy ingredients.
for the glaze: maple syrup, gochujang, sesame oil, ketchup, mustard
place all of the glaze ingredients in a bowl
stir together until smooth
brush half the glaze on the uncooked meatloaf
I have always stuffed a meatloaf into a loaf pan. That's what I thought the "loaf" in meatloaf meant. This recipe calls for forming an actual loaf on a baking sheet (make sure it is a rimmed baking sheet to contain the drippings) which is an improvement because there's more surface area to glaze. I really like the glaze. In fact, the next time I make this, I'm going to double the glaze and save half to serve alongside the meatloaf. When you're almost done baking the meatloaf, glaze it once more and let that set in the oven for another 10 or so minutes.
ready to bake
brushing on the second glaze layer
it's done when the internal temperature is at least 160°f
Does it work? YES! It's a Korean-style riff on a western classic and we love it. I served it with stir-fried vegetables and steamed rice. It is simple enough to whip up on a weeknight and makes amazing leftovers that reheat easily the following couple of days. And if you're looking to turn it into an appetizer, make meatballs. I think I'll have to try that next.
with rice and vegetables
i quite like that nice baked-on glaze
Kimchi Meatloaf
[print recipe]
from Five and Spice
meatloaf
2 lbs. ground beef (or half ground beef and half ground pork)
1 cup kimchi, finely chopped
6 tbsps milk
3 cloves garlic, minced
1 tbsp ginger, grated
1/2 yellow onion, grated on a box grater (I used the "small" shredder instead)
1 1/2 cups panko crumbs
1 large egg, lightly beaten
3 tbsps cornstarch or tapioca starch
1 tbsp soy sauce
1 tsp fish sauce (or 1 tsp salt per the original recipe)
2 tsps toasted sesame oil
1/4 tsp black pepper, freshly ground
glaze
2 tbsps gochujang (or Sriracha or chili-garlic paste)
2 tbsps ketchup
2 tbsps maple syrup or brown sugar
1 tbsp yellow mustard
1 tbsp sesame oil
Preheat the oven to 450°F. Place all of the meatloaf ingredients in a large bowl and mix together with your hand(s). Using your hands is particularly good for working out any clumps of cornstarch. Make sure everything is thoroughly combined. On a parchment-lined rimmed baking sheet, form the mixture into a loaf shape. Place all of the glaze ingredients into a medium bowl or measuring cup and whisk until smooth. Brush half of the glaze over the meatloaf, covering all exposed areas. Bake the meatloaf for 10 minutes. Reduce the oven temperature to 400°F and bake for 30 minutes. Remove the meatloaf from the oven and brush the remaining glaze over the entire loaf. Return the meatloaf to the oven and bake another 10-20 minutes until the internal temperature reads a minimum of 160°F with a meat thermometer. Take the meatloaf out of the oven and let it rest for 10 minutes. Serves 8. Make extra glaze to serve alongside the meatloaf if you are a fan of "sauce".
more goodness from the use real butter archives