Recipe: shredded brussels sprouts and kale salad
The Colorado snowpack has been running below average (88%) with a string of sunny days for much of the first three weeks of January. But as my favorite meteorologist-skier, Joel Gratz, has said, if we're going to get dissed on snowfall, January is a good time for it. That's because the sun angle in January is quite low (and the days are still pretty short) which means less melt. As we move into February and March, that sun climbs higher in the sky each day and it can take a toll on the snow if Mother Nature doesn't grace us with some of the fluffy stuff. On our last day in Crested Butte it began to snow in the late afternoon. It was just a little, but enough to feel the flakes falling on my cheeks as we skate skied back to the car. We could see the snow clouds moving in from all directions.

non-skiing activities included hugging on my favorite neighborhood wookie dog, wyatt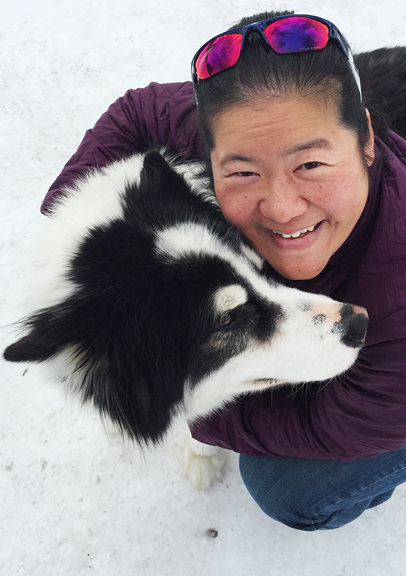 The next morning, we woke early to get on the road back home. Overnight, it had snowed far more than anyone (Joel, NOAA, all of the weather people) had been expecting. It was less in Crested Butte and more as we neared the I-70 corridor. Typical of Colorado weather, the storm gave way to sunshine and blue skies. Icy and snowy roads became snow-packed roads became slushy roads became wet roads became dry roads. We drive past a number of ski resorts on our route from Crested Butte to Nederland and happen to have passes for some of them. Copper Mountain reported 7 inches of powder that morning, so we "justified" stopping for a few runs by saying the freeway could melt out a little more while we sampled the snow.
jeremy thought it was pretty darn good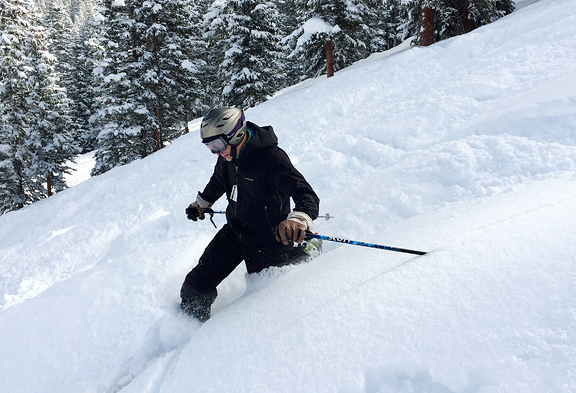 the view south, looking out of bounds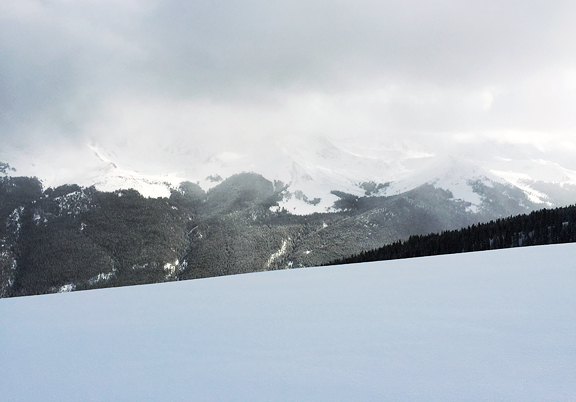 It's feeling less like Spring and more like Winter – as it should! The snow came down all day Wednesday here in the Front Range, which puts me back in the mood for hot soups. But winter also makes me crave salads and fruits. I know some folks try to get their vegetables in the form of a smoothie. It seems to be rampant along with January-sudden-onset-exercise. Whatever works, I suppose. Me? I personally dislike smoothies – and I say "dislike" because I don't want to use the word "hate" even though that is what I mean. I actually enjoy eating vegetables (and fruit) in solid form. The textures and flavors are precisely what I like about eating them. It's so much easier to get your vegetables and your exercise when it's something you love, don't you think?
In the past few months, I've become hooked on a shredded Brussels sprouts and kale salad. Last spring, a Whole Foods Market opened in Frisco which is on the road between Nederland and Crested Butte. It used to be that our only quick food options right off the freeway were fast food, so this was a welcome addition to our choices. Jeremy usually gets soup or something hot, but I load up on salad. I make a point of sampling some of the salad bar's prepared salads. Most of them don't get sampled a second time, but I kept returning to this one salad because it was so crunchy and refreshing. The salad bar (or anything) at Whole Foods ain't cheap, so it was only a matter of time before I sought out a recipe to make at home.

kale, brussels sprouts, pecorino, black pepper, pumpkin seeds, sunflower seeds, salt, garlic, shallot, lemon, olive oil, dijon mustard
strip the kale from the ribs
roll the leaves up
chiffonade the kale
This recipe is modified from Bon Appétit. I think it's the closest thing I could find to what I had gotten at Whole Foods. I increased the ratio of the Brussels sprouts to kale. My version also uses curly kale instead of lacinato or Tuscan kale because I prefer the texture. And while I am fond of almonds, lately I have been sprinkling toasted pumpkin seeds (pepitas) and toasted sunflower seeds on my salads for that added crunchy chewiness and nutty flavor. Feel free to add whatever crunchy nut or seed you like most.
trim the brussels sprouts
remove any wilted or browned outer leaves
slice thin
Slice the greens as thin or as thick as you like. Slicing them thin will get you closer to that whole "shredded" concept, but it's really about what you want. Preparation of the kale and Brussels sprouts are going to be the bulk of your time unless you buy those bags of pre-shredded kale and Brussels sprouts from the grocery store. Hey, if it saves you time and gets you to eat your greens, go for it! The dressing is super quick to whip up – and as I've stressed in the past – homemade dressings taste a million times better than the stuff from a jar.
mince the shallots
grate the garlic
ingredients measured and prepped
This salad is also easy to make ahead if you are entertaining or just won't have time on a weeknight to do all of the prep before dinner. Shred the greens and store them in the refrigerator until you are ready to roll. Toast the seeds ahead of time and you can decide if you'd rather mix the dressing and refrigerate or mix it up right before serving. Tossing it all together takes a minute.
place the kale and brussels sprouts in a large bowl
combine the lemon juice, shallots, garlic, salt, pepper, dijon mustard
whisk the olive oil into the dressing
A single batch of the salad serves eight, which means it lasts the two of us two to three days if we eat it with lunches and dinners. After the three days, the Brussels sprouts start a slow decline in quality and the seeds are more chewy than crunchy, so I would try not to let the salad go that long. If you prefer to keep the seeds crunchy, keep them separate and sprinkle them in as you eat the salad. It's nice having the salad in the refrigerator for those nights when you're too tired to put much effort into dinner and you still want something fresh and green. Or scoop some up to take for lunch at the office.
pour the dressing over the greens
sprinkle the pecorino on top
toss to combine
add the sunflower and pumpkin seeds
If you look at the recipe links at the bottom of this post, you'll see that I am a fan of shredded Brussels sprouts and shredded kale salads. But the combination of the two is a nice balance of the heavier Brussels sprouts with the lighter kale. I like the zip and zing the dressing and cheese lend to the salad. Not only is it an especially tasty salad, but the shades of green are nice to look at when all you see outside is white snow.
great as a side salad or a meal
love your greens
Shredded Brussels Sprouts and Kale Salad
[print recipe]
slightly modified from Bon Appétit
8 oz. fresh kale, washed (original recipe calls for Lacinato or Tuscan kale, but I like curly kale)
16 oz. Brussels sprouts
1/4 cup lemon juice, fresh squeezed
2 tbsps Dijon mustard
1 tbsp shallot, minced
1 small clove garlic, finely grated
1/2 tsp kosher salt
black pepper, freshly ground
1/2 cup olive oil
1 cup Pecorino, finely grated
1/2 cup sunflower seeds, toasted
1/2 cup pumpkin seeds (pepitas), toasted
Using a sharp paring knife, strip the leaves of the kale from the center stem. Shake off any excess water from the leaves and roll several into tight wad. Chiffonade the kale (slice into thin ribbons). Continue in batches until all of the kale is shredded. Place the kale in a large bowl. Trim the Brussels sprouts as needed. I like to trim the base and then peel away any wilted or browned outside leaves. Using a sharp knife, thinly slice the sprouts and add them to the kale. Combine the lemon juice, mustard, shallot, garlic, kosher salt, and black pepper in a small bowl. Whisk a thin stream of the olive oil into the dressing until it is incorporated. Toss the dressing with the shredded kale and Brussels sprouts. Add the Pecorino, sunflower seeds, and pumpkin seeds to the salad and toss together. Serves 8.
more goodness from the use real butter archives