Thursday, May 28th, 2015

Recipe: grand marnier soufflé
Several weeks before Neva came home with us, we began getting the whole house in order, reading our puppy and dog training books (different methods than when we trained Kaweah), and trying to get a jump on our workloads. Let me tell you – since she came home: the entire house looks like a giant puppy playpen, we feel as if we've forgotten everything we read in the training books, and it seems that we are already falling well behind in work. It's no doubt that part of the existence of Puppy Vortex is because I'm still sick – with bronchitis and no voice. Clearly, recovery is but a pipe dream on four hours of sleep a night.
Neva was getting plenty of sleep and plenty of playtime. However, Wednesday morning she had an episode of trembling and lethargy that was sudden and extremely uncharacteristic. Even worse? She refused food. My stomach dropped. There was only one time ever that Kaweah refused food, and that was the morning we said good-bye to her. I fought back tears and asked Jeremy to call the vet for an appointment. Neva was running a low fever and our vet prescribed some meds and asked us to call him in the morning for a status report. Almost as quickly as she had gone downhill, she bounced back within hours to her normal puppy self – biting everything in sight, romping around clumsily, and wanting to explore the whole world.
Despite the setback, we've been introducing Neva to new things. She loves the vet's office as well as my neighbor's daughter. She completely goes bananas for plain yogurt and peanut butter. And she loves snow. Since we still have lots of snow in the high country, we took her for her first introduction this week.

sitting for her treat from jeremy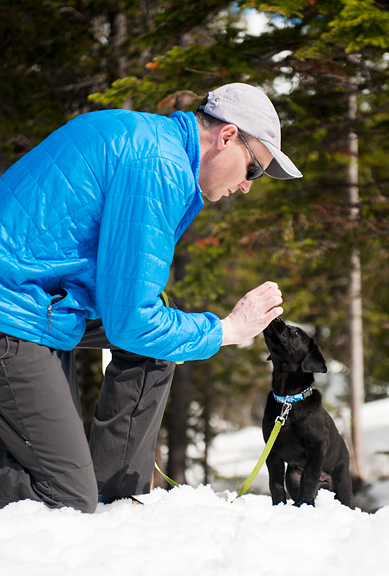 happily munching on said treat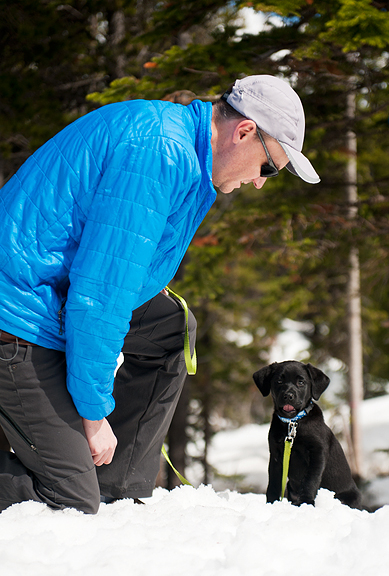 fearless bounding across the slushy slopes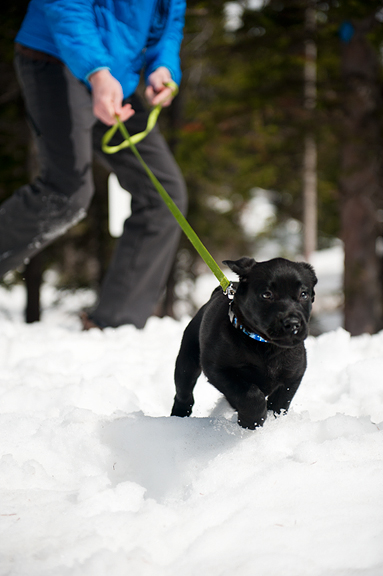 having a blast digging pits in the snow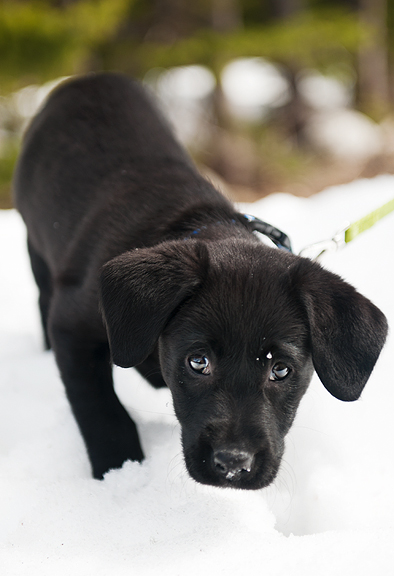 my sweet baby girl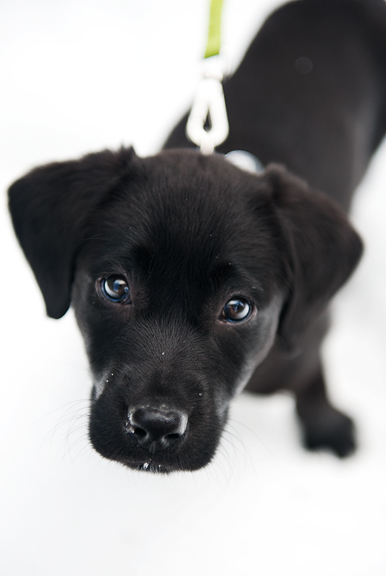 Despite feeling truly crappy right now, I don't want to get into the habit of punting each post by tossing up a bunch of puppy pics and calling it good. You good people deserve a recipe, and this one is awesome. It comes from my friend, John of
Food Wishes
, and I was inspired to make it after ordering a Grand Marnier soufflé at a French restaurant in Williamsburg, Virginia. I served mine with a Grand Marnier crème anglaise (also from John's site). I just don't see how it can get any better! If you decide to serve the soufflés with a side of crème anglaise sauce, you should start the sauce a few hours earlier than the soufflés to give it time to cool.
the crème anglaise: cream, vanilla extract, grand marnier, sugar, salt, eggs (yolks)
heat the cream, sugar, and salt
whisk some of the hot cream into the egg yolks
cook and then strain the custard
stir in the grand marnier and vanilla extract
**Jump for more butter**