Recipe: tuna melt
Oh man. Summer is REAL, people. The furnace blast arrived with a vengeance last week and like the true heat wimps that we are – we retreated to higher elevations and sunrise/sunset activities. Neva is now almost 20 pounds and has been with us for a month. Recalling the first 24 hours with her (and wondering what we had gotten ourselves into), she has come a long way in her training and development – and so have we! Part of her progress is simply growing up and gaining more coordination, strength, and speed. She no longer has to sniff and put every new plant, rock, stick, pine cone, or speck of dirt in her mouth. Neva is learning silly tricks now on top of the important commands. She let's us know when she needs to go out to potty, she's really good in her crate, and she is sleeping through the night (HALLELUJAH!). That last one was a serious game changer for the humans.

tossing her toy in the air and (sort of) catching it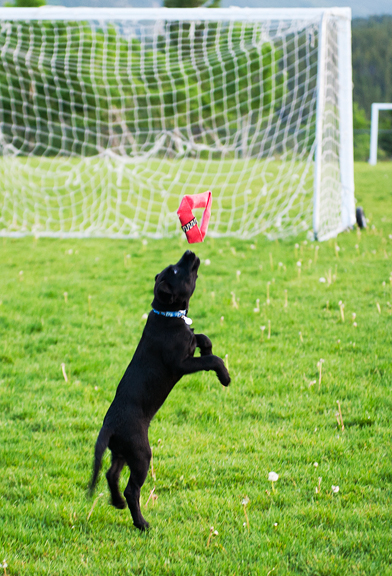 moar swimming in icy cold lakes!!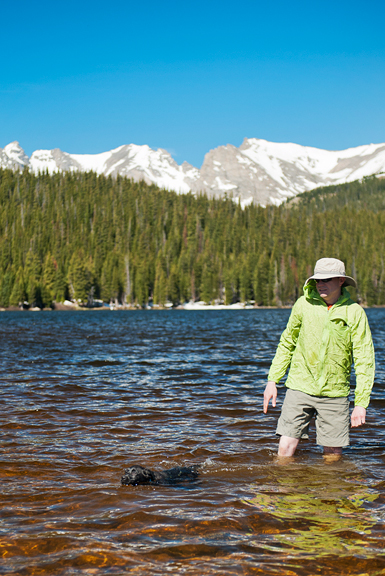 neva gets at least one hike a day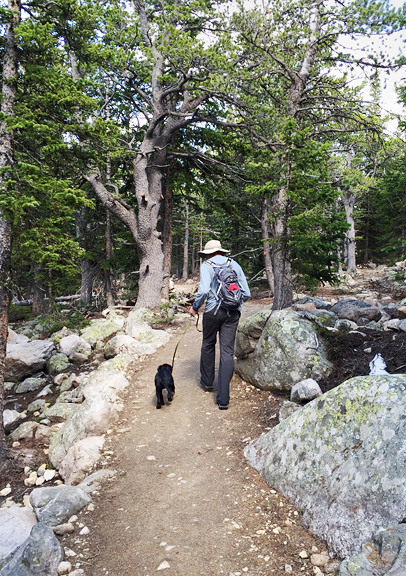 she's so mellow she sometimes falls asleep like this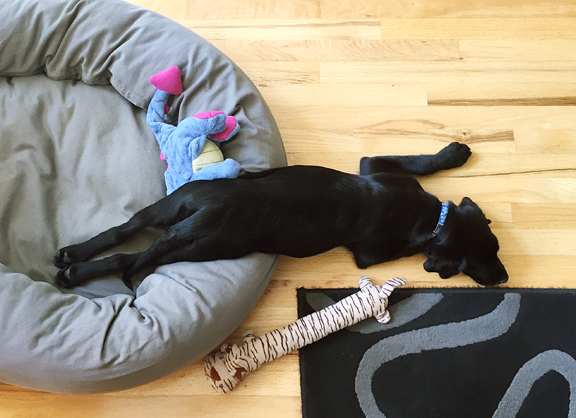 running down the stairs with a toy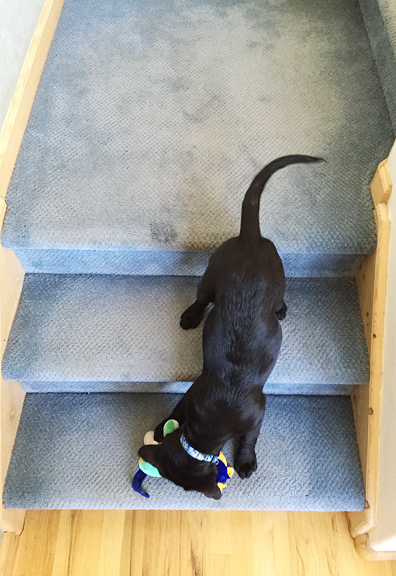 Neva is becoming a free range puppy, by which I mean, she roams parts of the house while we're around and we don't have to chase after her for fear of accidents or drive-by chewings on inappropriate things (like furniture, power cords, the compost bucket). She overcame her fear of the stairs in a matter of days – up was easy, down took a little coaxing. I can trim and file her nails while she sleeps (amazing!). We have her hiking up to 3 miles now and just this morning she did the rockiest, steepest hike yet – all on leash and behaving like a good dog should. Best of all, she likes to lie nearby while we are working and just nap or happily chew her toys. We still have plenty of work to do, but the stage of feeling hopeless was quite short-lived for us. I think Neva is becoming a Good Dog.
thimbleberry blossoms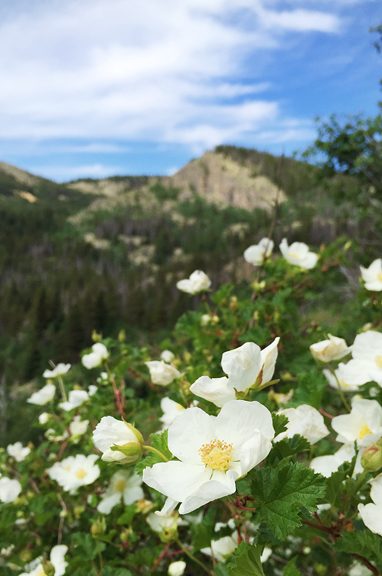 the rare neva bloom amidst a potpourri of wildflowers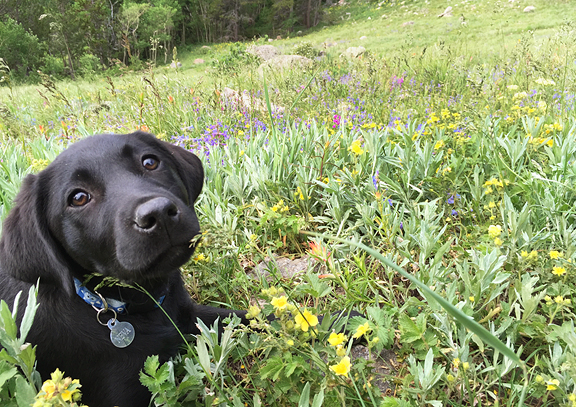 that's my pack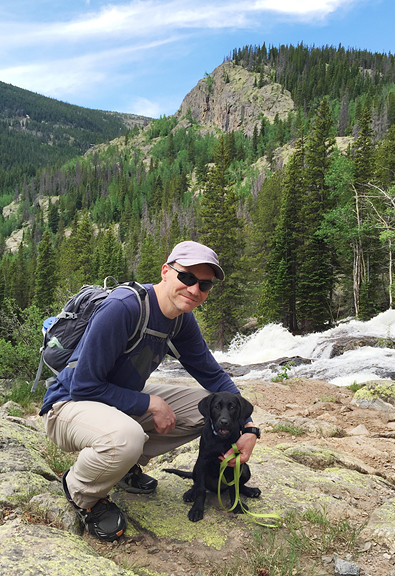 shooting stars in a sea of summer green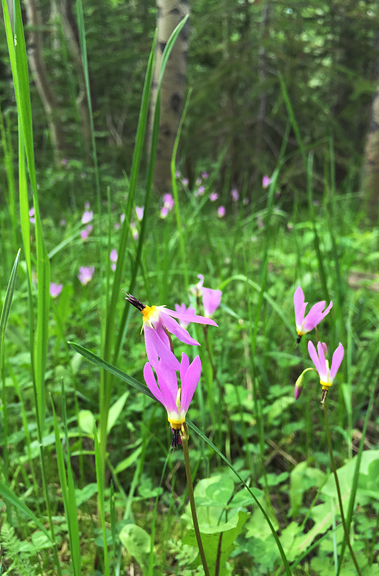 Neva's hiking progress has been of particular interest to me because I'd like to bring her with us when Erin, Banjo, and I hike and forage huckleberries. All signs point to Neva becoming a strong hiker and I think with some good long hikes together, she'll learn to be a good companion to Banjo instead of a total pill (she seems to jump on his head less these days – that's improvement).
As you can imagine, with all of the effort we're putting into puppy training, I haven't cooked anything elaborate in a while. In fact, I lost 8 pounds in the first 2 weeks of getting Neva because I was too tired to eat, let alone cook. We've been keeping things pretty simple out of necessity – mostly salads and sandwiches with the occasional ghetto pizza bread. One of those sandwiches is a tuna melt, which Jeremy loves and I like to pair with a bowl of tomato soup. I think of the tuna melt as an upgraded version of a tuna fish sandwich. If you really want to get 1970s throwback with it, stuff some jalapeño potato chips into the sandwich before eating (mmmm – so good!).

tuna fish, bread, lemon, mayonnaise, butter, pickles, salt, cheese, celery (not pictured: black pepper)
chop the pickles and celery
ready to roll
Tuna fish salad is quite a personal thing. Everyone has their opinions about what goes into it. I think tuna fish and mayonnaise are fundamental, but some folks like to add a touch of mustard. I like to add dill pickle relish (or just chopped dill pickle), celery, and green olives – but I omit the olives because Jeremy dislikes them. A little squeeze of fresh lemon juice adds some extra dimension, too. I also love adding chopped up boiled egg, although if you do that you are leaving the realm of tuna fish salad and entering the tuna fish and egg salad hybrid (which absolutely requires chopped green olives).
just a squeeze of lemon juice
mix it all up
My favorite bread for grilled cheese or any grilled sandwich is sourdough with enough airiness so that the bread isn't dense and brick-like, but not so fragile and soft that it breaks into pieces when you spread butter on it. If you do happen to like Wonder Bread sort of bread, then just melt the butter onto the skillet and slap the bread over it. The cheese we favor is Swiss, but cheddar is also good (can be oily), or brie if you're getting fancy pants. I dislike American "cheese", but it seems to be the classic pairing for a tuna melt.
butter your bread
layer the cheese and the tuna salad
grill until the bread is golden and the cheese is melty
Simple. Fast. Highly rewarding comfort food. Creamy and crunchy tuna salad with gooey cheese and crisp, buttery grilled bread. It's one way to recover all those calories after chasing a puppy around. And I *do* insert some Tim's Cascade jalapeño potato chips into my sandwich – because it's THAT good! Jeremy says Tim's Cascade salt and vinegar potato chips work too. I'd love to know what others like to put in their tuna salad.
pair with chips and green salad
a classic
Tuna Melt
[print recipe]
6 oz. canned tuna fish, drained
2-3 tbsps mayonnaise
2 tbsps dill pickles, chopped (optional, but good!)
2 tbsps celery, fine dice (optional)
salt
freshly ground black pepper
squeeze of lemon juice
4 slices of bread
1-2 tbsps butter, softened
2-4 slices of cheese (cheddar, swiss, etc.)
Mix the tuna fish, mayonnaise, pickles, and celery together. Season with salt, pepper, and lemon juice to taste. Butter each slice of bread on one side. On a non-buttered side of bread, layer the cheese, then tuna fish salad, then place a second slice of bread (non-buttered side down) on the tuna fish salad. Repeat for the second sandwich. Heat a skillet over medium flame. When the pan is hot, set the sandwiches down with the cheese beneath the tuna (i.e. not the tuna beneath the cheese). Let cook until the bottoms begin to turn golden and crisp. If the bottoms are browning too quickly before the cheese begins to melt, lower the heat. When the cheese is melting, flip the sandwiches over to brown the other sides. When the bottoms are golden and crisp, remove from pan and serve immediately. Makes 2 sandwiches.
more goodness from the use real butter archives