Sunday, September 20th, 2015

Recipe: huckleberry lemon sweet rolls
Does everyone love their birth month or did I just luck out with September? While the flats remain relatively warm by my standards, the overnight temperatures dipped below freezing over the weekend here in the mountains. Morning walks with Neva have been pleasantly chilly for the past few days and the gold aspens light up like torches in the autumn sun. Jeremy noted that fall is our shortest season. I reminded him that technically all of the seasons are about the same length, but I knew what he meant. Winter is the longest season for us – basically from October to May – as long as there is snow. Summer is the next longest from June or July to September (when there isn't much snow). Spring in the mountains is just plain weird because it's all melty and muddy, usually from May to June or June to July. It's the season of trashing your gear. True fall is cooler weather, golden aspen, and clear ground. As soon as there is enough snow to ski, it's "winter". Sometimes fall is as short as 3 weeks if summer and winter get a little greedy on each end. But I love it, because it's so perfect for high country hikes, long trail runs, and mountain bike rides without the crowds. I think of autumn as that sweet spot.
Neva is getting spayed this week, just before she turns 6 months old. I was told to restrict her activities, as in – very short walks – for the two weeks after the surgery. I'm just a little nervous because after Kaweah was spayed, the Cornell Veterinary Hospital instructed us not to let her jump and of course, the first thing she did when we picked her up was to try jumping into the car. She cried, then tried to jump into the car again. Mainly, I don't want Neva to be scared or to hate Doc Newton after the procedure is done. In anticipation of her upcoming convalescence period, we decided to take her up our favorite local trail in the Indian Peaks this weekend – to Pawnee Pass. We both had headaches thanks to lack of sleep and chilly gusts of wind slapping us around. Summer makes you soft because winds like that are considered "breezy" around these parts in winter. But Neva was happy and so we forged ahead. The winds were particularly nasty and cold at the pass (this happened a year ago on our backpack, too), so we took a quick snap for posterity and booked it on outta there.

on the way up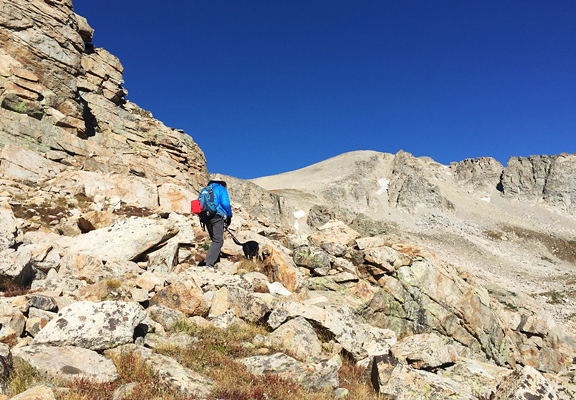 at the pass with our little hiker pup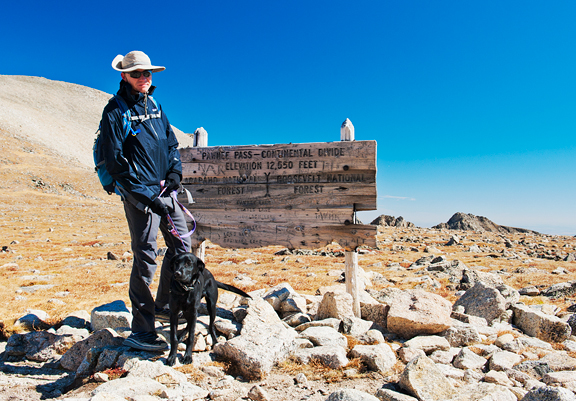 almost to the trailhead it was warm enough for a swim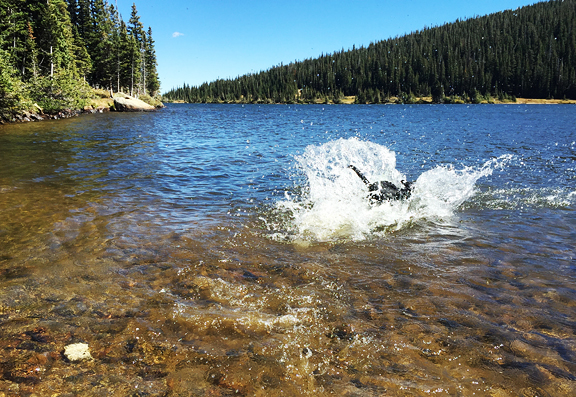 The good news is that Neva has taken two 30-minute car rides on windy roads with dramamine and hasn't puked! She wasn't happy about the rides, but we suspect once she's had enough car rides without puking, she'll start to associate the car with happier times. Also, she was VERY good on the hike wearing her chest harness despite wanting to chase after ALL of the marmots and pikas above treeline (60% of the hike is above treeline). Neva is still very much a puppy, but I think she just might become a good dog some day.
colorful sunset over our local mountains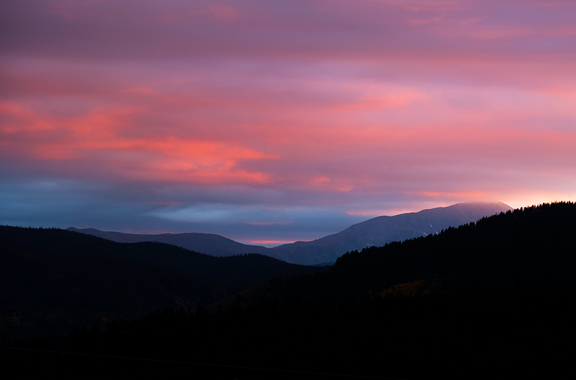 mammata lit just before sunrise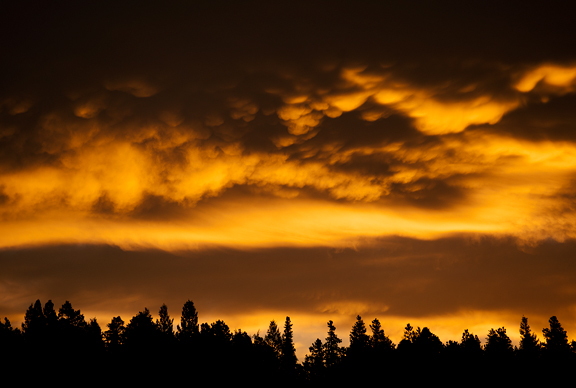 This seasonal cool down means I'm able to turn the oven on to bake, roast, and feel normal again. Of course, all I could think about for the past several weeks were ways to use huckleberries and many of those recipes involved baking. While there are a handful of huckleberry recipes out there on the interwebs, you'll find a hundred blueberry recipes for every huckleberry recipe. Something that had been on my radar for a while was blueberry lemon sweet rolls, but then I thought – HUCKLEBERRY lemon sweet rolls is where it's at. First, start by making the dough.
for the dough: milk, water, egg, salt, sugar, vanilla extract, flour, butter, more butter, yeast
warm the milk and water to 115°f (close enough)
sprinkle the yeast and a teaspoon of sugar over the liquid
mix the sugar, salt, and flour
mix the egg, vanilla extract, and melted butter into the liquid
combine the liquid ingredients with the dry ingredients
knead until smooth
cover in an oiled bowl and let rise
**Jump for more butter**