Wednesday, October 28th, 2015

Recipe: fried apple pies
It was bound to happen sooner or later, but honestly, I was hoping it would get here later rather than sooner. The winds have arrived. The other day we got a nice quick inch of snow and then we watched the winds carry those beautiful little flakes horizontally to the east. Snow and Blow. That's what we call it here in Nederland. Even so, it makes for interesting cloud formations above which turn into pretty visuals for a few brief minutes at sunrise or sunset.

sunset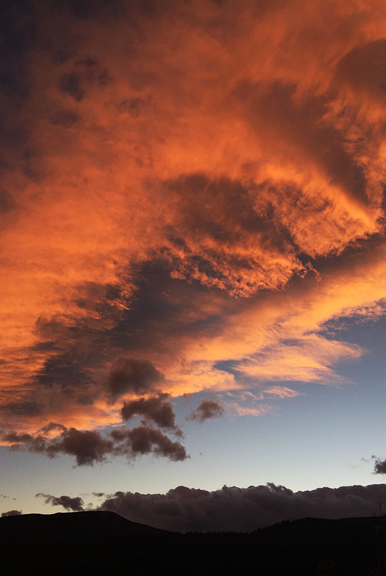 That window of comfortable weather and mild breezes may be coming to a close. I say this because Neva has really been enjoying her deck time while I'm working. I enjoy it too, since I'm not constantly telling her to get her nose out of the compost bucket in the kitchen. From our deck, Neva can watch three sets of dogs in three different yards/decks, and it's just all so fascinating for her little puppy self. But when it's really blowing or the snow is pelting her in the face, I'll insist that she come inside. On the chilly days, she'll curl up at my feet in her dog bed or invite herself (oops!) onto the couch. But given her druthers, she'd be outside romping through the snow. Her doggy day care person is on vacation for a couple of weeks, so Neva is now getting playtime with Dioji, our favorite neighbors' pup. So far, so good. Dioji has the patience of a saint.
what a goofball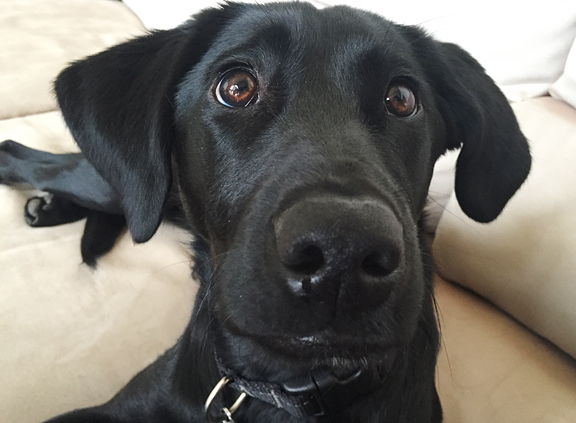 all four off the floor!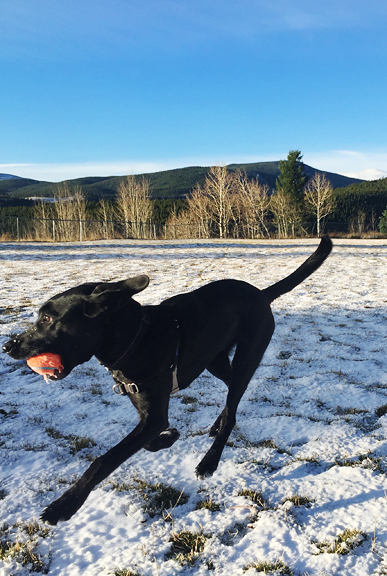 Autumn has been around for over a month now and we're supposed to fall back an hour this coming weekend. I used to feel indifferent about the time change, but I must confess that I am really looking forward to it this year. Being woken up a few hours before sunrise each morning by a fully energized puppy is a little weird, because you didn't get quite enough sleep, but you could conceivably get out of bed and get a jump start on the morning. Instead, it's usually some drowsy disrupted half-sleep that we settle for which satisfies neither the sleep deprivation nor the hopes for greater productivity. I realized last week that I hadn't touched any apples or pumpkins so far this season, although I have been happily stuffing my face with persimmons and pomegranates. And that got me thinking about pies. So I made pumpkin pie. And then I made these apple pies. Little apple pies. Little fried apple pies. Heaven help us.
apples, ice water, shortening, flour, cinnamon, sugar, salt
cut the shortening into the flour and salt
toss with ice water a tablespoon at a time
wrap up the dough and chill
**Jump for more butter**