Happy Thanksgiving, friends! I am so grateful for so much and that includes all of you wonderful readers who share your stories (both funny and sad), lend words of support, give great cooking (and dog care) tips and suggestions, and make this such a pleasant and kind community. Thank you.
As I mentioned earlier in the week, we have no grand plans for a big Thanksgiving meal – but that doesn't mean Neva doesn't get special treatment! Seeing as it is her first Thanksgiving ever, I thought it was appropriate for her to celebrate with a special plate. But we don't feed Neva people food, so I didn't know what she would eat. Based on our experience with Kaweah, the assumption that Neva – a lab, after all – would eat anything seemed like a sound one. We held a practice run on Wednesday.

raw beef rosette on lettuce, crumbled bacon with carrot, apple slices with peanut butter and cheddar heart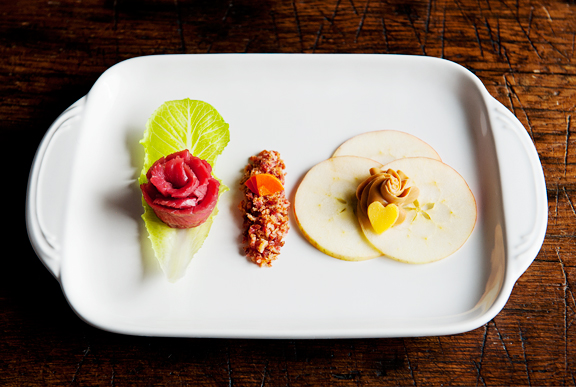 she has no idea what is happening
It took a lot of coaxing to get Neva to sit still in front of the plate. She has never eaten off the coffee table before. Poor pup was simultaneously drawn to the smell of the food and scared to go near it. Every time we got her to sit, she would lie down or back away. But eventually, she waited patiently like a good girl. Once we gave her the release word, she hesitated then went for the peanut butter and cheddar. Unlike Kaweah, who would start with the beef and sweep right with a big inhale of everything on the plate, Neva picked her way around the plate taking her sweet time. I did eventually hold the apple slices for her to eat as they stuck to the plate, but she would have nothing to do with the lettuce.
she's clearly a dessert first type of girl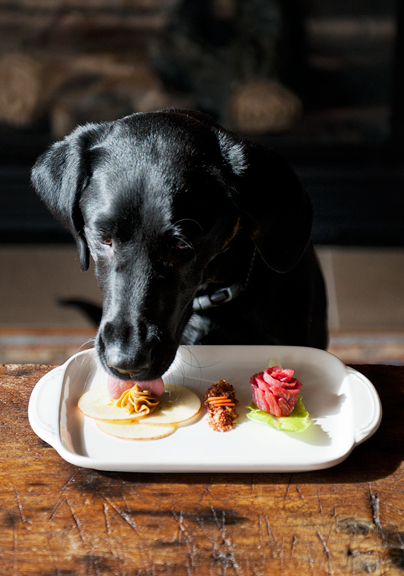 oh, raw beef? this is what being a doggy is all about!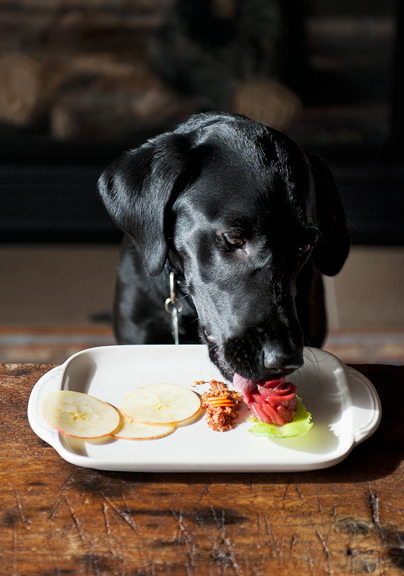 she ate everything but the lettuce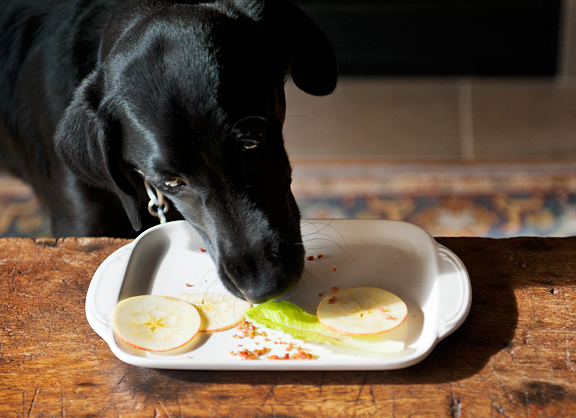 After downing her Thanksgiving plate, Neva followed us around for a half hour as if to hint that she could go for another plate if we needed to move more food. When no second helping arrived, she settled onto the couch with her chin on her front paws, shooting us the most hopeful puppy face you've ever seen. So we took her skiing to burn off those calories and she was equally thrilled. The end.
if the world could be as joyful as a happy dog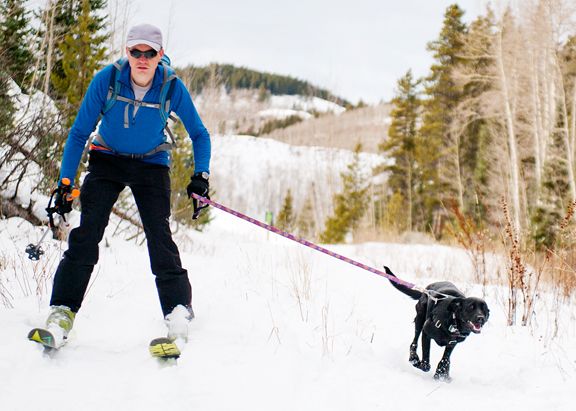 From everyone at Butter Headquarters (basically me, Jeremy, and the pup) to all of you, our heartfelt thanks and best wishes for a peaceful holiday filled with love and compassion.