Recipe: old fashioned doughnuts
We piled ourselves, the dog, and eight pairs of skis into the car over the weekend and made our way south and west to Crested Butte. I patted myself on the back too soon for catching Neva's puke episode in a strategically placed plastic bag, because when we stopped for gas in Buena Vista, she threw up again – down the back of the driver's seat and on her doggy bed. Then when we opened the door to get her out of the car, she projectile vomited all over the door and on Jeremy's shoes and pants. But we did eventually get to Crested Butte and we were all very happy for it. We gave Neva lots of treats and snuggles and warm blankets for her to curl up in, and I googled how to clean vomit from car upholstery.

this was the best moment of the drive: spotting bighorn sheep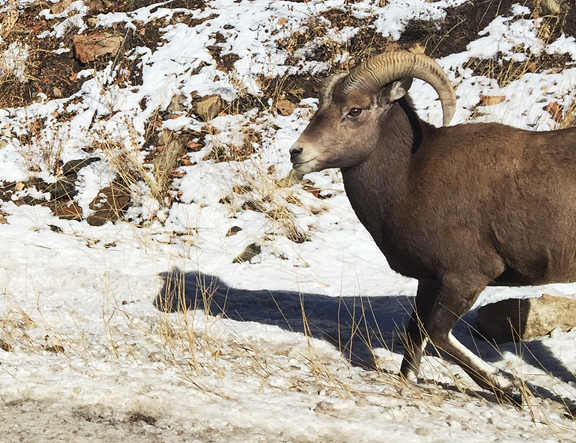 Here in Crested Butte, Jeremy and I just want to hole up with our pup so we can ski and work in peace for the week. As usual, we have no grand plans for a Thanksgiving-style feast. We like to keep things simple and low-stress in general, but especially over the holidays. The only thing that will make an appearance from a typical Thanksgiving menu will be mashed potatoes. We're grilling steaks because 1) they taste better and 2) they are quick and easy. And I plan to roast lots of vegetables because honestly, that green bean casserole (I don't care HOW fresh you make it) is disgusting. The argument "This is how we've always done it," doesn't sit well with me. That line has gotten humans into a lot of trouble through the years… including overeating at Thanksgiving.
we try our best to do the opposite of stuffing ourselves at thanksgiving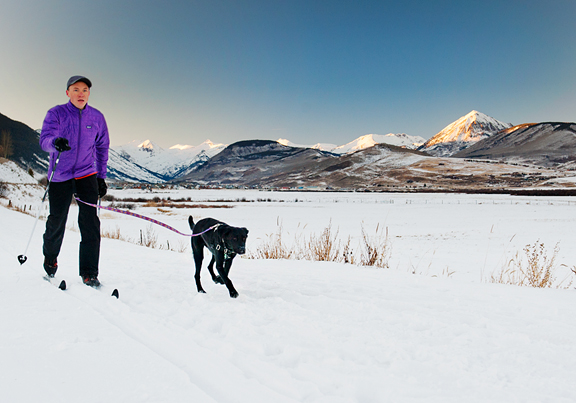 a steady climb into the beautiful high country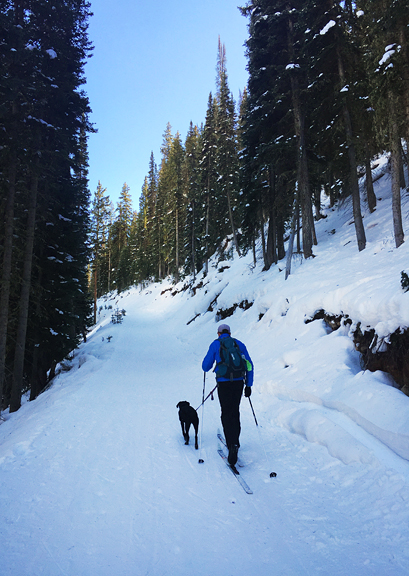 neva loves her exercise as much as we do (probably more!)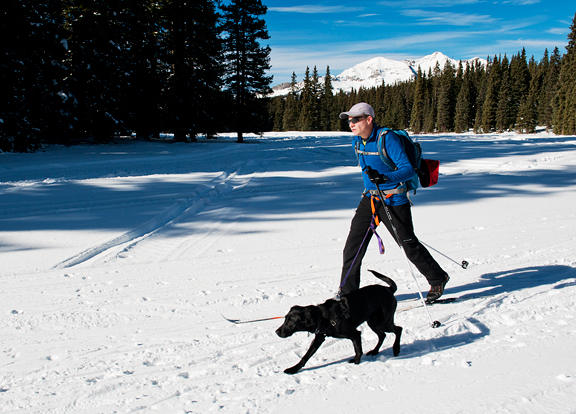 I try to approach life from a more pragmatic perspective. Traditions that I used to blindly follow now come under heavy scrutiny. Does it cause anyone harm? Is it a source of unnecessary stress? Is it a stupid waste of money or time? Is it just plain stupid? The only part of this holiday that I do really like is the reminder to give thanks and to remember (i.e. help) those who are less fortunate. If you don't know what you are thankful for, perhaps take some quiet moments – step away from your phone, no really – and mull that one over. It's important and it's good for you.
a peaceful frozen alpine lake rests under a mesmerizing cloud pattern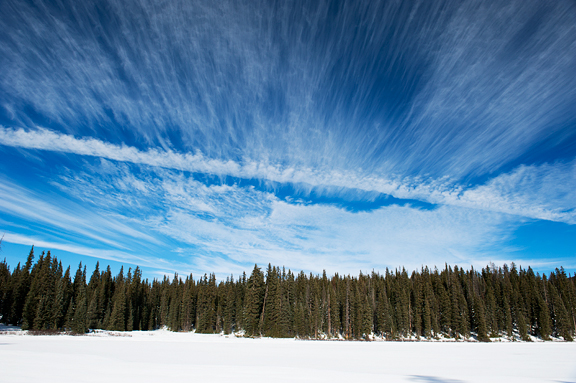 What might not be so good for you are these old fashioned doughnuts. But they're awfully tasty and no one said you had to eat all of them. Just have one… or two… or… Old fashioned doughnuts rank right up there with
French crullers
for me. I read several recipes and was surprised to find the doughnuts were so easy to make! Except for me, they weren't easy at all. My first attempt was a bit of a disaster and I spent several days troubleshooting and researching, which led me to
this 1940 research paper on deep-fat frying at altitude
. Turns out if you live at or near sea level, you're golden. Follow the recipe as is. If you live at elevation – let's say above 5,000 feet – you might want to make a few adjustments which I list in parentheses in the recipe below. The photos in this post are from the first batch, but the final photos are of the second batch.
sour cream, sugar, shortening, cake flour, egg yolks, salt, baking powder, nutmeg
whisk the flour, salt, baking powder, and nutmeg together
The main issue for my elevation at 8500 feet was to reduce my frying temperature and substitute all-purpose flour for cake flour. The texture of the first batch with cake flour expanded and fell apart the moment the doughnuts floated to the surface. They were very airy and absorbed way too much oil. The doughnuts that had been cut from recombined scraps fared a little better, but still had the wrong kind of bumpy surface. When I fried the second batch made with all-purpose flour at a lower temperature (300°F instead of 325°F), the doughnuts held together nicely with a crisp outside and soft inside, not too oily either! The crumb was still a tad denser than I think they ought to be, so I'm tempted to try half cake flour and half all-purpose flour the next time around.
beat the shortening and sugar together
mix in the egg yolks
blend in half of the flour mixture
stir the sour cream in and finish with the rest of the flour mixture
cover and refrigerate the dough
While the dough chills, whip the glaze together. I found the original glaze to be rather thick for my taste, so I wound up adding more water to thin it out. Your mileage may vary, so be sure to dip a test doughnut (maybe one of the fried holes) first to see if the glaze requires more thinning. If a crust forms on top of the glaze before you dip your doughnuts, just give it a thorough stir with a whisk or spatula until it is smooth again.
hot water, vanilla extract, light corn syrup, confectioner's sugar
pour the liquids into the sugar
whisk until smooth
Generously flour your work surface with bread flour and approach it with a gentle touch rather than manhandling it. I think overworking the dough can make your doughnuts tough and/or dense. Roll it out to 1/2-inch thickness – no thinner or your doughnuts might burn. I like to lift the dough off the work surface and swipe a little more flour on the board so that the dough won't stick and deform when I pull the shapes off. Cut out the doughnuts with a 2 3/4-inch diameter circular cutter. Cut the holes with a 1 1/4-inch diameter cutter. Use a sharp knife to score three lines around each ring, to form a sort of triangle. This promotes the formation of the signature petals on old fashioned doughnuts. Score does not mean to cut deeply or the petals might detach during the frying process. Fry the doughnuts according to the recipe instructions, then dip them in the glaze (petal-side down) while they are still warm.
roll out the dough
cut out the doughnut rings
score the doughnuts
fried (this first batch was fried at too high a temperature)
glaze
My first batch of doughnuts was so greasy that I had to trash it despite how much I hate wasting food. That was my clue that the temperature was not correct for my elevation. My second batch came out so nicely – a beautifully delicate flavor, moist tender crumb, crisp outside, and just the right amount of sugar from the glaze which I thinned out with more water. The doughnuts will keep in an airtight container for at least three days. I don't know what happens after three days because Jeremy polished them off (I only made a half batch in case this one tanked, too). I could see myself making the dough the night before and frying these beauties up for breakfast for house guests in the morning. Who can say no to fresh old fashioned doughnuts?
great with hot coffee
my incentive for excercise – to be able to eat a fresh homemade doughnut
or two…
Old Fashioned Doughnuts
[print recipe]
from Peaches Please
2 1/4 cups cake flour (at 8500 ft.: try all-purpose flour or half cake flour and half all-purpose flour)
1 1/2 tsps baking powder
1 tsp salt
3/4 tsp nutmeg, freshly grated
2 tbsps shortening (at 8500 ft.: 1 1/2 tbsps)
1/2 cup sugar
2 egg yolks, large
2/3 cup sour cream
bread flour for dusting
vegetable oil for frying
glaze
3 cups powdered sugar
1 1/2 tsps corn syrup
1/2 tsp vanilla extract
1/3 cup – 1/2 cup hot water (more water as needed)
Sift the flour, baking powder, salt, and nutmeg together and set aside. Mix the shortening and sugar together on low speed until it is uniform and sandy. Add the egg yolks to the sugar and mix on medium speed until just incorporated, scraping down the sides of the bowl as needed. Add half of the dry ingredients to the batter and beat on medium until you can't see the flour. Mix in the sour cream, and then mix in the rest of the dry ingredients until just combined. It should form a sticky dough. Scrape the dough into a new bowl and cover with plastic wrap. Refrigerate for at least an hour.
Make the glaze: While the dough is chilling, stir the powdered sugar, corn syrup, vanilla extract, and 1/3 cup hot water together until you form a smooth icing. Add more water to thin the glaze to your desired consistency. I tend to like mine as more of a glaze than an icing. Set aside until ready to use. If a crust forms on top, just whisk the glaze vigorously until it is smooth again.
Heat several inches of oil in a deep pot (I use a stock pot) to 325°F. [If you are at elevation, then the general rule to follow is to decrease your frying temperature by 3°F for every 1000 feet above sea-level. For me, that's 25.5°F, but I just target 300°F.] Gently roll the dough out on a well-floured (use the bread flour) work surface to 1/2-inch thickness. Use two circular cutters to cut out the circles and the holes of your doughnuts. The reference recipe suggests a diameter of 2 3/4 inches for the larger cutter and 1 1/4 inches for the smaller cutter. With a sharp knife, lightly score the doughnuts 3 times to form a rough triangle on each ring. This encourages those lovely petals to develop. You can press the dough scraps together and roll the dough out again to make more doughnuts, but these will be slightly less fluffy (they're still good, though).
Carefully place a few doughnuts into the hot oil, sliced-side up. I set mine on a fish spatula and lowered it into the oil so as not to stretch the ring. When the doughnut floats to the surface, let it fry for 15 seconds, the carefully flip it over and let fry for 90 seconds. Flip the doughnut one last time and fry for another 75 seconds until golden and remove it to a cooling rack to drain. When the doughnuts are slightly cooled, but still warm, dip them cut-side down into the glaze and let any excess drip off before setting them back on the cooling rack (glaze-side up). Cook the holes the same way, but reduce the fry time by half. Makes 10-12 doughnuts.
more goodness from the use real butter archives