Monday, December 28th, 2015

Recipe: carne adovada empanadas
The last week of December – that time between Christmas and the new year – always tends to be one of the busiest at the ski resorts. Lots of people take time off for the holidays and head to the slopes with their families and extended families and friends. After the last good powder day on Christmas, we've switched from skiing the mountain to hitting the Nordic trails. The big storm tracks have cleared out and the trails are firming up under bluebird skies for some great skate ski conditions. It's such a great workout that single digit (Fahrenheit) temperatures actually feel pretty good, unless you stop moving… then it gets quite cold quite fast.

jeremy wears two passes: his and neva's
I'm also using this opportunity to work on some baby quilts. Actually, LOTS of baby quilts – some of which are for babies that aren't babies anymore, but bona fide kids! I may be years late, but the sentiment is there. Plus, I carried two of my baby blankets around with me until… well, I have them in my bedroom now. These are flannel rag quilts because I don't have the skill or time to make anything more complicated. Squares are good enough for me.
soft and colorful fabrics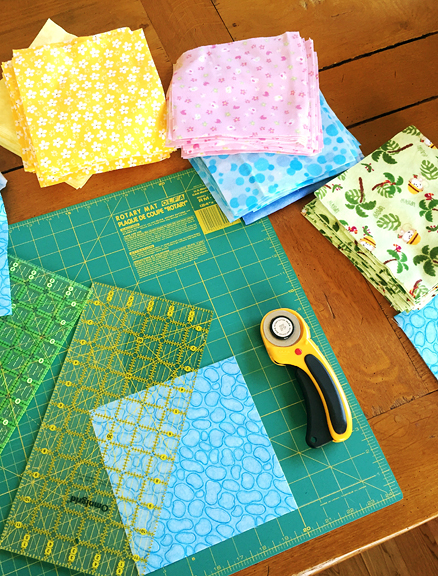 The neat thing about this period before the new year is that parties seem to have an "anything goes" theme. Festive, yet not necessarily Christmas. I rather like that. It's all about celebrating the end of 2015, looking ahead to 2016, and eating empanadas. Last month I made a big batch of
carne adovada
and decided to save some out to make empanadas. These are not traditional in any sense, just a New Mexican take on the revered empanada which turned out to be pretty darn delicious.
water, carne adovada, cheddar, paprika, green chiles, salt, vegetable oil, flour, butter, onion
I used the dough recipe from my favorite
Argentine empanadas recipe
. It's straightforward to make and has a nice texture when baked. You can, of course, fry the empanadas (they are so so tasty fried), but my pants can only handle the baked version. Plus, it's less clean up.
melt the butter and water
pace a pinch of paprika in a well with the flour and salt
mix the liquid into the flour
you'll wind up with a nice oily dough
wrap in plastic wrap and refrigerate
**Jump for more butter**