Recipe: black olive tapenade
Amidst the bustle of de-winterizing our house, we realized last week that it had been one year since we brought Neva home (May 23). The day she entered our lives isn't as big a deal to us as the fact that she's made so much progress in the past year. Neva is still a lot of work, but the past year's training is definitely paying off. Most important of all, our girl is a sweet and happy dog.

i made a last minute celebratory snack of beef, egg yolk, and a strawberry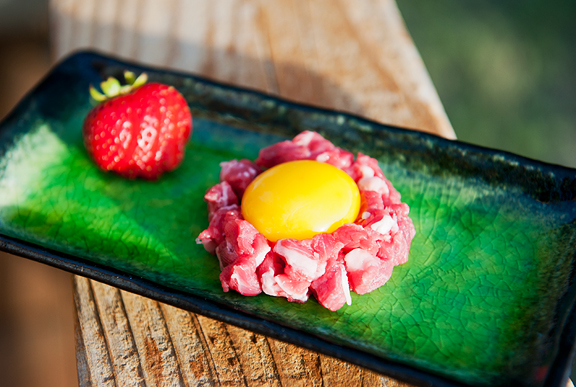 waiting for her release word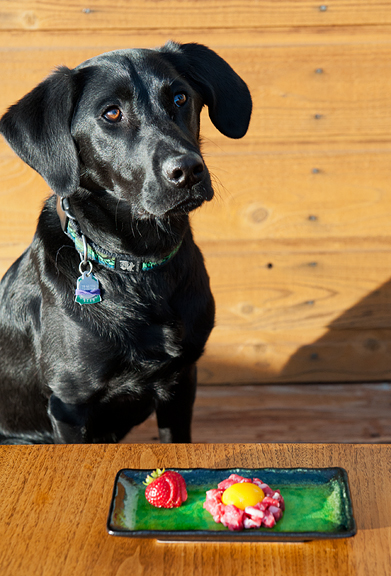 it was gone in 2 seconds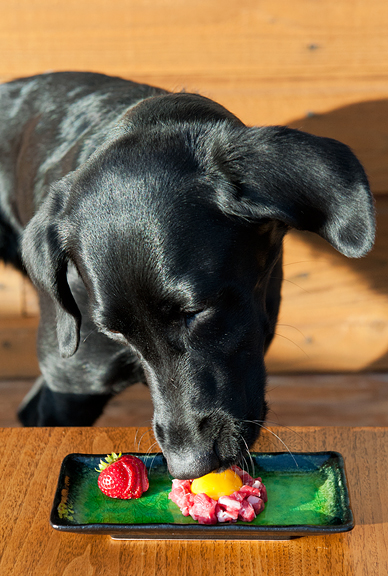 De-winterizing actually involves both homes since they are both in the mountains. En route to Crested Butte, we encountered a good bit of snow falling on two of three mountain passes and wondered aloud if we were mistaken in bringing the SUPs (stand up paddle boards) rather than our skis? But alas, winter is ever so slowly passing the baton to spring. I know this because I've been watching the signs of spring around the mountains where we live. And I've been watching for those signs because I set my mind to finding the elusive black morel mushroom this year – less for the eating and more for the hunt and the mushroom photography.
a black morel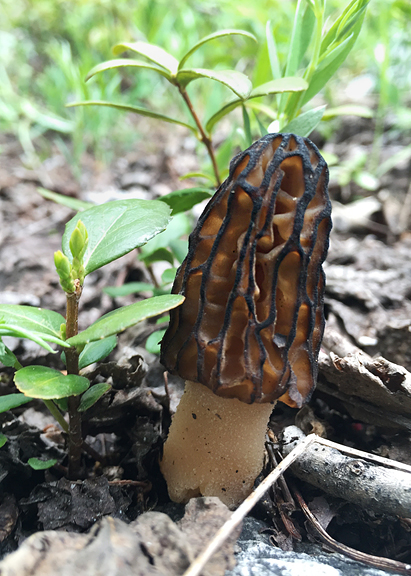 Well, my homework paid off. We took Neva for a short hike to get her beans out and wound up spending 5 hours foraging for black morels after I spotted the first one off the trail. I left plenty behind and still managed a good hundred or so. These are by far the hardest to see compared to porcini or chanterelles. Every dang dead leaf or pine cone looks just like a black morel – and under dappled sunlight it can be even harder to find them. But they are so pretty and alien and magical and weird. It meant a crash course that evening in learning to store, clean, and cook fresh black morels. Cook them thoroughly. Never eat them raw because they will make you sick. Following the advice of several sources, we tasted a few that I had sautéed in butter and waited for any ill effects to follow as some folks react poorly to black morels. The good news is that we are okay eating them. So you might expect to see a few morel recipes in the near future. [I should note that it is important to know how to properly identify a morel and how to tell it apart from several kinds of false morels – which are toxic.]
found you!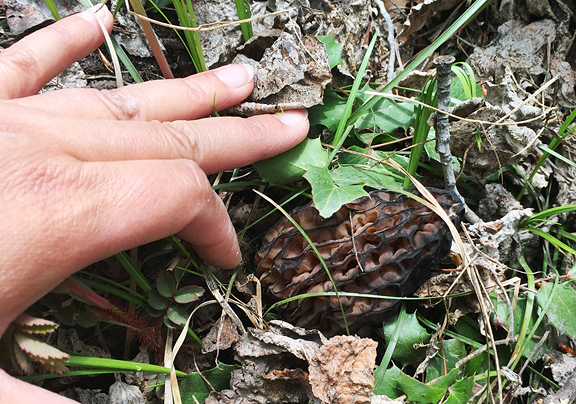 little lanterns of the forest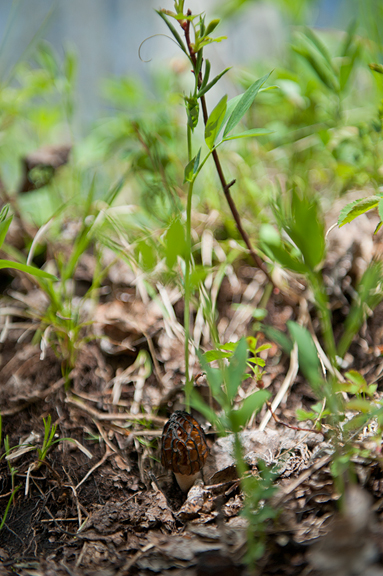 a nice foursome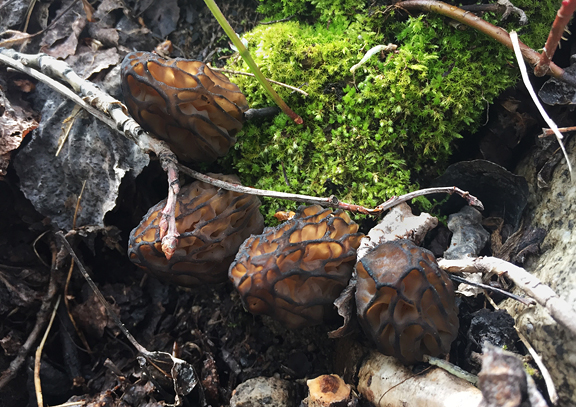 morels are synonymous with spring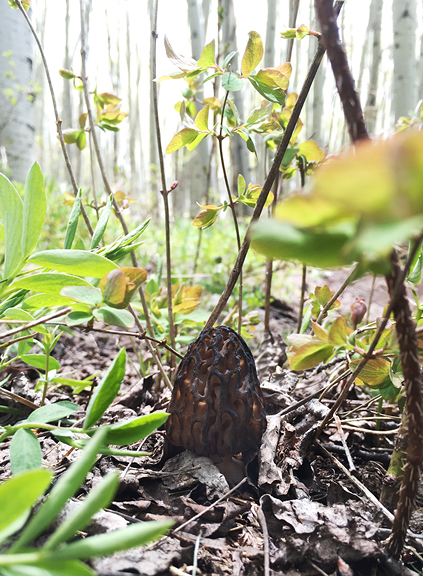 two-fer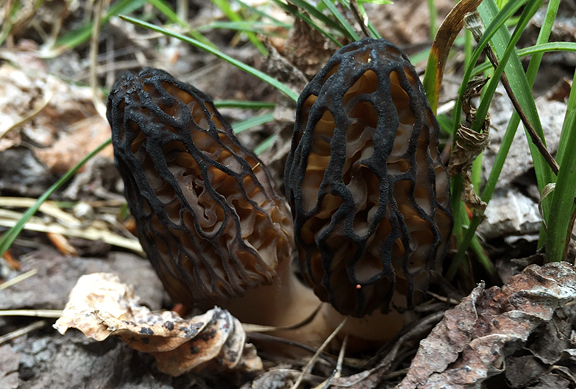 my morning haul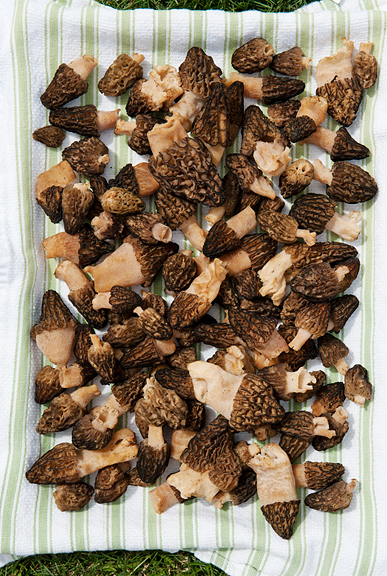 Now that I have mushroom fever a few months earlier than usual, I'm going to share a quick and easy recipe for black olive tapenade. That way I have more time to resume planning the next trails to scout out those honeycombed wonders. Until recently, I had only ever had olive tapenade in restaurants when we dined with other friends because Jeremy is not a fan of olives. But he doesn't like kimchi either and I have a whole jar of that in our refrigerator… It was high time I made some olive tapenade of my own. It's ridiculous how easy it is to make – like bzzzzzt! and you're done.
olives, olive oil, lemon (juice), anchovies, garlic, capers, thyme
Since this is a black olive tapenade, use black olives – like Niçoise or Kalamata. Make sure they are pitted or else their trip around the food processor will be a short one (olive pits and food processors are not friends). If you want to add green olives to the mix, be my guest, but then you'll have to call it an olive tapenade. Chop the herbs and garlic, juice half the lemon and you're more than halfway there.
prep the ingredients
place the olives, capers, garlic, anchovies, and thyme in your food processor
Give the food processor a few quick pulses until the olives are a chunky purée. Add the lemon juice, then turn your food processor on while you pour the olive oil in. Purée the tapenade to your desired consistency. My preference is for a chunkier texture rather than a smooth paste, but do what makes your mouth happy. Add more lemon juice to taste.
add lemon juice
pour the olive oil in while the food processor is running
And that's it! You have a delicious, earthy, briny black olive tapenade. Olive tapenade is lovely on sandwiches, meats, pasta, pizza, or served as a dip or spread for appetizers (think crackers, crostini, grilled bread, crudités). It's quite versatile, which is why you may want to make extra and keep it handy in the refrigerator. I'm keeping mine right next to the kimchi jar.
served with croccantini
black olive tapenade is perfect for parties
Black Olive Tapenade
[print recipe]
from The Guardian
1 cup black olives (Kalamata or Niçoise), pitted
3 tbsps capers
2 anchovies
1 clove garlic, crushed
2 tsps fresh thyme, chopped
1 1/2 – 2 tbsps lemon juice, fresh
5 tbsps olive oil
Place the olives, capers, anchovies, garlic, and thyme in the bowl of a food processor and pulse until a coarse purée (or to your desired texture). Add the lemon juice. Turn the food processor on and pour the olive oil in while the blade is spinning until blended. Add more lemon juice to taste. Refrigerate for up to 3 weeks. Makes about 1 cup.
more goodness from the use real butter archives