Recipe: chanterelle ravioli with sage brown butter
School is starting and summer is winding down even though we have a good month of it left before we can officially declare autumn's arrival. We spent the beginning of last week getting outside with Neva to explore and play and continue "training" her – whatever that means. Our neighborhood lake in Crested Butte had some strange water biochemistry going on, so we took little Neva to a nicer lake with cleaner water. This required a much longer drive on bumpy backcountry roads, but instead of puking or drooling or crying, Neva had her nose out the window and she was quite excited about our destination. Our little girl may have finally (finally!!) turned the corner on the car ride! I don't know what we're going to do come winter when we can't open the window if it is -20°F outside, but I'll take what I can get.

sometimes neva's life jacket looks like a superhero cape from the front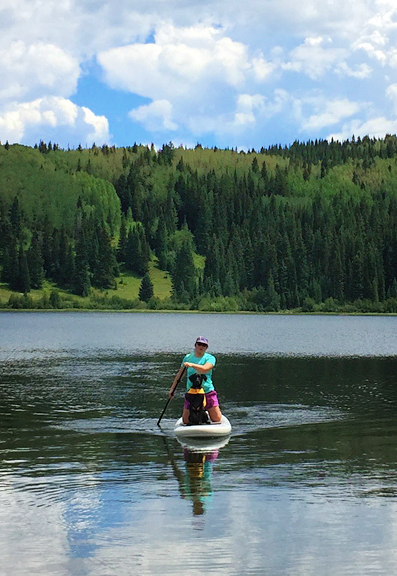 the happiest, dorkiest dog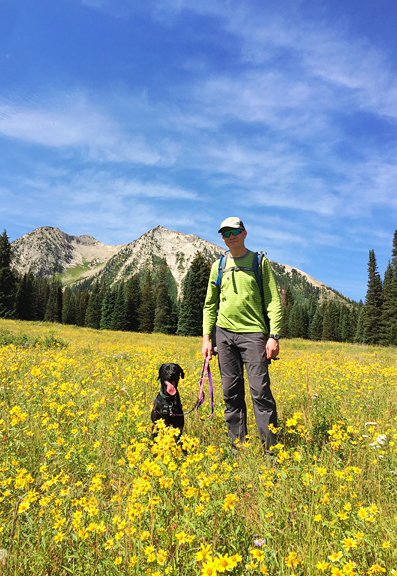 Jeremy and I also spent our final morning in Crested Butte hunting for chanterelles as they were starting to flush. Normally I would wait to forage after more time had passed so they would be larger, but we were leaving and I wanted to bring some chanterelles home to make a special birthday dinner for my mom. I only took the biggest ones and left the littles to grow and spore and do their happy mushroom thing. If you're wondering how I prepared them, I sautéed the chanterelles and fresh local sweet corn in butter and served them alongside a small hash browned potato with two seared scallops on top (drizzled with pan sauce, natch). That was the second course of four.
neva likes to sniff chanterelles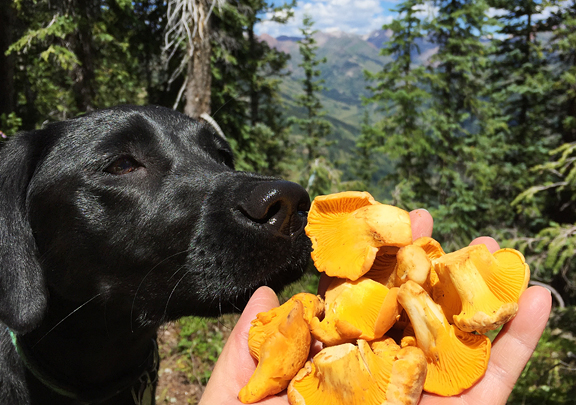 a perfectly mossy home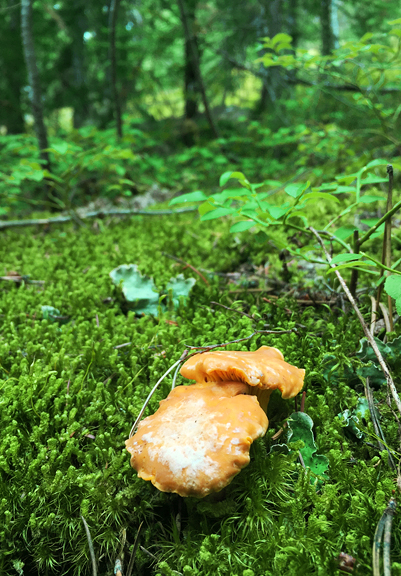 clean and beautiful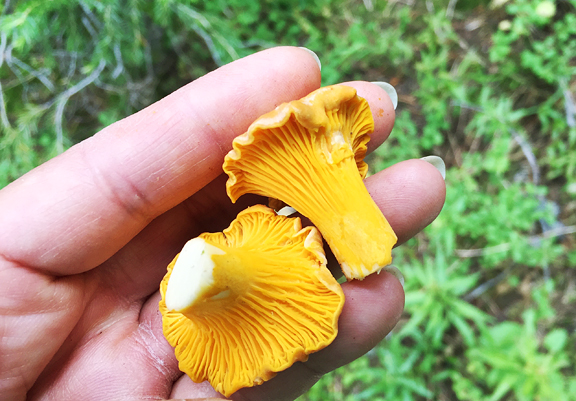 toasting mom's birthday with some bubbles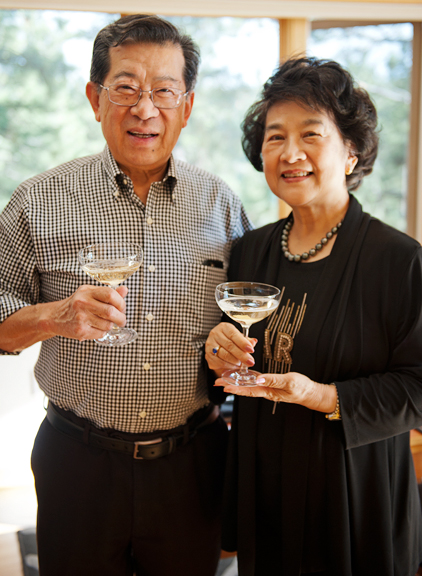 I hadn't planned on trying a new recipe with the chanterelles, but we managed to forage enough that I could make some chanterelle ravioli. I've always wanted to make ravioli from scratch and by hand. My mother-in-law gave me some ravioli stamps and a ravioli pasta cutter last year, so I really had zero excuse to not try this. Start with the ravioli pasta dough.
flour, eggs, olive oil, salt
Most pasta I've made from scratch involves flour and eggs, but this one had a little salt and olive oil added to the dough. The flour doubled as an ingredient and a bowl because all of the wet ingredients went into a well in the flour. I thought that would be terribly messy, but it was actually rather tidy as long as you didn't breach the well wall. The recipe called for four cups of flour, but you don't use all of that flour in the pasta dough. I incorporated as much as needed and then sifted the remaining unused flour and kept it around for working the pasta.
make a well in the flour and add the rest of the ingredients
stir flour into the eggs until the mixture is too thick to stir
then work more flour in with your hands
when the dough won't take on any more flour, knead it
it's ready when you poke it and the dough bounces back
While the dough rested in the refrigerator for a few hours, I set to work on the chanterelle filling. It was actually quite quick to make. The biggest time sink of all was cleaning the mushrooms, but I think that has to do with the fact that I was gathering them on the early side when the caps were still close to the ground (i.e. dirt). The good news is that you don't have to use chanterelles, you can use any mushroom. Heads up for my local folks – the Costco in Superior, Colorado has fresh chanties for $9 a pound right now. They aren't as fragrant or flavorful as foraged, but it's a GOOD deal and they're in much better shape than the ones they sell at Whole Foods.
olive oil, black pepper, chanterelles, butter, parmesan, salt, sage, nutmeg, garlic, egg, ricotta
chop the mushrooms into bite-sized pieces
sauté in olive oil with minced garlic
The original recipe makes a smooth filling of the mushrooms and other ingredients. I rather like a little bit of extra mushroom texture, so I coarsely chopped the sautéed mushrooms, removed a third of them, then continued to pulse the remaining mushrooms with the ricotta, parmesan, egg, and nutmeg. Once that filling was smooth, I stirred in the coarsely chopped mushrooms along with salt and pepper.
place the sautéed mushrooms in a food processor
remove a third of the coarsely chopped mushrooms
add ricotta, parmesan, egg, and nutmeg and pulse until smooth
stir the reserved mushrooms into the filling
I don't own a pasta maker and I'm not convinced I need one. Every time I have tackled handmade pasta, it has turned out to be easier than I expected (then again, I always expect a disaster). With a little practice, you begin to get a feel for the thinness of the dough as well as how uniform the thickness is across the entire sheet. I'm sure if I ever used a pasta maker, I'd never go back, but for now I feel that I learn more when I roll it by hand. On my first sheets, I think I could have rolled the pasta out thinner than I did. Once I got the right thickness, I cut two rectangles – one slightly larger than the other. These sheets made up the tops and bottoms of the ravioli.
cut the dough into quarters
working one quarter at a time, roll the dough out to at most 1/32 inch thickness
cut two rectangles, one slightly larger than the other
The size of the ravioli is up to you, but I went for ravioli with about two teaspoons of filling and a dimension of 2 1/2 inches by 2 1/2 inches. I placed the filling mounds an inch apart to allow for enough space to seal the pasta sheets and to cut them without springing a leak. A layer of egg wash on the pasta ensured a good seal when I set the second pasta sheet on top. After a little trial and error, I found it easiest to gently press the pasta sheets together from the center and work my way toward the outer edges, pushing out any air pockets and sealing the filling. I finally put my ravioli pasta cutter to work, too! A knife would work just as well. When the ravioli were cut, I arranged them on a floured baking sheet (I froze half at this point).
arrange the filling on the smaller rectangle
brush around the filling with egg wash
press the pasta together to seal, and push out any air pockets
cut the ravioli
set the ravioli on a floured baking sheet
The sage brown butter sauce was quick to make while I waited for the pasta water to boil. The key is to swirl or stir the butter over medium heat to allow the solids to brown, but not burn. The butter took on a nutty aroma and brown color when it was ready. I tossed in several fresh sage leaves and watched them sizzle and turn crisp while I stirred them around in the butter – this took about a minute. When the ravioli were cooked, I spooned the brown butter over them along with a generous sprinkle of Parmesan cheese and black pepper.
brown butter only takes a few minutes
add fresh sage for great flavor and delicious crunchy sage leaves
boil the ravioli until the pasta is al dente
drizzle brown butter and sprinkle parmesan over the ravioli
My first ravioli were a little on the thick side for my taste, but I rolled thinner pasta from the third and fourth quarters of the dough. These were sublime. The flavors are delicate, so I would not pair the ravioli with an overpowering sauce. Brown butter, sage, and Parmesan work well with the chanterelles and ricotta. I imagine a wine and cream sauce would also be magical with the chanterelle ravioli. But the coolest part of all is that I finally made ravioli from scratch and it was awesome and not as difficult as I thought it would be. I'm going to stuff everything into ravioli now!
garnish with chanterelles and butter-fried sage
exquisite chanterelle filling in every ravioli
Chanterelle Ravioli with Sage Brown Butter
[print recipe]
filling and sauce from Hungry Cravings and pasta from Fine Cooking
ravioli dough
4 cups unbleached all-purpose flour (or "00" flour)
4 large eggs
1 tsp olive oil
1/2 tsp coarse salt
chanterelle filling
3/4 lb. chanterelle or other wild mushrooms, cleaned
2 tbsps olive oil
2 cloves garlic, minced
8 oz. ricotta cheese
1 1/2 oz. Parmesan cheese
1 egg
generous pinch of freshly grated nutmeg
kosher salt
freshly ground black pepper
1 egg, beaten for egg wash
sage brown butter sauce
6 oz. unsalted butter
1/4 cup fresh sage leaves
Make the ravioli dough: Pile the flour on a clean work surface and make a well in the flour. Place the eggs, olive oil, and salt in the well. Incorporate the flour into the eggs with a fork until it is too thick to mix any more. Use your hand to mix in more flour until the ball of dough cannot accommodate any more flour. Set the ball of dough aside. Sift all of the remaining flour (about 1-2 cups) and discard the hard bits that remain. Keep the sifted flour nearby as you work the dough.
On a lightly floured surface, knead the dough for about 5 minutes until it is smooth, consistent in texture throughout, firm, and just slightly tacky (but not sticky). If the dough is too sticky, work in more flour. The dough is ready when you poke it with your finger and it bounces back. Wrap the dough loosely in plastic wrap and refrigerate for an hour or up to 8 hours. Makes 1 pound of pasta.
Make the filling: Cut the mushrooms into bite-sized pieces. Dry-fry the mushrooms in a sauté pan over medium-high heat until they begin to wilt. Add the olive oil and sauté the mushrooms until they are cooked (about 6 minutes). Add the garlic and sauté until fragrant (a couple of minutes). Remove from heat and let cool. Place the mushrooms in a food processor and pulse until coarsely chopped. Scoop 1/3 of the mushrooms out of the food processor and set aside. Add the ricotta, Parmesan, egg, and nutmeg to the remaining 2/3 of the mushrooms in the food processor and run until smooth. Scrape the filling into a bowl and stir in the reserved mushrooms and salt and pepper to taste.
Make the ravioli: Cut the dough into quarters. Loosely cover three of the quarters with the plastic wrap while you work the first quarter. On a lightly floured work surface, flatten the dough with the palm of your hand. You can run the dough through a pasta machine (start on the thickest setting and then gradually work down to the second thinnest) or roll by hand. I'm rolling by hand. Use a rolling pin and roll away from you, turn 90 degrees and roll away from you, and repeat. Keep doing this until the dough is about 1/32-inch thick or thin enough to read newsprint through it.
Depending on the size of your ravioli (mine were 2 1/2 inch squares), cut out a rectangle from half of your pasta sheet to fit the maximum number of ravioli. My sheet was 5 by 10 inches, but I should have rolled my pasta out a little thinner. Cut out a second rectangle slightly larger than your first one (like 1/2 to 1 inch longer in both dimensions). Spoon 1-2 teaspoons of filling on the first sheet, spaced about 1 inch apart in a regular grid – in my case it was a grid of 2 by 4 ravioli. Brush egg wash on the first sheet of pasta, skirting the mounds of filling. Carefully drape the second pasta sheet over the first. Working from the center outward, gently press the pasta sheets together around the mounds of filling while pushing any air pockets out toward the edges and sealing the ravioli. Use a knife, ravioli pasta cutter, or ravioli stamp to cut out your ravioli. Arrange the ravioli in a single layer on a lightly floured parchment-lined baking sheet. At this point you can put the ravioli in the freezer and when they are completely frozen, bag them in a ziploc bag for a few months.
Make the sage brown butter sauce: Melt the butter over medium heat, stirring constantly until the solids brown and the butter smells nutty. Add the sage leaves and stir, cooking for 1 minute or until the leaves have crisped. Remove from heat.
Cook the ravioli: Bring a large pot of salted water to a boil. Cook the ravioli for 3-4 minutes or until the pasta is al dente. Remove the cooked ravioli from the water with a slotted spoon or mesh skimmer. Drizzle with sage brown butter, Parmesan cheese, salt, and freshly ground pepper. Serve immediately. Serves 6.
more goodness from the use real butter archives