Recipe: roasted delicata squash
When the coasts are getting snow and rain, Colorado typically sits under a high pressure ridge which means sunshine and warm weather. Sometimes we'll get clipped by the edge of a storm and experience a little rain, and if we're lucky the temperatures aloft will be cool enough to give us snow instead of rain. So far, what little rain and snow we've received has been teasing us in the mountains.

some rain, some snow, and plenty of wind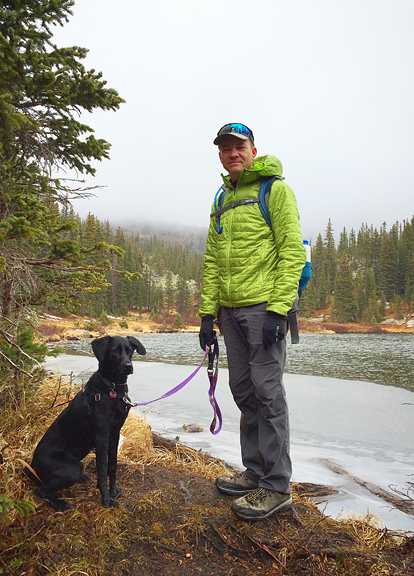 On Saturday, we experienced some dynamic weather – low clouds racing by and sun showers popping up every which way. In the morning, there was a long-lived rainbow to the west of our house as spot showers rolled through intermittent sunshine. When we took Neva for a hike, we could see a rainbow on the far horizon, but it was mostly obscured by forest. It lasted for a couple of hours as rain clouds continually spilled over the mountains. I tried to get a photograph, but I could never see the entire rainbow because the rainbow itself was quite low due to the high sun. As we drove home through bouts of rain and intense sun, we rounded the bend and saw yet another rainbow, but this time it was in a valley below us – the perfect geometry for the afternoon sun. Wind-driven rain pelted me and everyone else who had stopped to marvel at this stunning phenomenon. "Did you find the pot of gold?" a woman shouted over the roar of the winds, smiling. "Colorado IS the pot of gold!" I answered.
a full double rainbow and my pot of gold that is colorado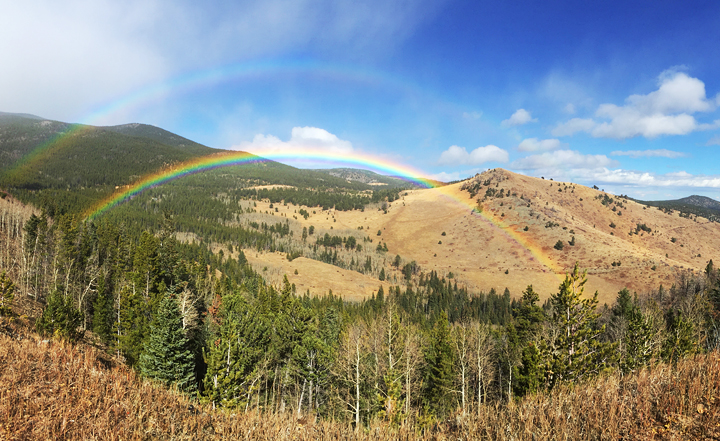 This weekend, we collapsed Neva's bedroom crate in the hopes of getting her used to sleeping in the doggy bed at night AND staying there. She loves her bed, which is currently decked out with three pillows (she's spoiled) and a super soft blanket. However, Neva has figured out how to position herself on our bed without disrupting our sleep and thus avoiding getting kicked off in the middle of the night. Since she isn't much of a snuggler, lying between our feet suits Neva just fine. It worked so well, I was able to get up for sunrise without that pukey feeling when you haven't gotten proper rest.
technicolor sunrise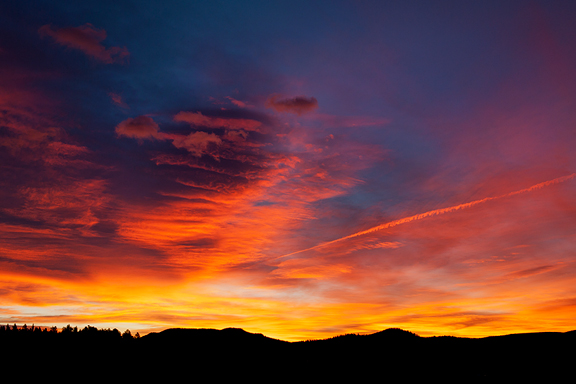 Between Jeremy's travel schedule, the start of "wind season" in the mountains, and the looming end to Daylight Saving, we had some of Jeremy's colleagues up for dinner a few nights ago. Darkness isn't a problem, unless you're trying to find our house for the first time. People always ask if we eat dinner party food all the time, and the answer is no. After entertaining, we enjoy simpler fare. One dish I'm digging lately is roasted delicata squash. These oblong, dark green-striped yellow squash are everywhere in stores and markets right now. Delicata squash are easy to prepare and you can leave the skin on (and eat it) unlike some other squash varieties.
olive oil, salt, black pepper, delicata squash
The preparation is straightforward, simple, and quick – the perfect dish for fall and winter. Cut the squash in half lengthwise, scoop out the seeds, and slice into 1/2-inch thick pieces. While delicata squash are not nearly as hard as butternut squash, they aren't going to slice like butter. Do take care when cutting the squash – especially on that first lengthwise cut.
cut in half
use a spoon to scoop out the seeds
slice
Place the slices in a large bowl. Drizzle some olive oil over the squash and season with salt and pepper. Toss everything to coat the pieces evenly. Arrange the slices in a single layer on a baking sheet or roasting pan. I like to line my baking sheet with foil or parchment for easier clean up. Roast until the pieces are tender. This took me about 20 minutes, and I flipped the slices halfway through the roasting time so that they browned on both sides. You don't have to flip them if you don't want to. I didn't the first time I made this and they were just as delicious, but I do like that I can double the browned surface area which lends a little more texture.
drizzle olive oil
season with salt and pepper
toss to coat
arrange on a baking sheet
roast for 20 minutes
Roasting is a great technique for bringing out the sweetness in vegetables and concentrating their flavor. Roasted delicata squash is tender and sweet without being overly starchy. It makes a great side dish and I've chopped up leftovers to toss into salads or pasta. I have yet to explore other ways of preparing delicata squash because I love this simple recipe so much, but if you have a favorite recipe, I'd love to hear about it.
simple is best
eat your vegetables
Roasted Delicata Squash
[print recipe]
2 medium delicata squash (about 3 lbs.)
1-2 tbsps olive oil
1/2-1 tsp salt, to taste
freshly ground black pepper, to taste
Preheat oven to 425°F. Wash the squash and pat dry. Cut each squash in half lengthwise (be careful as they can roll about), then scoop the seeds and guts out (discard). Slice the squash into 1/2-inch thick half-rings. Place the slices in a large bowl and toss the squash with olive oil, salt, and pepper. Arrange the slices in a single layer on a baking sheet (I lined mine with foil) or roasting pan. Roast for 20 minutes, flipping the slices over halfway through the roasting time. Serves 4-6 as a side dish.
more goodness from the use real butter archives