Recipe: cold seafood platter
I always thought that my foraging seasons ended because there wasn't anything left to forage, but this year has been quite different. I stopped looking for porcini, matsutake, and now huckleberries, because I found so many, ran out of space in my refrigerator to store them, was sick of cleaning them, and felt pretty exhausted.

neva knows what i'm talking about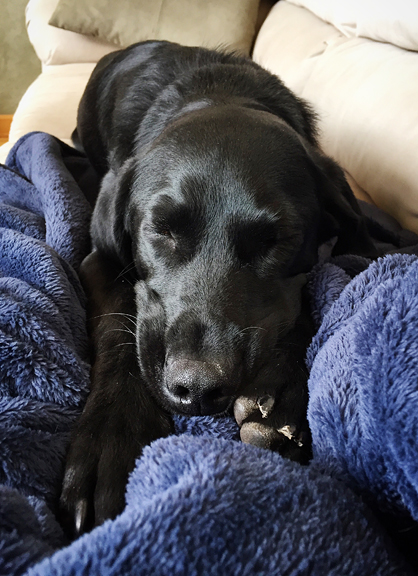 Last weekend, Erin, Erica, Banjo, and I went huckleberry picking at ML1 – Mother Lode 1. It was better than the last two years (which totally sucked), but not nearly as good as 2014 (which was crazy good). After two not-so-great huckleberry years, I was determined to expand our foraging territory based on satellite imagery, terrain, and familiarity with our mountains. On Monday morning, Jeremy and I went to scout out a potential huck patch and hit pay dirt. We named it ML2b and I renamed ML2 as ML2a. Then Wednesday morning I went solo cross country, took a wrong turn, chatted with a couple of really nice moose hunters, got back on track, then found a different huckleberry patch that was loaded with ripe berries. That's ML2c. Thursday morning, Jeremy accompanied me to explore an unmarked local trail which led us to an enormous huckleberry patch in the most beautiful setting, which I have dubbed ML3. Oh, and the aspens were looking gorgeous in the high country.
orange top aspens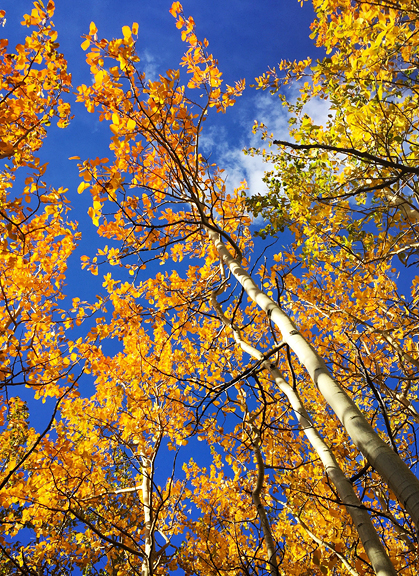 cool mornings under golden light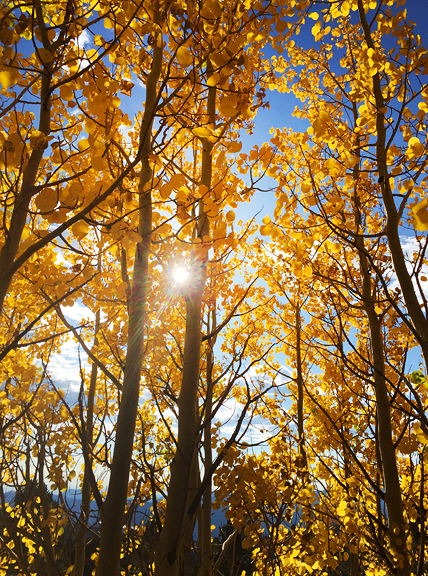 colorado painted blue and gold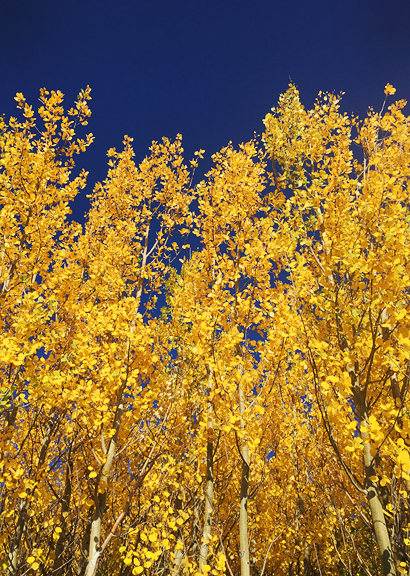 some huckleberry plants are showing off the reds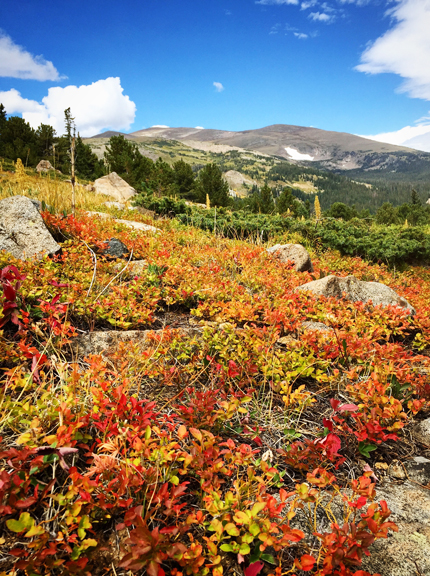 jeremy at lovely ml3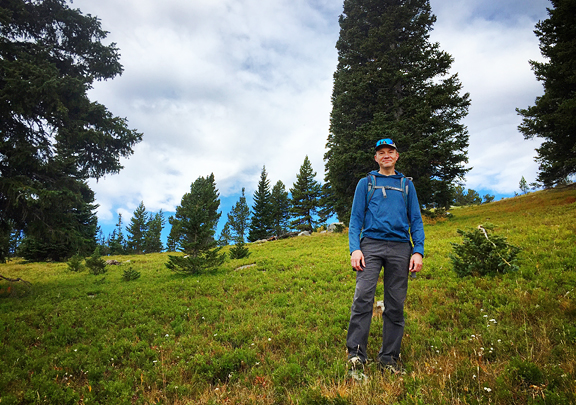 The weather went from downright scorching hot on Monday to snow by Saturday morning. Fall is in flirt-mode now, so it's best to pack layers and hats and gloves when you're going to be in the high country all day. But I really love this time of year when the temperature is hovering right at freezing as you trudge up the mountain, your trail runners and pant legs knocking the light layer of snow off the brush with each step. The sun actually feels GOOD instead of oppressive when the weather cools down. Erin and I went to pick at two of the three new locations (ran out of time to hit the third one – too many berries to pick) and spent several hours gathering enormous, ripe huckleberries while discussing our solutions to the world's problems and giving Banjo treats, ear rubs, and butt scratches between his naps in the shade (he's fluffy, he was plenty warm).
rainbow from my deck saturday morning (our huck patches were at the other end of it!)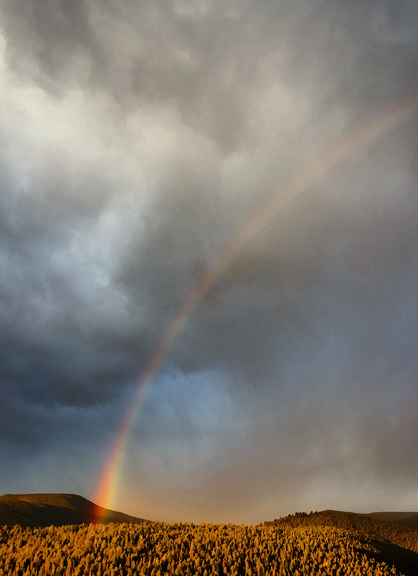 snow in the high country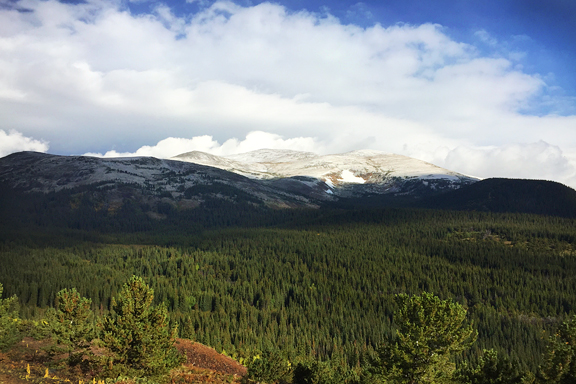 snow melts off the huckleberry plants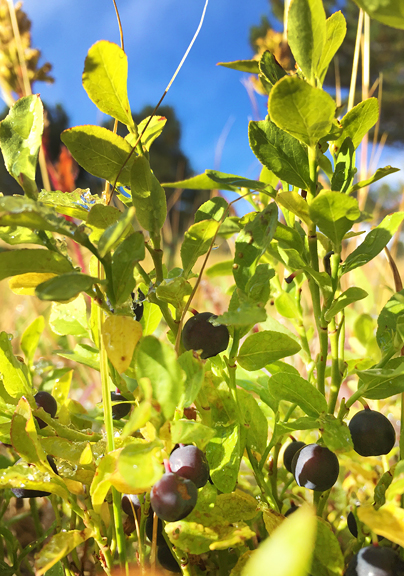 erin and banjo surrounded by hucks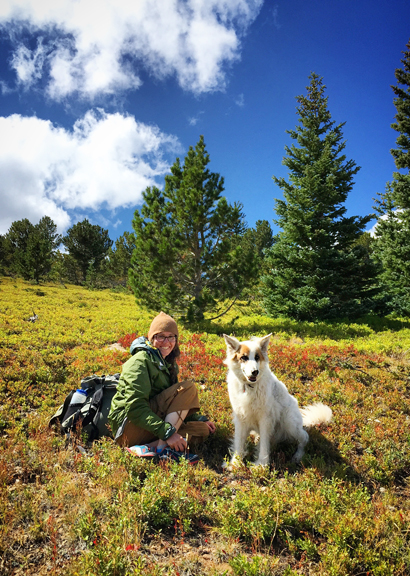 It was Jeremy's birthday this past week, so between all of the huckleberry scouting and picking and shuffling about in the refrigerator, I managed to make him noodles on his actual birthday. It's a Chinese tradition to eat noodles on your birthday for long life, but instead of Chinese noodles, we went with linguine and clams. It's legit. I checked with grandma years ago and she said, "Yeah, any noodles will do as long as you don't break them." But when the weekend rolled around, I prepared the REAL birthday surprise – a cold seafood platter – because Jeremy loves loves loves sea critters.
ready to celebrate!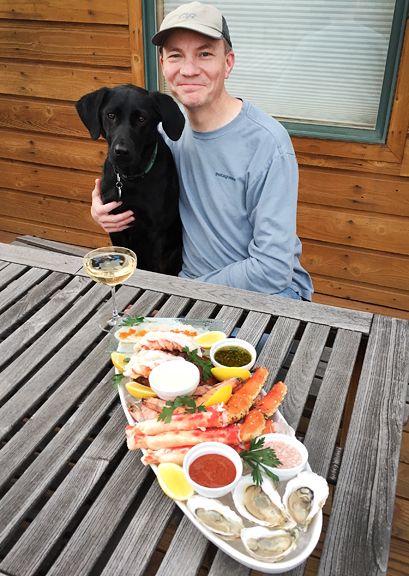 The inspiration for this cold seafood platter came from all of those beautiful cheeseboards I see on Instagram.
Gaby Dalkin
is totally to blame for her cheesy gorgeousness. Thing is, I am not a cheese person… but I DO like seafood. If you replace all the cheeses with shellfish and crustaceans and the crackers with sauces, it's almost the same thing. Okay, not really. Actually, I think it's better. What's lovely about platters is that you put whatever you darn well please on them. I also included an array of dipping sauces. Because the seafood is served cold, I omitted melted butter and opted for lighter, more summery dippers like chimichurri, garlic lemon aioli, cocktail sauce, mignonette sauce (for the oysters), and ponzu for the scallop crudo. Since the chimichurri and mignonette need a few hours for the flavors to meld, you should make those first.
parsley, red wine vinegar, black pepper, oregano, salt, red pepper flakes, garlic, olive oil
chopped garlic and parsley
mix it all together
let stand at room temperature for a few hours
mignonette: shallots, sugar, salt, white pepper, unseasoned rice vinegar, white vinegar
mix together
let sit for 4 hours in the refrigerator
For Jeremy's birthday cold seafood platter, I went with two petite lobster tails, red king crab legs, whole shrimp (heads on), oysters on the half shell, and scallop crudo. If we didn't live in a landlocked state, I would have included clams on the half shell and crawdads and a whole host of other goodies. The crab legs come already cooked, so there isn't much work there other than to pull the body sections from the legs (save that meat to eat later) and peel the shell from the top segments for presentation. To shuck the oysters, you can have your fish monger do it for you, or you can arm yourself with an oven mitt and an oyster knife and
shuck them yourself
. I sliced the scallops thin (across the grain) and drizzled a little bottled ponzu sauce over them. If you want this whole thing to be gluten-free, just make your own ponzu with tamari instead of soy sauce. And then the lobster tails and shrimp are the only things that need cooking. By the way, I don't like warm water lobster, I think cold water lobster is much better in texture and taste and quality.
scallops, petite lobster tails, king crab legs, whole shrimp, oysters
prep the lobster: cut the top of the shell lengthwise to the tail
gently press the shell open and detach the meat from the shell (but leave it attached at the tail)
place the shrimp and lobster tails in a steamer basket
steam for 8 minutes or until the tails and shrimp are done, then chill on ice
The rest of the sauces are quick to mix while your lobster and shrimp cool. I like the garlic lemon aioli for that creamy, tangy, spicy kick. It's smoother than the chimichurri which has a distinctly vegetal flavor. Chimichurri is great with seafood, but I think it's better with meat. The mignonette is specifically for the oysters, but some folks are happy with a squeeze of lemon and others prefer the traditional cocktail sauce. I don't like cocktail sauce on my raw oysters, but I love it with shrimp. Go figure.
garlic lemon aioli: lemon, garlic, dijon mustard, cayenne, mayonnaise
mix together
chill until ready to serve
cocktail sauce: horseradish (cream or prepared is fine) and ketchup
mix together
add more horseradish to taste
When everything has been made, get your sauces in their own bowls and have some lemon wedges available. Fill a large deep platter with ice to keep the seafood 1) chilled and 2) in place. I did toy with the idea of filling the platter with water and freezing it, but it's tough to keep the oysters level on a flat surface versus a lumpy one. Arrange the seafood on the ice and you're done!
sauces (except for ponzu) and lemon wedges
pile that seafood onto the ice
I left a lot of the seafood whole and in shells because I think they look prettier. If you were to serve this as an appetizer rather than a meal, it might be better to peel the shrimp, shell the crab, and cut the lobster into pieces and serve with toothpicks. Increase or decrease the quantity as needed. It's really whatever you want it to be, but I guarantee that it will be delicious! The birthday boy certainly thought it was. Pro tip: If you move the fully loaded platter, be aware that the ice will have melted and the whole thing can slide around (or out of) the plate, so be careful.
i pulled the lobster meat halfway out of the shell for presentation
a fine spread of the fruits of the sea
and don't forget the birthday bubbles
Cold Seafood Platter
[print recipe]
2 raw petite lobster tails
6-8 large raw shrimp (heads on, optional)
4-6 raw oysters, shucked
3-4 cooked king crab legs
2 large sea scallops
ponzu sauce
sauces of your choice (see below)
lemon wedges
ice
chimichurri
from this recipe
1 cup flat leaf parsley, chopped fine
5 cloves garlic, minced
1 tbsp dried oregano
1 1/2 tsps red pepper flakes
1/2 cup olive oil
2 tbsps red wine vinegar
salt to taste
black pepper to taste
Mix the parsley, garlic, oregano, red pepper, olive oil, and red wine vinegar together. Add salt and pepper to taste. Let sit 2-3 hours at room temperature before serving. Store in refrigerator. Makes about 1 cup.
garlic lemon aioli
from epicurious
1/2 cup mayonnaise
1 large clove garlic, grated
1/2 tbsp Dijon mustard
1/8 tsp ground cayenne pepper
1-2 tbsps lemon juice (to taste)
Mix mayonnaise, garlic, mustard, and cayenne pepper together with 1 tablespoon of lemon juice. Add more lemon juice to taste. Store in refrigerator. Makes about 1/2 cup.
mignonette sauce
from Simply Recipes
1/4 cup shallots, minced
2 tbsps white vinegar
2 tbsps unseasoned rice vinegar
pinch sugar
pinch salt
pinch ground white pepper
Mix ingredients together. Store in refrigerator. Makes about 1/2 cup.
cocktail sauce
1/2 cup ketchup
1-2 tbsps horseradish (creamed or prepared) to taste
Mix together. Add more horseradish to taste. Store in refrigerator. Makes about 1/2 cup.
Prepare the seafood platter: Using kitchen shears, cut the top of each lobster tail shell from the large end to the tail without cutting the lobster meat. Gently pry the cut shell open to reveal the lobster meat and peel the meat from the shell until it pops out – but leave the tail end intact in the shell. Place in a steamer basket. You can shell and de-vein the shrimp or leave the shells on. Place the shrimp in the steamer basket with the lobster tails. Bring an inch of water in a large pot to a boil. Set the steamer basket over the pot and cover tightly. Steam for 8 minutes or until the lobster tails and shrimp are cooked. Remove from the steamer and set the lobster tails and shrimp on ice to chill.
Shuck the oysters (http://userealbutter.com/2012/03/01/how-to-shuck-oysters/) and refrigerate until ready to serve. Pull the body segments off the crab legs (reserve for another recipe or eat later), crack the shells of the legs, and if desired, peel the shell from the largest segment of each leg to reveal the crab meat. Keep chilled. To prepare the scallops, set a scallop upright on a cutting board. Press your flattened hand on the top of the scallop and using a sharp knife, slice a thin piece horizontally just above the base of the scallop. Set the slice on a small plate and repeat.
Fill a large, deep platter with ice. Arrange the lobster tails, shrimp, oysters, and crab on the ice. Set the plate of scallop crudo on the ice. Drizzle a little ponzu sauce over the scallops. Serve the platter with the chimichurri, aioli, mignonette, cocktail sauce, and lemon wedges. Serves 2-4.
more goodness from the use real butter archives