Recipe: huckleberry pistachio chocolate bar
When the weather cools down for the season, we tend to witness strings of amazing sunrises and sunsets. It means I can take Neva for a fetch session and she doesn't get too hot in the autumn air. Autumn's atmospheric volatility is also accompanied by winds, which can make getting outside a little dangerous (tree fall is real, folks) or miserable at best when dirt and small rocks fly at your face and get in your teeth and ears and eyes. But when the winds die down, it's important to take advantage and maybe hike into the woods for some target practice.

one of many impressive sunsets last week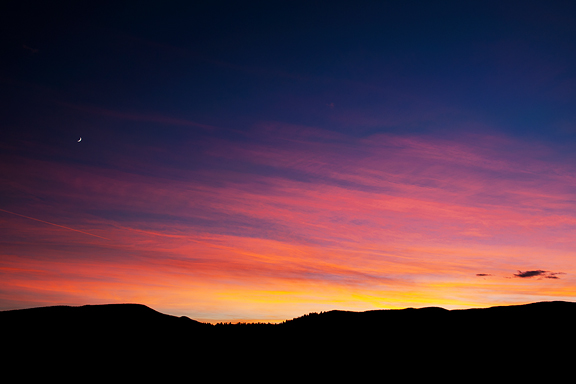 my happy little girl, ready to go home after playing fetch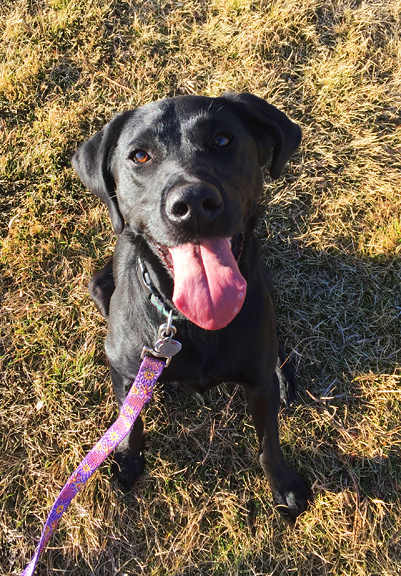 jeremy practicing with his air rifle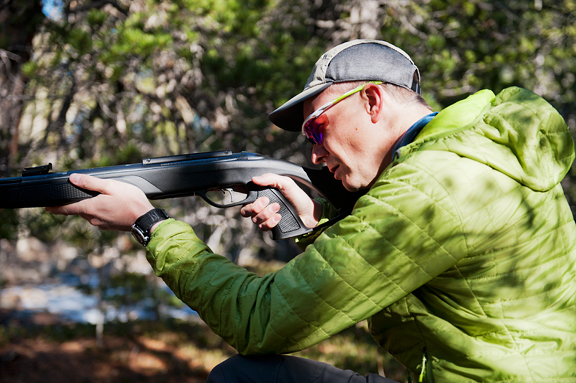 packed up and ready to hike out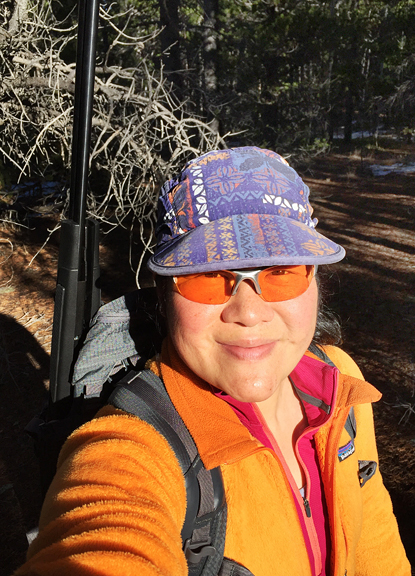 I'm not sure I'll get much in the way of a grouse season this year because there were matsutake mushrooms to be found, huckleberries to pick, things got busy, and I was late getting my air rifle and learning to use it. But I'm okay with that. I think foraging and living in the mountains has taught me long-term planning and patience. Stuff doesn't necessarily happen when you want it to – especially if you are waiting on something that may or may not grow from year to year.
precious precious huckleberries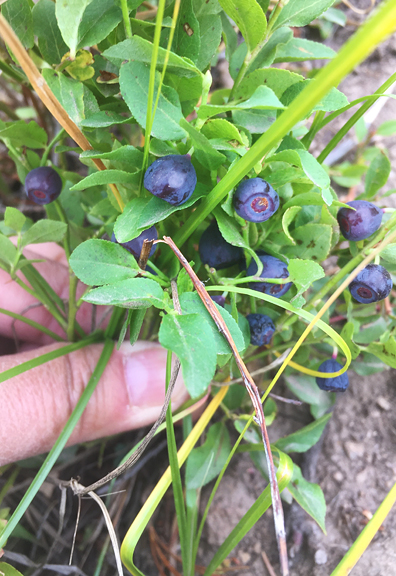 I began toying with the idea of dried huckleberries a few years ago, but had to wait until I had a season good enough to spare a quart or so of berries to dry. That (amazing) season happened this year. After Erin and Jay were done dehydrating their gigantic haul of matsutake mushrooms, they kindly dehydrated a few cups of my fresh huckleberries for me (120°F for 60 hours!). I knew exactly what I was going to do with those dried huckleberries. I had known for over a year.
Cooler weather around the house means chocolate emerges from its summer hiatus in my kitchen. This is the time I start to bake and ship cookies to friends around the country – when I can be mostly certain that the chocolate won't melt in transit. This is also when I start to play with ideas for holiday gifts – like chocolate bars. Except I was going to make the ultimate chocolate bar using my dried huckleberries.

pistachios, dried huckleberries, flake sea salt, dark chocolate
Our fresh huckleberries are small to begin with, but dried, they are like dried currants… small ones. Pop one in your mouth and the flavor is subtle at first, until you get to the chewy center and the concentrated berry essence grows into something wonderful. Huckleberries pair exceptionally well with chocolate. While I enjoy working with chocolate, I am not a fan of eating chocolate – except when huckleberries are involved.
teeny tiny delicious dried huckleberries
Making a chocolate bar is quite straightforward. Melt or temper your chocolate: dark, milk, or white, but really – dark chocolate is the best; mix in your goodies like nuts, dried fruit, crisped rice, candy, etc.; pour into molds and let set. That's it. But for anyone who has been reading my blog, you know and I know that tempering chocolate is the right way to do this. And please use a good quality chocolate, especially if you are going to honor the great and mighty huckleberry.
melt the chocolate over a water bath
seed the melted chocolate
If you aren't familiar with tempering chocolate, I cover it best
in this post
. You can ignore the sous vide part because we don't need to hold the chocolate in temper for extended periods of time when we make chocolate bars. I realize that few people will have dried huckleberries at their disposal, but there are plenty of other delightful ingredients that you can use.
Once the chocolate reaches temper, immediately stir in your goodies and pour the chocolate into your molds. I used mini loaf pans as well as a silicone chocolate bar mold. They both worked great. For the loaf pans, I also sprinkled extra pistachios, huckleberries, and some flake sea salt on top while the chocolate was still wet. Tempered chocolate sets relatively quickly (one of the many nice things about tempered chocolate), so you need to add the finishes before that happens.

stir the pistachios and huckleberries into the tempered chocolate
pour the chocolate into the pans and top with nuts
finished with pistachios, huckleberries, and flake sea salt
the chocolate bar mold
Once the chocolate has poured, I like to give the pans a little tap on the counter to disrupt the larger air bubbles. After the molds are filled, I let them cool in the refrigerator for about 30 minutes. The edges may be quite firm, but if the center is still wet, you'll ruin your bar when you unmold it. Just be patient. It's worth the extra time and they should pop right out (the chocolate shrinks when it cools).
looking quite nice
berries and nuts inside
the thin bars came out perfectly
the sea salt adds a nice dimension to each bite
The big block chocolate bars were not my favorite, because I felt there was too much chocolate to work through before you got to the fruit and nuts. But that is coming from someone who doesn't really like chocolate. Jeremy thought it was good. We both agreed that the thinner bars with the extra goodies stuck to one side were perfection. It was the right amount of chocolate to the nuts and fruit and sea salt, and it tasted as good as those high end fancy pants gourmet bars that cost an arm and a leg at the store. I suppose the cost of this chocolate bar is measured differently. For me, it's priceless.
homemade chocolate bars make beautiful gifts
Huckleberry Pistachio Chocolate Bar
[print recipe]
16 oz. dark chocolate (I used Ghirardelli 60% bittersweet dark chocolate), chopped or in chips or fèves
1/4 cup dried huckleberries or other dried fruit (but hell yes, huckleberries)
1/4 cup whole shelled unsalted roasted pistachios
quality flake sea salt
extra dried huckleberries and pistachios for finishing
I used four mini loaf pans whose base measurements were 2.5-inches by 5-inches and my final bars were 1/2 inch thick.
Temper the chocolate* or melt the chocolate over low heat. Stir 1/4 cup dried huckleberries and 1/4 cup pistachios into the chocolate. Pour the chocolate into the pans or molds and tap the bottom of each pan or mold on the counter to level the chocolate and remove any large air bubbles. Sprinkle extra dried huckleberries, pistachios, and flake sea salt on the tops of the chocolate bars while they are still wet. Gently press the toppings down into the chocolate or tap the bottoms of the pans or molds to secure the toppings. Refrigerate until completely cooled (30 minutes). The chocolate should release from the pans or molds. Makes 4 2.5- x 5-inch bars.
To temper the chocolate (seed method): Place all but 10 chocolate chips or chocolate pieces in the top of a double boiler or in a large heatproof bowl over a pan of simmering water (about 2 inches deep). Make sure the bowl is wider than the pan because you don't want water getting into the chocolate or all of it will seize. Stir until the chocolate has melted completely, monitoring the temperature of the chocolate. When it reaches 112°F, remove the bowl from the water bath (it will continue to rise – that's fine because we are targeting a final temperature of 118-120°F) and set it on an ice pack or a larger bowl of ice to start cooling it. Stir the chocolate constantly to promote proper cocoa butter crystal formation for tempering. Continue to monitor the temperature. When the chocolate reaches 95°F, remove the bowl from the ice pack or ice bath and toss in the chocolate chips. This is called seeding and should encourage the formation of good crystals for tempering. Keep stirring until the chocolate reaches 91°F. Your dark chocolate is now in temper.
more goodness from the use real butter archives