Recipe: bourbon peach cobbler
If it feels like my posts are all about the puppy of late, you are not wrong. Even before we brought Yuki home, anyone could tell that our dogs play a large part in our lives. Now with two dogs, it is oddly more work and less work, simultaneously. But we learn what activities are manageable with this two-dog dynamic and what things we should probably rethink. SUPing with Yuki and Neva amounted to a Chinese fire drill, but the important thing is that they had a good time and no one was traumatized… much. Because Yuki is over 6 months old, we thought we would introduce her to running. It varies based on breed, size, and other factors, but dogs shouldn't start running distance until they are a year old or 18 months old for large dogs, so that it doesn't impede their joint and structural development. Jeremy leashed up both pups and went for a short half-mile run around the neighborhood (stopping to check mail and pick up poops) and Yuki LOVED it. We think she'll get a kick out of skate skiing, backcountry skiing, and uphill skiing this winter! It's fun to observe the difference between Neva's elegant, efficient stride and Yuki's floppy, bouncy, puppy romp.

a rare moment of neva sitting still on the standup paddleboards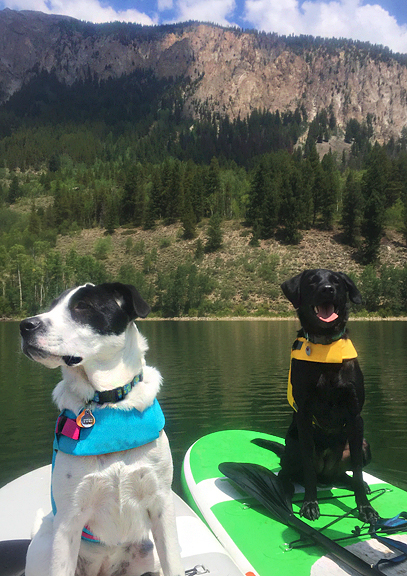 yuki having a blast running with her pack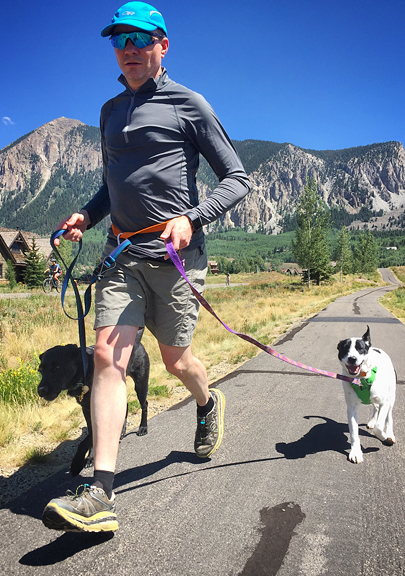 We were in Crested Butte last week and were careful not to embark on long or strenuous hikes due to the terrible air quality. The smoke from those big California wildfires kept streaming into our beautiful mountain air thanks to the atmosphere. But we still got out each day for training and adventures with our two goofballs.
yuki's first interpretation of the command "hop up!"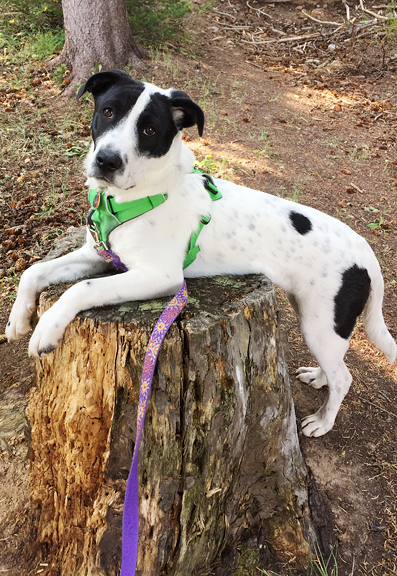 sitting nicely so she can jump down from the car and start hiking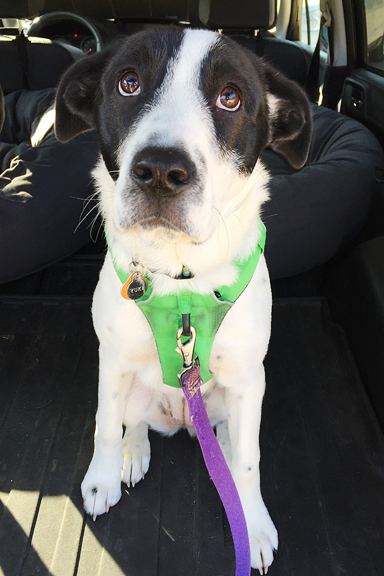 sharing wild strawberries with my two girls (they love them)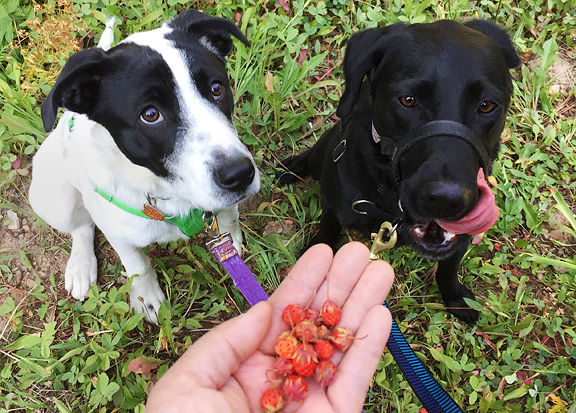 We have experienced more smoky days than clear days on the Front Range and in Crested Butte this summer. It's depressing on so many levels as it reduces a lot of our outdoor activities like big mountain hikes, long trail runs, or mountain bike rides. You can't help but feel empathy and sadness for the folks devastated by the wildfires in other western states as well as Colorado. Early mornings tend to have slightly better air quality, so that's when we are active. By mid morning, the smoke usually creeps in – obscuring the surrounding peaks and injecting an off odor into the air. It doesn't smell like campfires. It smells like destruction.
I've been keeping indoors most afternoons to get work done. That means I have Colorado Public Radio (CPR) streaming over the speakers while I work. I am a public radio news junkie. One day I heard a little plug for the best peach cobbler recipe on CPR and went online in search of said recipe. It looked promising because it called for 12.5 ounces of bourbon. That's my kind of cobbler. It's peach season here in Colorado – our Palisade peaches are the best I've ever tasted. I figured peach cobbler would be a great way to take my mind off of the lousy smoke-filled air.

for the filling: bourbon, sugar, vanilla bean pod, peaches, lemon, cornstarch, salt
I don't know very much about bourbon, but I do know enough not to use fancy drinking bourbon for most of my cooking endeavors. I buy large quantities of affordable bourbon for baking, marinades, and grilling. Since this bourbon gets simmered down with peaches and a lot of sugar, save your good bourbon for other occasions. Also, I used a 3-quart saucepan in the photos to cook my peaches, but in the future I will upgrade to a larger pot to avoid sloshing of syrupy peachy bourbony goodness on the stove.
sliced and pitted peaches, split and scraped vanilla pod, zested and juiced lemon
adding the peaches to the sugar, lemon zest, lemon juice, and vanilla
pouring the bourbon
The recipe on the CPR website was a little irksome for many reasons. I can't tell if it is because the chef who shared the recipe did a sloppy job of writing it down or CPR's reporter doesn't know how to write up a recipe or both. Certainly, no one bothered to proofread the recipe because "1 1/18 cups of milk"?? The recipe gives no mention of the lemon zest or juice in the method, so I added it to the peaches. I've written up the recipe as I interpreted it below.
Cook the peaches until they are tender, but not disintegrating. Mine were really ripe, and I handled them with great care to preserve their shapes. Strain the peaches and reserve that precious liquid because it's going to become a delicious syrup. The peaches will continue to release juices over time. I let mine sit another 20 minutes while I was prepping other components and poured the excess liquid into the saucepan. This gets mixed with cornstarch and cooked into a syrupy consistency.

simmer until tender
strain out the juices
add cornstarch mixture to the juices
boil until syrupy
I mixed my batter right before I was ready to assemble the cobblers. I say cobblers because the original recipe instructions are for single serving cobblers, but I imagine it's easy enough to put this into a 9 x 9-inch dish or a 10-inch cast iron skillet and making one large cobbler, allowing for additional baking time.
sugar, milk, flour, baking powder, salt, butter
mix the sugar, flour, baking powder, and salt together
stir in the milk
mix until just combined
Another thing not given in the recipe was the size of the ramekin needed. If you look to the servings it says "six, 1-cup cobblers" which I took to mean each cobbler would fit in a 1-cup volume ramekin. I used two 8-ounce ramekins and four 9-ounce ramekins. What you need are vessels that are more than 8-ounces in volume. I think 9-ounces at a minimum. But I anticipated potential disaster and set all of my ramekins on a baking sheet lined with aluminum foil. I'm glad I did. My 8-ounce ramekins overflowed and the rest had some bubbling over of juices. The cobblers also took more than double the suggested amount of time to brown, so keep an eye on your cobblers as they bake the first time you try this.
put a small pat of butter in each ramekin and heat in the oven until melted
ready with peaches, batter, and syrup
pour the batter over the peaches
baked
I have to admit that I was rather put out by the recipe, but in the end, it was all worth it. The combination of intensely fruity peaches nestled in this golden sweet cake, topped with homemade vanilla ice cream and a generous drizzle of bourbon peach syrup is a dessert slam-dunk. It parades the very essence of Colorado summer in a down-to-earth, humble presentation that will knock your socks off and then some. I'm making this for my mom's birthday because she loves peaches and I know she will love this peach cobbler.
pour the bourbon peach syrup
serve hot or warm
consume with gusto
Bourbon Peach Cobbler
[print recipe]
from Bin 707 via Colorado Public Radio
cobbler filling
3 lbs. ripe peaches, halved and pitted
1 1/3 cups granulated sugar
12.5 oz. bourbon (use a utilitarian bourbon, not a fancy drinking bourbon), divided (12 oz. and 0.5 oz.)
1 vanilla bean pod, split lengthwise, seeds scraped and reserved
zest from 1 lemon
1 tbsp lemon juice
1 tbsp cornstarch
pinch of salt
batter
1 1/8 cups cake flour
3/4 cups granulated sugar
1 tsp baking powder
pinch of salt
1 1/8 cups whole milk
1 1/2 tbsps butter, cut into 6ths
Make the filling: Preheat oven to 350°F. Combine the peach halves, sugar, 12 ounces of bourbon, vanilla bean pod and seeds, lemon zest, and lemon juice over medium high heat in a large saucepan. Cook until the peaches are tender, but not disintegrating – about 10 minutes. Strain the peaches, reserving the liquid. Return the liquid to the pan over medium high heat. Mix the cornstarch with the remaining half ounce of bourbon and stir the mixture into the cooking juices. Cook for about 2 minutes or until the liquid has a syrupy consistency.
Make the batter: Whisk the cake flour, sugar, baking powder, and salt together in a medium bowl. Stir in the milk until the wet and dry ingredients are just combined. Set aside.
Bake the cobblers: Drop 1/4 tablespoon of butter into each of your six ramekins (make sure the capacity of your ramekin or vessel is more than 1 cup). Arrange the ramekins on a rimmed baking sheet lined with aluminum foil. Place the ramekins in the oven until the butter has melted and the vessels are hot. Remove from oven. Fill each ramekin with 1 cup of peaches (slice them if needed). Add any excess juice to the syrup. Pour 1/2 cup of the batter over the peaches. Bake 20 minutes (it took me 50 minutes) until the batter turns a golden brown and the fruit juices are bubbling. Remove from oven and cool slightly. Serve with vanilla ice cream and a generous drizzle of the bourbon peach syrup. Serves 6.
more goodness from the use real butter archives