Recipe: peach pie cinnamon rolls
Little Neva turned six months old today (the 27th) in Crested Butte. Despite what the vet instructed – no walks for 10-14 days – we've begun taking her on short easy walks after 5 days. She's recovering well and quite active INSIDE the house, so we figured mellow activity would be good for her, especially since our neighborhood in Crested Butte has so many nice paths. We expected her to be completely stir-crazy and in turn, make US crazy, but she has been a really good pup this past week. Just three more days and I'll be able to take her swimming. To celebrate her 6 months on this planet, we gave her a Scoop Dog (peanut butter, maple, bacon frozen yogurt pupsicle) from the local ice cream shop, Third Bowl.

the life of a colorado dog is rough
AND there was a total lunar eclipse of the supermoon this evening! We walked down the road from our house and stood upon a hilltop to watch (and shoot) the moon in eclipse as it rose above the mountains in the east. Pretty spectacular stuff. And I'm glad I was here in Crested Butte, because the radar showed clouds over Nederland. As the moon rose higher, we headed back to the house since we would be able to watch the rest of the ascent from our deck. When the moon entered totality we heard several neighborhoods erupt in howls across the valley – both people and their dogs. How does one NOT love Crested Butte?! Minutes later, a big cloud (like, the ONLY one in the entire sky!) sat directly in the path of the moon and blotted it out. "Damn," I muttered and Neva wagged her tail in the darkness at the howlers calling across the night air. She seemed happy enough when I let her back into the warmth of the house.
partial lunar eclipse supermoon rising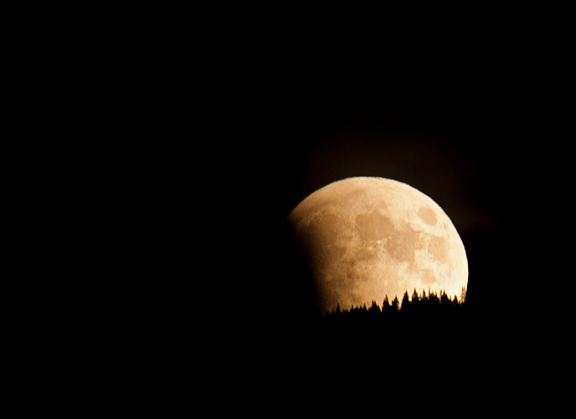 there's the navel (tycho crater)!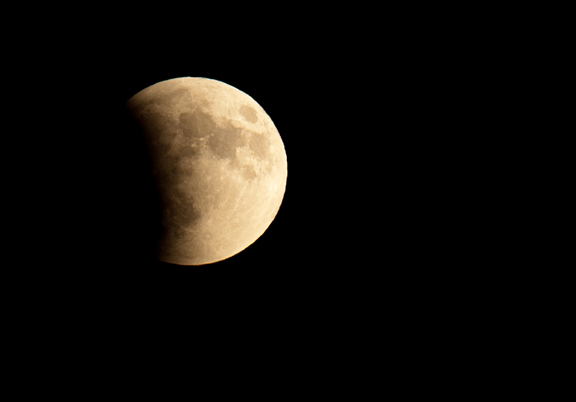 blood moon before the cloud broke up the party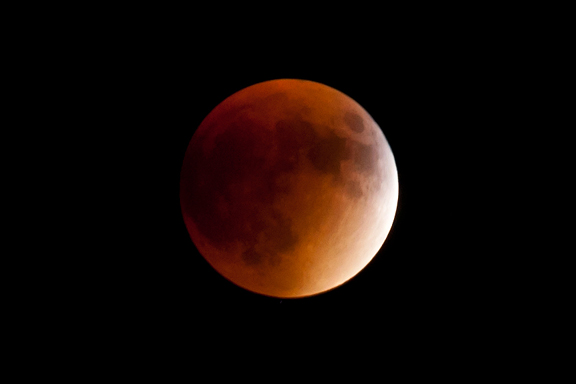 We had a lovely weekend here in Crested Butte. Jeremy and I drove out in tandem because he had to get back to Boulder to teach this week, but I'm staying put with Neva girl because 1) she can recuperate more easily in Crested Butte 2) we can spare her the back and forth in the car 3) I'm prepping the house for winter and 4) I have to get my fall colors fix. The colors are pretty good. Not as good as last year, but exhilarating where they are vibrant and healthy. A fungal disease seems to have creamed some of the stands, which is unfortunate. Still, I just love being here during the peak colors. Once they're done, I'm 100% ready for winter.
jeremy hoofs it up with my camera gear into the aspens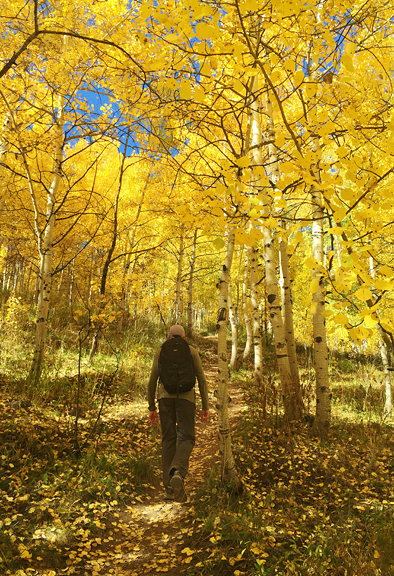 a beautiful pine grosbeak chilling in a cathedral of golden light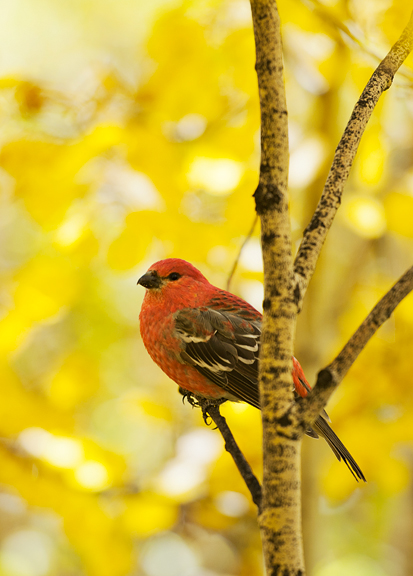 gothic mountain behind the flanks of crested butte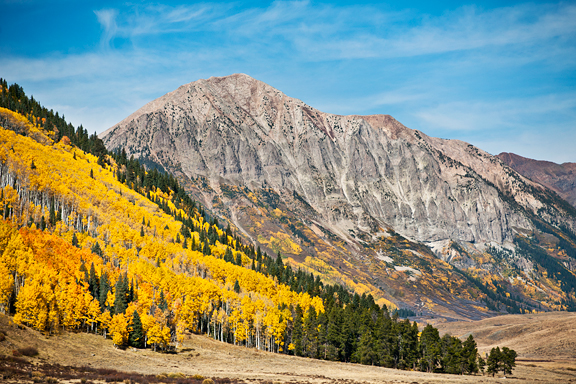 jeremy stand-up paddleboards on lake irwin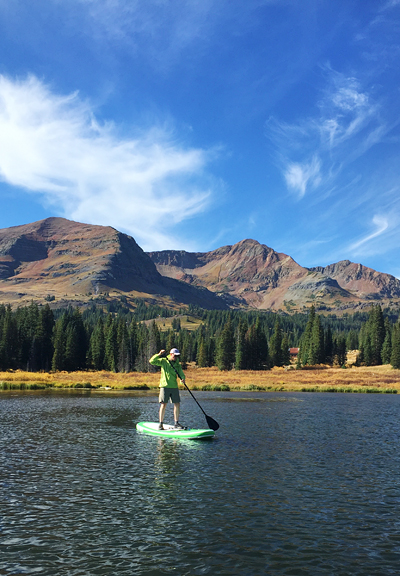 I'm gonna have to hit you today with yet another roll recipe because it's the end of peach season, and if you can get your hands on some fresh peaches, YOU NEED TO MAKE THESE. Peach pie cinnamon rolls. You will not regret it (I hope). I love cinnamon rolls as much as, or more than, the next guy, but add peaches and I'm going to start throwing elbows. The last time I acquired my 25 pounds of San Marzano tomatoes for canning from the farm store, I snatched up some beautiful organic Colorado peaches as well. I didn't know what I was going to do with them, but I'd figure something out. That's how I roll with fruit: pick some up and if I can't make anything with it, I eat the fruit. Either way, I win!
the dough: milk, sugar, vanilla, yeast, eggs, salt, butter, flour
sprinkle yeast over warm milk
add sugar, butter, vanilla, eggs, and salt
stir in the flour
knead the dough by hook or hand
let the dough rise
The peach filling is halfway between a peach jam and a peach syrup. If you are going to err on one side, let it be more jam-like than syrupy. Syrupy will make a mess, but jammy will at least hold together in the roll. To skin your peaches, you can blanch them in boiling water for 30 seconds to a minute, then plunge them in ice water and the peels should come off easily. Or if you are lucky and the peaches are quite ripe, the skins might just peel off without blanching (mine did this time). I added some almond extract at the start, which was a dumb idea because I think all of the almond flavor boiled off during the cooking process. So try stirring a little in after the cooking is done.
peach filling: nutmeg, cinnamon, lemon zest, sugar, lemon juice, almond extract, peaches
peel the peaches
bring the peaches and sugar to a boil
add the spices, lemon juice, and lemon zest
cook into a syrupy jam
The cinnamon filling is separate and requires a fork to mix the spices and brown sugar together. You can probably blend that up while the peach filling is cooking down. And let's not forget the other component that makes everything taste so darn good… butter. It is a most magical food! When the components for the rolls are ready, you can work one giant roll (easier to do if you have a large work surface) or you can cut the dough in half and make two large rolls for ease of handling. I went with two halves this time which is much less mess for my shooting space, but I really do prefer the single giant roll if possible because you have two fewer ends that always get shortchanged on the filling.
cinnamon filling: nutmeg, cinnamon, brown sugar – and butter
mix the spices and the brown sugar
slice the dough in half
roll it out
Laying down the filling is easy, but rolling it all up is much easier if you remember two things: leave a clean half inch margin on one of the long ends (24-inch edge for the full roll or 12-inch edge for a half roll) and let the peach filling thin out toward that margin. The clean margin is handy when you want to seal the roll by pinching the edge of the dough onto the roll – it will actually stick. It's far more difficult to get dough to stick to itself if there are slippery things like butter or peach filling in between. As you begin to roll up the dough, the peach filling will accumulate on the front edge of the roll. Instead of having a disproportionate amount of peach filling at the end, it distributes more evenly if you spread less of it near the clean margin.
spread butter on the dough
top with cinnamon filling and peach filling
roll that baby up
slice the roll
set the slices cut-side up in a buttered baking dish
let the rolls rise until doubled
I like to bake my pastries pretty brown. They aren't burnt, but they are baked through. If there is one thing that makes me crazy, it is underbaked pastries. Make sure the rolls in the middle of your pan are properly baked. I usually test by giving the top a downward jiggle to see if it is mushy or springy. Springy is good. Mushy is not ready. Or you can pull the edge of a center roll to see if it is fluffy or wet. Top your peach pie cinnamon rolls with frosting or icing or nothing. I went for icing this time because I like the thin drizzle of sugary glaze on peaches. I think a cream cheese frosting would be delicious, but probably too heavy. Plain would be perfectly delicious, too. The icing is just powdered sugar, water (or milk), and some vanilla and almond extracts. If you want it thinner, use more water (or milk).
powdered sugar, water, vanilla, and almond extract
stir it together until smooth
rolls baked until dark golden
flip the slightly cooled rolls out onto a plate and drizzle with icing
These rolls are mind-blowingly good. Stone fruits make great jammy additions to sweet yeast bread pastries. I was prepared to wrap the rolls up and distribute them to friends since Jeremy is not a fan of peaches (at all), but he tasted one and liked it. He was so fond of the rolls that I wound up keeping them for our breakfasts. They reheat nicely (wrapped in foil in a 300°F oven) and the combination screams late summer/early fall.
serve up some serious fruity sweetness
be sure to include all of those luscious chunks of peach
Peach Pie Cinnamon Rolls
[print recipe]
based on this recipe and this one
dough
1 1/4 cups whole milk
2 1/4 tsps active dry yeast
1/2 cup granulated sugar
6 tbsps unsalted butter, softened
2 eggs
1 tbsp vanilla extract
1 tsp salt
5 cups all-purpose flour
extra soft butter for the baking pans
peach filling
4 cups peaches, skinned, pitted, and medium dice (about 4 large peaches)
1/2 cup sugar
1/4 tsp ground cinnamon
1/8 tsp grated nutmeg (fresh will give a better flavor)
1 tbsp lemon zest
2 tbsps lemon juice
1/2 tsp almond extract
cinnamon filling
1/2 cup dark brown sugar
3 tbsps ground cinnamon
1/2 tbsp grated nutmeg (fresh will give a better flavor)
1 cup (2 sticks) unsalted butter, softened
glaze
1 cup powdered sugar
2 tbsps milk or water
1/2 tsp vanilla extract
1/4 tsp almond extract
Make the dough: Heat the milk in a small saucepan over low heat until it reaches a temperature between 100°F and 110°F. Pour the warmed milk into a mixing bowl of a stand mixer and sprinkle the yeast over the milk. Let the yeast stand for 5 minutes. Add the sugar, butter, eggs, vanilla, and salt to the milk. Beat with a paddle attachment until incorporated (it won't be completely smooth, but do the best you can). Stir in 1 cup of flour at a time. Switch to a dough hook attachment and knead the dough for 5 minutes on medium low speed or knead by hand for 7 minutes until the dough is smooth. Lightly grease a large bowl with an unflavored oil. Place the dough in the bowl and then flip the dough so it is greased on both sides. Cover the bowl with plastic wrap and let it rise for 2 hours in a warm place or until doubled in volume.
Make the peach filling: Stir the peaches and sugar together in a medium saucepan over high heat until it comes to a boil. Add the cinnamon, nutmeg, lemon zest, and lemon juice to the peaches. Let the mixture boil for about 30 minutes until the consistency is that of a syrupy jam. Stir in the almond extract. Set aside.
Make the cinnamon filling: Mix the dark brown sugar, cinnamon, and nutmeg in a small bowl. Set aside.
Make the glaze: Stir all of the ingredients together until smooth. Set aside (if a crust develops before using the glaze, just stir it again).
Assemble and bake the rolls: Butter the bottoms and sides of your baking pan or pans. You can do this in a 9×13-inch baking dish or two 9-inch round baking pans. If you don't have a large work surface, you can cut the dough in half and work in 2 batches, but these instructions are for the big kahuna. Roll the dough out on a lightly floured surface to 14×24 inches (for halves, do 14 x 12 inches). Spread the butter on the dough leaving a 1/2″ clean margin on one of the 24-inch (12-inch for the half) edges. Sprinkle the cinnamon filling over the butter, then top with peach filling. Let the peach filling thin toward the clean margin because it piles up as you roll. Roll the dough up from the edge opposite the clean margin. Pinch the clean margin edge back onto the roll to seal it. Cut the roll into 24 equal pieces (or 12 if you are working in halves) and arrange them cut-side up in the baking pan(s). Cover with plastic wrap and let rise in a warm place for 45 minutes or until doubled.
Preheat the oven to 350°F and bake for 25-35 minutes (I baked for 40 minutes) until dark golden and the center is done, not mushy. Let cool for a few minutes, then invert the pan(s) onto a serving plate. Drizzle the glaze over the buns and serve warm. Makes 24 rolls.

more goodness from the use real butter archives