Recipe: shrimp tatsuta-age
April is a flirt, taunting us with peaceful warm days of spring and chasing those with wintry snowstorms. I enjoy experiencing both kinds of weather, but this interplay of seasons certainly keeps you on your toes. We took advantage of the sunshine and sent Neva and Yuki to a doggy daycare in Boulder last week. It was their trial day as we finally caved rather than holding out hope for a competent, responsible, and professional outfit to emerge in Nederland (that trio of requirements is a rare find in mountain towns).
I went about the day expecting a call to come get my dogs because they were causing a ruckus, but none came. Instead, when we went to pick them up, they were happy and excited to see us. We learned they were both on the shy side, warming up slowly to all of the regular pups. That's not surprising for either one considering Neva has issues reading other dogs' signals and Yuki puts her guard up in strange or new settings as part of her survival instinct. They both received baths once we were home and then proceeded to pass out. Mission accomplished.

yuki doesn't like baths, but she's good about tolerating them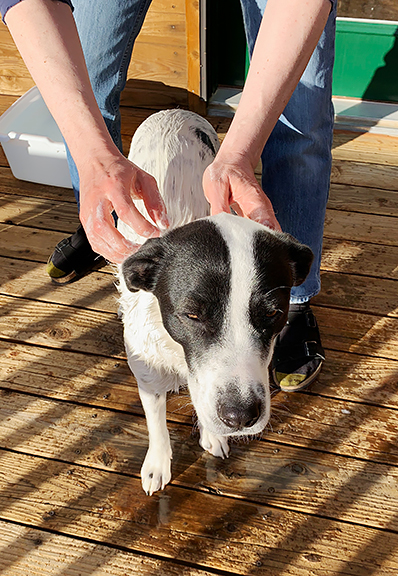 so tired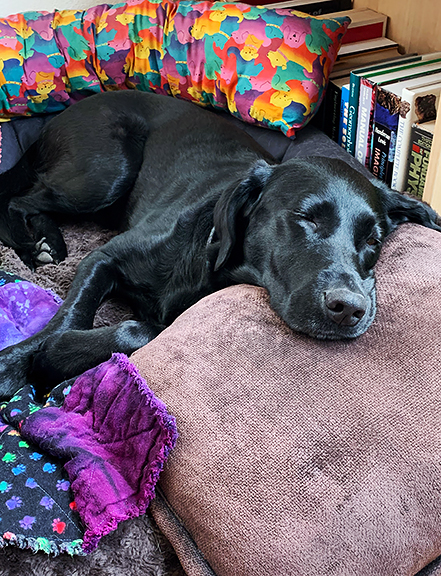 The next day, Colorado received her second bomb cyclone in a month. Temperatures in the teens left us with a foot of fluffy powder reminiscent of proper winter. We skied it, then we skied it with the puppies, and then we skied it again. Yuki is getting the hang of this ski dog thing (
see her video here
). It appears we are slated for more snow through the end of April, and I'm all for it!
uphill skiing with the pups in our local wilderness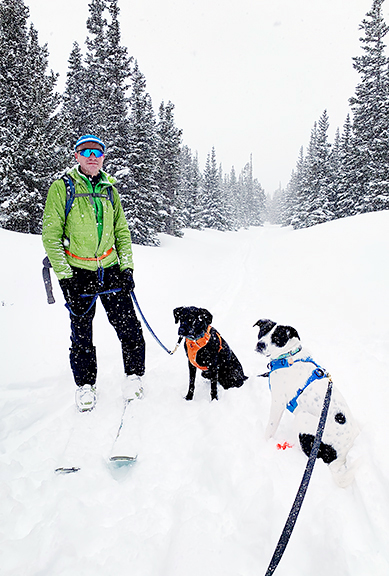 jeremy grabs some turns in the backcountry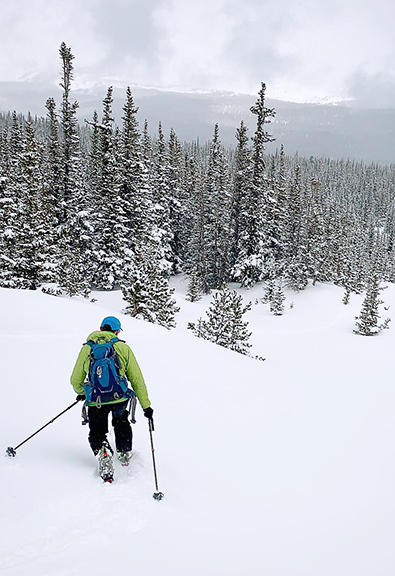 Neva's fur is fluffier lately. First the fur on her hind quarters had grown thicker and softer over the holidays. In the last month, her tail began filling in with more hair and looking like the signature otter tail of a Labrador Retriever instead of her usual thin whip-like tail. We suspect it has to do with her anti-anxiety medication. She started on it last fall and it takes some weeks to see results. The prescription doesn't make her instantly good, but it helps Neva keep a more even keel during events that would normally send her into a frenzy. With less anxiety, she is able to focus on our commands. As she concentrates on what we tell her to do, we can train her to remain calm around wildlife on the trails, or the FedEx and UPS trucks driving past the house, or strangers, or riding in the car. Pre-medicated Neva would lose SO MUCH HAIR each time she got worked up. Pre-medicated Neva would never settle down long enough to cuddle. Now, she will offer up her belly for a rub or hop onto the bed for a scratch behind the ears in the mornings. Neva still requires an enormous amount of training and she'll probably never be a normal dog, but she seems more relaxed, happy, and furry than this time last year. I'm fairly certain that's not because of Yuki – ha!
And while we've noticed incremental improvement in Neva, the same could be said for our home. The replacement of some major appliances forced us to do a serious scrub down of the kitchen last fall. We have since been slowly and methodically cleaning up different parts of the house. Tackling it all at once would leave the household cranky (me), disoriented (us), feeling hopeless (Jeremy), and confused (the pups). Breaking this behemoth endeavor down into several smaller manageable tasks increases the likelihood of success. My process involves organizing everything into categories of keepers, donations, re-purposing, recycling, and as a last resort – trash. Jeremy is a reluctant participant to my madness. It's a bit like pulling teeth at times, but we are getting there and I try to minimize his involvement to only when necessary. I don't think of it as the konmari method so much as making my crap easy to live with while I'm alive and easier to deal with should I die. If you've ever had to clean out someone's belongings after they've passed on, you will understand what I'm talking about.
Don't worry, I don't plan on dying anytime soon. I simply like to get things in order, including fixing recipes that weren't quite right. While I loved my friend's interpretation of dynamo shrimp, it wasn't what I had in mind. I spent a little time researching, tapping into my taste memory, and studying some photos I had taken of the original "dynamo shrimp" from Lil's Sushi Bar and Grill and came up with a very close version. It's pretty straightforward to make if you are okay with frying (pan fry or deep fry – either works). Jeremy gushes over it so much that I practically have to eat in another room.

sriracha mayo, unagi sauce, thai sweet chili sauce, raw shrimp, ginger, soy sauce, mirin, potato starch
I learned in my research that karaage and tatsuta-age (or tatsutaage) both refer to fried foods, but technically tatsuta-age is marinated before frying. It seems most people play fast and loose with the terms and rarely make the distinction between the two. I decided to go the tatsuta-age route with these shrimp because I couldn't resist the idea of shrimp flavored with ginger, mirin, and soy sauce. Gluten-free? Good news! You can easily convert this recipe to gluten-free by subbing tamari for soy sauce in the marinade as well as in the unagi sauce (which you will need to make from scratch – but it's easy). The coating is already potato starch, which I prefer to wheat flour for a superior fry texture.
tail-on peeled shrimp, grated ginger, soy sauce, mirin
mix the soy sauce, mirin, and ginger together
gently toss the shrimp with the marinade and sit for 5 minutes
As I mentioned above, the shrimp are dredged in potato starch before frying. You could use cornstarch, but potato starch is my favorite for the light crisp finish and the fact that the coating retains a good bit of crunch when you reheat leftovers in the oven. I even cut half of the flour in my
tempura recipe
with potato starch because it results in a better texture.
coating the shrimp in potato starch
don't overcrowd your pan when frying
fry until golden brown, about 2 minutes a side
drain on paper towels
The finishing sauces require a tiny bit of effort. I find that Thai sweet chili sauces are a little too thick for this dish straight out of the bottle. We want to be able to drizzle, not glop. I mix equal parts sweet chili sauce with water and stir over medium heat until it comes to a boil. This will thin the sauce enough to pour it over the fried shrimp. Sriracha mayonnaise and a sweet and salty unagi sauce (the sauce used on Japanese barbecue eel) can be found in Asian grocery stores, but if you don't have access to these, you can just as easily make them from scratch with more common grocery items found in Asian and western grocery stores. I list the recipes for these in the main recipe below. And despite the order I'm showing in the blog post, I typically get the sauces ready before I fry the shrimp so that the shrimp are as hot and freshly cooked as possible when I serve them.
heat sweet chili sauce with water
pour the warmed sauce over the shrimp
drizzle sriracha mayo
finish with unagi sauce
I used fresh shrimp in these photos and recipe tested with frozen shrimp. Both are excellent, although the fresh shrimp really knocks it out of the park. Not surprisingly, a little goes a long way here. The sauce is in no way traditional, but it is absolutely delicious. You can taste a hint of brightness from the ginger underneath the sweet, spicy, umami, tangy, creamy whirlwind happening in your mouth. And of course, my favorite texture combo in the world is crunchy goodness dipped in sauce. My eyes want to eat a dozen, but I start slowing down after three of these flavor-packed babies. These shrimp tatsuta-age make the perfect appetizer, or plop a few on a bowl of steamed rice with some vegetables and you have yourself a lovely, tasty meal.
serve it up as an appetizer
a little messy, a lot worth it
serve some shrimp tatsuta-age over rice with vegetables
a brightly-colored happy meal
Shrimp Tatsuta-age
[print recipe]
from Just Bento
12 large shrimp, tail on, peeled and de-veined
2 tbsps soy sauce (for gluten-free option, use tamari)
1 tbsp mirin
1 tsp grated fresh ginger
1/2 cup potato starch
1/3 cup Thai sweet chili sauce
1/3 cup water
1 tbsp unagi sauce (recipe below)
1 tbsp sriracha mayonnaise (recipe below)
unagi sauce
6 tbsps soy sauce (or use tamari for gluten-free version)
4 tbsps mirin
2 tbsps brown sugar (or caramelized sugar syrup)
dash of rice wine vinegar
Combine ingredients in a small saucepan and bring to boil. Let boil for a minute or so and reduce to simmer until slightly thickened (2-3 minutes). Let cool (it will thicken some more, so don't boil it down too much). Makes about 1/4 cup.
sriracha mayonnaise
1/4 cup mayonnaise
Sriracha sauce to taste
Mix together until blended.
Make the shrimp tatsuta-age: Marinate the peeled shrimp with the soy sauce, mirin, and grated ginger for 5-10 minutes. Place the potato starch in a wide bowl and set aside. Stir the Thai sweet chili sauce and water together in a small saucepan over medium heat and bring to a boil. Remove from heat. Fill an inch (or more if deep frying) of vegetable oil in a frying pan or a stock pot over medium-high heat to a temperature of 350°F (333°F at 8500 ft.). Coat each shrimp in potato starch. Fry the shrimp in the hot oil, taking care not to overcrowd the pan (fry in batches if necessary), for 2 minutes a side until the shrimp are golden in color. Remove to a paper-towel lined cooling rack to drain. Arrange the shrimp on a plate and pour the Thai sweet chili sauce over the shrimp. Drizzle the sriracha mayonnaise and the unagi sauce over the shrimp. Serve immediately.
more goodness from the use real butter archives