Recipe: easy strawberry cake
I'd like to say that social distancing has made me more aware of my natural surroundings, but that would be a lie. I've been eagerly awaiting the greening of our wild spaces since February, watching for every hint of spring's arrival. And by greening, I mean the sprouting of tiny buds and leaves and shoots. I could go either way at this point: four feet of snow or full frontal mushroom flush.

morning fog condenses on mountain pasqueflower fuzz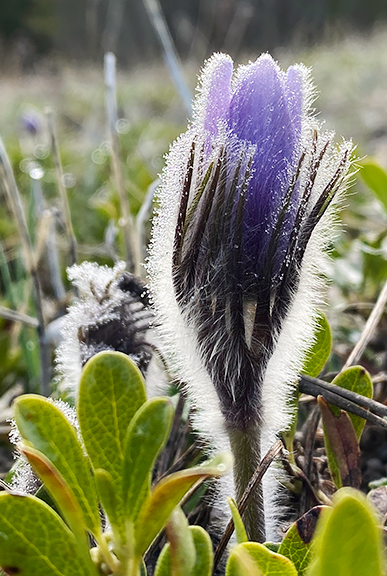 hello wild (feral) asparagus season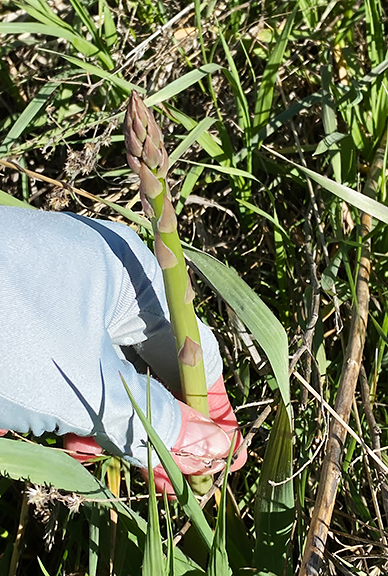 As I've said before, I don't mind self-isolation because I like staying in the mountains. We considered our bi-monthly trip to the flats a chore of necessity – that is until the asparagus spears started popping up. It isn't simply the allure of finding "free food" because you should know by now that "free isn't free". Part of it is the thrill of foraging, but also the forensics. I don't just pick and go, but study the ghosts of the previous year, make note of growth patterns, and recognize where stalks have been cut, torn, or chewed.
the sweetest stalks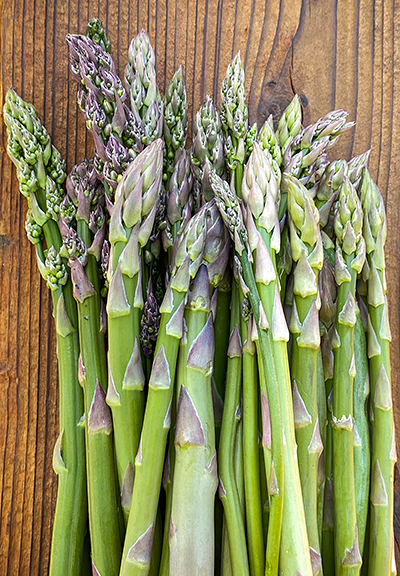 sautéed asparagus, snap peas, morels (from last year), on homemade tagliatelle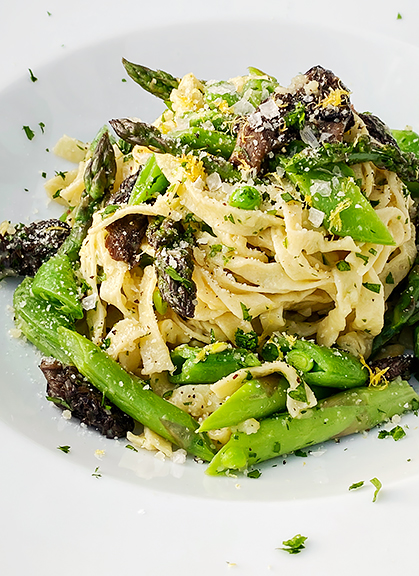 tempura fried asparagus in a mushroom sushi roll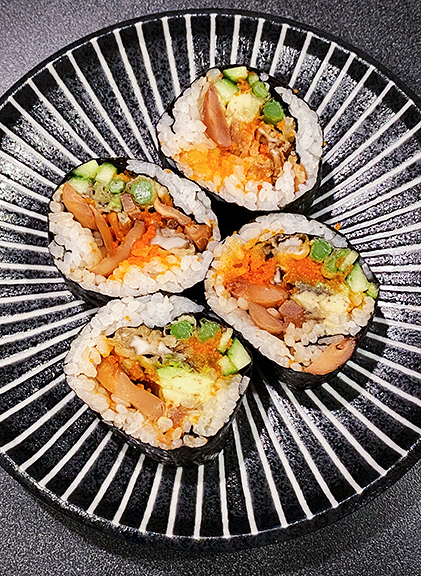 On the sewing front, I spent a little time prototyping a hybrid of the Olson and pleated mask designs and finally settled on one that achieved my goals of fit, function, and ease of production (because I am not a skilled sewist). I posted a 10-minute tutorial on Instagram here:
https://www.instagram.com/p/B__igaYlJoz/
if you are interested. That took forever, but I am hoping the effort will help others make masks for themselves and those who need them.
a recent batch of masks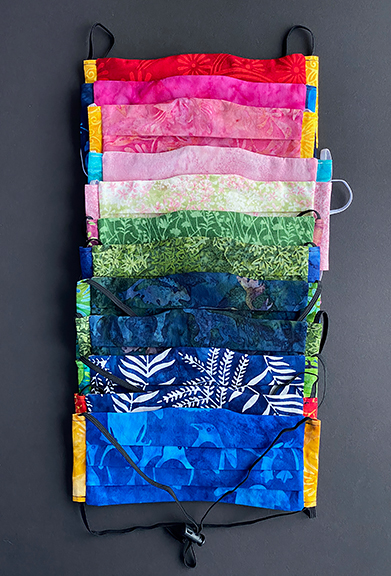 There hasn't been a lot of sugary baking going on in our house during the pandemic. It's mostly been dog treats and cooking savory meals. But now that sweet, red strawberries are arriving in markets, I can get on board with something like a simple cake studded with those red gems.
flour, strawberries, vanilla extract, vegetable oil, sour cream, sugar, eggs, baking powder, salt
dice half of the strawberries and slice the other half
Making this cake is a two-bowl dealio. Beat the wet ingredients in one bowl, combine the dry in the other bowl, then gradually mix together. Okay, it's a little more nuanced than that, but not by much.
stir the flour, baking powder, and salt together in one bowl
combine the eggs and sugar in another bowl
whip the eggs and sugar on high until pale colored and thick
I used canola oil in this recipe, but you can opt for a light olive oil instead. Something without a strong flavor should work just fine.
mix the sour cream, olive oil, and vanilla into the wet batter
slowly beat in the dry ingredients a third at a time
The recipe calls for a springform pan, but I suspect you could get away with a standard 9-inch round pan or an 8-inch square pan as long as you butter and line the base with parchment, and butter the sides.
pour half the batter into the pan
sprinkle the diced strawberries over the batter, then cover with remaining batter
arrange the cut strawberries on top
out of the oven
Bake the cake until the top is golden and a toothpick inserted in the center comes out clean. This took me 15 minutes longer than the recipe's recommended 45-55 minutes, so keep your eye on the cake. It came out nicely despite a few darkened strawberry slices which I chalk up to the extended oven time. You can serve it as is or dress a slice up with a dusting of powdered sugar, whipped cream, or ice cream. And definitely add fresh berries!
great with coffee or tea
there's something wonderful about strawberries and freshly whipped cream
i love strawberry season
Easy Strawberry Cake
[print recipe]
from Natasha's Kitchen
12 oz. strawberries, washed and hulled
2 large eggs, room temperature
1 cup sugar
1 cup sour cream
1/2 cup vegetable oil (or light olive oil)
1 tsp vanilla extract
2 cups all-purpose flour
2 tsps baking powder (reduce to 1 tsp @ 8500 feet above sea level)
1/4 tsp salt
Preheat the oven to 375°F. Butter a 9-inch springform pan. Line the bottom with parchment paper. Dice half of the strawberries and slice the other half of the berries.
In the bowl of a stand mixer, beat the eggs and sugar together on high speed with the whisk attachment until light colored and thick (about 5 minutes). Add the sour cream, oil, and vanilla extract and beat on low speed until blended. In a separate bowl, whisk the flour, baking powder, and salt together. Add a third of the dry ingredients to the batter and mix on low until just combined. Repeat until all of the dry ingredients are incorporated into the batter without overmixing. Pour half of the batter into the prepared pan. Sprinkle the diced strawberries over the batter. Spread the rest of the batter in the pan and arrange the strawberry slices on top, cut-side down.
Bake 45-55 minutes until a toothpick inserted in the center comes out clean (mine took 70 minutes – I suggest covering the edge with foil beyond 55 minutes to avoid burning). Remove from oven and let rest for 15-20 minutes. When cake is warm enough to touch, release the sides of the springform pan. Serve with whipped cream or powdered sugar. Serves 8-10.
more goodness from the use real butter archives