Recipe: gluten-free chocolate chip cookies
June went from lovely to horrid and (thankfully) back to lovely. I'm sure we have several swings of the pendulum ahead, but right now I'm truly grateful for the current cool and rainy pattern that is sitting on our faces and keeping smoke from the wildfires at bay.

the pups love hiking season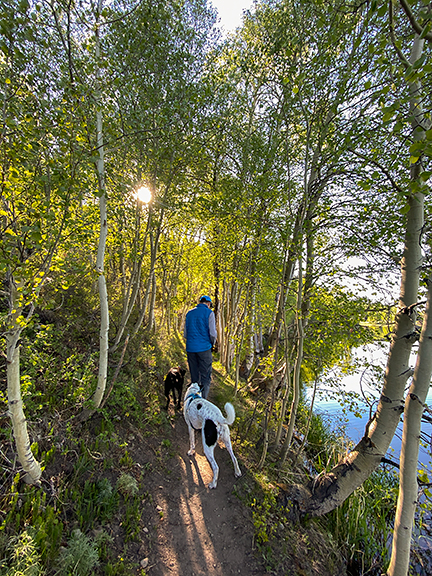 spring was late, but glorious nonetheless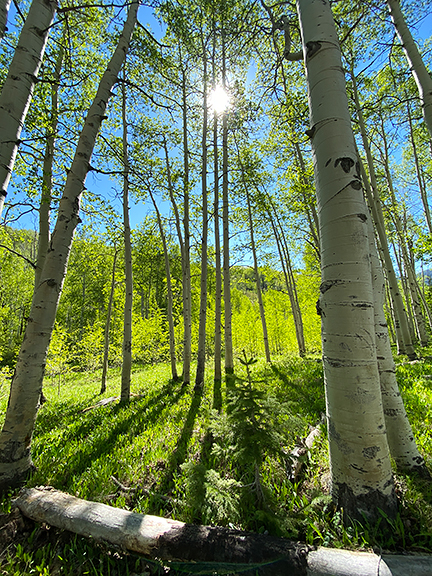 wildfire smoke from the west made for dramatic evenings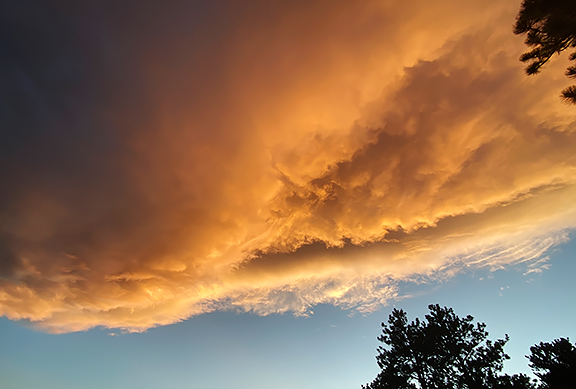 the heat wave melted yuki and everyone else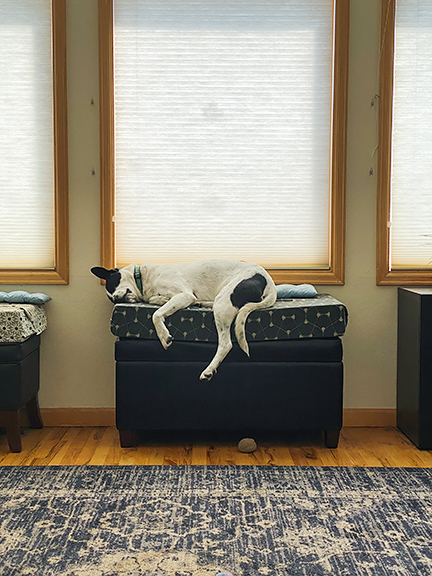 My cousin moved to Colorado during the pandemic, but we haven't had a chance to see one another since becoming fully vaccinated. However, two of my aunts (my mom's younger sisters) were visiting my cousin recently and we met up for a short hike in Boulder. I can only hope to be as physically and mentally fit as these lovely ladies in 20+ years!
mom's family has good genes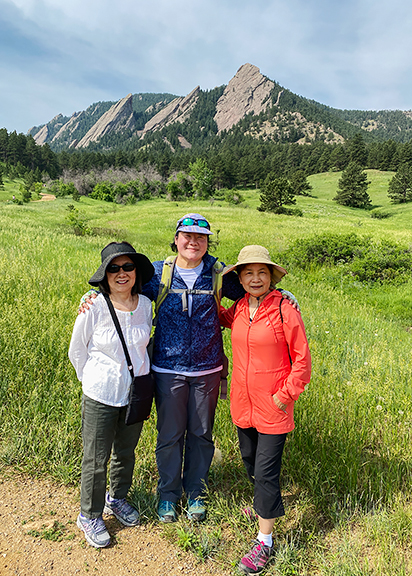 the wildflowers are having a good show this year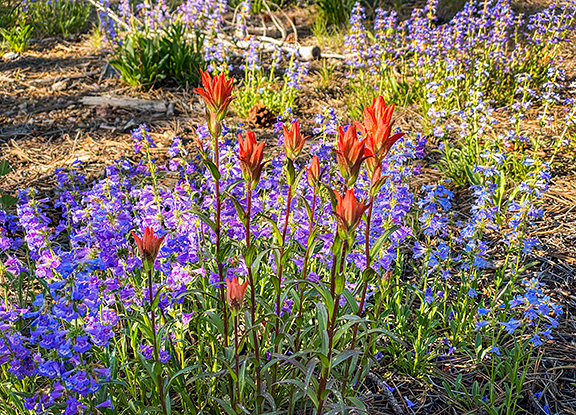 Originally, I was planning to post another recipe that wasn't gluten-free chocolate chip cookies, but our neighbors did us a favor a while back and I wanted to thank them with some cookies. Except a 2-week heat wave crushed our souls and I couldn't even *think* of baking. So when this cold front blew in from the north and brought our overnight temperatures into the 40s this weekend, I began testing these gluten-free cookies. My neighbor is gluten-free and I figured she was tired of the two or three recipes I kept sending over. Besides, it's always good to expand your repertoire of baked goods. Jeremy, my neighbor, her husband (who can eat gluten), Canyon Erin (celiac) and her husband (eats gluten) all gave the recipe the thumbs up. And my neighbor asked if it was on the blog. That's why you're not getting meatless meatballs today.
bittersweet chocolate, vanilla extract, almond flour, sugar, brown butter, light brown sugar, vanilla bean, egg, baking soda, flake sea salt, kosher salt
Recipe testing baked goods at elevation sucks, because it doesn't take much for things to go sideways at 8500 feet. The first rule of recipe testing is to try the recipe as is. Despite a few minor discrepancies between the volumes and weights (I follow weights), this one is pretty stable. I tweaked about with chilling the dough and cooking times and some other flavor enhancers, but all in all I feel this is a solid recipe with some of the best results in flavor and texture. Now, I do recommend chopping the chocolate over using chocolate chips. Even if you use chocolate chips, chop them up because the shards of chocolate mixed into the dough promote a creamier interior. And unsalted butter works just fine, but… use brown butter if you want it to be a little *extra*. If you make your own brown butter for this recipe, start with a half pound of unsalted butter which will yield enough brown butter for your needs. And let it cool to room temperature before using it.
start with 16 tablespoons of butter
melt it over medium heat and stir *constantly* until the milk solids turn golden (5-8 minutes)
immediately empty the brown butter into a bowl to cool before using
The almond flour is the only "substitution" for regular flour, which I think is great because this works well as an almond cookie rather than a gluten-free cookie. Costco has the best deal on finely ground almond flour: $11 for 3 lbs. at my nearest Costco versus $10 for 1 lb. in my local grocery store.
mix the almond flour, kosher salt, and baking soda together
cream the butter and sugars
another flavor boost: swap vanilla bean seeds for some or all of the vanilla extract
add egg and vanilla extract and vanilla bean seeds to the butter
I'm using a KitchenAid stand mixer, but this dough is soft enough to use an electric hand mixer. I think the important thing to get right is to beat the butter and sugars until they are light and fluffy which takes a good 3 minutes or so. I used to be a devotee of mixing everything by hand until I met Swiss meringue buttercream frosting and brioche dough.
beat in the almond flour mixture
stir the chocolate into the dough
The original NYTimes recipe makes 10 frisbee-sized cookies from 100-gram dough balls, which is Crazytown. I made the more sensible and shareable size of 30-gram dough balls which produced nice 2.5- to 3-inch cookies depending on how much you chill the dough before baking. The longer the dough chills, the less the cookie spreads during baking. However, I don't pop the chilled pan into the oven, I set the chilled dough on a room temperature pan and put that in the oven instead. No sense in making the oven work to heat up a cold slab of metal when it should be baking the cookie dough.
flatten the dough scoops to 1/2-inch thickness
top with extra chocolate chunks and flake salt before chilling
arrange the chilled pucks on your baking sheet with plenty of space
Baking time will require some fiddling on your part as it depends on your oven temperature (the real temperature, not the lie on the oven display), how much you chilled your dough, how much you want the cookie to spread, and how done you want the cookie. Ideally, the edges will be golden and the center pale-ish. I turn my baking sheets at the half-time for even browning. If you feel they aren't spreading enough, you can whack the pan on the stove top – not to send them flying, but to flatten the cookies a bit – before sending them back to finish baking. Once out of the oven, the cookies should rest on the baking sheet for another 10 minutes to absorb residual heat from the pan and to set so they don't fall apart.
baked and resting
gooey with slight chew in the center and crunch on the edges
What makes this cookie so good is not that it is gluten-free, but that it boasts flavor and chocolate and textures. Some people can't tell it's an almond cookie. If you have a nut allergy, don't consume this cookie. If you read through the notes on the NYTimes recipe, people have had success veganizing or de-nutting or de-sugaring the cookie. But me and my ilk like this version just fine. As for storage, I find the texture quality drops off starting the next day after the cookies have been stored in an airtight container, but they're still decent. Your best results will be fresh or day-of.
i like the craggy exterior
good with coffee, tea, or milk
Gluten-Free Chocolate Chip Cookies
[print recipe]
modified from The New York Times
2 3/4 cups (310g) fine ground almond flour
3/4 tsp kosher salt
1/2 tsp baking soda
10 tbsps (140g) unsalted butter or brown butter*
1/2 cup (115g) light brown sugar
1/2 cup (115g) granulated sugar
1 large egg, room temperature
2 tsps vanilla extract or seeds scraped from 1 vanilla bean
12 oz. semi-sweet or bittersweet chocolate, chopped**
flake sea salt for finishing
* If you make your own brown butter, start with more plain butter because you can lose as much as 20% weight in the process when the water boils off. Also, the brown butter yields a more flavorful cookie.
** Even if you have chips, chop them because the shards of chocolate create a creamier cookie interior. I typically reserve 1-2 ounces of chopped bits to garnish the tops of the cookies.
To brown butter: Use a saucepan with a light colored interior like enamel or stainless steel so you can see when the milk solids brown. Have a heatproof bowl with minimum 2 cup capacity at the ready. Melt 16 tablespoons (2 sticks) of room temperature plain unsalted butter, cut into several pieces, in a medium saucepan over medium heat. Stir constantly with a silicone spatula, metal spoon, or wooden spoon. The butter will melt, then foam, but keep stirring. After about 4-5 minutes, the milk solids should settle to the bottom of the pan. Keep stirring. Watch the milk solids carefully. As the begin to turn golden brown, remove the pan from the heat and scrape all of the brown butter and the solids into the bowl. Don't allow the solids to burn! This happens in seconds and burnt brown butter is bitter and not usable, so be vigilant! Allow the butter to cool, stirring occasionally to mix the solids into the butter. When completely cooled, measure out 10 tablespoons or 5 ounces for your cookie dough. Refrigerate (up to 2 weeks) or freeze (up to 3 months) the remaining butter for other uses. I got 12.5 tablespoons of brown butter from 16 tablespoons of unsalted butter.
Make the cookies: Preheat oven to 350°F (I set my oven to 360°F at elevation). Line 2 baking sheets with parchment paper. Line a third baking sheet with wax paper. Whisk the almond flour, kosher salt, and baking soda together in a medium bowl. In a separate bowl, beat the butter (plain or brown) and both sugars together for 3-4 minutes until light and fluffy. Scrape down the sides of the bowl. Add the egg and vanilla (extract, seeds, or combination of both) to the butter mixture and beat until well-incorporated. Scrape down the sides of the bowl. Add the almond flour mixture and beat until the dough just comes together. Stir in the chocolate.
Scoop 30-gram or 2-tablespoon mounds onto the wax paper-lined sheet. Gently flatten each mound to 1/2-inch thickness. Sprinkle with flake sea salt. Chill the dough in the freezer for 10 minutes (the less cold the dough, the more they will spread during baking). Arrange the dough pucks on your room temperature parchment paper-lined baking sheets with at least 2 inches of distance between the nearest neighbor. Bake 10-12 minutes, turning the baking sheet after 6 minutes. Remove from oven when the edges are golden and the center is almost set. Let the cookies rest on the baking sheet for 10 minutes before removing to a cooling rack. Cookies taste best fresh or day of. Store in airtight container for up to 3 days. Makes about 3 dozen.
more goodness from the use real butter archives