Sunday, May 15th, 2016

Recipe: salmon poke
We rounded a corner this past week – hiking and running more days than skiing. I washed the late season mud off our nordic ski boots and packed up all but our backcountry telemark boots to store in the basement until October. Instead of four ski bins in the great room, we now have four bins for hiking, trail running, mountain biking, plus one holdout for backcountry skiing – at least for another week! Spring is dawdling. Rain and snow flirt in the high country and we expect another week of cool, wet weather around here, which means a few more days before I can swap out our flannel sheets for something cooler. Chilly mornings still require snuggy sheets.

morning reflections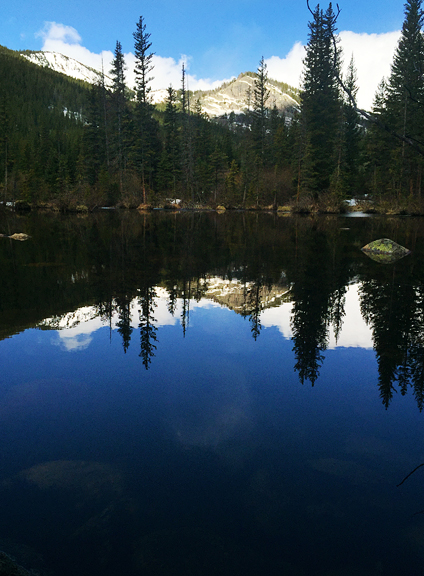 scoping out the trails without skis *sniffle*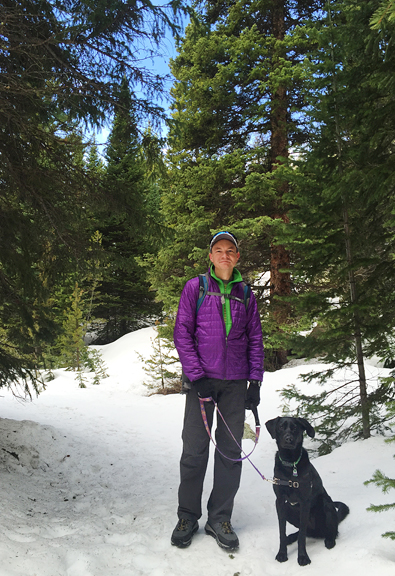 dashing through icy cold snowmelt streams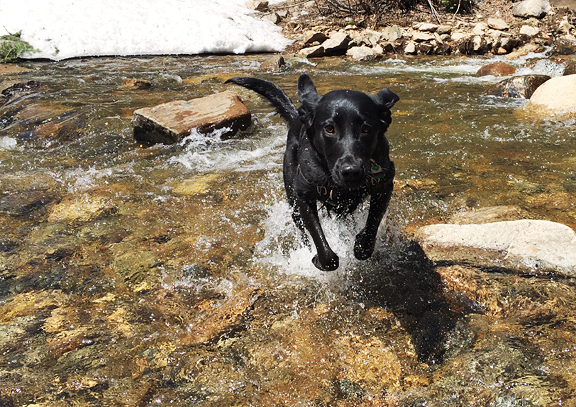 I used to regard shoulder season as a time of outdoor exercise limbo, but this season I'm embracing the coolish weather, squishy mud, and sporadic snow patches on the trails. It's a good time for me to build up to higher mileage in what I consider comfortable temperatures. This way, I also scope out plants in bloom around my neck of the woods. To start trail running for the season when it's already hot means there are two hurdles to deal with: the heat and trail running.
sunny and cool trail runs are just fine by me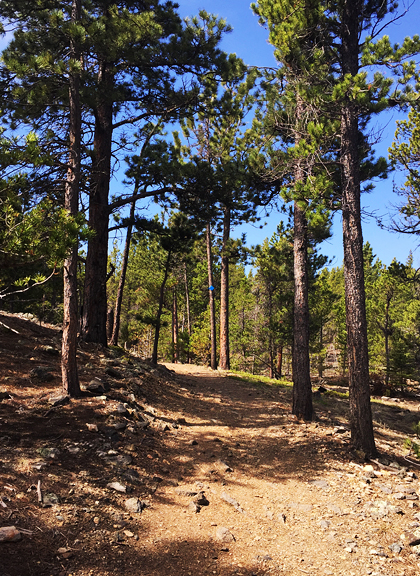 so many pasque flowers in bloom!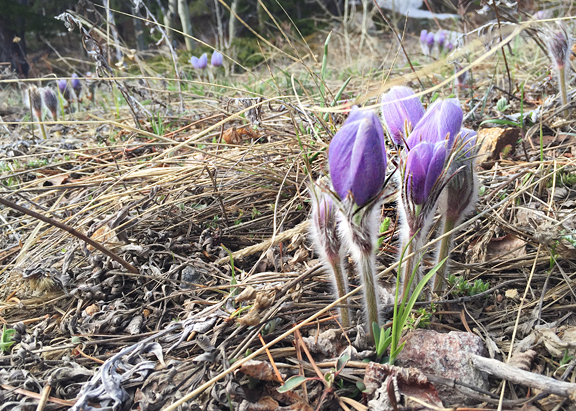 neva perfects her jump-catch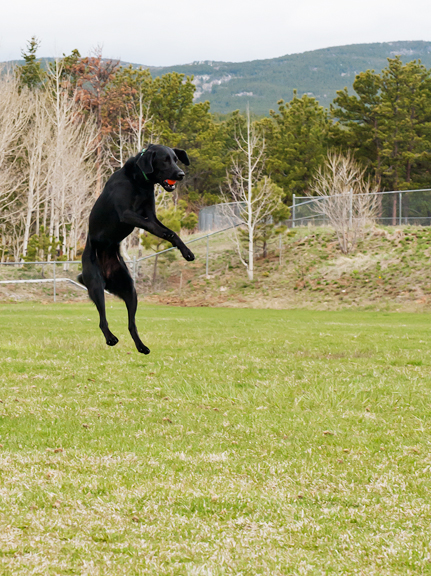 Winter is good for me, I think, because it allows me to focus on snow and being a somewhat normal person. Summer is officially Crazy Time because so many wonderful mushrooms grow where I run or hike or bike – one can't help but notice them and maybe forage a few and probably obsess over finding more because that's the addictive property of wild mushrooms. But you all know that my true love is the tiny purple huckleberry. Erin and I have spent a few lazy winter days pondering where a good patch might be based on satellite imagery and our knowledge of the mountain trails and what our local huckleberries like. As the mountains shed their snowy mantles, we make note of healthy huckleberry plants and when they flower and when those flowers become green peas that will hopefully emerge as ripe huckleberries.
I make tons of sweet recipes with huckleberries – that's easy to do as they play nicely with sugar, butter, flour, cream, and eggs. I'm exploring more savory recipes now that I have enough huckleberries in my freezer and I'm feeling comfortable with what the berry can and cannot do in a dish. Earlier this month I decided to make salmon poke, the salmon version of the more popular and ubiquitous tuna poke, but I didn't want it to taste like tuna poke with salmon swapped in for the tuna. What I eventually came up with blends a little bit of Japanese cuisine with Hawaiian cuisine with the Pacific Northwest: salmon poke with huckleberries.

avocado, green onions, soy sauce, furikake, rice vinegar, vegetable oil, huckleberries, tempura crunch, salmon, sesame seeds, lemons
Think the combination of salmon and huckleberries will taste odd? Let me point out that salmon run where the huckleberries grow in the Pacific Northwest and Alaska, and that both foods are favorites of the locals – the bears. (If I were a bear, I would eat salmon and huckleberries and huckleberries and salmon all dang day.) When choosing a dressing for my poke recipe, I didn't want the typical sesame oil in the mix because I feel it can and does overpower both the salmon and the huckleberries. Instead, I opted for ponzu sauce – a combination of soy sauce, lemon juice, and rice vinegar. I like that the lemon works especially well with the salmon and the hucks. You can purchase ponzu sauce from an Asian grocery store, but I find it's pretty easy and tastier to make your own at home. If you are gluten-free, then definitely make your own ponzu sauce at home – just use tamari instead of soy sauce.
pouring rice vinegar and lemon juice into the soy sauce
A note about the salmon. You really do need to use sashimi-grade salmon in this recipe. Sashimi-grade means that the fish has been frozen down to -20°C/-4°F for at least seven days to kill off any parasites that might exist in the fish flesh. Salmon is particularly prone to parasites. While I always purchase wild salmon, in this instance my fish monger only had farmed Norwegian sashimi-grade salmon, so that's what I bought. Creamy avocado is a no brainer for salmon poke, but I keep it separate from the actual poke because it puts a green film on everything when mixed in with the other ingredients. If you don't care, then by all means, mix it in. My preference is to serve the poke on a bed of the avocado to preserve the aesthetics.
dice the salmon
avocado at the ready
**Jump for more butter**