Recipe: spicy tuna inari
The other day while we were skinning uphill on a ski tour, Jeremy asked me what "in like a lion, out like a lamb" referred to. I speculated that it had to do with March starting like a lion because it was still winter, and exiting like a lamb, because it became spring in mid-late March. Jeremy wasn't convinced, because in Colorado, the weather in March is pretty much psycho. Turns out April is too. Hot and sunny days. Cold and windy days. Snow. Thunder. RAIN. The r-word is the greatest offender, simultaneously killing off the snow pack and backcountry skier dreams. We struggle with this in-between period when the trails aren't fully covered with snow but they aren't completely clear either. This results in hybrid excursions like the bike-hike-ski or the ski-hike or the hike-ski or the bike-ski. We can't let go of ski season but we don't want to miss the arrival of summer in the high country.

jeremy ducks trees and dirt blowouts on the way up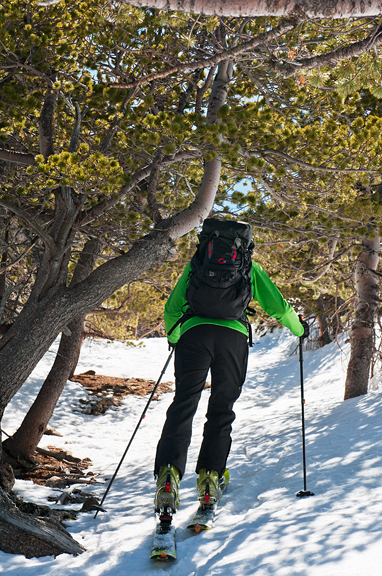 niwot mountain summit (we stashed the skis where the snow ended and hiked)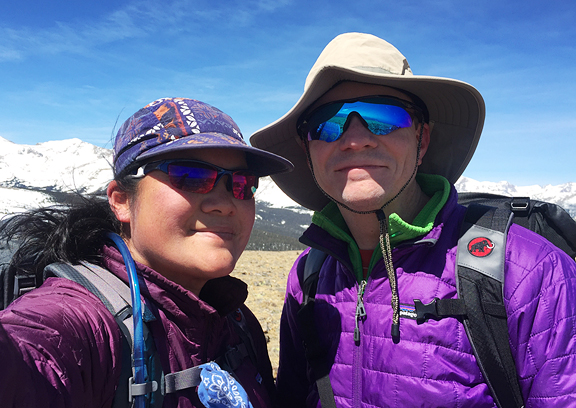 removing climbing skins, getting ready to ski out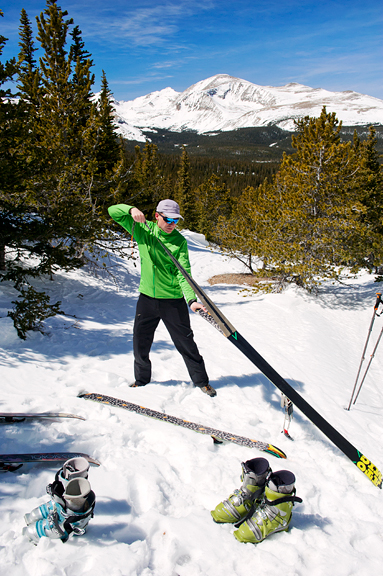 catching turns on the way down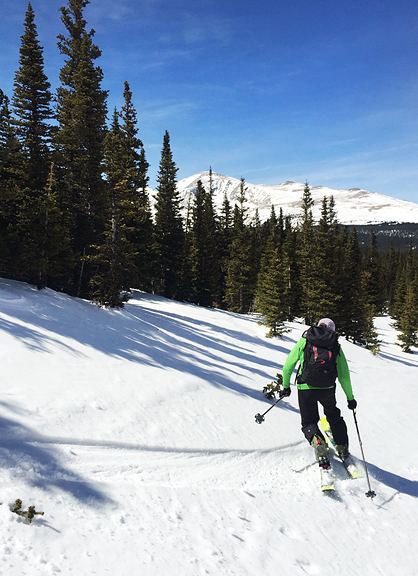 I'm not sure what Neva thinks of the change in the seasons now that she has experienced all of them once. I mean, no one really knows what Neva thinks, period. At first, we figured she was smarter than Kaweah was – by a very little bit. Lately though, with more observational data to consider, we suspect that we were mistaken. That's okay. We're not trying to send her Caltech or anything. We just want her to heel and not jump on people and maybe stop licking everyone's pants. As far as we can tell, Neva loves all of the seasons. She is just as energized plunging into deep powder as she is scrambling up boulders or diving into alpine lakes. I think she's going to love this summer. We have big plans for her. I spent half of my REI dividend on a new 3-person (it's more like a 2+) backpacking tent so we'll have room enough for Neva to not kick our faces in the night. More little dog adventures! What's not to love?
puppy treats to fuel puppy activities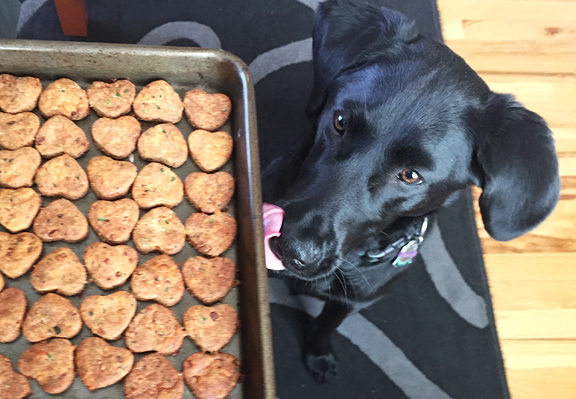 trying on kaweah's old dog pack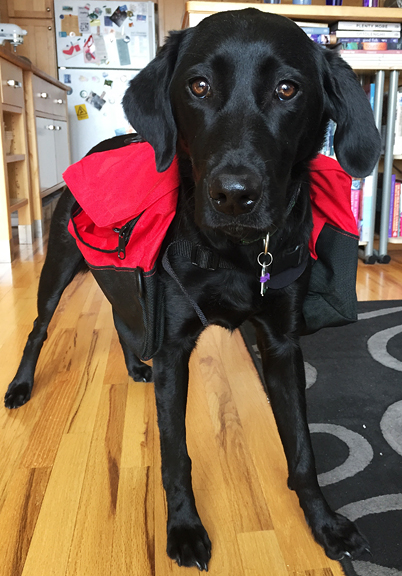 our local trails are melting out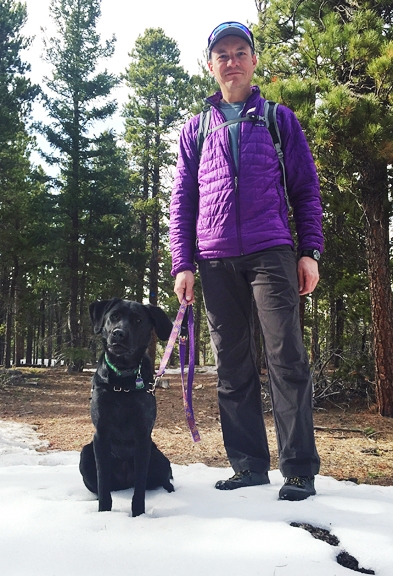 neva loves the outdoors, just like her humans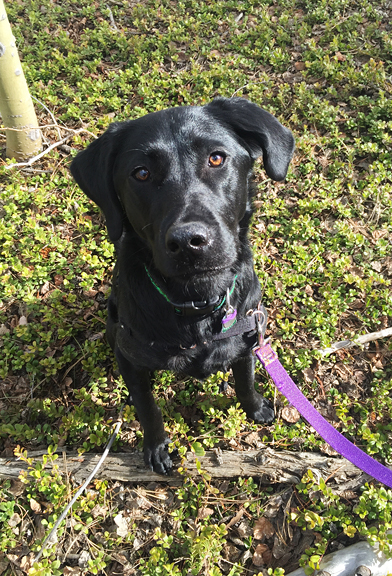 As our outdoor pursuits change with the seasons, so too does our menu. Sure, seasonal foods make their way into our meals, but it's temperature that has a bigger effect on my cooking. 50°F doesn't sound very warm to most people, but it is quite warm up here in the mountains where a high of 20°F felt like a heat wave just a few months ago. Walking around in shorts I wonder how I survive summer each year if I feel like I'm melting in April? But we do adjust eventually and part of that adjustment involves making sushi. As far as I'm concerned, sushi is welcome in my pie hole any time of year. It is especially delightful when I deem it too hot (relatively speaking) to cook, like this past weekend. We didn't want to bother with rolling sushi, so I opted for something even easier but just as tasty – if not tastier! Spicy tuna inari.
inari, sriracha, shiso, green onions, avocado, mayonnaise, seasoned sushi rice, sashimi-grade tuna
If you aren't familiar with inari, it is tofu skin that is deep fried and seasoned in a sweet sauce. They typically come in pockets that are stuffed with seasoned sushi rice and served as inarizushi. The combination of the flavors is quite pleasing. I've never made inari myself, but we occasionally buy a can of it at the Asian grocery store for a quick and easy addition to our sushi nights.
the brand i buy which contains about 20 inari
gently pull open the pocket
If you are looking for something more, you can stuff the inari with seasoned sushi rice and vegetables or fish. I made this version with spicy tuna filling in addition to the seasoned sushi rice. If you're on the fence about seasoning your sushi rice, I recommend that you do it. The small amount of vinegar, salt, and sugar brings out the sweetness of the rice and complements the other sushi ingredients. We've eaten our sushi with seasoned and unseasoned sushi rice and now we
always
season the rice.
slice the green onions
roughly chop the tuna
spicy tuna: tuna, green onions, mayonnaise, sriracha
How you make your spicy tuna is a matter of preference. We don't like it too mayonnaisey and I keep the sriracha in check because Jeremy can't take really spicy food. If you haven't made it before, I suggest starting out with a little mayonnaise until you get the consistency and flavor you like – you need less than you would think. Then do the same with the sriracha.
mix the tuna, green onions, and a little mayonnaise together
add the sriracha
spicy tuna
Now you're ready to stuff the inari pockets. For this recipe, the very minimum should include rice and spicy tuna. While it may be tempting to put a lot of ingredients in the inari, there is limited space. I wouldn't put more than 1 or 2 tablespoons of sushi rice in the bottom of the pocket. Take care not to bust a hole in the inari when you fill it. I decided to add avocado because it's creamy and mild, and some shiso leaves for a refreshing herbal bite. I've seen shiso leaves labeled as perilla leaves or sesame leaves in Asian markets. I don't know how accurate that is, but the herb is a mint and it is absolutely lovely when eaten with spicy tuna (and lots of other things). When you top everything off with the spicy tuna, leave a little headspace – maybe a half inch – at the top of the inari pocket so you have enough inari to fold it into a self-contained pouch.
avocado, seasoned sushi rice, inari, spicy tuna, shiso
a layer of sushi rice
a few thin slices of avocado
a shiso leaf
spicy tuna
fold the edges over to make a neat pouch
When you are done folding each inari pouch, set it folded-side down so it doesn't unravel and because it looks neater. Garnish the inari however you like. I did a quick drizzle of wasabi mayonnaise, but you can also drizzle unagi (barbecue eel) sauce, or sprinkle fish roe (masago or tobiko), sesame seeds, etc. To be honest, I was expecting the spicy tuna inari to be good, but I had no idea it would be SO GOOD. We burned through a dozen in no time. These would make fantastic appetizers at a party or they could be part of a larger sushi spread for a meal. I've already decided I'm going to make the spicy tuna inari for my parents this summer as I'm positive they will enjoy it as much as we do.
served with a wasabi mayonnaise drizzle
they're quite pretty in cross section
my new favorite appetizer
Spicy Tuna Inari
[print recipe]
2 cups seasoned sushi rice (recipe below)
1/2 lb. maguro (sashimi-grade tuna), roughly chopped
1/4 cup green onions, sliced thin
1-2 tbsps mayonnaise
sriracha to taste
12 inari pockets
1/2 avocado, peeled, pitted, and sliced thin
12 medium shiso leaves (optional, but good!)
seasoned sushi rice
2 cups cooked (steamed) sushi rice
1 tbsp rice vinegar
1/4 tsp salt
2 tsps sugar
Season the sushi rice: Combine the vinegar, salt, and sugar in a bowl and stir until salt and sugar are dissolved. Wet a mixing bowl large enough for the rice. Wipe off excess water. Heap the cooked rice in center. Allow rice to cool for 10 minutes. Pour the dressing over the rice and mix the dressing evenly with a large spoon or rice paddle. While mixing, fan the rice to cool it. The rice is ready to use when it reaches body temperature.
Make the spicy tuna inari: In a small bowl, mix the tuna, green onions, mayonnaise, and sriracha together to make the spicy tuna filling. Add more mayonnaise and sriracha as desired. Carefully open an inari pocket without tearing it. Gently press 1-2 tablespoons of seasoned sushi rice into the bottom of the pocket to form a base layer. Lay a few slices of avocado over the rice. Set a shiso leaf on top of the avocado. Spoon 2 tablespoons of the spicy tuna over the shiso leaf, pressing the tuna to the edges of the inari pocket. Tuck the corners of the inari down over the tuna. Fold the edges over to close the inari pocket and set the inari fold-side down. Repeat for the remaining inari. Serve immediately. Makes 12.
more goodness from the use real butter archives