Saturday, April 28th, 2012
Last weekend I took you to visit Cured, a favorite gourmet cheese, salumi, wine, and nomnom shop of mine in Boulder on East Pearl Street.

cured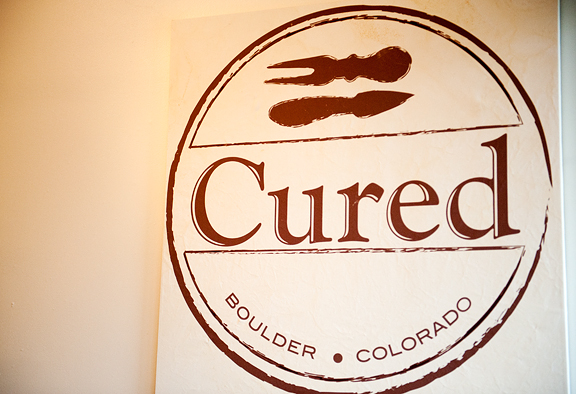 Each day (except Mondays, because they are closed), Cured lists two to three sandwiches on their chalkboard above the salumi and cheese counter. If you subscribe to their
Facebook page
or follow them on Twitter
@curedboulder
, you'll get the daily notice. It's not a sandwich shop where you walk up and order what you feel like, but the choices are quite good and sometimes there are salads, soups, and even breakfast options. Check the board.
the daily sandos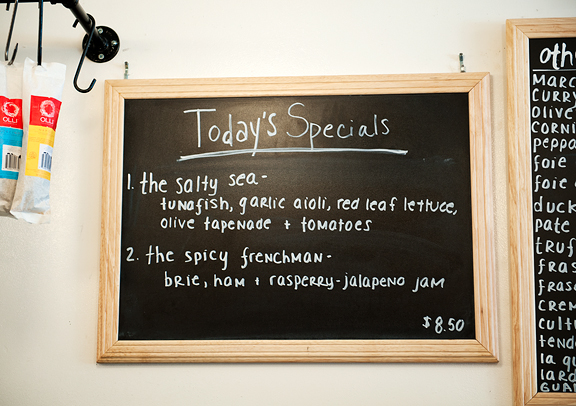 Of course, you're not going to get the standard sandwich around here. For example, one version of their grilled cheese is seahive cheddar with bacon and tomato chutney (hello!!). Or how about the creamy pear which is Délice de Bourgogne, ham, and pears. I have been itching to catch the allstar as well: prosciutto, manchego, and membrillo. It used to be that you could saunter in and there would be sandwiches to order, but after some great reviews, Cured was no longer Boulder's best kept secret. By noon it was not uncommon to stand at the counter and watch the staff cross offerings off the board as they sold out. I think it has mellowed out a little bit, but if there is a sandwich you want, go earlier rather than later so as to avoid the risk of deep disappointment. When I went in for a sandwich, there was only one kind left (again, a huge rush on their sandwiches that day).
the spicy frenchman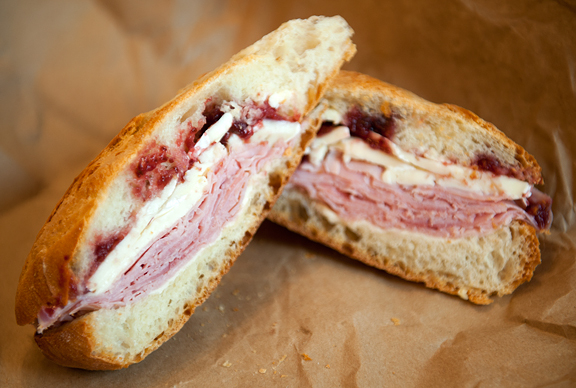 To the sandwich:
The Spicy Frenchman was my introduction to Cured's sandwiches. They start with their ridiculously good bread (I think the same guy who makes their crowns and other artisan loaves also makes the baguettes) – a French baguette that is buttery soft on the inside with a nice and crusty outside that yields easily under your finger. Layers of thinly sliced ham and generous slices of brie are topped with a perfectly sweet and spicy raspberry-jalapeño jam. The combination of ham and cheese usually makes me drowsy, but the kick from the jam livens up the entire ensemble. Because it happened to be a weirdly rainy and cold day in Boulder (which is rare), I relished my sandwich with a nice pot of hot tea from Boxcar Coffee. I checked the shelves and found that Cured sells jars of that raspberry-jalapeño jam. That's good stuff. I may just have to try and make some myself.
Where: Cured is located at 1825 B. Pearl Street (Boulder, Colorado 80302), east of the Pearl Street pedestrian mall.
When: walk in and order a sandwich from their board (your best bet is likely before noon) 10:30am – 7pm Tuesday – Friday, 9am – 6pm Saturday, 11am – 5pm Sunday. Cured is CLOSED ON MONDAYS. I know, even I forget sometimes and it can be a huge bummer. They post the menu each day (except Mondays) on Facebook and Twitter.
Contact: Call Cured at 720.389.8096. Visit their Facebook page or follow them on Twitter @curedboulder.
Full Disclosure: My opinions. No comps for the chomps.
Previous sandwich research:
1) The Pinyon's fried chicken sandwich (sadly, now closed)
2) Cafe Blue's blackened tuna sandwich
3) Frasca Caffè's Italiano panini caldi
4) Snarf's pastrami and Swiss sandwich