Sunday, September 17th, 2017

Recipe: cold seafood platter
I always thought that my foraging seasons ended because there wasn't anything left to forage, but this year has been quite different. I stopped looking for porcini, matsutake, and now huckleberries, because I found so many, ran out of space in my refrigerator to store them, was sick of cleaning them, and felt pretty exhausted.

neva knows what i'm talking about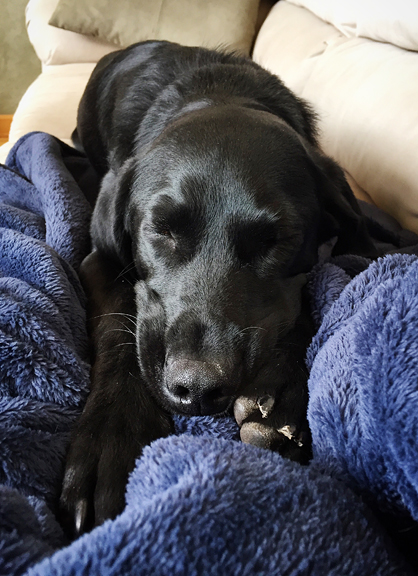 Last weekend, Erin, Erica, Banjo, and I went huckleberry picking at ML1 – Mother Lode 1. It was better than the last two years (which totally sucked), but not nearly as good as 2014 (which was crazy good). After two not-so-great huckleberry years, I was determined to expand our foraging territory based on satellite imagery, terrain, and familiarity with our mountains. On Monday morning, Jeremy and I went to scout out a potential huck patch and hit pay dirt. We named it ML2b and I renamed ML2 as ML2a. Then Wednesday morning I went solo cross country, took a wrong turn, chatted with a couple of really nice moose hunters, got back on track, then found a different huckleberry patch that was loaded with ripe berries. That's ML2c. Thursday morning, Jeremy accompanied me to explore an unmarked local trail which led us to an enormous huckleberry patch in the most beautiful setting, which I have dubbed ML3. Oh, and the aspens were looking gorgeous in the high country.
orange top aspens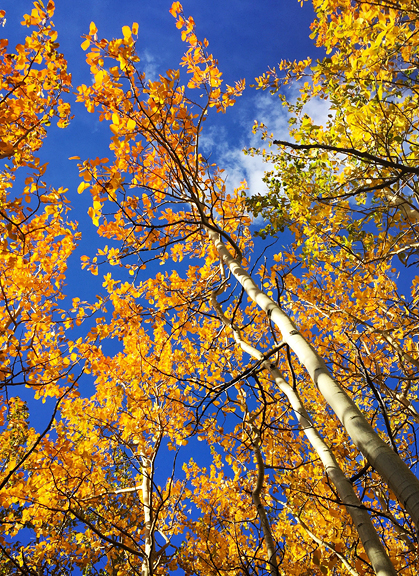 cool mornings under golden light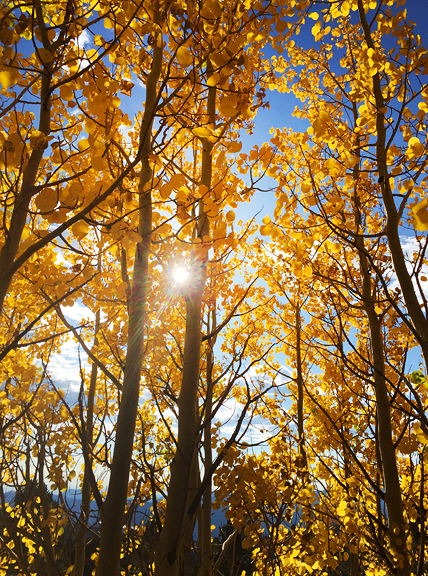 colorado painted blue and gold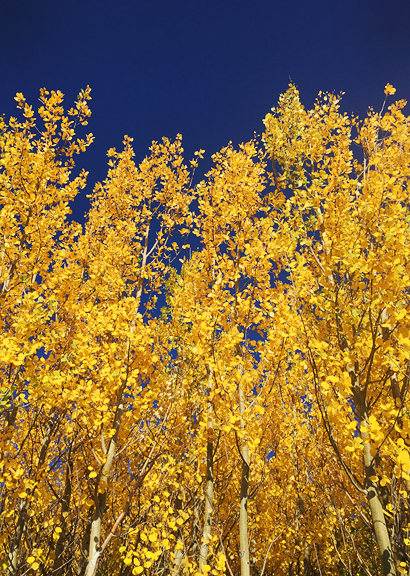 some huckleberry plants are showing off the reds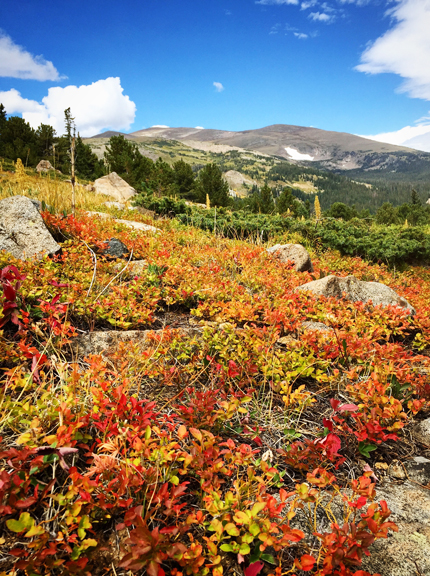 jeremy at lovely ml3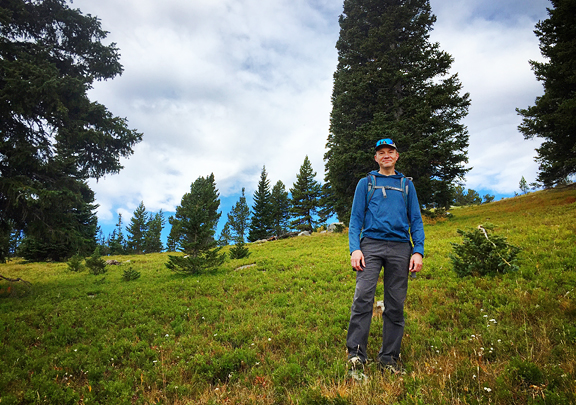 The weather went from downright scorching hot on Monday to snow by Saturday morning. Fall is in flirt-mode now, so it's best to pack layers and hats and gloves when you're going to be in the high country all day. But I really love this time of year when the temperature is hovering right at freezing as you trudge up the mountain, your trail runners and pant legs knocking the light layer of snow off the brush with each step. The sun actually feels GOOD instead of oppressive when the weather cools down. Erin and I went to pick at two of the three new locations (ran out of time to hit the third one – too many berries to pick) and spent several hours gathering enormous, ripe huckleberries while discussing our solutions to the world's problems and giving Banjo treats, ear rubs, and butt scratches between his naps in the shade (he's fluffy, he was plenty warm).
rainbow from my deck saturday morning (our huck patches were at the other end of it!)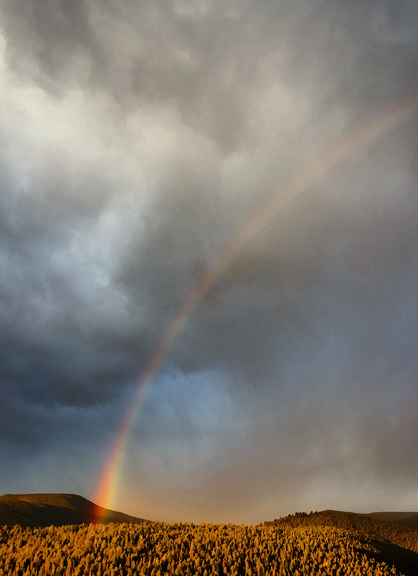 snow in the high country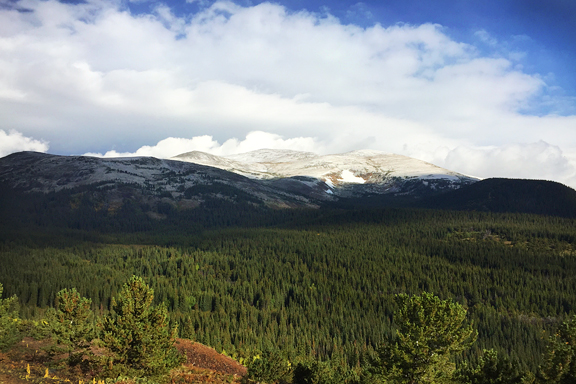 snow melts off the huckleberry plants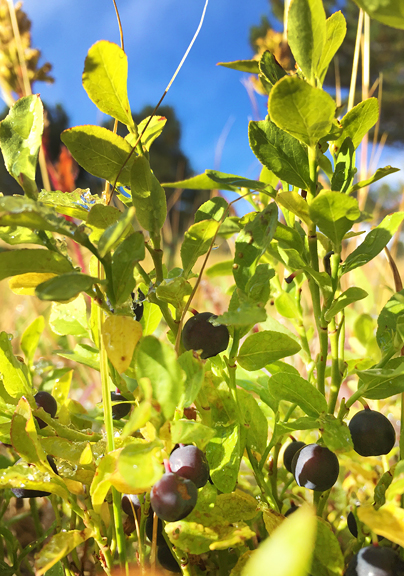 erin and banjo surrounded by hucks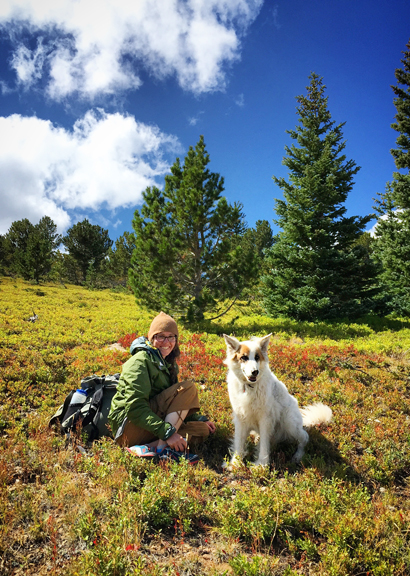 It was Jeremy's birthday this past week, so between all of the huckleberry scouting and picking and shuffling about in the refrigerator, I managed to make him noodles on his actual birthday. It's a Chinese tradition to eat noodles on your birthday for long life, but instead of Chinese noodles, we went with linguine and clams. It's legit. I checked with grandma years ago and she said, "Yeah, any noodles will do as long as you don't break them." But when the weekend rolled around, I prepared the REAL birthday surprise – a cold seafood platter – because Jeremy loves loves loves sea critters.
ready to celebrate!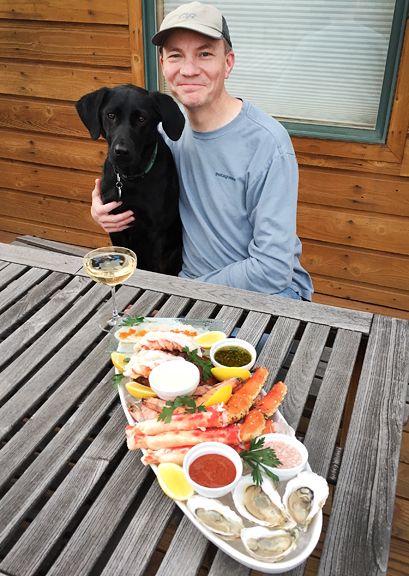 The inspiration for this cold seafood platter came from all of those beautiful cheeseboards I see on Instagram.
Gaby Dalkin
is totally to blame for her cheesy gorgeousness. Thing is, I am not a cheese person… but I DO like seafood. If you replace all the cheeses with shellfish and crustaceans and the crackers with sauces, it's almost the same thing. Okay, not really. Actually, I think it's better. What's lovely about platters is that you put whatever you darn well please on them. I also included an array of dipping sauces. Because the seafood is served cold, I omitted melted butter and opted for lighter, more summery dippers like chimichurri, garlic lemon aioli, cocktail sauce, mignonette sauce (for the oysters), and ponzu for the scallop crudo. Since the chimichurri and mignonette need a few hours for the flavors to meld, you should make those first.
parsley, red wine vinegar, black pepper, oregano, salt, red pepper flakes, garlic, olive oil
chopped garlic and parsley
mix it all together
let stand at room temperature for a few hours
mignonette: shallots, sugar, salt, white pepper, unseasoned rice vinegar, white vinegar
mix together
let sit for 4 hours in the refrigerator
**Jump for more butter**